Kevin Michael Key, advocate who found hope and sobriety on skid row, dies at 67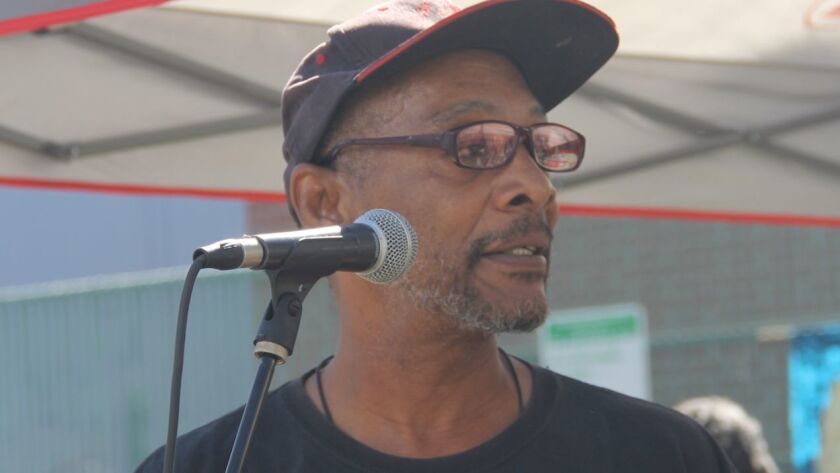 His was the big booming voice on skid row, calling out across the crowded streets to a friend or fellow traveler. "Microphone Mike," some called him.
A onetime criminal defense attorney who lost his career to a crack addiction, Kevin Michael Key found both ruin and redemption on skid row, a neighborhood he came to embody as one of its loudest and most persistent activists.
Until his death July 19 from cancer, Key was involved with virtually every outreach, self-help or activist group that had its hands in skid row — even acting in a theater group that provided purpose and camaraderie to people who had lost both.
"He always saw skid row as the New York part of L.A.," said John Malpede, director of the Los Angeles Poverty Department, the theater group.
Key was convinced that skid row had ultimately saved his life, said Pete White, the founder and executive director of Los Angeles Community Action Network, an advocacy group.
While he was once drawn to skid row to feed his worsening drug habit, Key discovered that through activism and being in the company of others trying to get back on their feet, a renewed sense of self-worth had blossomed.
"When I was a lawyer, I only got to represent one person," he said during a 2011 interview with Neon Tommy, an online news publication. "Instead of representing one client, now I represent a whole community."
Born Jan. 20, 1950, in Bridgeport, Conn., Key moved to Harlem, New York, when he was young and graduated from City College of New York and earned his law degree from New York Law School. He moved to California the year after his graduation to be closer to his mother and went to work for the L.A. County Public Defender's office and later opened a private practice.
He was disbarred for ethical violations, his daughter Kawana said, lapses she said were triggered by his drug use.
"Growing up with him was tough, for sure," she said. The two reconnected when he became sober, and she said his driving personality and crusading spirit came back into full view.
"He was always a man of the people, someone who stood up to help others," she said. "When he was in active addiction, you saw that side of him less. But it was always there."
Key openly discussed his demons.
"You can get down here and get stuck on stupid, you know?" he told Neon Tommy. "The very same advice I was giving my clients I couldn't see fit to take myself."
In 2002, Key got sober and found new life in activism. He joined the United Coalition East Prevention Project, worked as a liaison for the diabetes program at the JWCH Community Clinic, marched with the prison reform group Critical Resistance and served two terms on the Downtown Neighborhood Council.
He prodded civic leaders to give skid row the same attention and amenities that other neighborhoods received. He preached the gospel of sobriety. He helped lead a campaign to rescind a liquor license at the New Genesis Hotel, a low-cost housing complex built with public money on the edge of skid row. The neighborhood, he said, already had more than enough alcohol.
Key also was introduced to the theater troupe, which shared the same acronym as the city's police force — LAPD. As he watched the group perform, he realized that what he was witnessing was activism theater, performance art — often written by those who lived on skid row — that put a spotlight on the realities and challenges of life on the streets in downtown L.A.
In one piece — "Glimpse of Utopia" — 200 homeless people and art students stood on the streets, swaying as if being pushed and pulled by the wind. It was intended as a statement about the lack of trees, or anything remotely green, on skid row. Another production, "What Fuels Development," was drawn from the liquor license fight.
One day, after he'd joined the theater group, he decided to improvise his lines in a play about the ills of gentrification in downtown L.A. Suddenly, he was rattling on about city developers being like drug addicts, and city officials their dealers.
When he showed up for the next rehearsal, his ad lib lines had been incorporated into the script. For the first time in years, he felt a rush of pride.
"It's a jolt of adrenaline," he said. "You like it, you feel good about it, you feel better about yourself."
Key toured with the group in South America, Europe and the East Coast. He also had a brief speaking role in "The Soloist," the Jamie Foxx/Robert Downey Jr. film about Los Angeles Times columnist Steve Lopez's friendship with Nathaniel Ayers, a homeless musician. Portions of the film were shot on skid row, and neighborhood residents were hired as extras.
White said that Key came to view skid row as a recovery community, a place where people could get sober, pick up the pieces and begin to enjoy life again. He was also an unrelenting advocate for the neighborhood.
"Some would look at skid row as a community in despair," White said. "But he was always there to remind people that it was a place of hope, and it was a home."
As his cancer worsened in recent months, Key retreated to his apartment at the Yankee Hotel in the heart of skid row. One evening after rehearsals, Malpede said the entire theater group walked to the hotel and stood on the sidewalk until Key came outside. With a fire engine roaring out of Station No. 9 and traffic crawling along East 7th Street, they gave him a group hug.
Key is survived by a son, Kevin Jr.; two daughters, Kawana and Antoniette; a brother; and several grandchildren.
ALSO
L.A.-area Muslims to help homeless on skid row in final days of Ramadan
On skid row, rebuilding a dream one mosaic at a time
Column: The Rev. Andy Bales on skid row and the myths about homelessness
For skid row residents and advocates, mural is a sign of survival
---
UPDATES:
9:45 a.m. July 28: This article was updated with additional background details.
This article was originally published at 12:42 p.m. July 27
---
Must-read stories from the L.A. Times
Get all the day's most vital news with our Today's Headlines newsletter, sent every weekday morning.
You may occasionally receive promotional content from the Los Angeles Times.