Kevin Towers, who guided the San Diego Padres to the World Series, dies at 56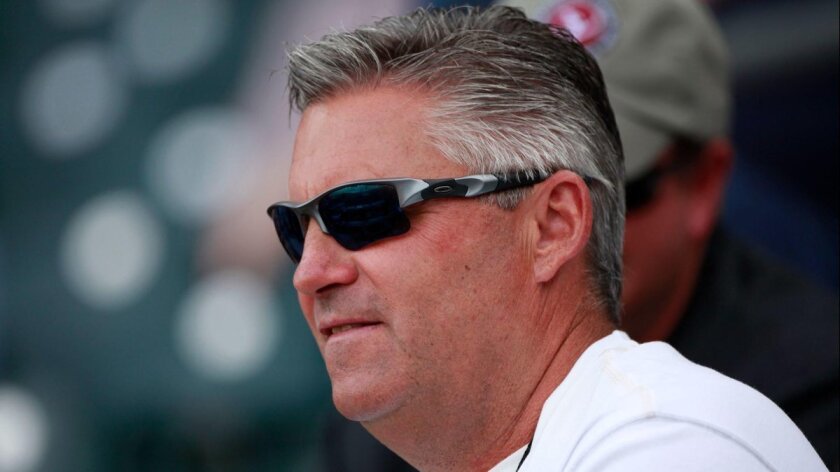 Kevin Towers, the general manager who delivered to Padres fans a National League pennant and three other division titles, died early Tuesday after a long fight with cancer. He was 56.
Towers was diagnosed with anaplastic thyroid cancer near the end of 2016.
The Padres' general manager from 1995 to 2009, Towers guided San Diego to the top of the National League West on four occasions, including a World Series appearance in 1998.
He was the Arizona Diamondbacks' general manager from 2010 to 14.
Towers was effective at crafting trades with a wide spectrum of general managers and acquired several of the players for the 1998 San Diego team that set a club record with 98 victories and beat two 100-win teams in the playoffs before losing to the 114-win Yankees in the World Series.
Thanks in part to the upgrades made by Towers — including the acquisition of '98 mainstays such as Kevin Brown, Wally Joyner, Greg Vaughn, Chris Gomez, Sterling Hitchcock and Quilvio Veras — the Padres created momentum going into the November 1998 general election in which voters approved funding for a downtown ballpark. Petco Park opened in 2004.
The Padres retrenched financially while Petco Park was being built. Towers scraped together enough talent, including Jake Peavy, to win the NL West in 2005 and 2006. They haven't been back to the playoffs since, although they came close in 2007 before losing a wild-card play-in game at Colorado.
"He was a baseball man who made it to the top through combinations of smarts and guile, warmth and grit, modesty and charisma," said New York Mets GM Sandy Alderson, the Padres' CEO from 2005 to 09. "He could light up a room, or a stadium, just with his smile."
Towers was fired late in the 2009 season by Vice Chairman and CEO Jeff Moorad, who was attempting to buy the team on a layaway basis.
Moorad said he was looking for a GM with a more strategic approach, and referred to Towers as a "gunslinger."
Once his Padres email account was deactivated, Towers created an email with "gunslinger" in it.
"That's the way I was taught the game, and I believe in it," Towers said shortly after being fired. "When I think of a gunslinger, I think of a guy that shoots first, or throws the first punch, he wins the battle."
Born Nov. 11, 1961, in Medford, Ore., Towers was a first-round draft pick and pitched in the minor leagues for seven seasons before arm injuries ended his playing career in 1988. He served as a scout and pitching coach for the Padres before being promoted to director of scouting in 1993 and was named Padres general manager in 1995.
Towers' cancer diagnosis did not become public knowledge until October. With permission from the Towers family, Houston Astros manager A.J. Hinch displayed Towers' name on a placard in a Stand up to Cancer spot during Game 4 of the World Series.
"He means a lot to me," Hinch, a former assistant general manager for the Padres, said afterward. "He's meant a lot to the people within the game for many, many years. He's done everything in the game. I wanted to put someone on there that was a baseball person that has resonated across the game at so many levels for so many years, and we just keep rooting for KT to have a recovery."
Last week, as he spoke about being elected to the Hall of Fame, former Padres closer Trevor Hoffman grew emotional when he mentioned Towers' influence on his career.
The Padres issued a statement from Executive Chairman Ron Fowler and general partner Peter Seidler:
"We are profoundly saddened by the loss of Kevin Towers, who passed away early this morning after a courageous battle with cancer. Kevin spent nearly thirty years in the Padres organization as a player, scout, and front office executive. He led our club with strength, conviction and unwavering determination, and was beloved by all who knew him."
The Associated Press contributed to this report.
Lin and Krasovic write for the San Diego Union-Tribune.
tom.krasovic@sduniontribune.com
---
UPDATES:
1:25 p.m.: This article was updated with additional details and reaction.
This article was originally published at 9:25 a.m.
---
Must-read stories from the L.A. Times
Get the day's top news with our Today's Headlines newsletter, sent every weekday morning.
You may occasionally receive promotional content from the Los Angeles Times.