Larry 'L.A.' Johnson dies at 62; filmmaker collaborated with Neil Young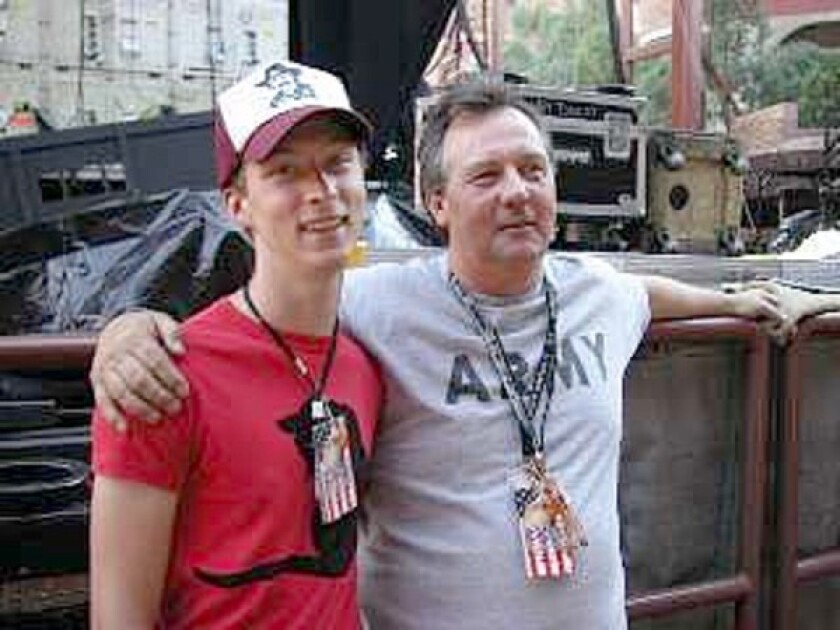 Larry "L.A." Johnson, a documentary filmmaker who worked closely with Neil Young for four decades after meeting the Canadian rocker at Woodstock while working on the concert film about the 1969 rock festival, died Thursday at his home in Redwood City, Calif. He was 62.
Johnson died unexpectedly, and the cause of death was not known, according to a spokeswoman for Young.
Johnson earned an Academy Award nomination for his sound editing work on Michael Wadleigh's ground-breaking 1970 film documenting "three days of peace and music" at Woodstock, where Young had played with rock's then-new supergroup of Crosby, Stills & Nash.
During his subsequent 40-year association with Young, Johnson brought gritty realism and whimsical surrealism to various film and multimedia projects they worked on, from 1974's "Journey Through the Past" to last year's release of "Neil Young Archives: Volume I."
"He never lost the eye and ear of an original artist, one unafraid to listen to himself first," Young said in a statement. "Even more, he also kept his playful spirit and sense of humor, the things that sparked his heart for a lifetime spent doing what he loved best: listening to music and making movies."
In many respects the Grammy-nominated "Archives" release, for which Johnson is credited as producer, was the culmination of his shared interest with Young in combining the visceral energy and improvisational facets of rock music with the visual realism of film. That project, some 20 years in the making, was an innovative retrospective of the earliest years in Young's life. For the Blu-ray edition, Young, Johnson and their team came up with a new platform for the organization and dissemination of historical materials, including audio and video recordings, film, print documents and photographs in a way that can be continually expanded by way of Internet downloads.
Just before its release, Johnson took part in a media preview in April at a West Hollywood hotel to demonstrate its many innovative aspects. "Our motto has always been: 'Quality -- whether you want it or not,' " Johnson said.
A key member of Young's Shakey Pictures film production company, Johnson served as producer, director, editor and in other capacities. Among the projects he was involved in: "Rust Never Sleeps" (1979); "Human Highway" (1982); Jim Jarmusch's "Year of the Horse (1997); "Silver and Gold" (2000); "Greendale" (2003); and most recently, Jonathan Demme's "Neil Young's Trunk Show" (2009).
Johnson also produced Joni Mitchell's 1980 venture into cinema, "Shadows and Light," was a line producer on Martin Scorsese's acclaimed document of the Band's 1976 farewell concert, "The Last Waltz" and a sound recordist on the 1978 Bob Dylan film "Renaldo and Clara."
Larry Alderman Johnson was born June 11, 1947, in Ft. Benning, Ga., into a military family that moved frequently, which he believed prepared him well for his life as a filmmaker specializing in rock 'n' roll.
He attended Peekskill Military Academy in New York and Rutgers University in New Jersey, and early on became a fan of such East Coast filmmakers as Scorsese and Brian DePalma. Johnson often sought to inject his own work with a street-wise political sensibility.
At the time of his death, he was working on "LincVolt," the chronicle of Young's project converting a gas-guzzling 1959 Lincoln Continental into a zero-emission electric vehicle of the future.
Johnson also worked over the last 24 years overseeing video production elements and helping with fundraising for Young's annual benefit concerts for the Bridge School in Hillsborough, near San Francisco, a facility that serves severely disabled children and their families.
He is survived by children Ben and Hannah Johnson from his marriage to music contractor Leslie Morris, whom he married and divorced twice.
---
Must-read stories from the L.A. Times
Get all the day's most vital news with our Today's Headlines newsletter, sent every weekday morning.
You may occasionally receive promotional content from the Los Angeles Times.