LeRoy Neiman dies at 91; artist depicted sports in bold strokes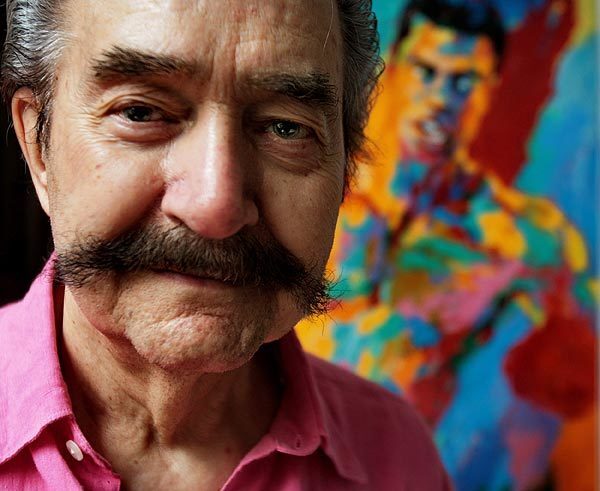 LeRoy Neiman poses in his studio in New York in 2007.
(Bebeto Matthews/ Associated Press)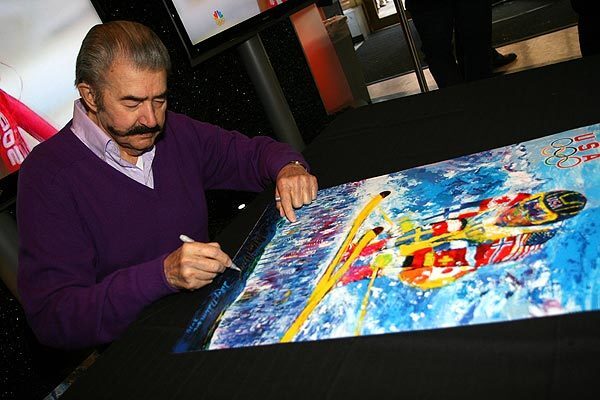 Neiman signs autographs at the "100 Days to Vancouver" celebration in November 2009 at Rockefeller Center in New York. He was affiliated with five Olympiads.
(Chris Trotman / Getty Images)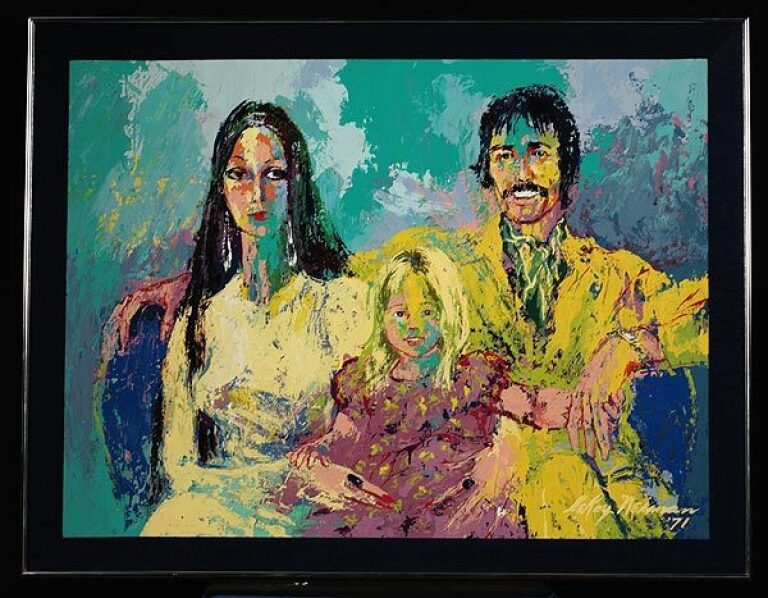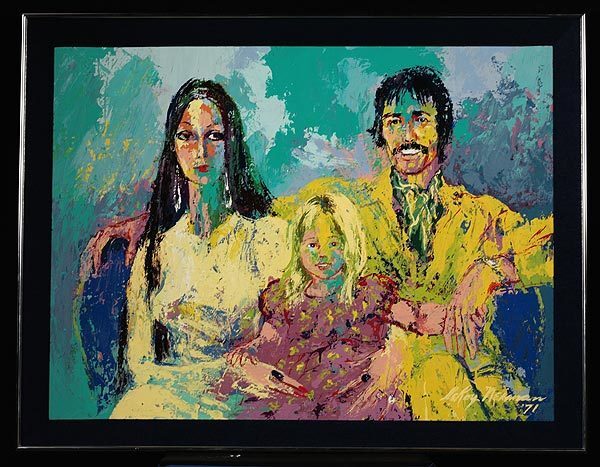 A portrait of Sonny and Cher and their daughter, Chastity.
()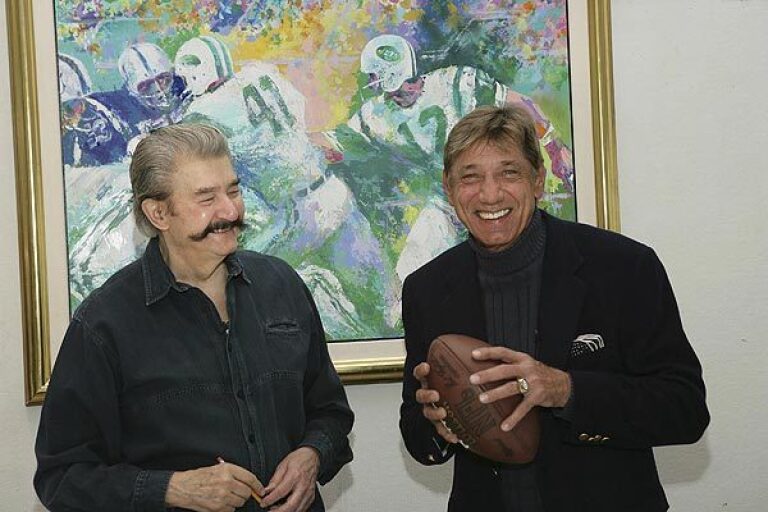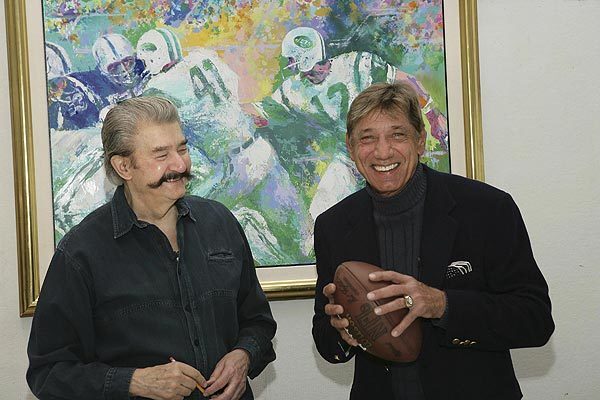 Neiman and former New York Jets quarterback Joe Namath unveil a limited edition serigraph titled "Handoff -- Super Bowl III" in 2007.
(Matthew Peyton / Getty Images)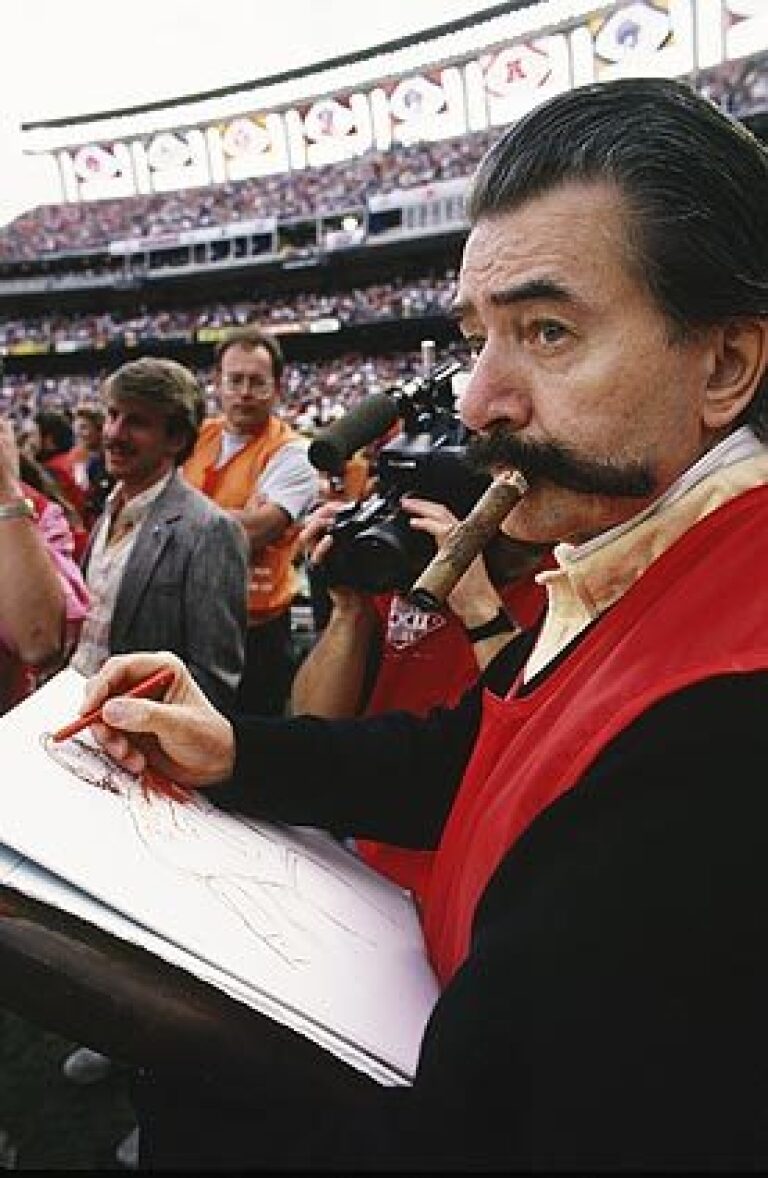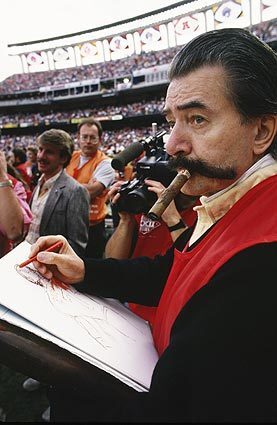 Neiman smokes a cigar as he draws sketches during
Super Bowl
XXII in 1988 in San Diego.
(George Rose / Getty Images)
Neiman at the Playboy Mansion in 1981. Playboy founder Hugh Hefner discovered the artist in 1953 when he was working as a fashion illustrator for a department store.
(Los Angeles Times)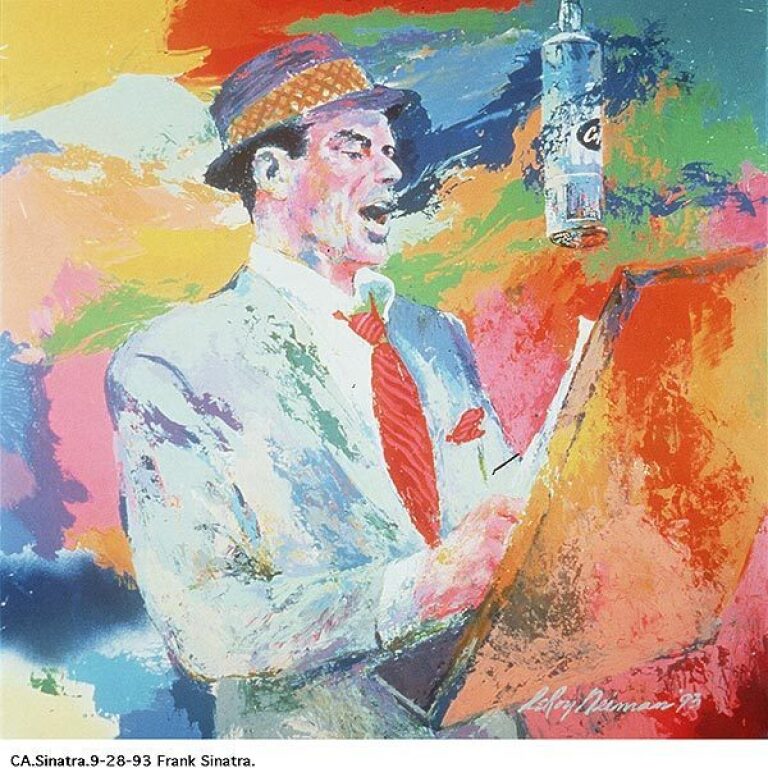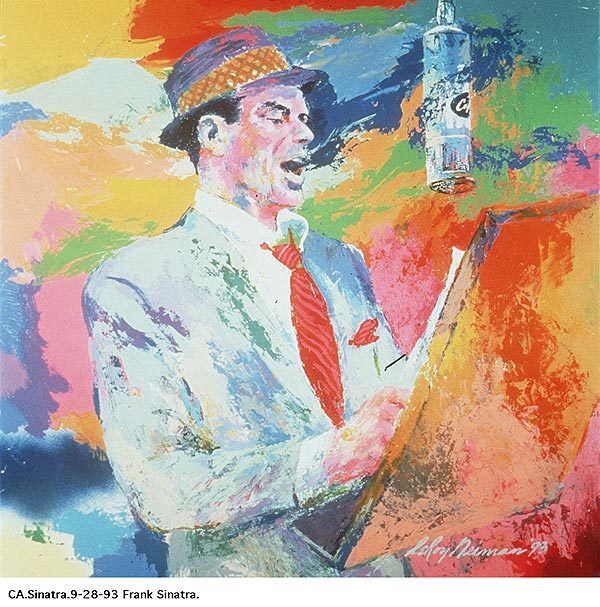 Neiman provided the cover for a Frank Sinatra album.
(Capitol Records)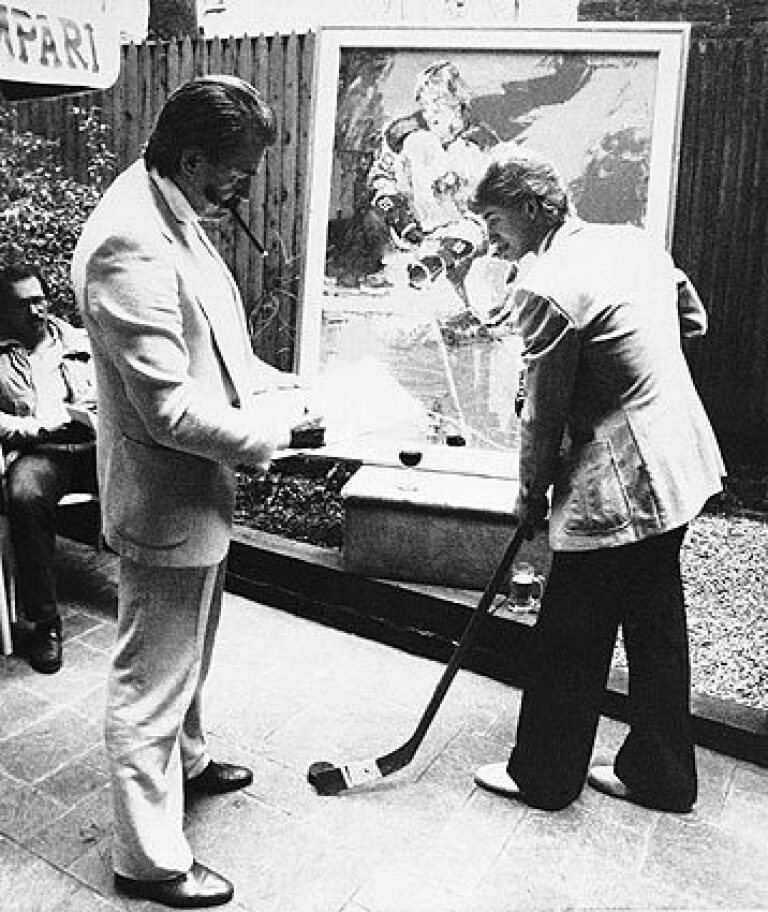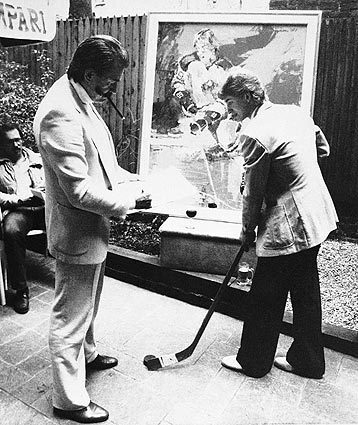 Neiman sketches Wayne Gretzky at a restaurant in New York after the unveiling of Neiman's portrait of the hockey great at a New York restaurant in 1981.
(Richard Sacco / Associated Press)
LeRoy Neiman, a wildly successful American artist who was famous for his colorful portraits of athletes in motion and who became an artistic fixture at such major sporting events as the Olympics and the Super Bowl, has died. He was 91.
Neiman, who was also a longtime contributor to Playboy magazine, died Wednesday in New York, said his longtime publicist, Gail Parenteau. A cause was not disclosed.
---
FOR THE RECORD:
Neiman obituary: In the June 21 LATExtra section, an obituary on LeRoy Neiman said that the artist gave $3 million to the Art Institute of Chicago, where he once taught. Neiman gave $9 million to the School of the Art Institute of Chicago, his alma mater and the school where he once taught.
---
The accessible works of art he painted depicted sports and other leisure activities with bold, distinctive strokes on a canvas that invariably brimmed with color.
He was so successful that as early as 1976 The Times called him "in market terms ... a bigger success than Rembrandt — or any other painter. He is the first sports artist of America. More significantly, Neiman is first by so far nobody knows who's second."
The pronouncement was made in a three-part series on sports art that highlighted Neiman's impressive sales figures. He had sold more than 40,000 paintings and prints — worth an estimated $30 million in 1976 — over the previous four years.
But his critics — and there were many — said Neiman's forays into the commercial world minimized him as a serious artist. He was both loved and disdained for the same reason: His splashy conceptions of athletes in action were mass-produced.
While he focused on major American sports, such as baseball and basketball, he also gained fame in a 1972 television broadcast for sketching chess players Boris Spassky and Bobby Fischer competing against each other in Iceland.
Neiman's "reportage of history and the passing scene … revived an almost lost and time-honored art form," according to a 1972 exhibit catalog of the artist's Olympics sketches at the Indianapolis Museum of Art.
For the 1984 Summer Olympics in Los Angeles, Neiman was appointed the official artist. He was affiliated with five Olympiads.
His career received an early boost from an unlikely source: Playboy founder Hugh Hefner, who discovered the artist in 1953 when he was working as a fashion illustrator for a department store. Neiman was soon creating art for Playboy magazine, including the well-endowed nude that has graced the magazine's Party Jokes page since 1957.
It was the start of what he called "the good life" and inspiration for much of his future work. He regularly contributed to the magazine's "Man at His Leisure" feature, which took him to such places as the Grand National Steeplechase and Ascot in England and the Grand Prix auto race in Monaco.
"It's been fun. I've had a lucky life," Neiman told the Associated Press in 2008. "Art has made me pull the best out of myself."
He was born June 8, 1921, in St. Paul, Minn., to Charles Runquist, an unskilled laborer, and his wife, Lydia. After his father abandoned the family, he took a stepfather's surname.
In 1942, he joined the Army and saw two years of combat during World War II. He also served as a cook.
He studied at the School of the Art Institute of Chicago, the University of Chicago and the University of Illinois.
His painting style came into being "very suddenly," he later said, and emerged after he experimented with discarded cans of enamel paint that allowed him to render fast-moving action with swift strokes.
After a stint in Paris, Neiman set up shop in New York and began exhibiting in galleries. As a portraitist, he painted such iconic figures as Frank Sinatra and Babe Ruth, managing to capture how the public saw them.
He worked in many media, producing thousands of etchings, lithographs and silk screen prints. Eventually, his art gravitated toward sports.
"For an artist, watching a [Joe] Namath throw a football or a Willie Mays hit a baseball is an experience far more overpowering than painting a beautiful woman or leading political figure," Neiman said in 1972.
With his trademark handlebar mustache and slicked-back hair, Neiman was instantly recognizable. At a New York Jets game in 1975, fans yelled, "Put LeRoy in," when the play wasn't going their way.
One face he repeatedly depicted was that of Muhammad Ali. Those paintings and sketches, representing 15 years of the fighter's life, are housed at the LeRoy Neiman Gallery at the Muhammad Ali Center in Louisville, Ky. Neiman's works are in the permanent collections of many private and public museums.
His philanthropy included donating $6 million to Columbia University to create the LeRoy Neiman Center for Print Studies. He also gave $3 million to the Art Institute of Chicago, where he once taught.
His studio was near Central Park in the home that he shared with Janet, his wife of 55 years. She survives him.
A workaholic who said he had no hobbies, Neiman produced large-scale works late in life, including a 160-foot-long sports mural that was hung in the Sports Museum of America, which opened in New York in 2008.
"What else am I good for?" he said in 2008. "I don't think about anything else."
---
Must-read stories from the L.A. Times
Get all the day's most vital news with our Today's Headlines newsletter, sent every weekday morning.
You may occasionally receive promotional content from the Los Angeles Times.