Les Paul dies at 94; guitarist whose innovations paved the way for rock 'n' roll
FILE - In this Nov. 5, 1951 file photo, Les Paul and his wife, Mary Ford, perform with their guitars. Paul, 94, the guitarist and inventor who changed the course of music with the electric guitar and multitrack recording and had a string of hits, died, Thursday, Aug. 13, 2009 in White Plains, N.Y., according to Gibson Guitar. (AP Photo, file)
(Associated Press)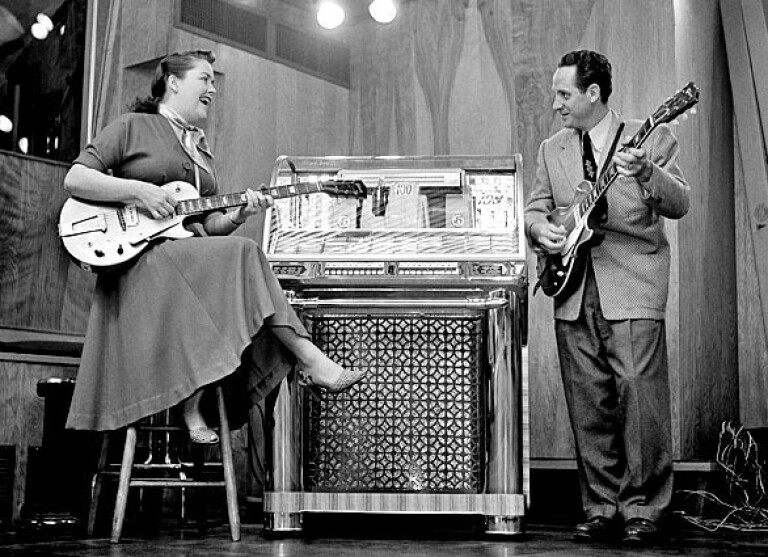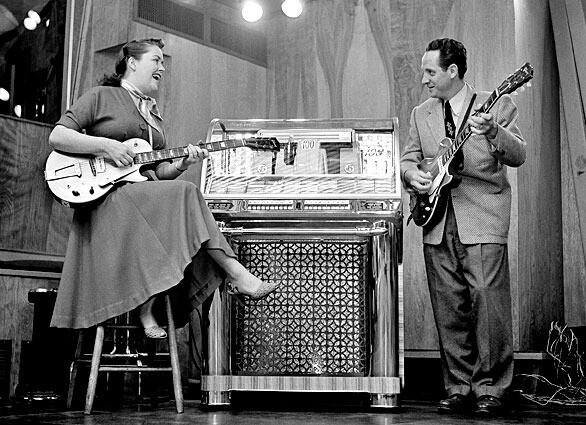 Mary Ford and Les Paul strum In the television studio which is their workroom at their Oakland, NJ, home December 20, 1953. Mary sings softly as they listen to one of their records to determine whether it should have had more guitar playing. They like to check their records on juke boxes to hear how they sound to some of the listeners. Their multiple recording sound has sold millions of records. They have become popular through the technique of making the two of them sound like a band and chorus, through the multiple recording technique perfected by Paul. (AP Photo/Dan Grossi)
(Dan Grossi / Associated Press)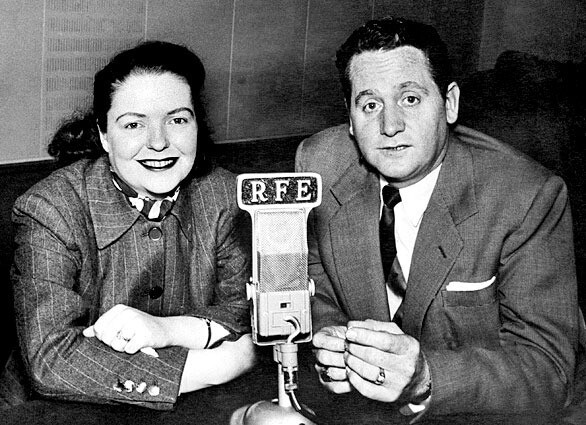 Famed American recording stars, vocalist Mary Ford and guitarist Les Paul , at Radio Free Europe microphone in Munich, Germany during Jan 5, 1955 during stopover to record interview for Iron Curtain listeners. The popular pair, currently touring Europe, are rated as two of the most well known American entertainers by youngsters in Communist ruled Poland, Czechoslovakia and Hungary. (AP Photo)
(Associated Press)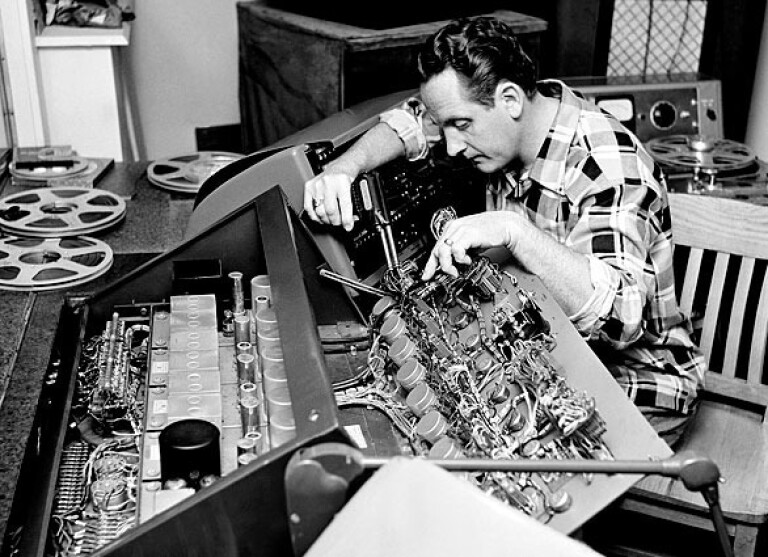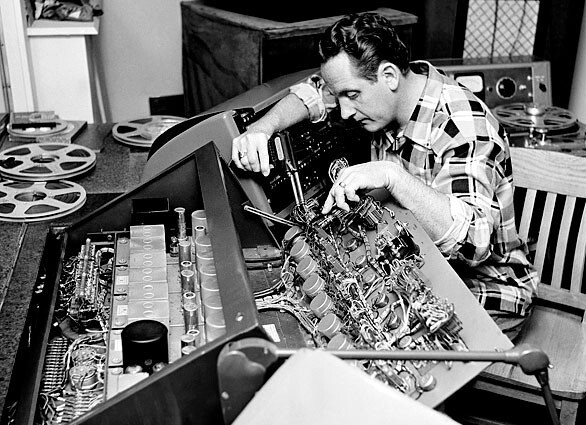 FILE - In this Dec. 20, 1963 file photo, Les Paul repairs one of the many control boards in the control room at his Oakland, N.J., home. Paul, 94, the guitarist and inventor who changed the course of music with the electric guitar and multitrack recording and had a string of hits, died, Thursday, Aug. 13, 2009 in White Plains, N.Y., according to Gibson Guitar. (AP Photo/Dan Grossi, file)
(Dan Grossi / Associated Press)
FILE - In this Feb. 19, 1977 file photo, Les Paul, right, and Chet Atkins, left, are presented Grammies by Dolly Parton and Freddie Fender, second from right, at 19th annual Grammy Awards in Los Angeles. Paul, 94, the guitarist and inventor who changed the course of music with the electric guitar and multitrack recording and had a string of hits, died, Thursday, Aug. 13, 2009 in White Plains, N.Y., according to Gibson Guitar. (AP Photo/George Brich, file)
(George Birch / Associated Press)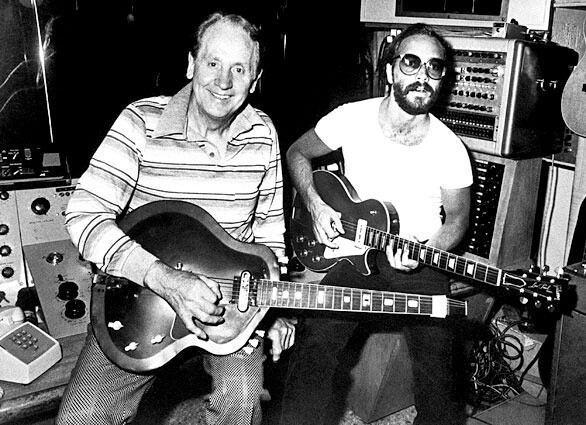 Les Paul, left, and Al Di Meola at Les Paul's home recording studio in Oakland, N.J. in July, 1980. (AP Photo)
(Associated Press)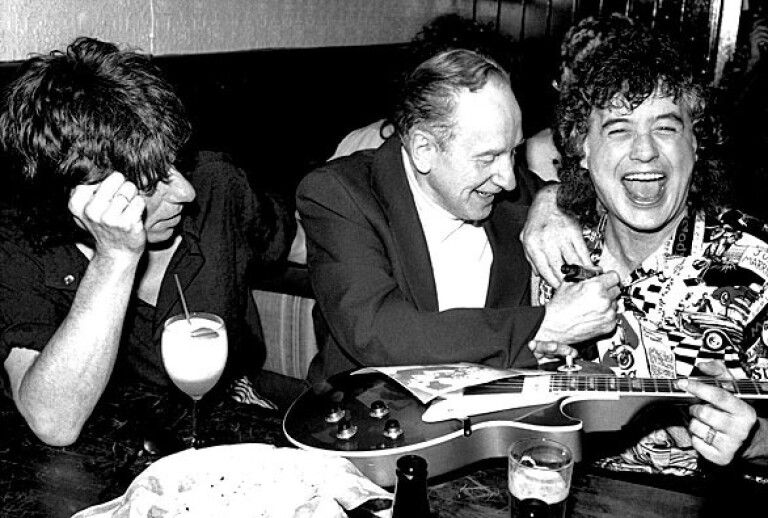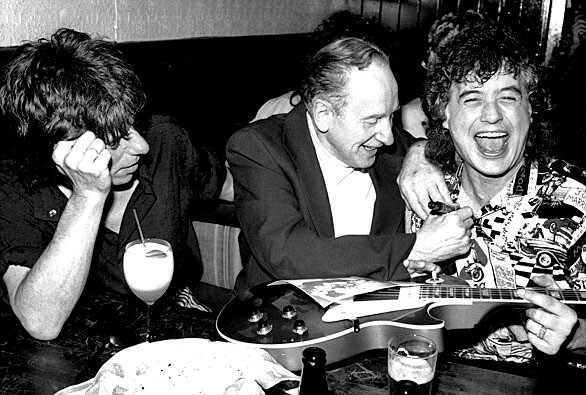 Guitar designer Les Paul, center, who pioneered multi-track rock music recording, signs former Led Zepplin guitarist Jimmy Page's chest after signing his guitar at a 72nd birthday party thrown for Les Paul by the Gibson Guitar Company at New York's Hard Rock Cafe, Monday, June 11, 1987. Guitarist Jeff Beck is at left. (AP Photo/John Bellissimo)
(John Bellissimo / Associated Press)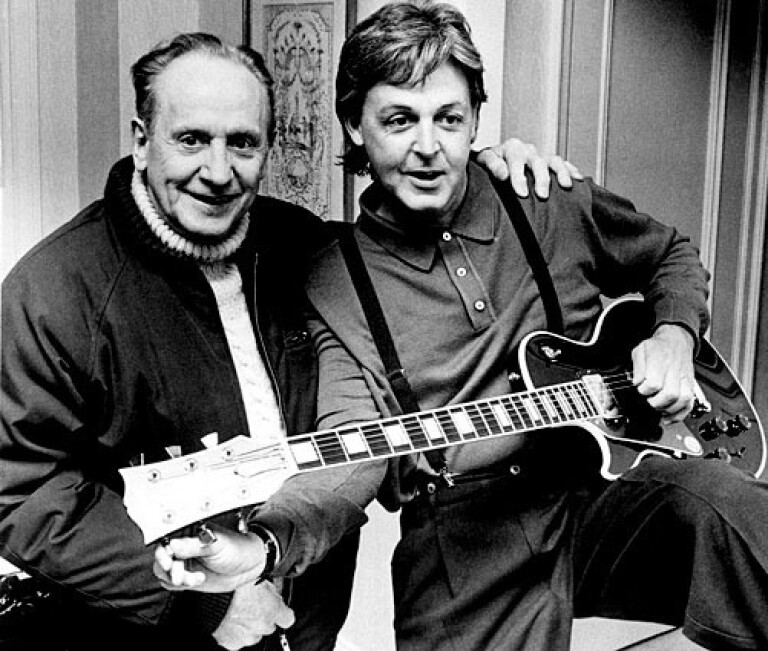 FILE - In this May 3, 1988 file photo, Paul McCartney, right, tries out a custom-made left handed "Les Paul Lite" guitar presented to him by designer, Les Paul, left, in New York. Paul, 94, the guitarist and inventor who changed the course of music with the electric guitar and multitrack recording and had a string of hits, died, Thursday, Aug. 13, 2009 in White Plains, N.Y., according to Gibson Guitar. (AP Photo, file)
(Associated Press)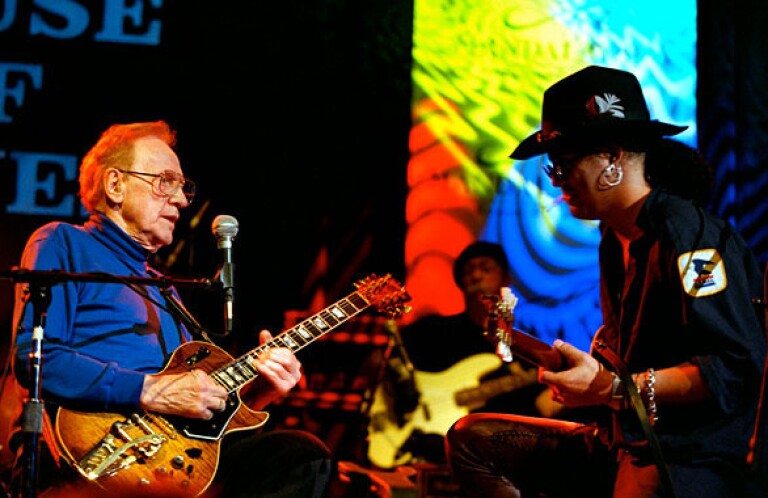 98-05-01 -- Les Paul , left, and Slash team up at the House of Blues show. PHOTOGRAPHER: GARY FRIEDMAN / Los Angeles Times CA.LesPaul.2.0429.GF. Guitar guru Les Paul (left) in concert Wednesday, 4/29/98 at House of Blues in West Hollywood--pictured with Slash (right), one of the guest artists performing with Paul --LAT/GARY FRIEDMANPhoto/Art by:Gary Friedman
(Gary Friedman / Los Angeles Times)
95-05-24 -- COLOR, (B1) VINTAGE GUITARS : When Norman's Rare Guitars opened in Reseda in 1975, it was one of only three or four vintage guitar stores in the nation. Now there are 20 in Los Angeles, but business is still brisk. Above, a 1959 Gibson Les Paul guitar . B1 PHOTOGRAPHER: RICHARD DERK / Los Angeles Times 95-05-18(Valley) -- COLOR, This Gibson Les Paul is the kind of guitar collectors crave. PHOTOGRAPHER: RICHARD DERK / Los Angeles Times SF.Guitar .#1.Rd.5-16-95 VAL COL - Reseda: A 1959 Gibson Sunburst guitar priced at what the market will pay. ????????? Photo: RICHARD DERK LAT.
(Richard Derk / Los Angeles TImes)
98-02-03 -- A Gibson Les Paul is among the guitars on the auction block. -- PHOTOGRAPHER: RICK MEYER / Los Angeles Times ME.Guitars .3.0202.RM Photo shows one of the of the 49 seized vintage guitars . Guitar pictured is a Gibson Les Paul Flame Top. The guitars were seized by the IRS and will be auctioned at the US Dept of Treasury auction, Feb 12. It is estimated that the guitars could be worth from $500 to $20,000 each. Photo shot on the stage at the House of Blues, West Hollywood. Monday Folder.
(Los Angeles Times)
BK.1127.TOWNSHEND2-- Gibson Les Paul No. 9 comes from a numbered series that Pete Townshend carried on the road during the band's '70's heyday, so that he could ask for a guitar by their number during concerts. The image is from the book, "Treasures of the Hard Rock Cafe: The Original Guide to the Hard Rock Cafe Memorabilia Collection," by Paul Grushkin and Joel Selvin with Steve Routhier. PUBLISHED BY: Hardrock
(Hard Rock Cafe)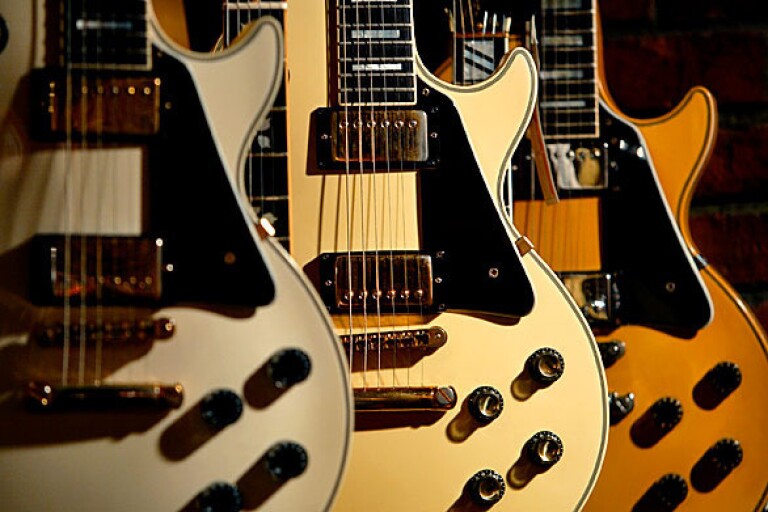 076916.FI.0129.guitar4.AMR Guitar Center Stores Inc, a retail chain that sells musical instruments, has had strong profits and revenues lately. Deatil of Les Paul Custom guitars at the Hollywood Guitar Center.
(Los Angeles Times)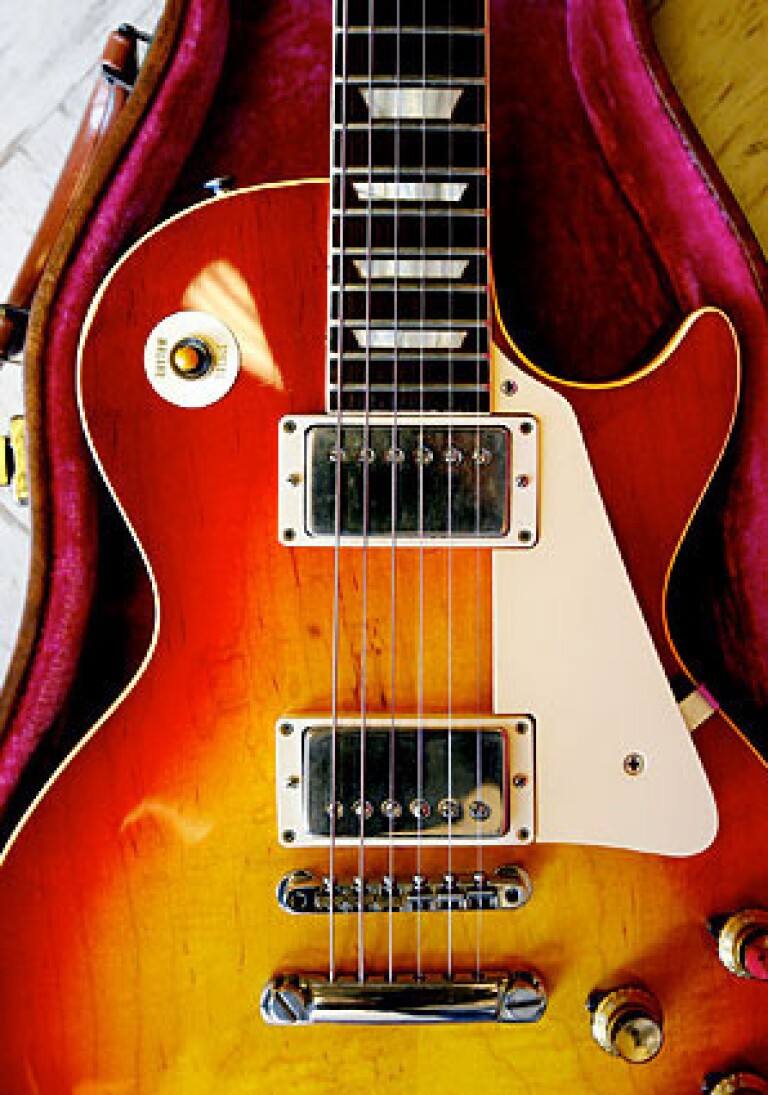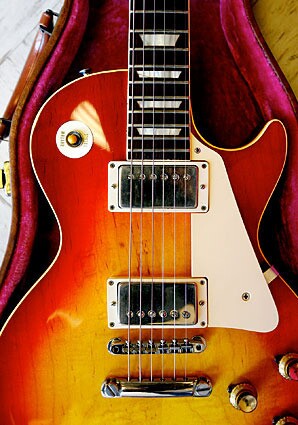 TARZANA-CA-APRIL 18, 2009: A 1960 Les Paul Standard electric guitar is photographed at Norman's Rare Guitars in Tarzana on Saturday, April 18, 2009. (Christina House / For The Times)
(Christina House / For The Times)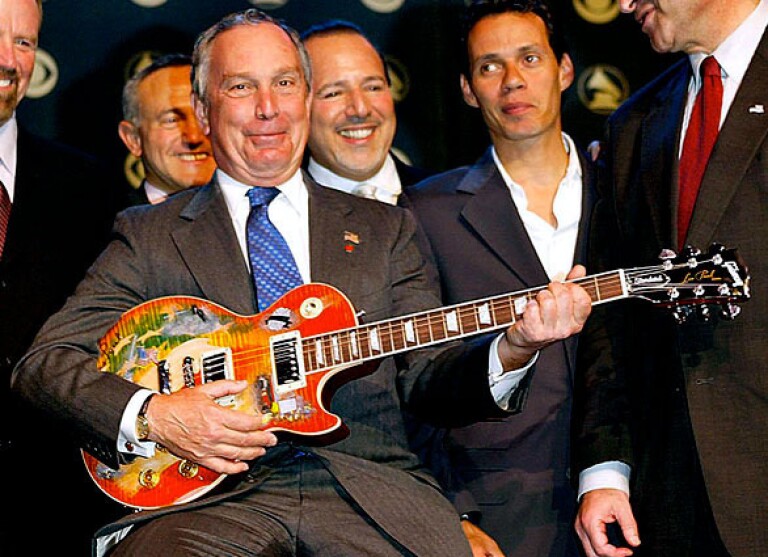 (FILES) New York City Mayor Michael Bloomberg (C) holds a Les Paul guitar donated by Les Paul at a press conference in New York 03 April 2002 to announce that the 45th Annual Grammy Awards will be presented in New York City at Madison Sqaure Garden on 23 February 2003. Les Paul, the guitarist and inventor who changed the course of music with the electric guitar and multitrack recording died at age 94 of complications of pneumonia on August 13, 2009 in New York.
(Tim Clary AFP/Getty Images)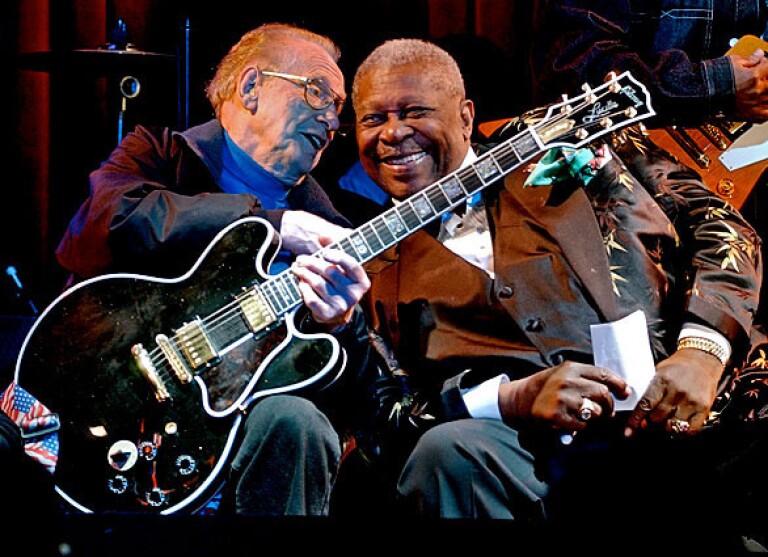 Music legends Les Paul, 88, left, and B.B. King, 77, put their heads together during a jam session at the third anniversary celebration of the B.B. King Blues Club and Grill in New York's Times Square, Tuesday night June 17, 2003. Paul holds King's signature "Lucille" guitar, which he played.(AP Photo/Richard Drew)
(Richard Drew / Associated Press)
FILE - In this Oct. 4, 2004 file photo, guitar legend Les Paul gets ready to rehearse at the Iridium Jazz Club in New York. Paul, 94, the guitarist and inventor who changed the course of music with the electric guitar and multitrack recording and had a string of hits, died, Thursday, Aug. 13, 2009 in White Plains, N.Y., according to Gibson Guitar. (AP Photo/Richard Drew, file)
(Richard Drew / Associated Press)
AMERICAN MASTERS PBS TV Series Les Paul: Chasing Sound Electric guitar maker Les Paul
(Chris Lenz / PBS)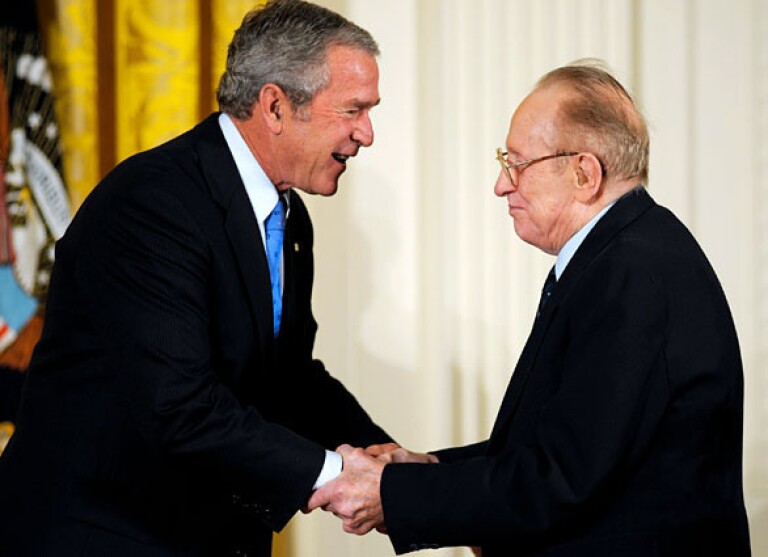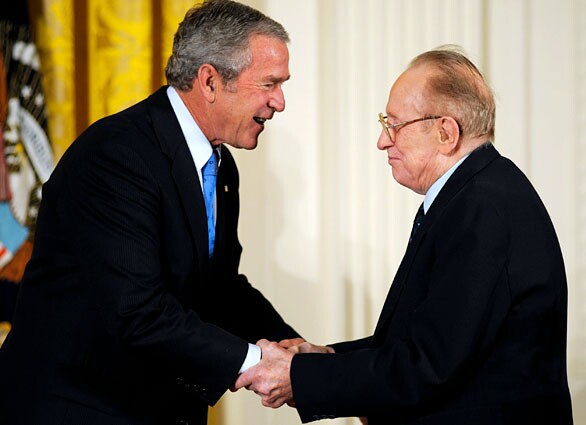 (FILES) US President George W. Bush (L) shakes hands with guitar pioneer Les Paul before presenting him with the 2007 National Medal of Arts, 15 November 2007, in the East Room of the White House in Washington, DC. Les Paul, the guitarist and inventor who changed the course of music with the electric guitar and multitrack recording died at age 94 of complications of pneumonia on August 13, 2009 in New York.
(Mandel Ngan / AFP/Getty Images)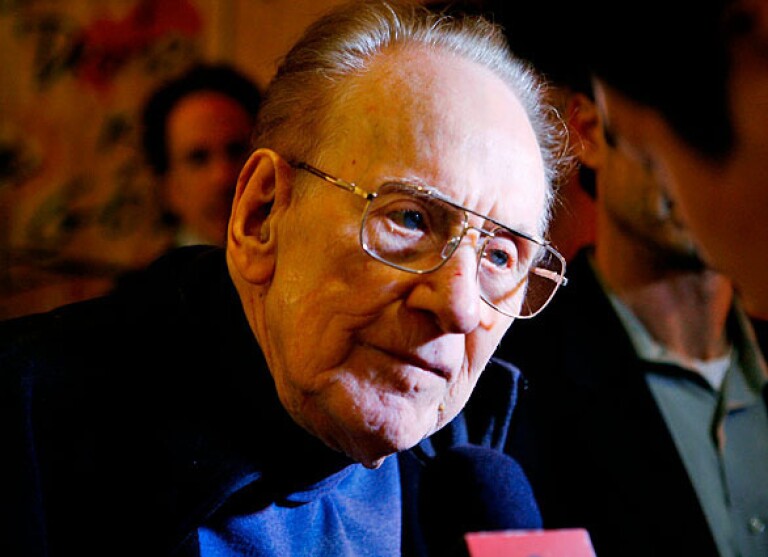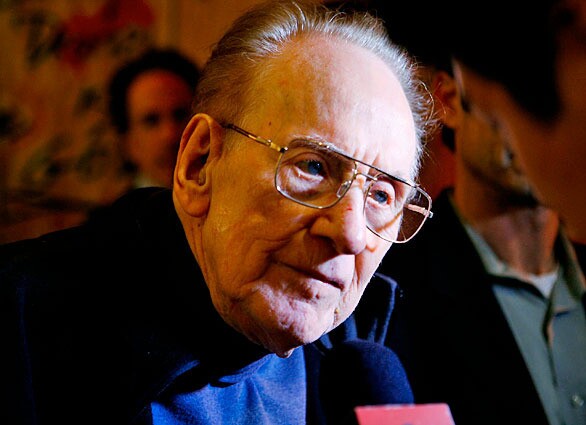 NEW YORK - DECEMBER 02: (FILE PHOTO) Guitar legend Les Paul attends the grand opening of the Rock and Roll Hall of Fame ANNEX NYC on December 2, 2008 in New York City. According to reports, guitarist and recording and guitar inventor Les Paul died August 13, 2009 of complications from pneumonia at the age of 94.
(Amy Sussman / Getty Images)
Les Paul was often called rock royalty, but for the people who knew the man before his death Thursday at age 94, that term often inspired a gentle chuckle.
Born in Wisconsin in 1915, Paul was a Midwestern jazz man who went on to make high-polish 1950s pop recordings, a style of music that was snuffed out by the reckless energy of rock 'n' roll. Still, the rock demi-gods of the 1960s and '70s adored Paul for what he handed them, the Gibson Les Paul electric guitar, a beast of an instrument that has endured through the years whether the band on stage was Led Zeppelin, the Sex Pistols or Green Day. The six-string became such an American institution that, like Levi Strauss, Jack Daniel's and John Deere, it became more a symbol than a mere brand name.
Keith Richards, Jimmy Page, Jeff Beck, Eddie Van Halen and Slash are just some of the players who have raised and praised the guitar during their careers. Richards, of the Rolling Stones, said Thursday that "all of us owe an unimaginable debt to his work and his talent," while Joe Satriani, whose searing solos sound like cosmic noise compared with Paul's vinyl hits, put the nonagenarian's passing in terms that even the youngest music fan could understand: "He was the original guitar hero."
Paul died of complications from pneumonia at White Plains Hospital in New York, according to a spokesperson for Gibson Guitar Co. Paul had been in failing health for some time, but he had soldiered on, amazingly, with his weekly Monday night performances at the Iridium Jazz Club in New York City until earlier this year.
James Henke, the chief curator of the Rock and Roll Hall of Fame in Cleveland, went to a show in May and, backstage, it was apparent that Paul was ailing. "But he still played two shows that night and sounded great," he said.
Artist, inventor
Paul's legacy is a broad one. Part artist, part inventor, Paul was "that rare person who was artistic and scientific at the same time," as Henke put it. Paul was a master picker, one of the best of his generation, and was often cited as a major influence on other more famous guitarists, including Chet Atkins, who called Paul "one of my idols."
Still, it is Paul's innovations that put him in the Rock and Roll Hall of Fame. They include an early solid-body electric guitar as well as new ways to create multiple tracks and echo effects for recordings, which he applied with memorable effect to his recordings with his then-wife Mary Ford. Through the years, the guitars with Paul's name on them became so popular that he was routinely -- and wrongly -- cited as the inventor of the electric guitar, an error that spoke to the ubiquity of his brand.
"When most people think of the electric guitar, they think of Les Paul," said Dan Del Fiorentino, historian for the National Assn. of Music Merchants, a trade group for the music-products industry. "He wasn't the inventor of the solid-body electric guitar, but he certainly made it famous."
Well-known pioneers were looking to amplify a guitar as early as the 1920s, among them Doc Kauffman, Adolph Rickenbacker and George Beauchamp, whose "Frying Pan" is considered the first solid-body electric guitar. None of those names would become as famous as Les Paul, who was born Lester William Polfuss on June 9, 1915, in Waukesha, Wis.
Always curious, Paul would tinker with his mother's upright player piano, re-punching the piano roll to make new notes. By 9, he had taught himself the harmonica by listening to earthy blues and country hits on the family radio.
His first guitar was a model from Sears, Roebuck & Co. that captured his imagination, and by his late teens he had dropped out of school to pursue music.
That path led to Chicago. During the day, he would play country music using the name Rhubarb Red; at night he would jam in the jazz clubs with a more enduring moniker, Les Paul, with Gypsy guitarist Django Reinhardt as part of his style heritage.
Paul crafted his own crude version of an amplified guitar as a teenager. His goal was simply to be better heard. To amplify the sound, he tried using a phonograph needle, a telephone mouthpiece and a radio speaker. The sound did get stronger, but, as Paul would recollect in Modern Guitar magazine in 2005, "I ran smack into the problem of feedback."
He realized that the acoustic guitar's hollow body -- which was designed to reverberate and amplify the string sound -- probably wasn't needed if the instrument was hooked up to power. He filled the hollow with socks and shirts and even plaster of Paris, which, not surprisingly, created some problems.
In the 1930s, his experimentation continued in a new direction. He attached electronic pickups and strings to a 4-by-4-inch piece of pine that was about 18 inches long. It worked well enough but didn't have the graceful look of a guitar. So, in the name of aesthetics, he sliced a regular guitar in half lengthwise and bolted it to the wood. He dubbed the contraption "The Log." It gave Paul the sustaining power he had been seeking -- he playfully boasted that he could play a note, go out, grab a bite to eat and come back and the same note would still be sounding.
Essential figure
Stones guitarist Richards said Thursday that Paul's leaps of invention and insight made him an essential figure, on par with Leo Fender, the engineer who in 1951 began mass-producing the solid-body Broadcaster (later renamed the Telecaster), the instrument that would soon revolutionize popular music.
"Les Paul, along with Leo Fender, is the most important developer of the electric guitar," said Richards, who marveled at Paul's youthful quest. "He actually taught himself to play guitar in order to demonstrate his electronic theories. Wow."
The famed guitar company Gibson also designed a solid-body guitar and, in 1952, released an instrument that was endorsed by Paul, who had by then made a name for himself in music. Various models of Gibson Les Pauls are still in production.
Electrifying the guitar took the instrument from one used for simple background rhythm to an up-front driving force in country music, blues, R&B and rock. Even the feedback Paul tried so hard to eliminate became a new language for guitarists who wanted to push into the sonic frontiers that Paul in many ways mapped out.
Perhaps even more important than Paul's role in the electric guitar were his recording innovations.
To get a fuller sound on some songs, Paul tinkered with one of the first tape recorders to figure out how he could record one track at the same time he was playing back another track. It was the beginning of multi-track recording and sound-on-sound -- an essential approach to modern music-making.
"I'll never understand why I chased sound all my life," Paul said in a 1997 interview for the Smithsonian Institution. "But I was there chasing it constantly, saying it's got to have a little more of this and a little more of that." He told The Times' music critic Robert Hilburn that his inventions were "conveniences" designed "to help me get the sound I had in my head on record."
Paul's musical odyssey in life took him to St. Louis and Chicago and then on to New York, where the Les Paul Trio played for several years on Fred Waring's radio program and, in off hours, Paul went to Harlem to sit in with greats such as Art Tatum and Charlie Christian.
In the 1940s, Paul's career was ramping up. He performed with Nat "King" Cole and recorded with his idol Bing Crosby on "It's Been a Long, Long Time," which quickly hit No. 1 on the charts.
Paul signed with Capitol Records in 1948 and his crisp, smooth sound and small-combo approach was red hot. He was still a wizard: Paul began melding live and recorded tracks and playing with the tape speed. The instrumental "Lover (When You're Near Me)" in 1947 layered eight guitar parts, an early step toward the later studio alchemy practiced by the likes of Phil Spector and Brian Wilson.
With Mary Ford
Paul built a studio in his Hollywood home, where he recorded the 1946 hit song "Rumors Are Flying" with the Andrews Sisters. By then, Paul had met singer-guitarist Colleen Summers, to whom he later gave the stage name Mary Ford.
After a serious car accident in 1948 and a career-threatening arm injury (Paul persuaded doctors to set his broken limb in a bent position that allowed him to still pick), the couple had mastered the sound that opened the door to their huge popularity.
"How High the Moon," which was made with a dozen overdubs, stayed at the top of the charts for more than two months in 1951. The "new sound," as Paul called it, allowed fresh renderings of songs like "Mockin' Bird Hill," "I'm Sitting on Top of the World" and "Tiger Rag," as well as another big hit, "Vaya Con Dios."
At one point, 13 consecutive Paul-Ford tunes sold more than half a million copies. The couple became so popular that from 1953 to 1960 they hosted a five-minute weekday TV show from their home.
The great success ended abruptly with the arrival of rock 'n' roll. Dave Dexter, a Capitol Records executive, said: "It didn't just taper off, the way it did with Crosby and hundreds of other artists. It just absolutely stopped."
As Mary Alice Shaughnessy wrote in her 1993 book "Les Paul: An American Original," "The electric guitar that Les had done so much to popularize was becoming the instrument of his professional doom. Les and Mary's sweet sound and down-home stage patter were simply too quaint for modern tastes." The couple divorced in the mid-1960s; Ford died in 1977.
Paul continued to record, earning a Grammy in 1976 for "Chester and Lester," recorded with Atkins. But Paul was more famous as a brand name than as a recording star by then.
In 1974, for instance, a youngster named Steve Jones admired a Gibson Les Paul with a sunburst paint job that sat in the window of a Shaftesbury Avenue music shop in London. Jones liked the guitar so much he stole it and began a music career. As the guitarist for the Sex Pistols, he ushered in another new generation of players.
"I had no idea there was a guy named Les Paul when I got that guitar from the poor sod that owned the shop," Jones said Thursday. "It was years before I found that out and then more years until I found out that he was a guitar player and this cool old guy. . . . That guitar of his, it was the only one for me. You know when you pick it up where it's going to go."
In 1984, when Paul was nearing 70, he returned to the stage, appearing in New York clubs. Richards, Tony Bennett and Paul McCartney were among the icons who joined him at his weekly shows.
In 2005, Paul released his first studio album in 27 years with guests such as Steve Miller, Eric Clapton, Peter Frampton and Sting.
Paul's original Log is housed at the Country Music Hall of Fame in Nashville; a replica sits in the Rock Hall in Cleveland.
Paul is survived by three sons, Lester, Gene and Robert; a daughter, Colleen Wess; five grandchildren and five great-grandchildren; and longtime friend Arlene Palmer. A private service will be held in New York.
In 2005, Paul told NPR that he remembered even his bad times with warmth.
"Every setback might be the very thing that makes you carry on and fight all the harder and become that much better," he said. "And I'll probably play until I fall over and that's the end."
Luther is a former Times staff writer.
---
Must-read stories from the L.A. Times
Get all the day's most vital news with our Today's Headlines newsletter, sent every weekday morning.
You may occasionally receive promotional content from the Los Angeles Times.