March Fong Eu, pioneering Asian American politician who was longtime California secretary of state, dies at 95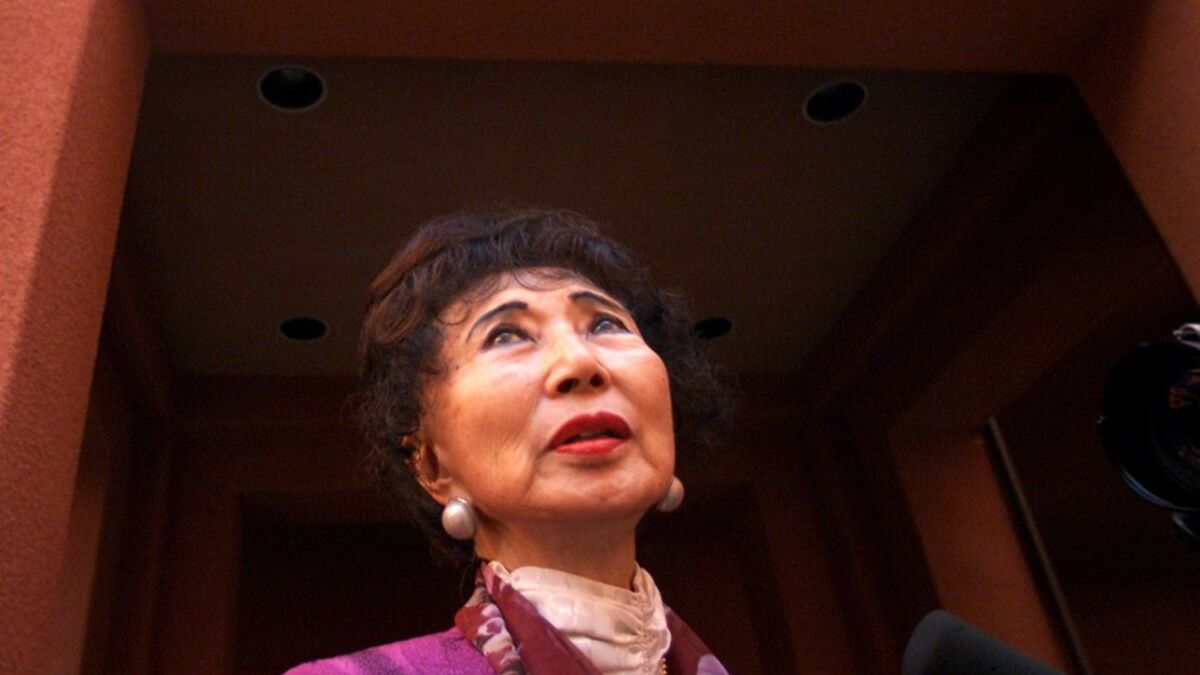 March Fong Eu liked to tell constituents that she was "born behind a Chinese laundry," and it wasn't far from the truth.
Eu's parents ran a hand-wash laundry in Oakdale, a modest town in the San Joaquin Valley where — at the time — a girl of Chinese descent might well have thought twice about dreaming too big.
But Eu climbed the rungs of education, plowed through the high brush of politics and became the first Chinese American to hold a constitutional office in California when she was elected secretary of state, the first woman to hold that office.
A potent symbol of womanhood and persistence through her life, Eu died Thursday following surgery after falling at her home in Irvine, said Caren Lagomarsino, Eu's longtime spokeswoman. She was 95.
"She was such an exemplary role model and an encouragement for women to break the glass ceiling," said Lagomarsino, who worked with Eu for 19 years in Sacramento.
Gov. Jerry Brown said he found Eu inspiring. "She was a pioneering woman who helped open doors to public service for more women and Asian Americans."
After first serving four terms in the state Assembly from 1966 to 1974, Eu rode into the headlines with her populist campaign to ban pay toilets from public buildings, which she said symbolized the second-class treatment of women who would be left fumbling for pocket change in their purses just to use a bathroom.
She received the highest vote total ever at that time for a statewide politician to become the state's chief elections officer and keeper of business and archival records. She was unbeatable in the next four elections.
During her nearly 20-year tenure, Eu instituted voter registration by mail and got federal approval of legislation allowing voters to register at the Department of Motor Vehicles and other state agencies.
Eu technically became the state's first female governor — if only for a day — in 1976, when all the other state officials in the line of succession were out of California.
In 1988, midway through her fourth term, Eu sought the Democratic nomination to the U.S. Senate, hoping to become the first woman to serve as a California senator. However, she withdrew because she did not wish to disclose the financial holdings of her wealthy second husband, Henry Eu, a Singapore businessman.
Four years later, Democrats Dianne Feinstein and Barbara Boxer were elected the first two female California senators.
Toward the end of her fifth term as secretary of state, Eu resigned when President Clinton named her ambassador to the Pacific nation of Micronesia, a post she held for two years until 1996.
Though she never again held public office, Eu could not keep away from politics after her ambassadorship. In 1998, she supported a Republican — her adopted son, Matt Fong — in his unsuccessful attempt to unseat Boxer.
Four years later, Eu announced plans to run once again herself — for her old secretary of state job. By then almost 80, Eu said she was prompted to jump back into politics because she was disturbed that California still had punch-card voting equipment like that in Florida, equipment that had caused a constitutional crisis in the 2000 presidential election.
"These old systems are time bombs that periodically explode whenever there is a close election," said Eu, whose election slogan was "No More Chad." "It's time to act in California before we become the next victim."
Eu had a great advantage because of her name recognition, but she lost in the Democratic primary to Assembly Majority Leader Kevin Shelley, who went on to defeat the Republican candidate, Keith Olberg.
Eu, a onetime dental hygienist, served on the Alameda County school board in the 1950s and became interested in politics while serving as president of the American Dental Hygienists Assn. She was elected to the state Assembly in 1966, serving four terms.
Eu quickly made a name for herself by taking up the issue of coin-locked toilets, saying that forcing women to fumble for pocket change was discriminatory.
To make her point, she staged a publicity stunt in 1969 in which she bashed a toilet lock with a sledgehammer (and accidentally smashed the toilet as well).
Though Eu was ridiculed by her male colleagues in the Legislature over the pay-toilet issue, in 1974, the same year that Gov. Ronald Reagan signed a bill banning pay toilets in public buildings, she used the issue in her bid to become secretary of state and received a record 3.4 million votes. Four years later, she topped that by 600,000 votes.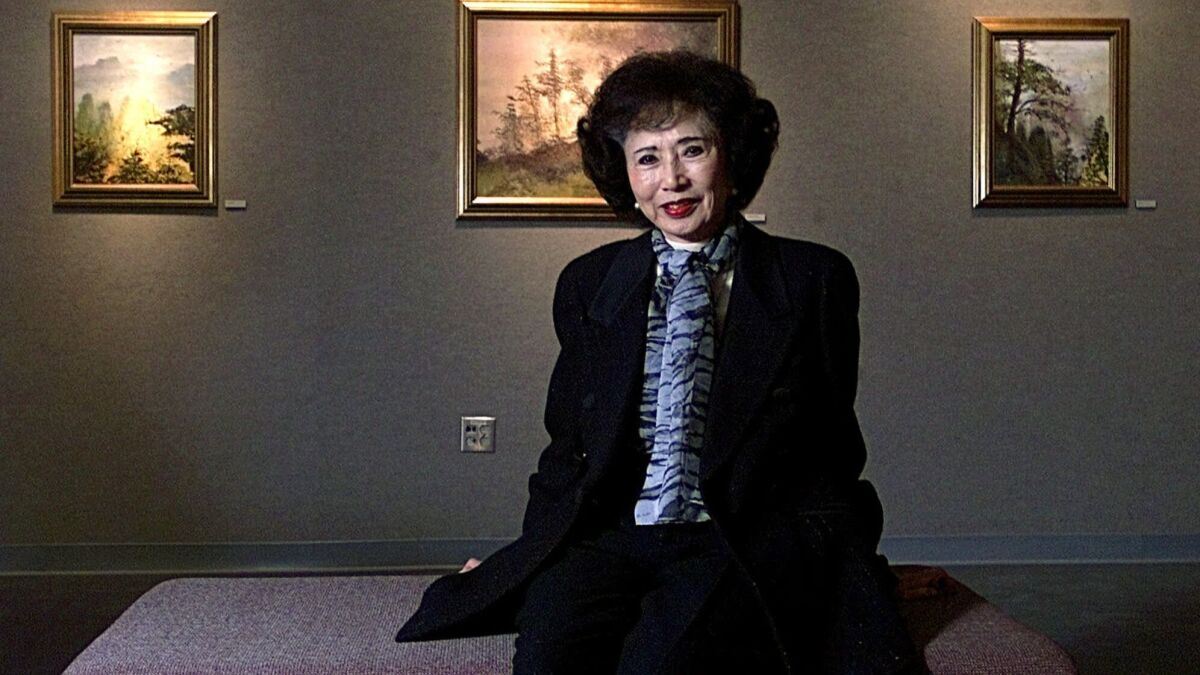 The daughter of Chinese immigrants, Fong was born March 29, 1922, in Oakdale, northeast of Modesto. Her parents operated a laundry there and, after moving to San Francisco, opened a laundry there as well.
Although she was a straight-A student, a high school counselor told her not to count on becoming a scientist as she had hoped because she was Chinese and it was likely nobody would hire her.
"Much of my drive is based there," she once said.
She received her bachelor's degree in dental hygiene at UC Berkeley, a master's at Mills College and a doctorate in education from Stanford University before running for the state Assembly in 1966.
Eu did not call herself a feminist, but she bristled at restrictions on women. She once staged a protest at an all-male club in Sacramento, first wrangling an invitation to lunch there and then informing television stations to come and watch her be thrown out.
"Even if I were chairman of a committee meeting there for luncheon, I would be excluded," an indignant Eu told The Times.
The club later agreed to accept female members.
In 1986, Eu was mugged in her own home while her husband was upstairs, unaware that a burglar had entered their house in gated Fremont Place in the Hancock Park area of Los Angeles. The burglar beat her with the blunt edge of an ax and dragged her around the house by her hair until she found $300 to give him. The man was later captured and sent to prison.
Eu is survived by a daughter, Suyin. Her son Matt, who was elected state treasurer in 1994, died of cancer in 2011.
Luther is a former Times staff writer. Times staff writers Steve Marble and Liam Dillon contributed to this report.
---
UPDATES:
2:40 p.m.: This article was updated with details about the cause of March Fong Eu's death.
This article was originally published at 1:50 p.m.
---
Must-read stories from the L.A. Times
Get the day's top news with our Today's Headlines newsletter, sent every weekday morning.
You may occasionally receive promotional content from the Los Angeles Times.