Marta Becket, desert icon who made the Amargosa Opera House a destination, dies at 92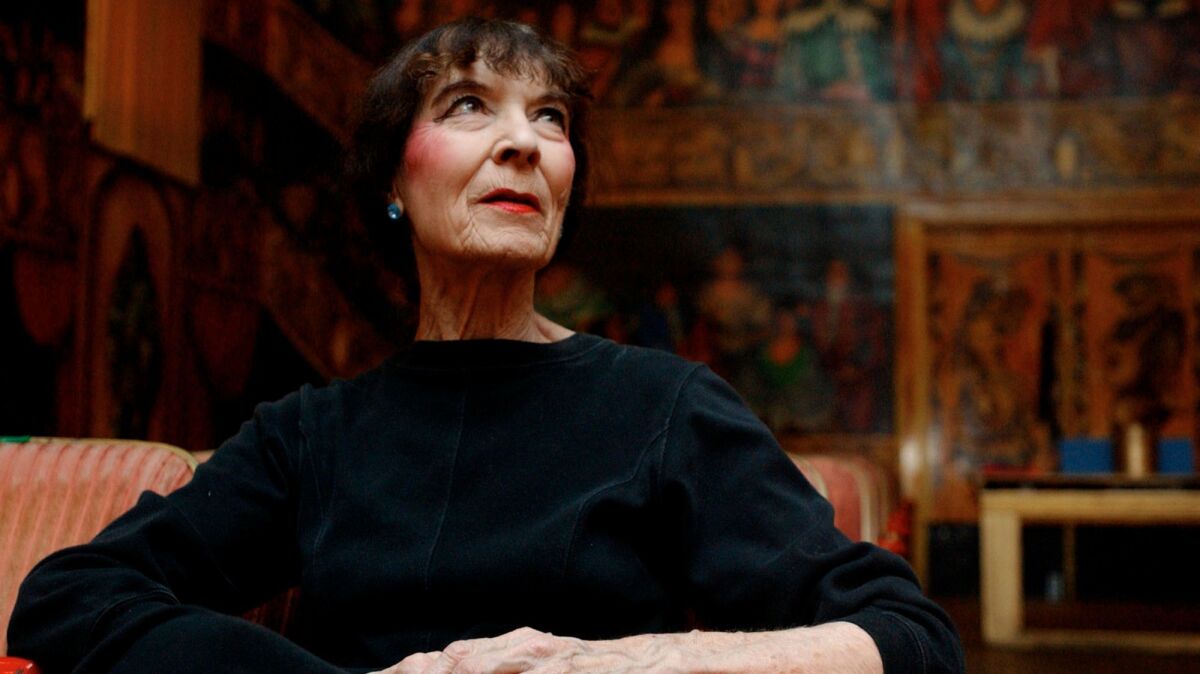 If not for a flat tire, Marta Becket may never have come across the abandoned hotel and social hall in the desert that would come to be her lifelong stage.
While her husband looked for help with the tire, Becket peered into the hall. The floors were warped, the paint was peeling, a set of broken benches looked lost in the gloom. But she saw something brighter.
"My life split in two at this junction," she told the Los Angeles Times in 1999. "I looked at the stage and knew it was my future. I knew I'd perform here the rest of my life."
And she did.
Becket, who died Monday at 92, spent decades presenting self-written, one-woman shows at the Amargosa Opera House, first in front of only empty seats and then full houses as fans drove deep into the desert to watch her perform.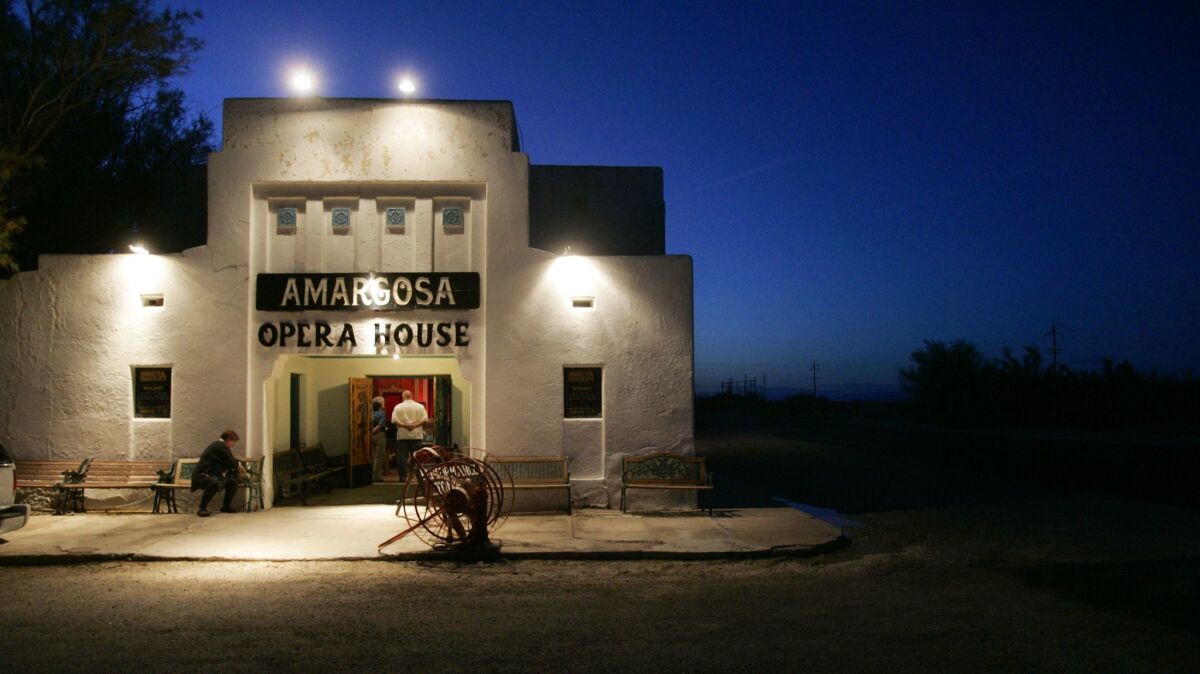 The opera house in Death Valley Junction, a former mining hub seven miles from the Nevada state line, was at once a classic desert curiosity and a cultural beacon in the middle of nowhere.
A classically trained dancer who grew up in New York and danced at Radio City Music Hall, Becket made her debut at the opera house in 1968.
By her estimation, the population of Death Valley Junction was two — she and her husband. When he left her, the population shrank to one.
Aside from the occasional drifter, nobody arrived to see her performances. So she painted a large and festive audience on the walls and a Renaissance-style explosion of billowy clouds, cherubs and musicians in an ocean of blue on the ceiling.
"People asked why I did it, and I said 'Well, I have to be ready when they do show up,'" she said in a 2008 interview.
Initially she rented the opera house for $45 a month, and then bought the place outright along with an adjoining hotel, which she fixed up — each of its 14 rooms with murals of peacocks, clowns, ballerinas. She lived in a small shack behind the opera house with a dozen or so cats, two burros, a rooster and a flock of peacocks, including one named Vladimir.
An out-of-work chemical plant worker from Trona — another tired-out desert mining town — arrived in Death Valley Junction in the early '80s to work as a handyman.
Like Becket, Thomas Willett would never leave.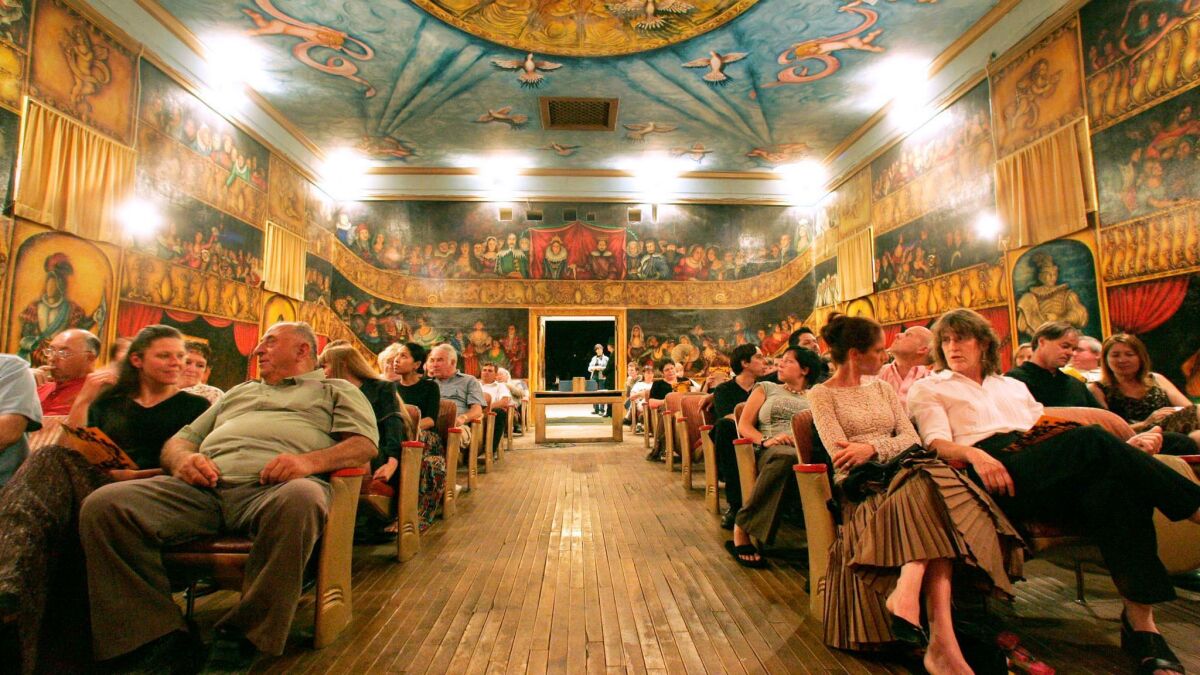 He helped with repairs, bolted down all 114 seats in the opera house, sold tickets at the door, became her stage manager and in 1983 made his stage debut with Becket. His role in "The Second Mortgage," which dramatized Becket's struggle to hang on to the theater, called for him to recline in a lounge chair and leaf through a copy of Variety.
Willett died in 2005, and Becket continued to perform — asking the audience to pretend that he was still there, tromping across stage. Sometimes she'd step off the stage and leave the theater in silence, urging the audience to use its imagination to see her old partner.
National Geographic wrote about the opera house. TV crews arrived. And a 2000 documentary about Becket won an Emmy. Shows sold out. Fans showed up just to meet her.
She typically created two new shows each year and performed from October to May, when the blistering temperatures would begin to thin out the crowds.
Screenwriter Todd Robinson, who directed the documentary "Amargosa," told The Times in 2000 that he was overwhelmed when he first caught a performance.
"To me, she made Amargosa more than a place. It's a state of mind about pure creative spirit.
By the time she was 87, Becket's knees and hips had given out from decades of dancing. Unwilling to retire completely, she performed a show she called "Sitting Down," singing but not moving around.
She quit performing altogether in 2012, but was a presence — sometimes in the front row, sometimes scooting through the hotel lobby in a motorized wheelchair — as others stepped in and performed.
In 2006, she wrote an autobiography, "To Dance on Sands," a story of art blooming in unexpected places.
"Out here," she told The Times in 1999, waving to the great emptiness and shifting sands outside the opera house, "anything seemed possible."
---
Must-read stories from the L.A. Times
Get the day's top news with our Today's Headlines newsletter, sent every weekday morning.
You may occasionally receive promotional content from the Los Angeles Times.