From the Archives: Mel Torme, Velvet-Voiced Jazz Musician, Dies at 73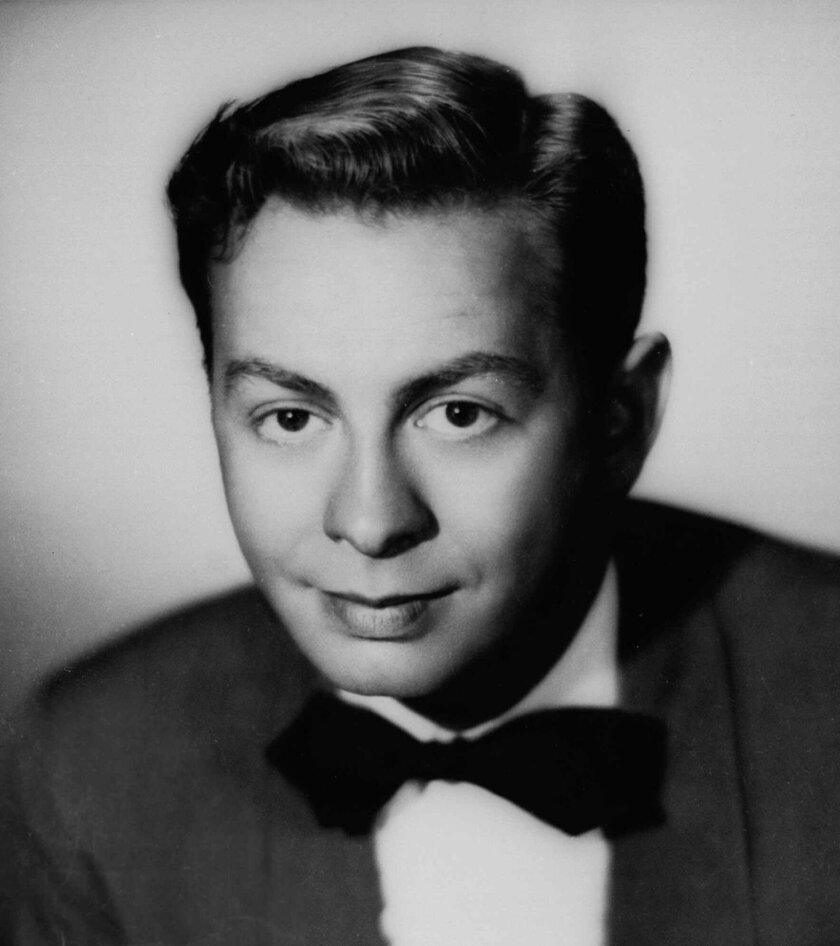 Mel Torme, an inventive and gifted entertainer with a distinctive voice who became a favorite of several generations of music lovers, died Saturday morning.
Torme's death came at UCLA Medical Center, attributed to complications of a stroke he suffered in 1996. He was 73. He was rushed to the hospital from his Beverly Hills home about 1 a.m. after experiencing difficulty breathing. His family was by his side when he died a short time later.
In a career that lasted more than 65 years, Torme was a singular talent as a singer, songwriter, arranger, instrumentalist, actor and writer. He was as comfortable interpreting a lyric as writing one.
He used his fluid, silky voice to record more than 50 albums, created his own arrangements and worked from a repertoire he once estimated at 5,000 songs. He could ease into a ballad or soar into scatting, one of the few singers to master that art.
Of the 250 songs he wrote--more than half of them with Bob Wells--"The Christmas Song" is perhaps the most memorable. The familiar lyrics that begin, "Chestnuts roasting on an open fire . . . " have been recorded more than 1,500 times. The the original by Nat King Cole remained Torme's personal favorite.
Torme won back-to-back Grammy Awards in the jazz category for "An Evening With George Shearing and Mel Torme" in 1982 and "Top Drawer" in 1983.
"It is impossible to imagine a more compatible musical partner," Shearing said Saturday. "The entire musical world will experience a real void with the loss of Mel."
Even into his late 60s, Torme continued to give 200 concerts a year and to delight Generation-Xers, their jazz-loving parents and their swing-appreciating grandparents.
Shortly before his stroke, Torme taped an hourlong television special for the Arts & Entertainment network and recorded several songs for an Ella Fitzgerald tribute album that has not been released yet.
"I learned a lot of tunes from listening to him," singer Diana Krall said after learning of Torme's death. "Things like 'Mountain Greenery' and 'Auf Wiedersehen' that I might not otherwise know. He had perfect diction, of course, he was always swinging, and his scat singing was fantastic."
Torme's singing always possessed a rare but vital kernel of sheer musicality. Even in the years when he was promoted as the "Velvet Fog" (a description he did not favor), his interpretations were invested with an understanding of harmony, a strong sense of swing and an awareness of the importance of telling a story with a song.
Although Torme produced some solid jazz singing in the '50s, both live and on recordings, like many artists of his generation, he was drawn into pop music in the '60s, often obscured by string-heavy backdrops, and not always in a fashion that best displayed his talents. But for the last two decades, he was firmly within the orbit of jazz, releasing album after album of impressive work in remarkably diverse settings.
Torme's effectiveness as a performer was undoubtedly related to his omnivorous intellectual and artistic interests. His much-envied sense of swing, for example, flowed from his capable work as a drummer. His ability to render a lyric with conviction reflected his own songwriting, which he once said required great effort on his part.. And his capacity to fit into different musical settings was undoubtedly enhanced by his own arranging and orchestrating.
Perhaps most important of all, he was a perceptive listener, always aware of what was happening in the jazz world. He was a successful scat singer because he had listened closely to Fitzgerald, scatting--as she did--like an improvising instrumentalist, moving effectively and imaginatively through the chords of a song. He was a good ballad singer because he was thoroughly familiar with the subtle improvisations of Lester Young, Ben Webster and Johnny Hodges.
As a writer, Torme penned several television scripts and articles on everything from antique guns, which he collected, to Western history, and wrote five top-selling books--"The Other End of the Rainbow," about arranging music for Judy Garland's troubled 1960s TV show; a novel, "Wynner"; a tribute to singers he admired; a laudatory tome about his friend, drummer Buddy Rich; and an autobiography.
As an actor, Torme started young. After winning a children's contest at the 1933 Chicago World's Fair at age 8, he got the role of Jimmy the newsboy on a radio soap opera called "Song of the City." Torme became a popular singing--sometimes non-singing--actor in the musical motion pictures of the late 1940s and '50s. He made his official debut in 1943's "Higher and Higher," starring another singer, Frank Sinatra. Torme's other motion pictures included "Pardon My Rhythm," "Words and Music," "Walk Like a Dragon," "A Man Called Adam" and "The Land of No Return." He made many guest appearances on TV programs, and his biggest success on the small screen came with a recurring role on "Night Court," which ran from 1984 to 1992. The running joke on the show was that Torme was the musical idol of Harry Anderson's unhip character, Judge Harry T. Stone.
"The creator of the show made up the joke," Anderson said Saturday, "but the reason it worked was because it was true. I wasn't quite as much a nincompoop over Mel as the character was, but I've always been a huge Mel Torme fan, and I knew that if we played it out, it would give me a chance to meet him. And sure enough it did. The next show I did, 'Dave's World,' I cast him as God. And we became good friends."
As an arranger, the musically self-taught Torme was slow but meticulous. His hours at the piano were mostly spent in arranging music. But on drums, he was a showman, playing at nearly every singing gig.
His songs proved popular with other singers. Sammy Davis Jr. once recorded an album exclusively of Torme compositions. Tony Bennett recorded Torme's "Got the Gate on the Golden Gate" in the 1960s. But most famous was Cole's recording of "The Christmas Song." Torme and Wells wrote the piece in 1945, when Torme was 20, and sent it off to Cole to record. But Cole thought it was too late to do that year--Christmas albums, are generally cut by midsummer--and recorded it the next year. That success fueled Torme's reputation as "America's youngest hit songwriter" which began--at age 15--when Harry James and his orchestra performed his song about hopeless infatuation, "Lament for Love."
Melvin Howard Torme was born in Chicago on Sept. 13, 1925. His parents were Russian Jewish immigrants whose name had been changed from Torma by an immigration agent. When he was a boy, Torme recalled some years ago in TV Guide, his family would sit on the front stoop after Sabbath dinner and sing for the neighbors.
His parents, especially his mother, Sarah, urged him onto the stage at age 4 to sing with a restaurant band for $15 a session. By the time he hit 6, his career as an actor was booming, with steady work in vaudeville units and on the radio.
Torme left Chicago for Los Angeles in 1942 and attended Hollywood High School while singing with the Chico Marx Band. Later, Torme organized, led, composed and arranged for and sang with the Mel-Tones, a group made up of students from Los Angeles City College. The group enjoyed success but broke up in 1946, primarily because Torme was eager to go solo.
Newly on his own, he took the train to New York and was greeted by bobby-soxers waving signs that stated "Welcome Velvet Fog."
"Somebody told me," he said to The Times in 1965, "that a local disc jockey named Freddie Robbins was playing my records 29 times a day and calling me the Velvet Fog or Mr. Butterscotch or, the one that really flipped me, the Kid With Gauze in His Jaws."
The 1996 stroke, which affected Torme's speech and weakened him physically, forced him to cancel his 20th annual appearance at the Hollywood Bowl, where he was customarily greeted by enthusiastic crowds.
"One of the things that astounded me about him was the consistent level of his performances," said John Leitham, his longtime bassist. "There will be no tapes or videos portraying him as a singer past his prime. He never sounded better than he did at the last performance, in Ocean Grove, N.J."
Torme is survived by his wife, Ali; children Steve, Melissa, Tracy, Daisy and James; and stepchildren Carrie and Kurt.
Memorial services were not immediately announced.
Heckman is The Times' jazz writer and Oliver is a staff writer. David Shear of the Calendar staff contributed to this article.
---
Must-read stories from the L.A. Times
Get all the day's most vital news with our Today's Headlines newsletter, sent every weekday morning.
You may occasionally receive promotional content from the Los Angeles Times.