Merlin Olsen dies at 69; Hall of Fame football star later became actor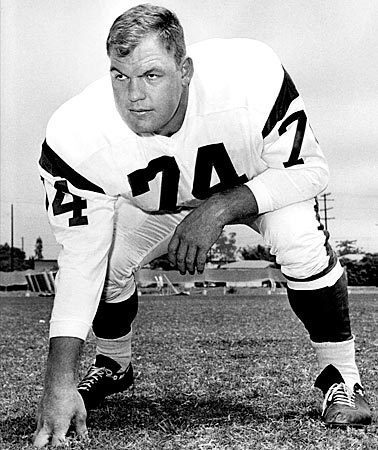 Merlin Olsen
, shown in the 1960s, played 15 seasons as a defensive tackle for the Los Angeles Rams. The St. Louis Rams have confirmed news of Olsen's death.
Read The Times' obituary here
.
(Vic Stein)
In 1961, Merlin Olsen, second from left, was named to the Associated Press college All-America football team. In New York, Olsen is congratulated by Utah State teammates Randall Tyson, left; Max Miller, second from right; and Bill Dickey, shaking hands with Olsen. The Associated Press noted at the time that Olsen, at 265 pounds, was the biggest lineman on the All-America team.
(Associated Press)
Merlin Olsen
, of the
Los Angeles
Rams, is shown in 1963.
(Associated Press)
This photograph from 1964 shows the Los Angeles Rams' legendary defensive line known as the "Fearsome Foursome." From left: Lamar Lundy (85), Merlin Olsen (74), Rosey Grier (76) and Deacon Jones (75).
(NFL Photos / Associated Press)
An autographed photo shows the Fearsome Foursome -- the nickname for the Los Angeles Rams' defensive line in the 1960s. From left are Lamar Lundy, Rosey Grier, Merlin Olsen and Deacon Jones. Olsen and Jones eventually were inducted into the Pro Football Hall of Fame, as their signatures note.
()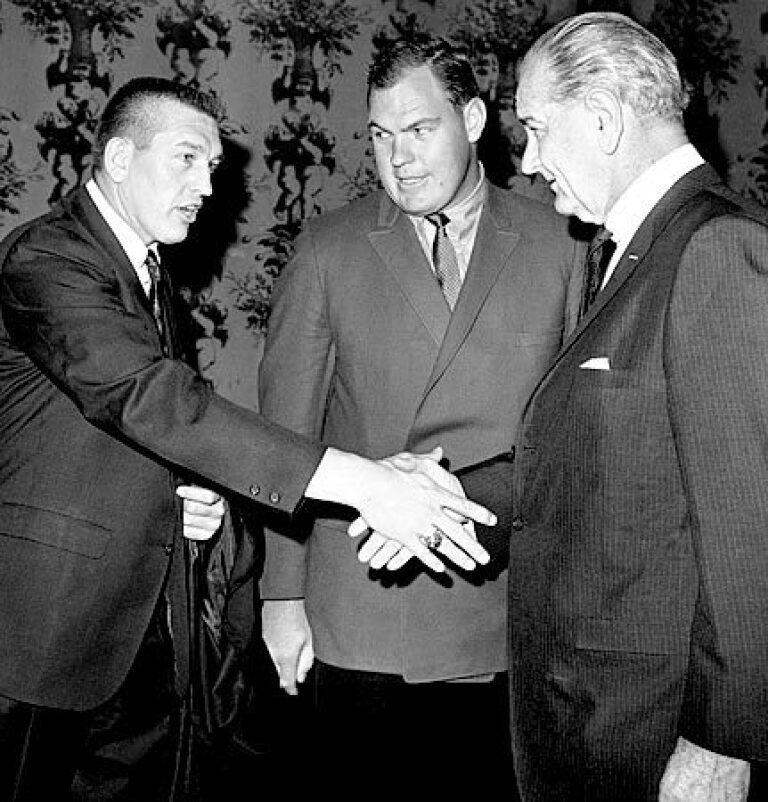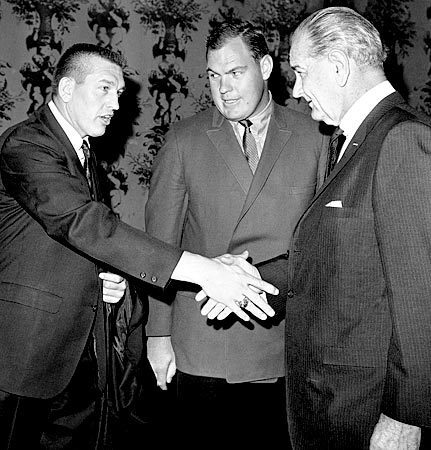 Johnny Unitas, Baltimore Colts quarterback, shakes hands with President Lyndon Johnson as he and Merlin Olsen, center, arrive at the annual Presidential Prayer Breakfast in Washington. Unitas and Olsen came to Washington with other football stars to plan ways to help inner-city youths.
(John Rous / Associated Press)
Merlin Olsen's L.A. Rams had their share of playoff misfortunes against the Minnesota Vikings. In 1969, the Rams won their first 11 regular-season games and coasted to a division championship. In the playoffs, though, they had to travel to Minnesota, where they blew a 10-point halftime lead and lost, 23-20. Here, some team members pose with a tiny Christmas tree in the snow outside their Minneapolis hotel. From left are Coach
George Allen
,
Merlin Olsen
, kicker Bruce Gossett and linebacker Myron Pottios.
(Associated Press)
After his football career, Olsen turned to acting, taking a recurring role in the late 1970s as Jonathan Garvey on the TV series "Little House in the Prairie."
(NBC)
Olsen pulls down New Orleans Saints quarterback Archie Manning in the 1972 season opener.
(Associated Press)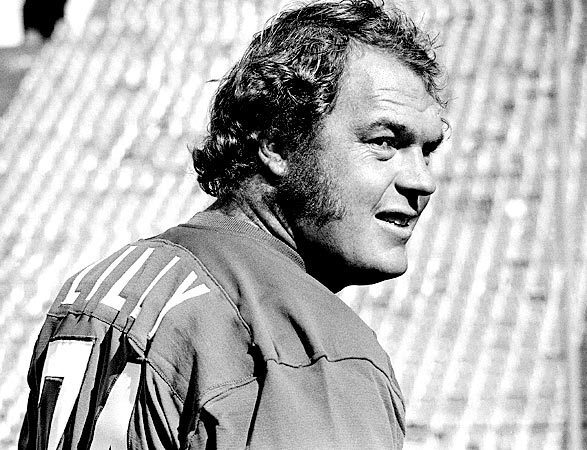 At a Pro Bowl practice in 1973, Olsen was given the jersey originally intended for Bob Lilly of the Dallas Cowboys, who had to pull out of the game because of an injury.
(Ferd Kaufman / Associated Press)
Olsen, who played defensive tackle, battles Atlanta Falcons guard Gregg Kindle during Olsen's final season in the NFL. The Rams won the game, 59-0, and took the division championship, but they fell short of the Super Bowl, losing to the Minnesota Vikings in the playoffs.
(Associated Press)
Olsen was inducted into the NFL Hall of Fame in Canton, Ohio, in 1982. From left are inductees Doug Atkins, George Musso, Sam Huff and Olsen.
(Associated Press)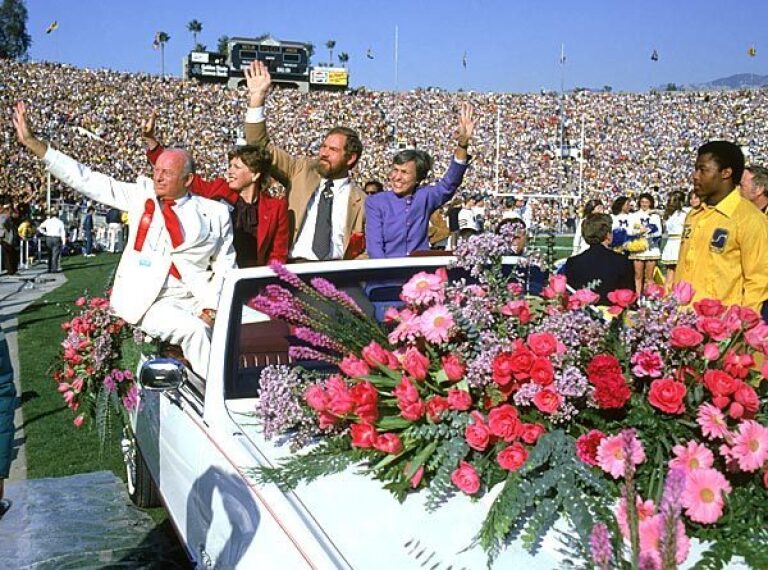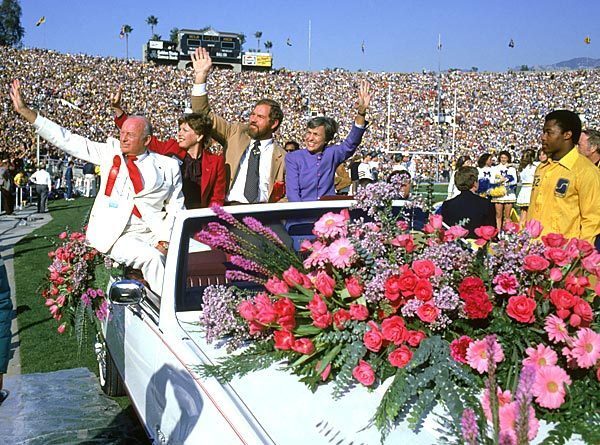 Olsen, second from right prior to the Rose Bowl game between UCLA and Michigan, served as grand marshal of the 1983 Rose Parade. UCLA won 24-14.
(George Rose / Getty Images)
Commentators
Dick Enberg
, left, and
Merlin Olsen
broadcast from the AFC Divisional Playoffs game between the New England Patriots and the Los Angeles Raiders at the Los Angeles Memorial Coliseum. The Patriots defeated the Raiders, 27-20.
(George Rose / Getty Images)
In addition to acting, Olsen was a commentator on NFL broadcasts for NBC and CBS. In this 1989 photo, Olsen stands with play-by-play announcer Charlie Jones.
(NBC)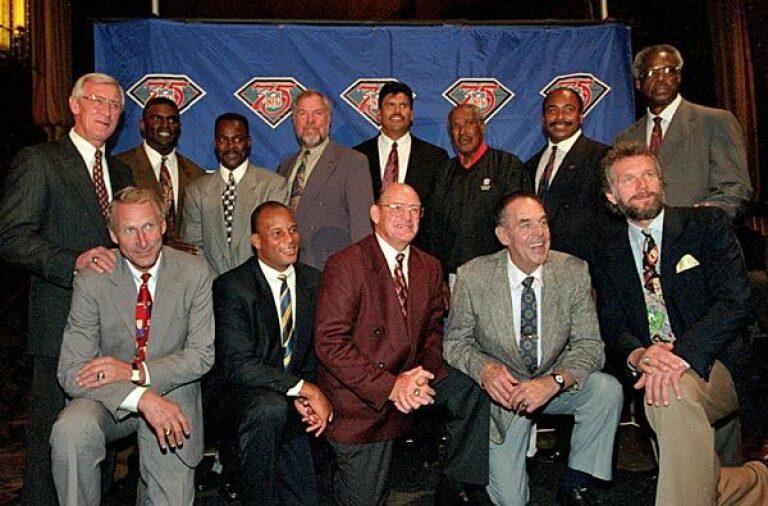 Some of the members of the NFL's 75th anniversary All-Time Team pose for a group photo in New York. In the front row, from left, are kicker Jan Stenerud, safety Ronnie Lott, linebacker Ray Nitschke, quarterback Otto Graham and linebacker Jack Ham. Second row from left are safety Larry Wilson, linebacker Lawrence Taylor, running back Walter Payton, defensive tackle Merlin Olsen, offensive tackle Anthony Munoz, running back Marion Motley, linebacker Willie Lanier and offensive tackle Roosevelt Brown.
(Ed Bailey / Associated Press)
In 2001, Olsen -- who was born in Logan, Utah -- and other athletes helped promote the 2002 Winter Olympics, which were held in Salt Lake City. From left are basketball player Thurl Bailey, paralympian Chris Waddell, Olympic skiier Nikki Stone and Olsen.
(Douglas C. Pizac / Associated Press)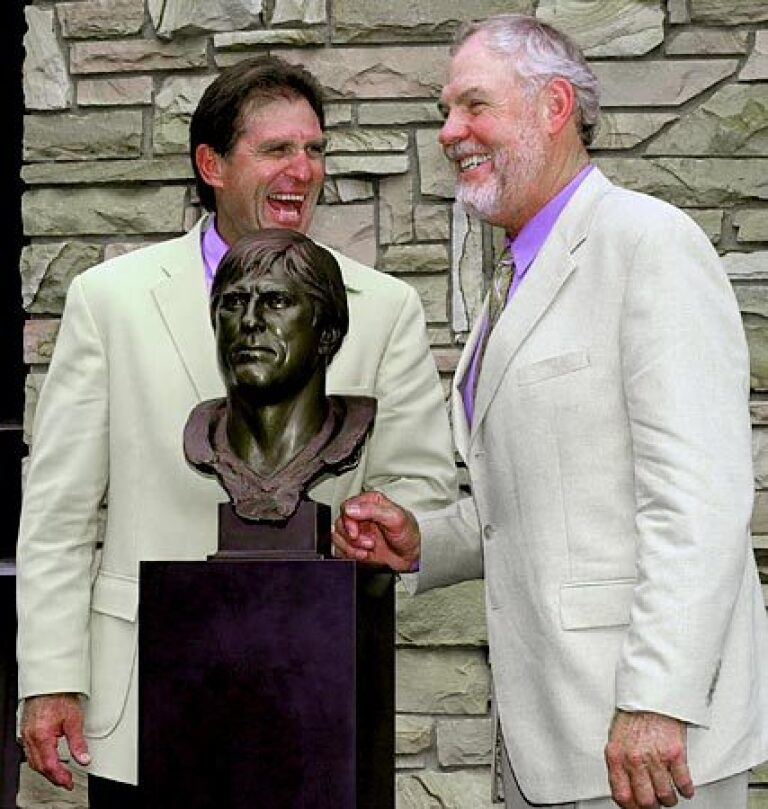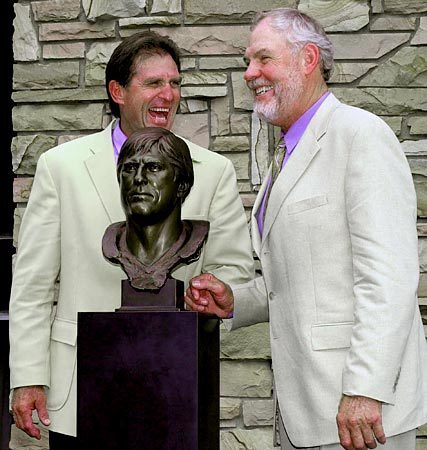 Olsen served as presenter at the ceremony to enshrine his former Los Angeles Rams teammate Jack Youngblood, left, in the Pro Football Hall of Fame in Canton, Ohio.
(David Maxwell / AFP/Getty Images)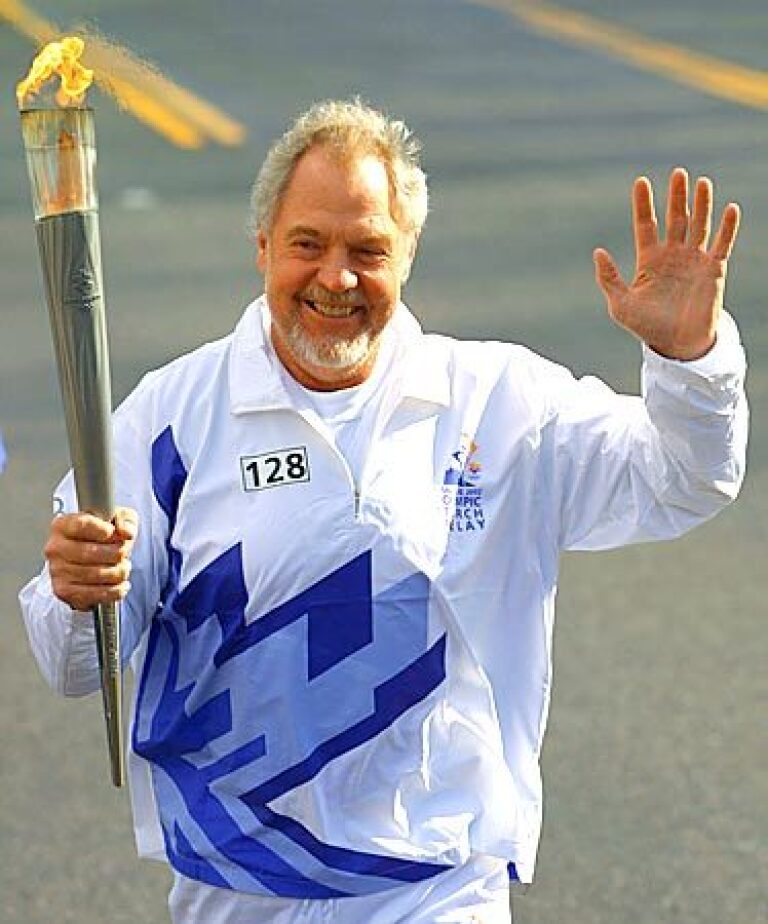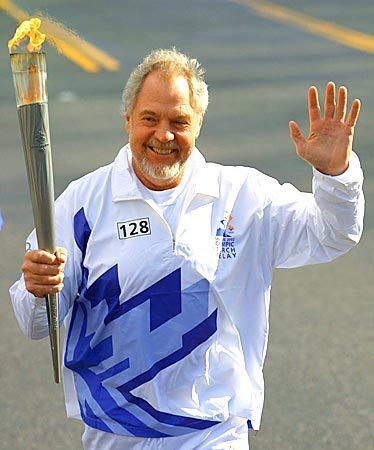 Torchbearer
Merlin Olsen
carries the Olympic flame during the 2002 Salt Lake Olympic torch relay in Kearns,
Utah
.
(Todd Warshaw / Pool / Getty Images)
Olsen waves during the 2005 NFL Hall of Fame induction ceremony in Canton, Ohio.
(Jonathan Daniel / Getty Images)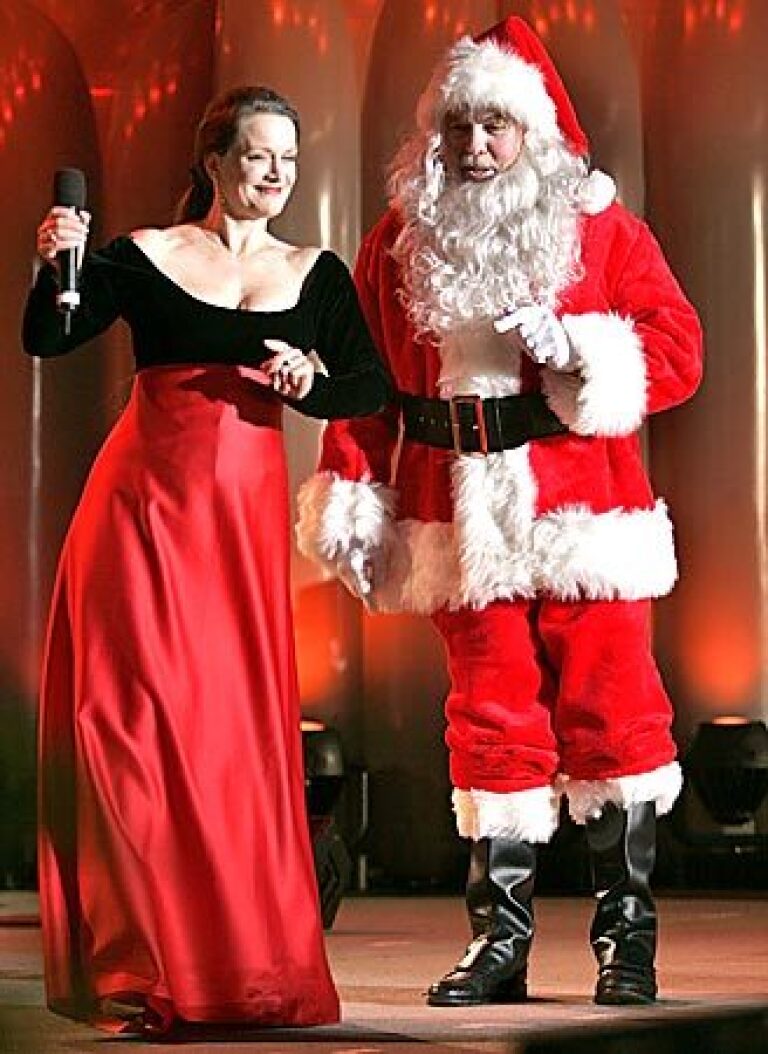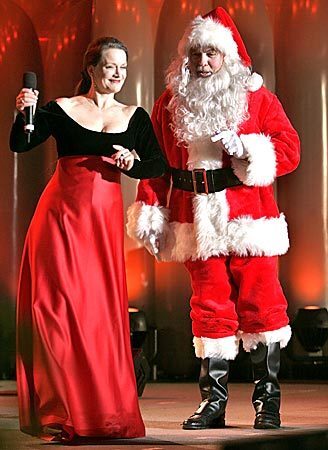 Broadway star Dale Kristien and
Olsen
, in the role of
Santa Claus
, perform at the National Christmas Tree Lighting Ceremony in Washington.
(Chip Somodevilla / Getty Images)
Off the field, Merlin Olsen, pictured in 2006, was known for his even temper and dedication to preparation. "With Merlin, what you saw was what you got," said Kent McCray, a television producer who worked with the actor. "In many instances, it was difficult for him to get mad. By nature, Merlin is not that way. It's impossible to think of him as one of the Fearsome Foursome."
()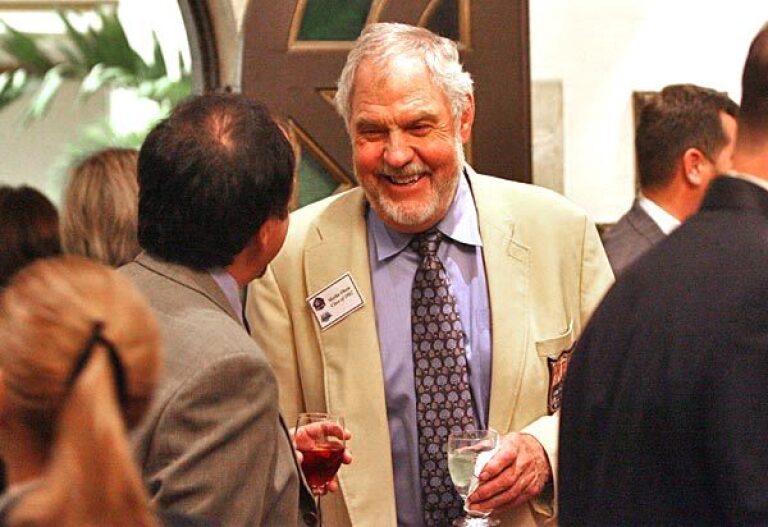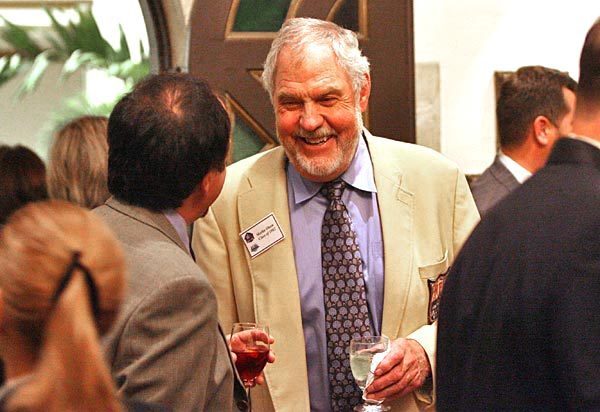 Merlin Olsen greets guests at the Pro Football Hall of Fame luncheon in Ybor City, Fla.
(Brendan Fitterer / St. Petersburg Times)
Merlin Olsen, a Hall of Fame defensive lineman with the Los Angeles Rams who was a charter member of the team's famed Fearsome Foursome, then made a remarkably smooth transition into careers in broadcasting and acting, has died. He was 69.
Olsen died early Thursday at City of Hope hospital in Duarte while surrounded by his family, his brother Orrin said. He had been diagnosed last year with mesothelioma, a form of cancer that affects the lining of the lungs.
Olsen played 15 seasons in the NFL from 1962 to 1976, all with the Rams. He was the league's most valuable player in 1974 and appeared 14 times in the Pro Bowl. After retiring as a player, he spent 15 seasons as an analyst for NBC and CBS and acted in such television shows as "Little House on the Prairie" and "Father Murphy."
"Merlin Olsen was an extraordinary person, friend and football player," NFL Commissioner Roger Goodell said in a statement. "Merlin was a larger-than-life person, literally and figuratively, and leaves an enormously positive legacy."
Said former Rams teammate Jack Youngblood: "He was compassionate, considerate, articulate, caring. He had all of the intangibles that anyone would want in a husband, a friend, a father. I can't speak highly enough of Merlin Olsen."
With the Rams, Olsen helped popularize the star power of defensive linemen who could sack quarterbacks. The Fearsome Foursome of Olsen, David "Deacon" Jones, Roosevelt "Rosey" Grier and Lamar Lundy, standout talents on mediocre teams from 1963 to 1966, used size, speed and skill to terrorize offenses.
"Our philosophy was that they can't double-team all of us," Olsen said in a 1985 interview with The Times. "Somebody would be one-on-one and he'll get the quarterback. There were times, though, when teams would double-team all four of us or change their blocking patterns just to hold us down -- which was a nice compliment."
At 6 feet 5 and 275 pounds, Olsen was a dominating physical presence at left tackle, but he also was known for his analytical approach to the game.
"I was amazed by his size just like everybody else, but more than that at his great intelligence," former CBS analyst Irv Cross, who played three years with Olsen on the Rams, told The Times in 1982. "His ability to analyze the game was something everybody on the team recognized. It was just unbelievable that any one person would be gifted in so many ways."
Merlin Jay Olsen was born Sept. 15, 1940, in Logan, Utah, the second of nine children of Lynn Jay and Merle Olsen.
He was a three-time academic All-American at Utah State, where in 1962 he won the Outland Trophy as the nation's best interior lineman.
He graduated summa cum laude with a bachelor's degree in finance in 1962 and later studied during the NFL off-season to earn a master's in economics from Utah State in 1970.
Olsen was the third player picked in the 1962 NFL draft, right after his longtime Rams teammate, quarterback Roman Gabriel. Olsen immediately became a starter, but the team was dreadful, winning only one game in his rookie season.
The Rams didn't begin winning consistently again until the late 1960s, and in 1968 the defense set an NFL record for yielding the fewest yards in a 14-game season.
Despite being on some good teams during the later part of his career, Olsen never made it to the Super Bowl as a player.
"That's one goal I didn't reach. But as a professional athlete, I reached or surpassed most every other [goal] a number of times," he told the Salt Lake Tribune in 1994.
Olsen, who remains the Rams' all-time leader in career tackles with 915, was elected to the Pro Football Hall of Fame in 1982, his first year of eligibility.
He quickly adjusted to life after football and was best known at NBC for his pairing with Dick Enberg, who used to call the Rams' games on radio.
"He was so thoroughly prepared, he should have been a lawyer," Enberg told The Times in 2006. "He was so competitive in all the good ways. . . . We all have the perfectionist complex, but he carried it out in the most noble and social way because he didn't jump on anybody or walk on anybody to get to where he was. He did it all the right ways."
Olsen's contract with NBC included the chance to act.
"The first question I asked was where is the training program," he said. "When I found out there was none, I began organizing my own."
He found a willing mentor in actor, producer and director Michael Landon, who cast Olsen as Jonathan Garvey in "Little House on the Prairie," an adaptation of Laura Ingalls Wilder's books about growing up on the frontier. The former football player seemed right at home portraying a gentle giant.
"Merlin's own character was such that you adapted it to his [television] character," said Kent McCray, producer of "Little House on the Prairie" and "Father Murphy," a 1981-83 series that starred Olsen as a frontiersman disguised as a priest who was trying to help a group of orphans. "With Merlin, what you saw was what you got. In many instances, it was difficult for him to get mad. By nature, Merlin is not that way. It's impossible to think of him as one of the Fearsome Foursome."
Olsen's other television series included "Fathers and Sons" (1986) and "Aaron's Way" (1988). He spent two seasons broadcasting at CBS after NBC hired former San Francisco Coach Bill Walsh to replace him as the network's lead analyst.
Olsen also was a longtime commercial spokesman for FTD, the florist.
In December, he was honored at a St. Louis Rams game but was unable to attend. Earlier that month, Utah State announced plans to name its football field after Olsen.
Late last year, he sued NBC Studios and several other companies, alleging that longtime exposure to asbestos resulted in mesothelioma.
Olsen, who lived in Utah, is survived by his wife of nearly 48 years, Susan; his daughters, Kelly and Jill; his son, Nathan; and four grandchildren.
He is also survived by his siblings, sisters Colleen Davis, Lorraine Elzinga, Gwen Saltern and twins Winona Barrett and Ramona Whitaker, and brothers Clark, Phil and Orrin.
(Phil was a Rams teammate from 1971 to 1974, and Orrin also played in the NFL.)
Services will be private.
Times staff writer Sam Farmer contributed to this report.
---
Must-read stories from the L.A. Times
Get all the day's most vital news with our Today's Headlines newsletter, sent every weekday morning.
You may occasionally receive promotional content from the Los Angeles Times.