Michael Chamberlain, wrongly convicted after baby daughter killed by dingoes, dies at 72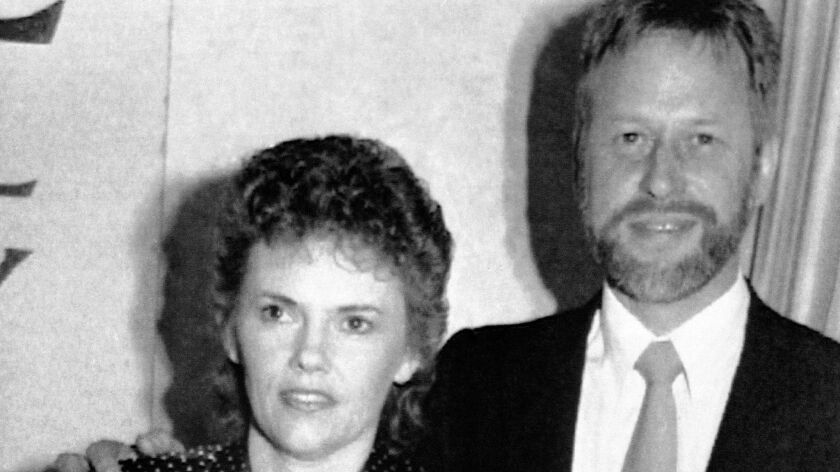 Sydney —
Michael Chamberlain, who waged a decades-long battle to prove his baby daughter was killed by a dingo in Australia's most notorious case of injustice, has died, his former wife said Tuesday. He was 72.
Chamberlain died suddenly, his ex-wife, Lindy Chamberlain, said in a statement. Michael Chamberlain's longtime friend and former lawyer Stuart Tipple told Australia's Fairfax Media that Chamberlain died Monday night as a result of complications from leukemia.
The Chamberlains were wrongly convicted in the death of their 9-week-old daughter, Azaria, after the infant vanished from their tent during a 1980 camping trip to Uluru, the sacred monolith in Australia's Outback.
The mystery surrounding Azaria's disappearance was the most divisive and sensational legal drama in Australian history. It gained a place in global pop culture after Meryl Streep portrayed Lindy in the movie "A Cry in the Dark."
The Chamberlains insisted that a dingo snatched their daughter from the tent. But officials doubted the wild dogs were capable of carrying an infant. Instead, prosecutors argued that Lindy had slit her daughter's throat and buried her in the desert.
There were no witnesses, no motive and no body; Azaria's remains never were found. But in 1982, Lindy was convicted of murder and sentenced to life in prison. Michael was convicted of being an accessory after the fact and given a suspended sentence.
Three years later, Azaria's jacket was found in the desert near a dingo den, and Lindy was quickly released from prison. A Royal Commission, the highest form of investigation in Australia, later debunked much of the forensic evidence used at trial, and the Chamberlains' convictions were overturned. In 2012 — more than three decades after Azaria vanished — a coroner finally ruled that the infant had died as a result of a dingo attack.
The trial remains a source of shame for the many Australians who initially doubted the Chamberlains and cast Lindy as a villain largely because of her religious beliefs. Michael Chamberlain, who was born in New Zealand, was a pastor with the Seventh-day Adventist church, a Protestant denomination that few Australians understood. Rumors flew that Lindy had killed her daughter as part of a grisly religious ritual.
Shortly before the coroner's ruling in 2012, Michael Chamberlain told the Associated Press that religious bigotry played a large role in the injustice he and his former wife suffered.
"The church got so smashed up, erroneously, and all through, really, a nasty dose of prejudice," Chamberlain said. "I can say that I think our religion definitely impacted quite strongly on the attitude that many Australians developed."
Michael and Lindy divorced in 1991. He later married Ingrid Bergner and went on to become an author and teacher.
Actor Sam Neill, who portrayed Michael in "A Cry in the Dark," said Monday that the Chamberlains had been "terribly, cruelly wronged."
"Throughout their cruel ordeal & the years of injustice, (Michael) Chamberlain maintained that quiet unassuming dignity — an impressive man," Neill tweeted. "RIP."
---
Must-read stories from the L.A. Times
Get all the day's most vital news with our Today's Headlines newsletter, sent every weekday morning.
You may occasionally receive promotional content from the Los Angeles Times.