Mike Doyle, surfing legend from the wrong side of Interstate 5, dies at 78 in Mexico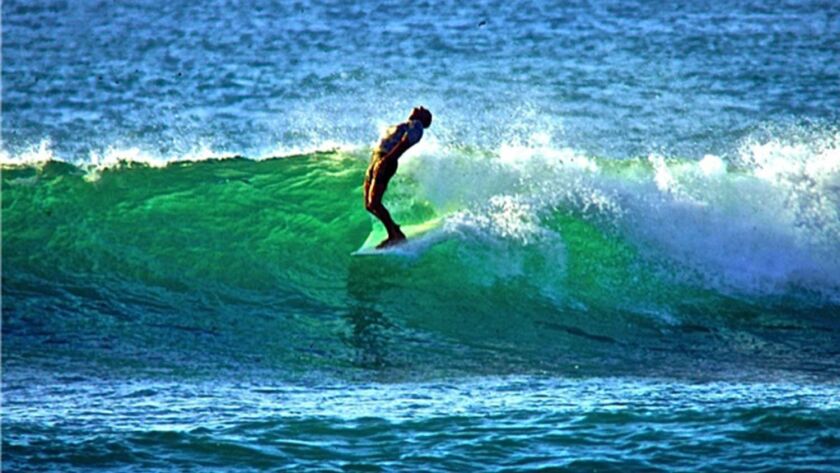 Mike Doyle first put his feet on a board in 1953 when surfing was — at best — a cultish hobby shared by a handful of hardened, sun-blazed surfers.
They called him "Malibu Mike," a tall kid from the wrong side of Interstate 5 who rode the waves with a muscular aggression many on the Southern California surf scene had never seen.
He won awards, filled in as a stunt double on the seminal surf flick "Gidget" and decorated his boards with images of tikis.
But by the time surfing had become an international craze — a sport that was defining West Coast fashion and winning devotees with its Zen-like lifestyle — Doyle had retreated to Mexico, where he lived along the shore, teaching surfing and painting.
Stricken with amyotrophic lateral sclerosis (ALS), also known as Lou Gehrig's disease, Doyle died Tuesday at his home in San Jose del Cabo at the tip of Baja California, not far from the perfect curls that seemed to script his life. He was 78.
"It's a beautiful day here in San Jose, the waves are perfect and we know Mike is in heaven with a smile, surfing an endless wave," his wife Annie wrote on his Instagram account.
When he was at the top of his game in the 1950s and '60s, Doyle hauled in the awards with ease. He was runner-up at the World Surfing Championships in 1964, won the U.S. Surfing Championships and both won and placed at the Duke Kahanamoku Invitational on the North Shore of Oahu, according to the Encyclopedia of Surfing.
While others won more awards, there was a sense in the Southern California surf community that Doyle stood as the soul of surfdom.
"Mike Doyle is flat out one of the greatest all-around surfers there has ever been," Corky Carroll, himself a colorful former surfing champion, wrote in the Orange County Register in 2010.
In Doyle's world, surfing was fun. Competitive? Sure. Hard work? Lots of it. But Doyle seemed to approach surfing as if he were bounding down the stairs on Christmas morning.
"When people ask me who's the best surfer in the world, some people might say Kelly Slater. I say it's the person who's having the most fun," Doyle said in a series of interviews on "Swell Tales," which aired on YouTube.
Doyle also brought a splash of color to the shoreline.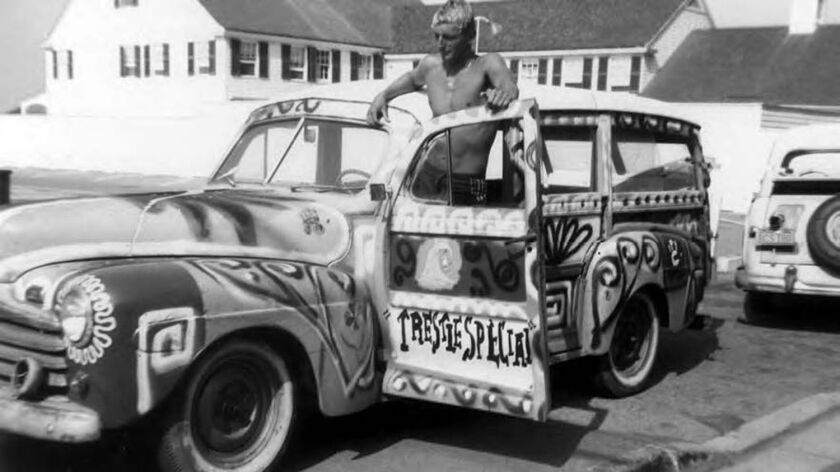 He peroxided his hair until it turned blond, rode a mauve-colored board with white stripes and had a theatrical flair when he was riding the waves, laughing and throwing back his head with a scream as he skimmed down the face of a wave.
"Everybody wanted to be like Mike Doyle," Gary Propper, the 1966 East Coast Championship winner, told the Los Angeles Times. "He had a style. Everyone wanted to surf like him, look like him, dress like him."
Michael Daniel Doyle was born in Lawndale in 1941 and began surfing at 13. He rode his first waves at Manhattan Beach, though Malibu became his favorite break.
"I remember watching the surfers from the pier and just being dazzled," he said in the "Swell Tales" interview. "I knew this was what I wanted to do. Forever."
At first he was an outcast, a boy from an inland city — the 'flatlands," in surfer parlance — and was derided and heckled. Doyle said he came to see the taunts, this sense of ownership and locals-only mentality as a form of racism. "And I hate racists."
At first he rode the waves in an unconventional stance, leading with his right foot, known as "goofyfoot" among surfers and snow boarders. When he switched to lead with his left foot, his abilities were on full display.
Then, as surfing became more lucrative yet too corporate for some, Doyle moved to the tip of Baja and lived out a fantasy last chapter of his life. He lived near the beach, ran a surf school out of a local hotel and became a painter. His Instagram account showcases a life filled with adventure — surfing, sailing, wrestling a dorado from the water, playing the ukulele.
And his attitude seemed unchanged as the years went by.
"My motto is always the same," he said on "Swell Tales. "Live to surf, surf to live."
Doyle is survived by his wife.
---
Must-read stories from the L.A. Times
Get the day's top news with our Today's Headlines newsletter, sent every weekday morning.
You may occasionally receive promotional content from the Los Angeles Times.