Mimi Weddell dies at 94; the subject of 'Hats off'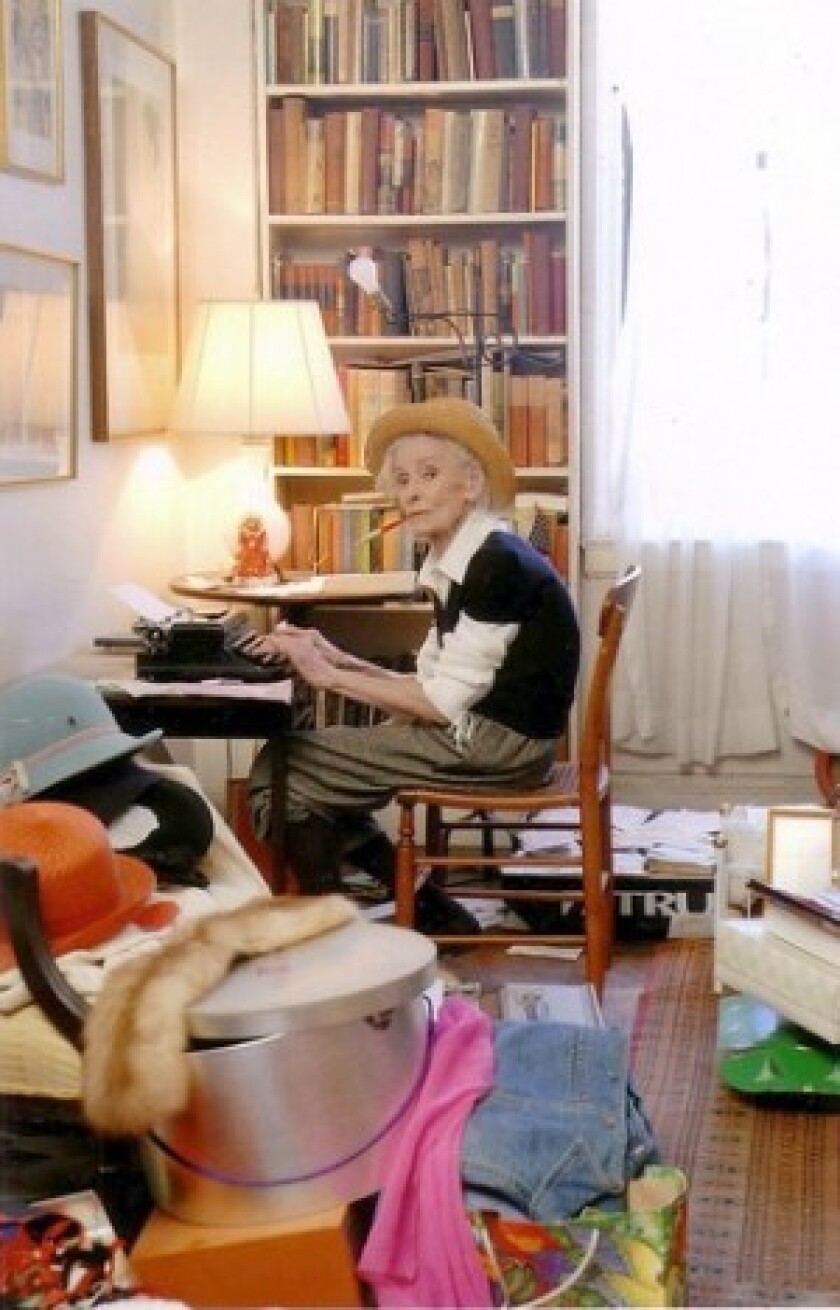 With her perfect diction, cigarette holder and flamboyant yet elegant sense of fashion -- hats, scores of them in various styles, were her trademark -- the charmingly eccentric Mimi Weddell stood out.
A New York City model and actress whose full-time career began at age 65 after her husband died in 1981, Weddell became a familiar sight on casting calls for films, television and print ads.
Over the years, she landed bit parts and small roles in films including "The Purple Rose of Cairo" and "Hitch," and in " Sex and the City," "Law & Order" and other TV series. She also appeared in numerous commercials and in print ads for Louis Vuitton, Burberry, Juicy Couture, Nike and other companies.
In 2005, at age 90, Weddell was included in New York magazine's eclectic, photo-illustrated list of the Most Beautiful New Yorkers.
Casting director Jennifer Venditti, who selected Weddell, told the magazine: "She has such elegant style and willowy posture, but she doesn't try to conceal her wrinkles and signs of aging; she's a whole package."
The indomitable Weddell, the subject of the 2008 feature-length documentary "Hats Off," died Sept. 24 at her home in Manhattan after a short illness. She was 94.
Until a few months ago, Weddell was still making the rounds of casting calls, said Jyll Johnstone, the director of "Hats Off."
"To her, it didn't matter whether she was a star or not a star," Johnstone said. "What mattered to her was that she continued to work."
Johnstone, who has known Weddell's daughter, Sarah Dillon, since they were children and is a former New York actress, recalled seeing Weddell at the Screen Actors Guild in the 1980s.
"Mimi and I connected, and we always hung out together," Johnstone said. "She was so unique.
"Besides looking very different than most older people, when you'd have a conversation with Mimi, she thought out of the box of what you'd think someone her age would think or talk about. She was totally hip on all the goings-on about town."
Over a 10-year period when the youthfully spirited Weddell aged from 80 to 90, Johnstone followed her with a camera as she went on auditions, attended acting, singing and dancing classes and did gymnastics workouts.
Weddell's can-do motto was "Rise above it."
"If you don't dance, for heaven's sake, you cannot aspire. You do not lift up from this earth," Weddell says in the documentary.
Her longtime home was an apartment on Manhattan's Upper East Side, which she shared with her daughter, son-in-law and grandson and where she stored her more than 150 hats.
"The only romantic thing left in life is a hat," Weddell said.
Born Marion Rogers on Feb. 15, 1915, in Williston, N.D., she grew up primarily in Massachusetts.
In the mid-1940s, she worked as an assistant to New York Times fashion editor Virginia Pope. Over the years, the mother of two worked part-time as an advertising copy writer, a secretary and a print-ad model. She also took acting classes and occasionally appeared in off-Broadway plays.
But her passions, acting and modeling, were never full-time.
That changed after her husband, Richard, a former executive for RCA's classical music label who became an art gallery salesman, died.
"At 65, she realized she doesn't have to take care of anybody anymore," Johnstone said. "Now it was time for her to go full blast in what she really wanted to do."
Since news of Weddell's death spread on the Internet, Johnstone has received letters from people who were inspired to follow their own dreams by the woman they saw in the documentary.
Many are in their 60s, including a woman who said she was going to get a nursing degree and a man who planned to finish his doctorate.
"It's amazing how she touched so many lives," said Johnstone.
In addition to her daughter, Weddell is survived by her son, Tom Weddell; and two grandchildren.
---
Must-read stories from the L.A. Times
Get all the day's most vital news with our Today's Headlines newsletter, sent every weekday morning.
You may occasionally receive promotional content from the Los Angeles Times.