Ellie Nesler dies at 56; woman killed her son's accused molester in courtroom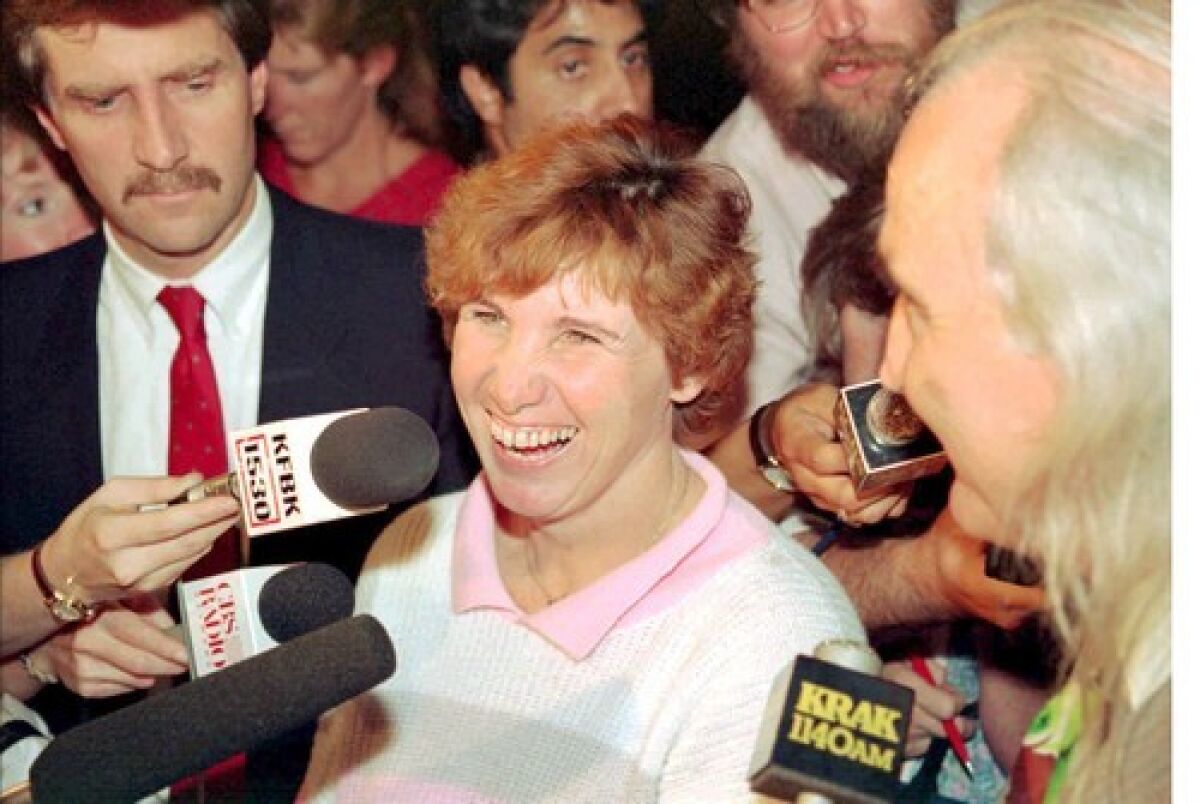 Ellie Nesler, the mother who took the law into her own hands in a Northern California courtroom by shooting to death the man who allegedly molested her young son, has died. She was 56.
Nesler died Friday morning at UC Davis Medical Center in Sacramento, said Phyllis Brown, the hospital's public information officer. The cause of death was not revealed, but Nesler was known to have been diagnosed with breast cancer in 1994.
The story of Nesler and Daniel Mark Driver, the 35-year-old Christian camp employee who in summer 1988 allegedly sodomized then 7-year-old Willie Nesler, became national news after she shot Driver several times in the head and neck in the Tuolumne County community of Jamestown on April 2, 1993.
Ellie Nesler was praised by some as a protective mother driven to act by the prospect of having her traumatized son testify against Driver in open court. Others criticized her for brushing aside the legal system.
The sympathetic portrait of Nesler painted by her defense team began to erode within weeks of the crime, when tests found Nesler to have been high on methamphetamine at the time of the shooting. It also came to light that Nesler had a criminal record with a conviction at 18 for auto theft and served several months in a California Youth Authority facility.
Nevertheless, a television movie called "Judgment Day: The Ellie Nesler Story" was made about the case. Some supporters stuck by her with bumper stickers and T-shirts proclaiming, "Nice shooting, Ellie."
Although she reportedly told state investigators that she had first contemplated killing Driver more than two years before the shooting, Nesler pleaded not guilty by reason of insanity and was convicted on a lesser charge of voluntary manslaughter.
She was sentenced to 10 years in prison but won an appeal based on juror misconduct and was released after three years.
But her problems with the law did not end. In July 2002, she was convicted of buying 10,000 pseudoephedrine tablets used to make methamphetamine and was sentenced to six years in prison. She was granted an early release from the Central California Women's facility in Chowchilla in 2006.
Nesler was the eldest of three daughters born to a coal miner and his wife and grew up in the "hill country" around Jamestown. As a youngster, she drove a tractor for local cattle ranchers, dug ditches, installed irrigation pipes and worked on cars, her mother told The Times in 1993.
Married and divorced early, she later met Bill Nesler, a gold miner and crop-duster. The couple married, had their son, Willie, and quickly moved to a new gold rush country, Liberia, to seek their fortune. Ellie Nesler gave birth to a daughter while in the West African country but returned home with her children when civil war broke out. Her husband stayed in Liberia.
After returning to Tuolumne County, she got by on welfare checks and chopping wood.
Family members noticed that young Willie was acting strangely after visiting a summer camp where Driver worked as a dishwasher. During a sleepover at his aunt's house some months later, Willie confided that Driver had done what he termed "nasty things to me."
In 1989, Driver was arrested in Palo Alto for theft and was returned to Tuolumne County to face charges in the molestation of Nesler's son and three other boys. During the trial, it was revealed that years earlier, Driver had pleaded guilty to multiple counts of sex with boys in the San Jose area but had been given probation after the judge in the case received numerous letters from members of Driver's church vouching for his character.
Willie Nesler later had his own trouble with the law. Raised by an aunt while his mother was in prison for killing Driver, Willie repeatedly landed in juvenile hall, in teenage work camps and in jail as an adult. During a five-year period, he was arrested by sheriff's deputies and booked into county jail at least 18 times on charges that included robbery and drug-related offenses.
In 2005, he was sentenced to 25 years to life in prison for stomping to death a man whom Willie Nesler had let live on the family property, in a dispute over tools. Nesler killed David Davis within an hour of being released early for good conduct from a 60-day sentence for an earlier assault on Davis.
Now incarcerated at High Desert State Prison near Susanville, Nesler was aware of his mother's declining health, according to Terry Thornton, a spokeswoman for the state Department of Corrections and Rehabilitation.
"He knew she was very ill, and he was in communication with her -- as long as she was able to talk -- and then with family members the night before she passed away," Thornton told The Times.
Willie Nesler has requested temporary community leave to attend his mother's funeral. Prison officials are reviewing that request.
In addition to her son, Nesler is survived by her daughter.
---
Must-read stories from the L.A. Times
Get the day's top news with our Today's Headlines newsletter, sent every weekday morning.
You may occasionally receive promotional content from the Los Angeles Times.