PASSINGS: Louise Brough Clapp, Richard Bull, Michael Filerman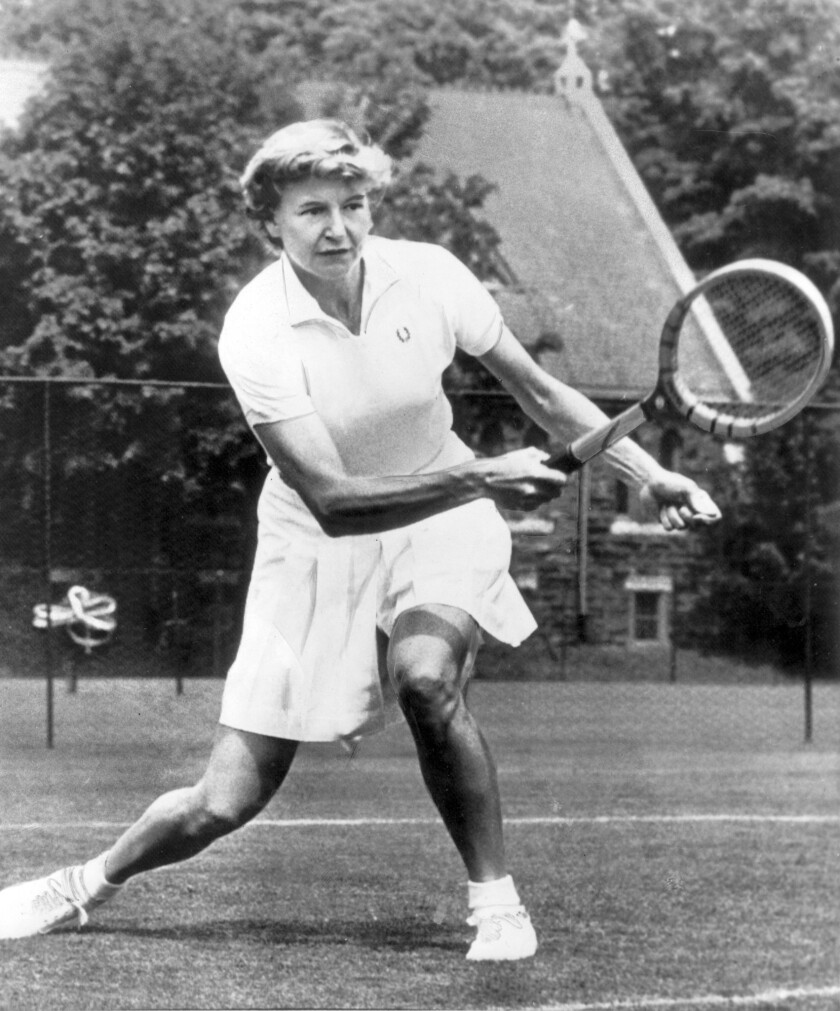 Louise Brough Clapp
Top-ranked tennis player of the 1940s, '50s
Louise Brough Clapp, 90, a former top-ranked tennis player who learned the game on Beverly Hills' Roxbury Park courts and went on to win 35 major tournament titles in the 1940s and '50s, died Monday at her home in Vista after a brief illness. The International Tennis Hall of Fame announced her death.
Born Althea Louise Brough on March 11, 1923, in Oklahoma City, she moved to Beverly Hills as a child. By her early teens she was competing in junior tennis tournaments and became national champion in the 18-and-under category in 1940 and '41.
A dominant serve-and-volley player, she had a remarkable run at Wimbledon, winning the women's singles title in 1948, '49, '50 and '55. She also competed in women's doubles and mixed doubles and appeared in 21 of the 30 finals played at the All England Club from 1946 through 1955 in the three categories. In all she won 13 titles at Wimbledon and in 1950 scored a rare triple by winning singles, doubles and mixed doubles.
She also won 17 titles at the U.S. Championships (including 1947 women's singles), three at the French Open and two at the Australian Open (singles in 1950). She is tied with Doris Hart for fifth all-time on the list of women's major titles, behind Margaret Court, Martina Navratilova, Billie Jean King and Margaret Osborne duPont, her frequent doubles partner.
During World War II, Wimbledon went dark and Brough played tennis exhibitions for soldiers until competition resumed.
"I remember going back to England and having to play on different courts because of all the war damage," she told The Times in 2000. "Center Court couldn't be used because it was bombed out."
Consistently ranked among the world's best female tennis players during her career, she reached the No. 1 spot in 1955.
A year after retiring from elite tennis competition in 1957, she married Dr. Alan Clapp, a Pasadena dentist. He died in 1999.
She was inducted into the International Tennis Hall of Fame in 1967.
Richard Bull
Veteran actor known for 'Little House on the Prairie''
Richard Bull, 89, a character actor best known for portraying shopkeeper and put-upon spouse Nels Oleson on TV's "Little House on the Prairie," died Monday at the Motion Picture & Television Fund's hospital in Woodland Hills, fund spokeswoman Jaime Larkin said.
A resident of what was once known as the Motion Picture and TV Home, Bull died of natural causes after being hospitalized with pneumonia, Larkin said.
Bull was among the supporting cast of the 1974-83 NBC series inspired by Laura Ingalls Wilder's novels about her 19th century prairie family's life. Melissa Gilbert played the author as a young girl, and Michael Landon, who died in 1991, starred as her father.
Born in Zion, Ill., on June 26, 1924, Bull studied drama at the Goodman Theatre in Chicago. He began acting on TV in the 1950s, landed a regular role as the doctor on "Voyage to the Bottom of the Sea" from 1964 to 1968 and had guest appearances on "Perry Mason," "The Andy Griffith Show," "The Man From U.N.C.L.E.," "Mannix," "Mission: Impossible," "Hill Street Blues," "Highway to Heaven" and many other shows.
Among the movies he appeared in were "High Plains Drifter" (1973) and "The Parallax View" (1974).
He also acted in local theater productions, sometimes opposite his wife of 65 years, actress Barbara Collentine.
Michael Filerman
TV executive helped develop 'Dallas,' 'Falcon Crest'
Michael Filerman, 75, an executive at Lorimar Productions who helped develop the TV dramas "Dallas," "Knots Landing" and "Falcon Crest" before moving on to produce Broadway plays, died Jan. 25 in Los Angeles. He had non-Hodgkins lymphoma, said his friend and fellow producer Jack Grossbart.
A Chicago native born May 4, 1938, Filerman earned a degree in communication arts from the University of Illinois in 1960. While serving in the Army Reserve, he met Fred Silverman, who soon began making his mark as a television executive. Silverman offered Filerman a job at Chicago's WGN-TV as a general programming executive in 1962, then brought him to CBS in New York as director of the network's daytime TV programs in 1967.
In the early 1970s, Filerman moved on to series development, first with Paramount and then with Lorimar beginning in 1976.
He became executive producer on "Dallas," the series about a feuding, oil-rich Texas family created in 1978 by David Jacobs. Filerman continued developing the prime-time soap opera genre by serving as executive producer on "Flamingo Road," set in small-town Florida and showcasing actress Morgan Fairchild; "Falcon Crest," starring Jane Wyman as matriarch of a powerful family of vintners; and "Knots Landing," a potboiler set in a suburban cul-de-sac.
His goal was always to entertain, Filerman said in an interview with The Times in 1981, when all four shows were on the air.
"Life can be real dull, and in 48 minutes we have to show something that's different than the lives we lead," he said.
Countering criticism of the shows, he added, "If people are telling me my shows are trash, then the American public likes trash. It's obvious people are watching; everybody is watching."
He was also executive producer for "Sisters," "The Client" and other TV series.
In recent years, Filerman's Broadway credits included the Tony-winning revivals "The Norman Conquests" and "The Gershwins' Porgy and Bess" and the 2012-13 hit "Nice Work if You Can Get It" with Matthew Broderick.
Times staff and wire reports
---
Must-read stories from the L.A. Times
Get all the day's most vital news with our Today's Headlines newsletter, sent every weekday morning.
You may occasionally receive promotional content from the Los Angeles Times.