Paul Weitz, commander of space shuttle Challenger's first flight, dies at 85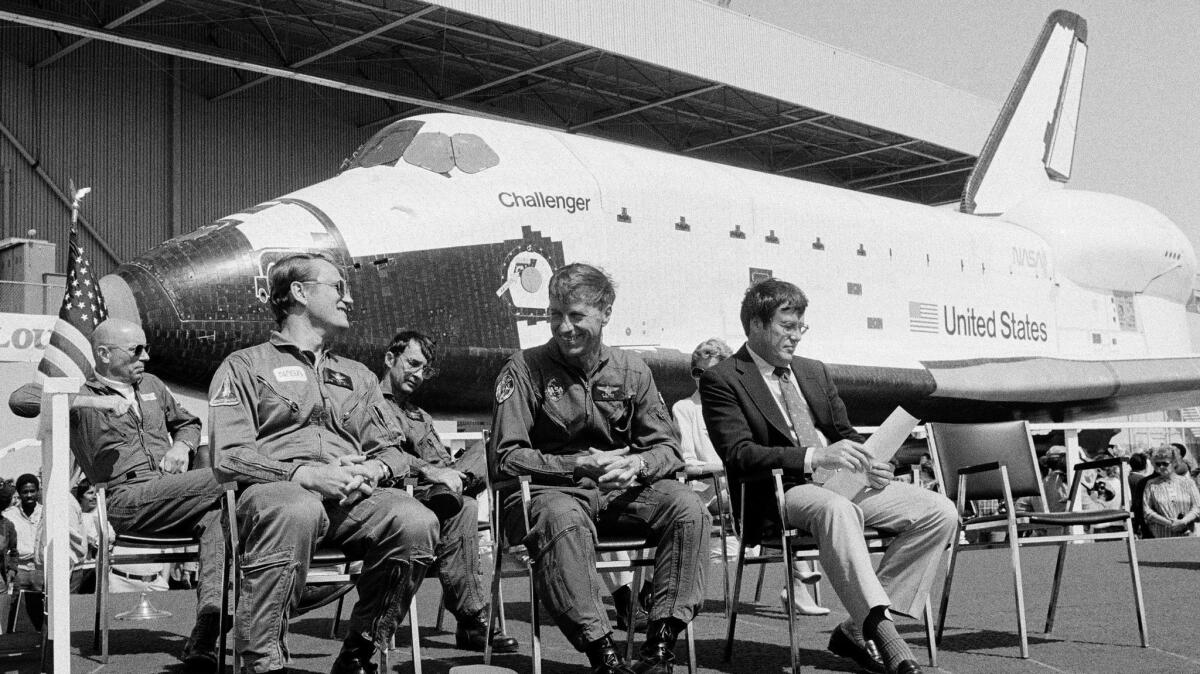 Reporting from FLAGSTAFF, Ariz. —
Paul Weitz, a retired NASA astronaut who commanded the first flight of the space shuttle Challenger and also piloted the Skylab in the early 1970s, has died. He was 85.
Weitz died at his retirement home in Flagstaff on Monday, said Laura Cutchens of the Astronaut Scholarship Foundation. No cause of death was given.
A NASA biography says Weitz was among the class of 19 astronauts who were chosen in April 1966. He served as command module pilot on the first crew of the orbiting space laboratory known as Skylab during a 28-day mission in 1973.
Weitz also piloted the first launch of the shuttle Challenger in April 1983. The five-day mission took off from the Kennedy Space Center in Florida and landed at Edwards Air Force Base in California. The Challenger was destroyed and seven crew members were killed during its 10th launch, on Jan. 28, 1986.
In all, he logged 793 hours in space and retired as deputy director of the Johnson Space Center in May 1994.
Weitz was born in Erie, Pa., on July 25, 1932, and graduated from Penn State with a degree in aeronautical engineering in 1954, according to NASA. He then joined the Navy, serving on a destroyer before being chosen for flight training and earning his wings as a naval aviator in September 1956. He served in various naval squadrons, with service in Vietnam, before joining the Astronaut Corps.
According to the Astronaut Scholarship Foundation, Weitz returned to the Navy after his Skylab mission and retired as a captain in July 1976 after serving 22 years. He then came out of retirement to rejoin NASA.
"Paul Weitz's name will always be synonymous with the space shuttle Challenger. But he also will be remembered for defying the laws of gravity -- and age," said Curtis Brown, board chairman of the Astronaut Scholarship Foundation and an astronaut and veteran of six spaceflights. "Before it became commonplace to come out of retirement, Paul was a pioneer. He proved 51 was just a number."
The foundation is supported by astronauts from the Mercury, Gemini, Apollo, Skylab, space shuttle and space station programs and annually provides scholarships for 45 students.
ALSO
Danielle Darrieux, beloved French actress whose career spanned eight decades, dies at 100
Helen DeVos dies at 90; philanthropist, political donor and mother-in-law of U.S. Education secretary
Gord Downie, singer for Canadian rock band the Tragically Hip, dies at 53
Sign up for Essential California for the L.A. Times biggest news, features and recommendations in your inbox six days a week.
You may occasionally receive promotional content from the Los Angeles Times.