Danielle Darrieux, beloved French actress whose career spanned eight decades, dies at 100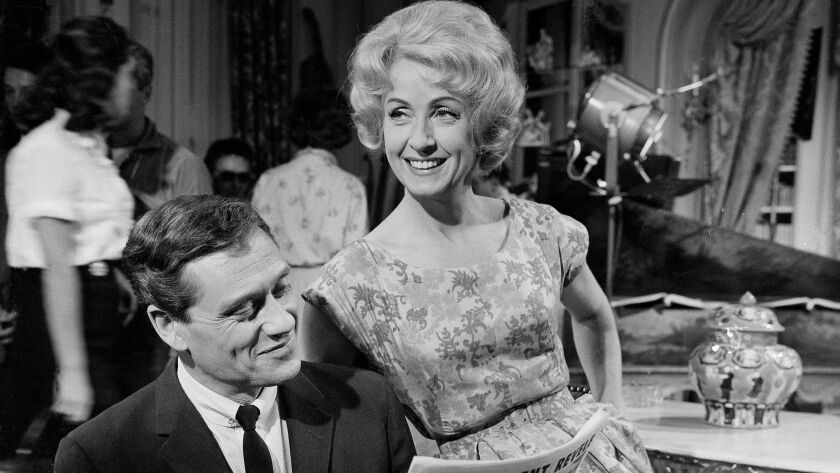 Reporting from Paris —
Danielle Darrieux, a prolific French actress whose movie and theater career spanned eight decades, has died. She was 100.
One of France's best-loved actresses, Darrieux appeared in dozens of plays and more than 100 films during her long career.
Generations of French moviegoers watched her mature from a precocious, fresh-faced teen into a radiant nonagenarian starring in films into her 90s. Darrieux was born May 1, 1917, in the southwestern city of Bordeaux.
Her father, an ophthalmologist, died when she was 7, and her mother supported the family by giving singing lessons. Darrieux was just 14 when she made her screen debut, with a supporting role in 1931's "Le Bal."
With her expressive face, liquid eyes and original, slightly nasal voice, Darrieux quickly became a favorite of French directors, appearing in films by heavyweights Claude Chabrol, Jacques Demy and Andre Techine.
She starred in legendary Austrian-born director Billy Wilder's first film, "Mauvaise graine," a 1934 gangster movie in French.
Darrieux played the leading lady in more than half a dozen movies by Frenchman Henri Decoin. They married in 1935 and divorced six years later.
A second marriage, to Dominican playboy Porfirio Rubirosa — who was romantically linked to Zsa Zsa Gabor, Ava Gardner and a host of other screen sirens — lasted five years, and was followed by a more than 40-year union with screenwriter Georges Mitsinkides.
Darrieux made a brief transatlantic escapade, appearing in 1938 Hollywood flop "The Rage of Paris" before returning to France. A later American engagement — in which she replaced Katharine Hepburn in "Coco," a Broadway show about Coco Chanel — also met with little success.
As reserved in real life as she was fiery on screen, Darrieux shunned the spotlight, spending much of her time in a village in the French countryside. She described battling her natural shyness throughout her career and often appeared visibly shaken during interviews.
"I am very simple, perhaps too simple for all this," she told ORTF television in 1972. "This whole thing, the interviews, it's too much for me."
Darrieux insisted that she couldn't bear to see herself on screen and that the only one of her movies she enjoyed watching was Max Ophuls' critically acclaimed 1953 "Madame de...," in which she played the eponymous heroine — a dazzling, adulterous countess.
As she grew older, Darrieux was increasingly cast not as leading lady but as the star's mother and, later, grandmother. In one of her later roles, Darrieux reaffirmed her status as one of French cinema's all-time greats. In the 2002 whodunit musical extravaganza "Eight Women," she played a matriarch, reigning over a nearly all-female cast that included legendary actresses Catherine Deneuve, Isabelle Huppert, Emmanuelle Beart and Fanny Ardant.
---
Must-read stories from the L.A. Times
Get all the day's most vital news with our Today's Headlines newsletter, sent every weekday morning.
You may occasionally receive promotional content from the Los Angeles Times.