From the Archives: Perry Como, Soothing Pop Crooner, Dies at 88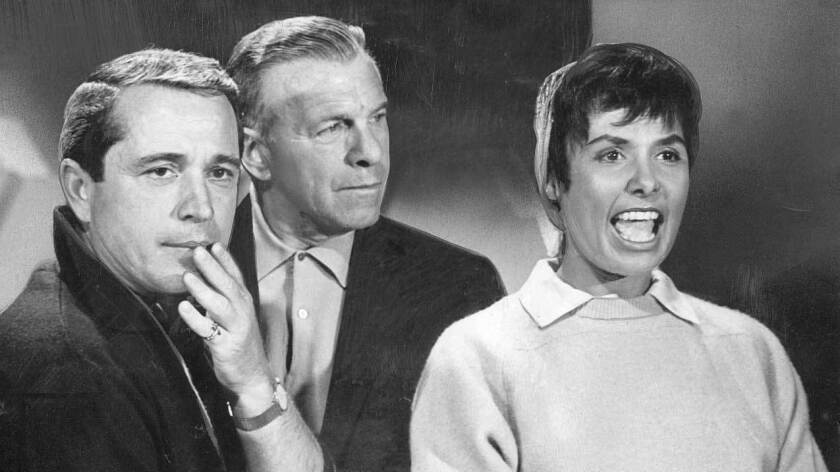 TIMES STAFF WRITER
Perry Como, whose smooth baritone voice and likable manner made him an American pop music icon at the middle of the last century, died Saturday in Florida after a long illness. He was 88.
Como's daughter, Terry Thibadeau, said her father died in his sleep at his home in the exclusive Jupiter Inlet Beach Colony in Palm Beach County.
In a career lasting more than six decades, Como became synonymous with an easy-listening, family-oriented sound that characterized pop music in the 1940s, '50s and '60s. During the 1940s, some 4 million Como records were pressed during a single week. Ten years later, 11 of his singles had sold well over 1 million copies each. Over his long career he had 27 gold records and sold more than 100 million records.
He turned the cardigan sweater into a fashion statement while hosting a popular television variety show on NBC from 1955 to 1963, winning Emmy Awards in 1956 and 1957 for most outstanding television personality. His television shows also won Peabody and Golden Mike awards.
Although perhaps not as popular as contemporaries like Frank Sinatra and Bing Crosby, Como nonetheless left an indelible mark on American audiences. One of the chief sparks he generated in his audience was friendship.
"People don't feel any hesitancy to come up to me in the lobby and say hello," Como told Times pop music critic Robert Hilburn before a performance in Las Vegas some years ago.
"The other day a family walked over to me in the hotel and the father said he enjoyed spending an hour with me," Como said. "This feeling, I suppose, grows out of the years I was on radio and particularly television. It's a warm feeling I get from the audience. A little like homecoming each night."
Como was born Pierino Como in Canonsburg, Pa., one of a family of 13 children. By the time Como was 11, he was working after school cutting hair in a barbershop. A few years later he was making installment payments on his own shop. But he also liked to sing and, after marrying his high school sweetheart, Roselle Beline, Como auditioned for a spot in the Freddie Carlone Orchestra. He made $28 a week and toured the Midwest for the next several years.
His real break as a singer came in 1937 when he joined the big band led by trombonist Ted Weems and was featured on the band's "Beat the Band" radio program. Como grew in popularity into the early 1940s, but decided to return to barbering in Canonsburg when the Weems band broke up soon after the start of World War II. However, CBS radio offered him a weekly show at $100 a week, RCA signed him to a substantial contract soon after that, and his barbering career was over for good. Over the next 14 years, Como recorded 42 Top 10 hits, a mark surpassed only by Crosby.
Big sellers during those years included "Dig You Later (A Hubba-Hubba-Hubba)," "I'm Always Chasing Rainbows," "They Say It's Wonderful," "Surrender" and "Some Enchanted Evening." In 1945, he topped the charts with "Till the End of Time," based on Chopin's "Polonaise in A-Flat Minor." Some of his other hits were light novelty numbers such as "Hot Diggity" and "Papa Loves Mambo."
During the 1940s, Como appeared in a trio of films for Twentieth Century Fox, all of which co-starred Carmen Miranda, who generally proved more memorable in these efforts.
But it was on the small screen that Como found real success. He made his debut in 1948 on NBC's "The Chesterfield Supper Club." Two years later he switched to CBS for "The Perry Como Show," which ran for five years. His most popular stint, however, was back on NBC starting in 1955 with the show featuring his theme "Dream Along With Me (I'm on My Way to a Star)." The show is still regarded as one of the best of its kind in television history.
Along with his relaxed style, Como brought an engaging sense of humor which appealed to young and old alike. When Dean Martin was on the show, he quipped, "I used to go over to Perry's to borrow a cup of sleep."
Supported by the Ray Charles Singers and the announcer Frank Gallop, Como's nice-guy image made him a favorite in American homes and in the American press. It was not uncommon in those days to see a picture of Como relaxing on a lounge chair wearing his trademark cardigan and eating a piece of fruit.
His television appeal helped fuel record sales. In 1958, Como received the first gold disc ever awarded by the Recording Industry Assn. of America for his ballad "Catch a Falling Star."
In 1963, Como, known to his legions of fans as "Mr. C," gave up regular television work in favor of doing occasional specials. Rock 'n' roll had crowded out the crooners who once charmed hordes of screaming bobby-soxers.
But he continued to make records and to do his annual Christmas holiday special, which had become something of an institution.
In the 1970s, Como returned to live performing, something he hadn't done in more than two decades. He showed up in Las Vegas with material like "If I Could Read Your Mind," and "It's Impossible," the latter hitting gold status in record sales.
Como continued to tour throughout the 1970s. His 1976 visit to Australia drew standing-room-only crowds and his albums continued to have steady sales.
In 1987, President Reagan presented Como with a Kennedy Center award for outstanding achievement in the performing arts.
In recent years, Como and his wife had split their time between their home in Florida and the mountains of North Carolina. Roselle Como died in August 1998 at 84.
Musing some years ago on his career, Como observed dryly. "For the amount of talent I had--and I couldn't dance, act, or tell a joke--I enjoyed a tremendous career."
John Jackson of the Times Editorial Library assisted with the research for this story.
---
Must-read stories from the L.A. Times
Get all the day's most vital news with our Today's Headlines newsletter, sent every weekday morning.
You may occasionally receive promotional content from the Los Angeles Times.