Ralph Fertig, '60s Freedom Rider who became the conscience of L.A., dies at 89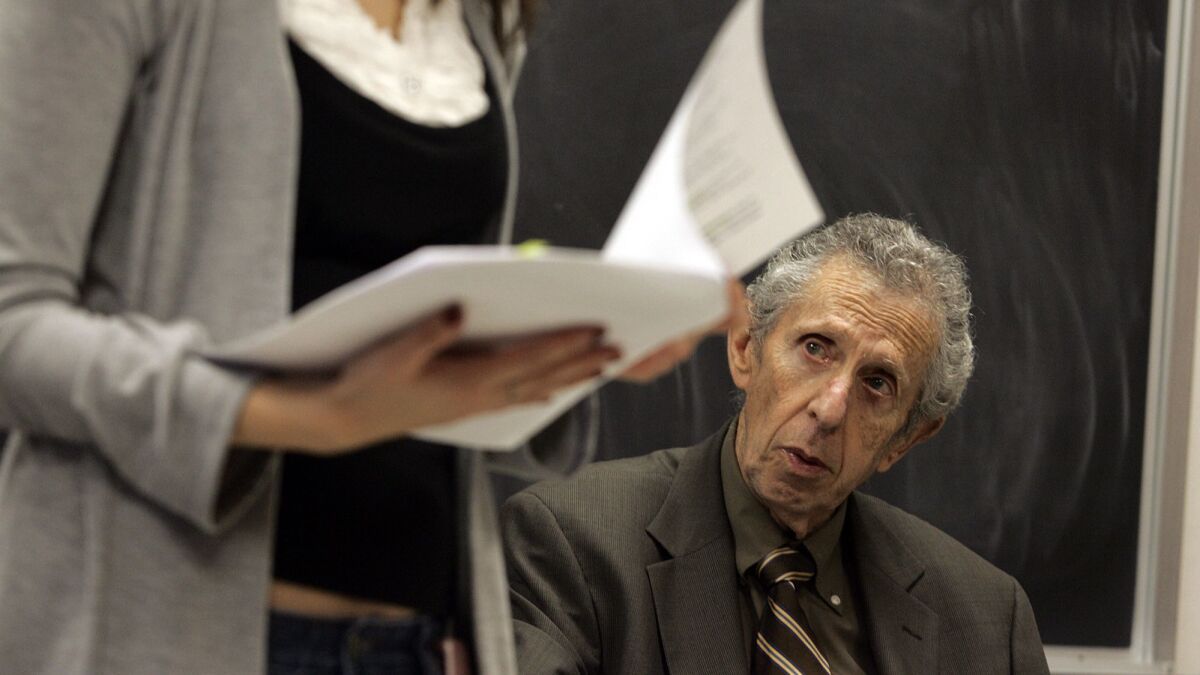 Ralph Fertig, a 1960s Freedom Rider who went on to become one of the nation's most ardent defenders of the marginalized, the misunderstood and the neglected — from Selma, Ala. to L.A.'s Skid Row — has died after a long battle with Parkinson's Disease. He was 89.
Fertig fought for equal rights in the Deep South, advocated for the homeless in Los Angeles and took on the Patriot Act — fighting all the way to the Supreme Court — on behalf of the Kurds, whom he saw as perhaps the most marginalized people in the world.
A founder of the Humanitarian Law Project in L.A., Fertig served as a federal administrative law judge and, for years, was a USC professor of social work, inspiring students to embrace pacifism and battle for human rights. He retired in 2016.
Nearly 80 when his fight to advise the Kurds ended up in front of the Supreme Court, Fertig acknowledged that the ruling put him at risk of being jailed even for something as benign as urging a terror group to be peaceful — in this case the Kurdistan Workers Party.
"And if I'm arrested," he said, "it would not be the first time."
Fertig died Thursday at his home in Westwood. He had been suffering from Parkinson's Disease for the last nine years but, until recently, had remained active in the community, his son David said.
Born Feb. 24, 1930, in Chicago, Fertig grew up in a home that put a premium on tolerance. His parents were German Jewish immigrants and hosted refugees from Germany during World War II. Fertig said he had vivid memories of his childhood home being a way station for families fleeing Nazi Germany.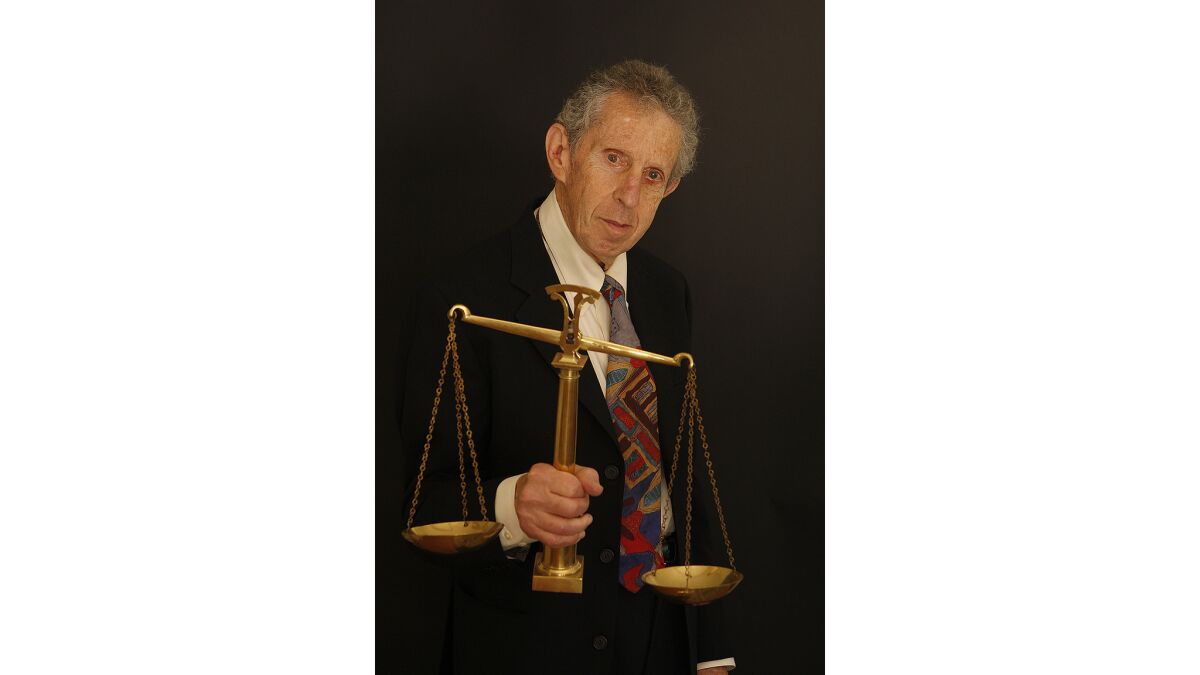 He'd read the comics to their guests, trusting that in the process they'd pick up a casual understanding of English.
"I grew up sharing my bed with whoever the refugee of the week was," he told Los Angeles Times columnist Patt Morrison in 2010. "I grew up exposed to an awareness of the atrocities. And I swore at an early age that I would devote my life to fighting that."
Filled with the belief that America stood as the great savior after World War II, a beacon of peace, democracy and justice, Fertig went to bat at a young age for those who were denied their equal rights.
While young, Fertig saw a picket line of white parents protesting the admission of a black student whose parents had moved to the community. Fertig said he demanded that he and the black student be registered together. Fertig was registered — the other student was not.
"And there collapsed my dreams of America," he said.
In 1961, Fertig became secretary and treasurer of the Chicago Freedom Action Committee, a civil rights group that dispatched busloads of activists through the Midwest and Deep South.
In Selma, Ala., a place Fertig had never heard of at the time, he was confronted by the city's sheriff who swaggered onto the bus Fertig was riding. "You a nigger lover, son?" he recalled the sheriff as saying. "I lied and said I love all people. I'm not sure I loved him at that moment."
Tossed in jail, Fertig said he was beaten by white prisoners while the warden egged them on. He was beaten with such fury that each one of his ribs was broken, he said later.
Fertig earned a master's degree in sociology from Columbia University and a doctorate in sociology from the University of Chicago. He moved to L.A. in 1973 to become executive director of the then-troubled Greater Los Angeles Community Action Agency. He also went to law school at UCLA, earning his juris doctorate. For years he worked at a civil rights lawyer, an administrative law judge and a professor.
His battle with the government on behalf of the Kurds tested the limits of the First Amendment, and became a legal bellwether.
Pitted against the interests of national security, which became even more intense after the 9/11 terror attacks, Fertig argued that the 1st Amendment protected his right to advise the Kurds, which could possibly include members of the Kurdistan Workers Party, on how to take their grievances to the United Nation.
How could advising someone to be civil and non-violent — even a group such as the Kurdistan Workers Party identified by the U.S. as a terror group — possibly hold up against the broad protections of the 1st Amendment? Court after court agreed with his reasoning.
The Kurds, the largest ethnic group in the world without a homeland, had suffered in Turkey, Syria and Iraq, their assigned countries at the end of World War I. In Turkey, Fertig said, the intent of the government's policy was to eliminate the Kurds.
The reach of the Patriot Act, Fertig said, was so broad that something as basic as providing humanitarian aid following a natural disaster could be illegal if the country was identified as a terrorist stronghold.
But in 2010, decades after he first took up the first, the Supreme Court ruled 6-3 that human rights advocates like Fertig could be prosecuted if they offered advice to a foreign terror group, even if that advice was to settle disputes peacefully.
The ruling was a sharp warning to international aid groups and charities that even goodwill gestures could put them at legal risk.
"In the name of fighting terrorism, the court has said that the 1st Amendment permits Congress to make it a crime to work for peace and human rights," said Georgetown law professor David Cole, who represented Fertig. "That is wrong. There is no evidence that teaching human rights would further terrorism."
Fertig was buoyant, however. Progress often came in small steps, he said.
"I do believe in the basic goodness of most people," he said in 2010. "It's been proven that when we bring the realities of justice to the American public, they respond with the conscientious commitment."
Fertig is survived by his children, Jill, David and Katie; son-in-law Ananda; and five grandchildren, Laura, Thomas, Ravi, Melissa and Thea. He was predeceased by his wife Madeleine Stoner, a USC professor and expert on homelessness, and two children, Karen and Jack.
Must-read stories from the L.A. Times
Get the day's top news with our Today's Headlines newsletter, sent every weekday morning.
You may occasionally receive promotional content from the Los Angeles Times.