Air Force Airman 1st Class Jacob I. Ramsey, 20, Hesperia; dies of gunshot wound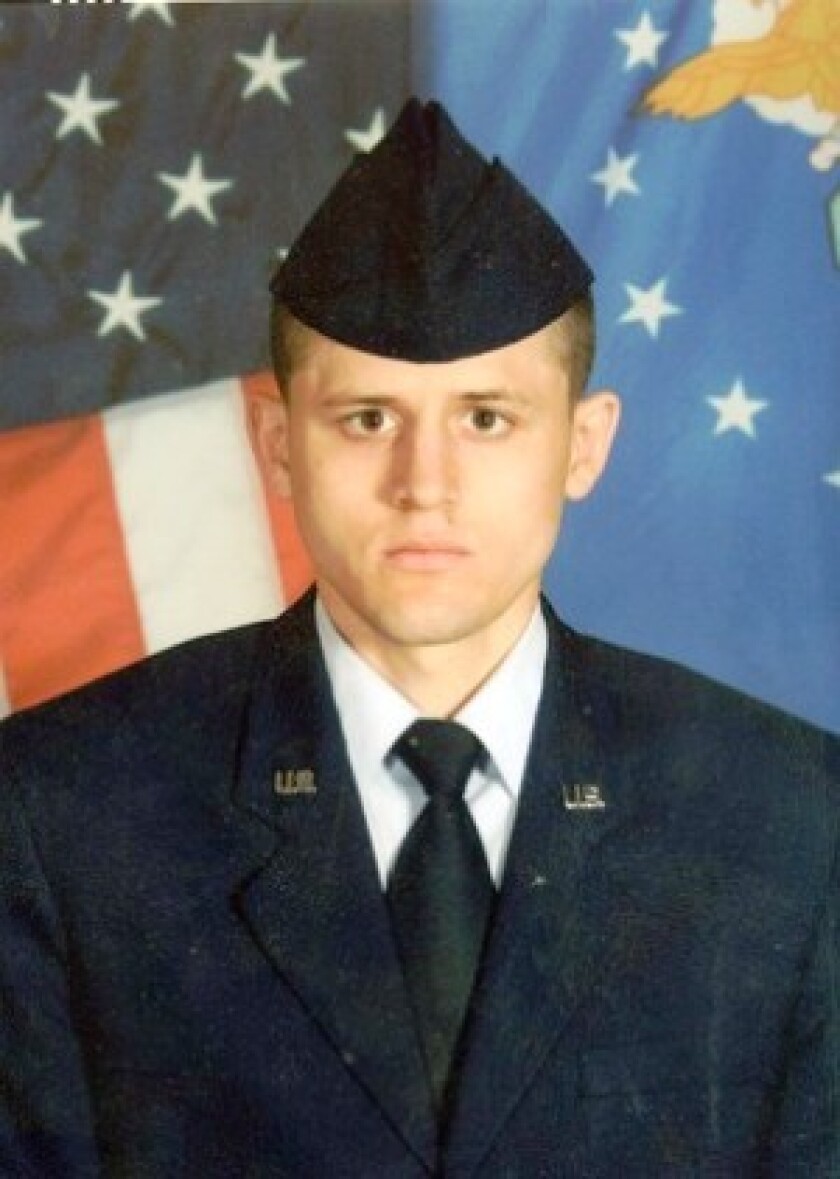 Soon after Jacob Ramsey's death, his father and two brothers went to a tattoo parlor near their home in Hesperia.
There, each man had the same words inked on his upper right shoulder: Jacob Israel Ramsey, 7-12-88, 10-Apr-09, Kabul, Afghanistan.
"I look in the mirror and I see it, my brother. . . ," his younger brother, 16-year-old Joseph, said of the tattoo. "The only reason why I have it is because he's not with us anymore."
Air Force Airman 1st Class Jacob Ramsey, 20, died April 10 of noncombat-related injuries in Kabul, Afghanistan, according to the Department of Defense.
He was assigned to the 712th Air Support Operations Squadron at Ft. Hood, Texas.
Ramsey's father, William, said in an interview that his son, who had been deployed less than a month, died from a gunshot wound to the head.
He said that he knows that his son could have taken his own life but that the incident is still under investigation.
"It could have been an accident; it could have been him cleaning his gun; it could have been some guy goofing off," said William Ramsey, a 26-year officer with the Los Angeles Police Department.
However his son died, he said, "There's nothing that can be done about that. It's a final thing."
Jacob Ramsey, along with his twin sister, Bethany, was born in Yorba Linda in 1988. The family later moved to Hesperia, where he graduated a year early from Hesperia High School.
He is at least the third alumnus of the school to die in the armed services since the wars in Iraq and Afghanistan began.
A fourth former student, William J. Wiscowiche, who died in Iraq's Anbar province, attended Hesperia High before transferring to Victor Valley High School in Victorville.
In addition to his father and siblings Joseph and Bethany, Ramsey is survived by his mother, Sandra; a brother, Isaac; and a sister, Genesis.
Family members remembered him as resourceful, practical and always interested in helping others.
A year before he left for basic training, he and his father would often stand guard over their church's parking lot during the evening service.
When friends needed a ride, he was quick to drop his own plans to help them out. He gave money to charity, and sometimes he stopped by his father's house just to help him clean it.
When he was in basic training and then deployed, Ramsey would call home almost every Sunday to talk with his father, creating a new Sunday ritual to replace an earlier one in which they often spent the day together watching football.
A friend, Zack Stroud, 16, who grew up near Jacob Ramsey, said the boys often spent time watching movies and playing video games.
Sometimes, Stroud said, they took Ramsey's 1967 Mercury Cougar to watch football games at Hesperia Christian School.
"That's been his dream since he was 12, to be in the military," Stroud recalled. "He really likes helping people, and that was one of the reasons. And he really liked the idea of being in combat."
Ramsey's brother Isaac, an Army specialist serving in Mosul -- north of Baghdad -- wrote a note on The Times' California War Dead database about his younger brother.
"Now that the funeral is over, and I'm deployed, things seem to be back in order. But the sadness haunts me still, and the hopelessness I feel, the despair over what happened can't be expressed in any human language. . . ," he wrote.
"If it wasn't for those in power, my brother would probably still be alive, because he never would have had to be deployed. And if it wasn't for those terrorists in the Middle East, so many more grieving mothers would still have their babies. The world is unfair beyond question, beyond reason. I'll miss my little brother very much."
---
Must-read stories from the L.A. Times
Get all the day's most vital news with our Today's Headlines newsletter, sent every weekday morning.
You may occasionally receive promotional content from the Los Angeles Times.