Randy Weston, pianist and composer who celebrated jazz's African roots, dies at 92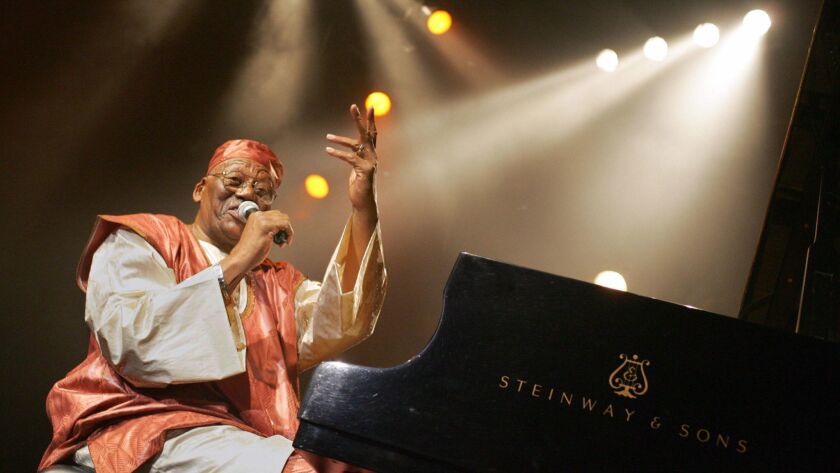 Washington Post
For Randy Weston, Africa was the wellspring of music — the spiritual and rhythmic source of blues, African American spirituals, samba, bossa nova and, above all, jazz.
Weston, who was 92 when he died Sept. 1 at his home in Brooklyn, was among the most prominent ambassadors for traditional African music in the United States. A revered jazz pianist and composer, he incorporated that continent's complicated rhythms, tonalities and call-and-response patterns in records that ushered in a new era of transatlantic fusion.
"More than any other musician, composer, or bandleader of his generation, Weston is responsible for fusing modern jazz and African music, giving birth to an entirely new musical genre," said historian Robin D.G. Kelley , who charted Weston's musical development in the book "Africa Speaks, America Answers."
Musically restless, with a sound that continually evolved over his more than six-decade career, Weston claimed the entire African continent as inspiration and also drew from Caribbean and Indian musical traditions, the field hollers of American slaves and the Broadway show tunes of Cole Porter.
Even as a young man in Brooklyn, where he lived across the street from pianist Eddie Heywood, hung out with drummer Max Roach and befriended trumpeter Miles Davis, Weston's musical interests ranged far beyond modern jazz.
Introduced to Middle Eastern and North African instruments by bassist Ahmed Abdul-Malik, Weston said he sought to play "the notes between the cracks," microtones that aren't found in Western music. In his 2010 autobiography "African Rhythms," written with Willard Jenkins, he wrote that he soon discovered pianist Thelonious Monk was already playing that way — and began spending hours at Monk's home on the Upper West Side of Manhattan, learning from the master pianist and composer.
"I'm convinced Monk came out of the ancient times because when he played the piano it was no longer a piano, it became for me another instrument entirely," Weston said. "When I heard Monk play the piano it stretched my imagination for what I could do on the instrument; suddenly the possibilities seemed endless."
Weston went on to distinguish himself in the 1950s with original compositions such as "Saucer Eyes," "Pam's Waltz" and "Little Niles," a waltzing number with a title that referenced his young son Niles, who later played percussion under the name Azzedin Weston.
His breakout song was "Hi-Fly," which the 6-foot-7 Weston described as a "tale of being my height and looking down at the ground." It has since become a jazz standard, recorded by artists including Jon Hendricks, Mel Tormé, Sarah Vaughan, Art Blakey and Cannonball Adderley.
Weston surprised some critics, and many of his listeners, when he turned toward a more African-inflected sound, beginning with his 1960 album "Uhuru Afrika" (Swahili for "Freedom Africa"). Recorded with a 24-piece band, the record featured lyrics and an opening poem by his friend Langston Hughes, who wrote of freedom from colonial rule and empowerment for African women — leading South Africa's apartheid government to ban the record.
Weston had not yet visited Africa at the time of the album's release, but he went on to travel widely on the continent and spend five years living in Morocco, where he ran a music venue in Tangier called the African Rhythms Club, lectured on jazz and learned from local musicians.
"I went on a spiritual trip back home," Weston explained to DownBeat magazine in 1998. "I wanted to hear where I came from, why I play like I play, why we play music like we do. We went to about 18 countries, and wherever we went we asked to experience the traditional music of the people. Hearing the traditional music was like hearing jazz and blues and the black church all at the same time." 
Randolph Edward Weston was born in Brooklyn on April 6, 1926, to parents who separated when he was a boy and required him to take piano lessons at a young age. His father was Panamanian with Jamaican ancestry and was a supporter of the Pan-African message of Marcus Garvey.
Weston served in the Army during World War II and returned home to work in his father's restaurant, Trios, which served Caribbean food and became a favorite of musicians.
He released his debut album in 1954, "Cole Porter in a Modern Mood, " and his final one, "The African Nubian Suite," in 2016. It was Weston's 50th album.
In 2001, he was named a Jazz Master by the National Endowment for the Arts.
Weston is survived by his wife, three daughters, seven grandchildren; six great-grandchildren and one great-great-grandchild. The cause of death was not immediately known.
---
Must-read stories from the L.A. Times
Get all the day's most vital news with our Today's Headlines newsletter, sent every weekday morning.
You may occasionally receive promotional content from the Los Angeles Times.