Richard Ben Cramer dies at 62; Pulitzer-winning journalist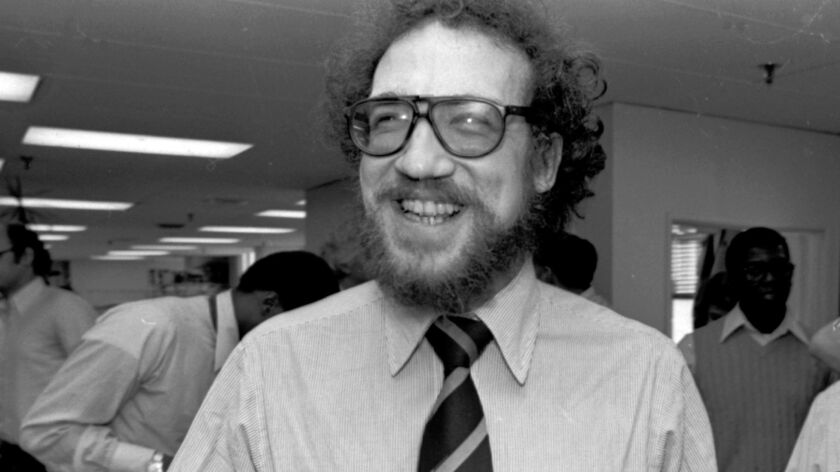 Pulitzer Prize-winning journalist Richard Ben Cramer, whose narrative nonfiction spanned presidential politics and the game of baseball, has died. He was 62.
Cramer died Monday at Johns Hopkins Hospital in Baltimore of complications from lung cancer, said his agent, Philippa Brophy.
He won the 1979 Pulitzer Prize for international reporting from the Middle East while working as a foreign correspondent for the Philadelphia Inquirer.
Cramer's other notable work included a bestselling biography of New York Yankees great Joe DiMaggio, an influential magazine profile of another baseball star, Ted Williams, and a critically acclaimed, behind-the-scenes account of the 1988 U.S. presidential race, "What It Takes: The Way to the White House."
He was known for an in-depth reporting style that involved spending significant time with the subjects he profiled and re-creating scenes with vivid color and dialogue.
"He was really a gifted writer, a gifted storyteller," said William K. Marimow, a colleague of Cramer's at the Inquirer and now the newspaper's editor.
Journalists aspiring to be great writers still marvel at the opening paragraph of Cramer's 1981 Inquirer report from Belfast, Northern Ireland, about the funeral of Bobby Sands, a volunteer for the Provisional Irish Republican Army who died during a prison hunger strike:
"In a grimy gray drizzle, under ragged black flags that lifted and waved balefully in the fitful air; to the wail of a single piper, on streets winding through charred and blasted brick spray-painted with slogans of hate; by silent tens of thousands, past fathers holding sons face-forward that they might remember the day, past mothers rocking and shielding prams that held tomorrow's fighters, past old men who blew their rheumy noses and remembered their own days of rage ... Bobby Sands was carried yesterday to a grave of raw Ulster mud."
"What It Takes," published at more than 1,000 pages, took Cramer six years to report and write, covering six presidential candidates in depth.
The book on the 1988 presidential race delved into the lives and careers of the candidates, explaining how eventual winner George H.W. Bush had early in his political career resisted the urging by advisors to speak openly about his war record or the death of his young daughter from leukemia — personal topics he later discussed movingly during his presidential campaign.
Besides politics, baseball was a topic Cramer returned to frequently.
His 1986 profile of Williams in Esquire magazine traced the arc of the hitter's career — including his personal relationships and feelings on fame — from early days in San Diego to post-baseball life in the Florida Keys, where, Cramer wrote, locals might run into him at the tennis club, coffee bar or tackle shop.
"It was forty-five years ago, when achievements with a bat first brought him to the nation's notice, that Ted Williams began work on his defense. He wanted fame, and wanted it with a pure, hot eagerness that would have been embarrassing in a smaller man. But he could not stand celebrity. This is a bitch of a line to draw in America's dust," Cramer wrote.
His 2000 biography of DiMaggio, "Joe DiMaggio: The Hero's Life," offered a complex, multifaceted portrayal of the Hall of Famer's life and career. It got mixed reviews from critics but made bestseller lists.
Cramer was born June 12, 1950, in Rochester, N.Y., and attended Johns Hopkins University and the Columbia School of Journalism. After graduating, he worked at the Baltimore Sun before moving to the Inquirer in the mid-1970s.
A resident of Maryland's Eastern Shore, Cramer is survived by his wife, Joan, and a daughter, Ruby, from his marriage to Carolyn White.
---
Must-read stories from the L.A. Times
Get all the day's most vital news with our Today's Headlines newsletter, sent every weekday morning.
You may occasionally receive promotional content from the Los Angeles Times.