Richard J. O'Neill dies at 85; prominent O.C. landowner and Democratic Party activist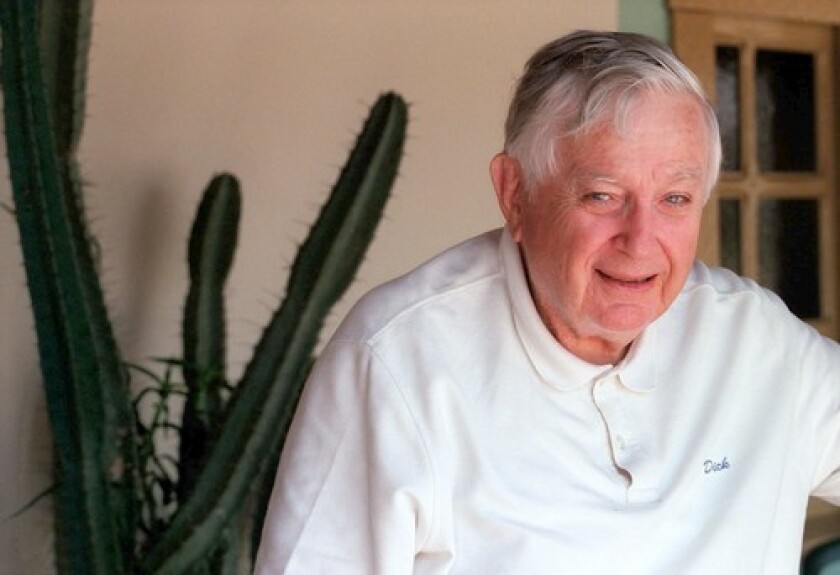 Richard J. O'Neill, a prominent landowner and Democratic Party activist who helped transform the landscape of Orange County by developing his family's vast Rancho Mission Viejo, died Saturday. He was 85.
O'Neill, who served as California Democratic Party chairman from 1979 to 1981, died of natural causes at his ranch home east of San Juan Capistrano, according to Rancho Mission Viejo spokeswoman Diane Gaynor.
Despite Orange County's long-standing reputation as a Republican Party stronghold, O'Neill threw his efforts against the GOP tide, starting at the grass-roots level by registering voters and walking precincts to get out the vote. He also organized fundraisers and served as a delegate to several national conventions.
"Dick was just an amazing Orange County Democrat, because Orange County was not known as a bastion of very active Democrats," Bob Mulholland, a campaign advisor to the California Democratic Party, told The Times on Saturday. "He worked day and night on behalf of Democrats."
The fundraisers O'Neill sponsored often swept up a good deal of his own money. The source of his wealth was the sprawling south Orange County ranch that has been in his family since 1882.
That's when his grandfather, an Irish immigrant also named Richard O'Neill, and a business partner, James Flood, purchased the 230,000-acre Rancho Santa Margarita y las Flores, which stretched from Aliso Creek in what is today Lake Forest all the way to Oceanside in San Diego County.
The ranch was divided in the 1930s, with the O'Neills keeping the Orange County portion. During World War II, the federal government took a large segment of the original parcel to establish Camp Pendleton, the Marine Corps base that today provides a glimpse of what the Southern California coastline looked like before cities and towns sprang up and merged into continuous swaths of homes and businesses from the Mexican border to Oceanside and San Clemente to Malibu.
O'Neill told The Times in 1989 that he approached the Marine Corps in the 1950s about buying back the land that Camp Pendleton sits on, "and they told me they'd give up Quantico and Parris Island before they gave up this place."
In the 1960s, O'Neill proposed to Irvine developer Donald Bren a deal that would create a 10,000-acre planned community called Mission Viejo. The partnership didn't last, with O'Neill eventually selling the development for $54 million in 1972 to the Phillip Morris Co., but the new suburb became the first significant bite out of the county's old rural scenery.
Since then, the communities of Rancho Santa Margarita, Las Flores and Ladera Ranch have been carved out of the ranch, which now encompasses 23,000 acres and is overseen by O'Neill's nephew Anthony Moiso.
"I don't like to see the ranch cut up," O'Neill told The Times in 1988, "but I know it's inevitable."
Although much of the real estate turned into seas of tract houses with red-tile roofs, O'Neill and his family made sure they set aside several thousand acres of oak-studded canyons and rolling grasslands for parkland, including O'Neill Regional Park and Caspers Wilderness Park. That failed to satisfy many environmentalists and conservationists, who wanted more open space.
O'Neill also contributed to many other philanthropic causes, including South Coast Repertory Theater in Costa Mesa, the Heart of Jesus Retreat Center in Santa Ana and Cal Poly San Luis Obispo.
Richard Jerome O'Neill was born May 3, 1923, in Los Angeles to Richard O'Neill Jr. and his wife, Marguerite. He attended Beverly Hills High School and spent summers at the family home in Oceanside, the base for the cattle ranching and farming operation.
He enlisted in the Navy in 1942 and served on troop transport ships during World War II. By the time O'Neill was discharged, his father had died. He was not allowed a stake in the ranch until he was 30, so he enrolled at Cal Poly San Luis Obispo, where he studied animal husbandry in preparation for taking over the business.
He also met his future wife, Donna Newman, whom he married in 1951. They had no children, and she died in 2002.
While attending college, O'Neill worked as a bartender and, intrigued by the restaurant business, bought the Harbor Inn at nearby Avila Beach. He continued to buy restaurants, including several in the Tiny Naylor chain and the historic El Adobe restaurant in San Juan Capistrano.
He returned to Orange County in 1954 and took over the ranch. Over the years, the rustic property was the scene of countless Democratic Party fundraisers that featured barbecue dinners and burro races.
Harry Truman was the first Democratic candidate who caught O'Neill's eye, in 1948.
After years of bankrolling candidates and working behind the scenes, O'Neill became a member of the Democratic Party's Orange County central committee in 1964. Ten years later, he was elected southern chairman of the party, then became state chairman in 1979.
"Even though he was very affluent, he never forgot the average citizen," California's current Democratic Party chairman, Art Torres, told The Times. "He was most known for his geniality and his spirit and his self-effacing personality. He raised so much money for the party, but you would never have known that just sitting down and having a conversation. We lost a true Californian, in every sense of the word."
O'Neill is survived by his sister, Alice O'Neill Avery, for whom Avery Parkway is named.
Services are pending.
---
Must-read stories from the L.A. Times
Get all the day's most vital news with our Today's Headlines newsletter, sent every weekday morning.
You may occasionally receive promotional content from the Los Angeles Times.