From the Archives: Richard Widmark dies at 93; actor played both heavies, heroes
Times Staff Writer
Richard Widmark, who made an indelible screen debut in 1947 as a giggling sadistic killer and later brought a sense of urban cynicism and unpredictability to his roles as a leading man, has died. He was 93.
Widmark died Monday at his home in Roxbury, Conn., after a long illness, his wife, Susan Blanchard, told The Times on Wednesday. She said a fractured vertebra that Widmark suffered in a fall last year was the beginning of his illness.
"I lost a dear friend, and you don't have friends like him," said Karl Malden, who first met Widmark in New York when they were both "hustling for radio work" in the early 1940s and later appeared in five movies with him.
"He was a damn good actor," Malden told The Times. "He knew what he was doing, he could do it well, and he hated anyone he worked with who wasn't prepared, because he came ready to go."
Sidney Poitier, who acted in three films with Widmark, told The Times that Widmark "left his mark as a very fine actor."
"His creative work is indelible on film and will be there to remind us of what he was as an artist and a human being," Poitier said.
Equally believable playing heavies and heroes, Widmark portrayed a broad range of characters in a film career that spanned more than 70 theatrical and television movies from the late 1940s to the early '90s.
He played a rabid racist in Joseph L. Mankiewicz's "No Way Out" (1950), an obsessed prosecutor in Stanley Kramer's "Judgment at Nuremberg" (1961), an authoritarian Navy destroyer captain during the Cold War in James B. Harris' "The Bedford Incident" (1965) and a tough New York City police detective in Don Siegel's "Madigan" (1968).
The lean and rugged Widmark, who director Samuel Fuller once said "walks and talks like no one else," was known to be equally at home astride a horse — in films such as William Wellman's "Yellow Sky," John Ford's "Cheyenne Autumn" and "Two Rode Together," John Wayne's "The Alamo" and the star-studded epic "How the West Was Won."
But it's as Tommy Udo, the sadistic New York City gangster in Henry Hathaway's 1947 film noir classic, "Kiss of Death," that Widmark made what may be his most enduring on-screen impression.
Widmark had been working nearly a decade as a successful New York radio and Broadway actor when he was cast in the memorable supporting role that set him on the path to stardom.
"Kiss of Death" starred Victor Mature as a small-time crook and family man who reluctantly informs on his ex-partners to gain parole from prison. But Widmark stole the show as the revengeful Udo, who gleefully ties up an older woman in her wheelchair with a lamp cord and then pushes her down a flight of stairs.
The chilling performance prompted film critic James Agee to write of Widmark's character: "It is clear that murder is one of the kindest things he is capable of."
Widmark received his only Oscar nomination — as best supporting actor — and he won a Golden Globe as "most promising [male] newcomer" for the role.
If his giggling killer in "Kiss of Death" made a big impression on movie audiences, his performance also had an effect on the actor.
"I'd never seen myself on the screen, and when I did, I wanted to shoot myself," he told the New Yorker in 1961. "That damn laugh of mine! For two years after that picture, you couldn't get me to smile. I played the part the way I did because the script struck me as funny and the part I played made me laugh, the guy was such a ridiculous beast. I was doing 'Inner Sanctum' on radio at the same time, and I remember reading the 'Kiss of Death' script to some of the guys and saying, 'Hey, get a load of this!' and I'd laugh, it was so funny."
And that, he said, is the way he played the part in the movie.
"I don't think we'd seen quite that level of anti-social behavior in movies, and he never repeated villainy at that level in the movies," film critic Richard Schickel told The Times in 2002.
But, he said, even when Widmark played a leading man, "there was a kind of hard-core urban cynicism about him that was really different than previous urban bad guys in the [James] Cagney or John Garfield vein, where there was a kind of sweetness lurking there."
"He's, to me, one of those people I was always glad to see on the screen because it promised some edge that wasn't entirely conventional. There was something slightly mysterious about his behavior, and you felt a slight unpredictability about him."
Widmark, Schickel said, later became a much more conventional leading man, but even then his portrayals conveyed "sort of an awareness that the world didn't always work out for the best, that you had to be somewhat wary of people."
Widmark was born Dec. 26, 1914, in Sunrise, Minn., where his father ran a general store before becoming a traveling salesman. Growing up, Widmark moved frequently before his family settled in Princeton, Ill., where his father acquired a bakery and the family lived in the apartment above.
In high school, Widmark played football, acted with the dramatic club and wrote for the student newspaper.
He enrolled in a pre-law course at Lake Forest College in Illinois, where he won awards in oratory contests. But he also was active in the drama department and, after playing the lead in Elmer Rice's "Counselor-at-Law" in his sophomore year, began to think seriously about becoming an actor.
After graduating in 1936, he became an instructor in the college's drama department and directed and acted in numerous campus productions over the next two years.
"I suppose I wanted to act in order to have a place in the sun," he told the New Yorker. "I'd always lived in small towns, and acting meant having some kind of identity."
In 1938, he moved to New York City, where his college sweetheart and future wife, Jean Hazlewood, was studying at the American Academy of Dramatic Arts. They married in 1942.
Widmark didn't have any trouble finding acting jobs. A former classmate, who was producing radio soap operas, gave him a part on a show. And from then on, Widmark worked steadily in radio.
A perforated eardrum kept him out of the service during World War II, but Widmark served as an air raid warden and entertained servicemen under the auspices of the American Theatre Wing.
In 1943, he made his Broadway debut playing a young Army lieutenant in the comedy "Kiss and Tell." Roles in other Broadway plays followed, along with his continuing work in radio.
Then came "Kiss of Death," which required him to sign a seven-year contract with one-year options with 20th Century Fox.
At Fox, which had promoted Widmark in "Kiss of Death" by advising theaters to have local printers make up "Wanted" posters of the actor, he found himself typecast playing psychotic tough guys and "nutballs." In a review of "The Street With No Name," one critic wrote of Widmark: "The timbre of his voice is that of filthy water going down a sewer."
Off screen, Widmark was a cordial and thoughtful gentleman who abhorred guns and violence. The one time he went fishing, he once recalled, "I caught a little trout. I took him to the basement to scrape him. I called him George. It broke my heart that I had caused his death."
But Widmark played so many heavies early in his screen career that audiences had difficulty separating the man from the despicable characters he portrayed.
"It's weird the effect actors have on an audience," he told Parade magazine in 1987. "With the roles I played in those early movies, I found that quite a few people wanted to have a go at me. I remember walking down the street in a small town and this lady coming up and slapping me. 'Here, take that, you little squirt,' she said. Another time I was having dinner in a restaurant when this big guy came over and knocked me right out of my chair."
While trying to avoid playing more low-life villains, Widmark was offered what he once called "this terrible, awful racist character" in "No Way Out," the 1950 film that marked the big-screen debut of Poitier as a doctor in a county hospital who must deal with Widmark's character. Widmark later said he would apologize after almost every scene they had together for the bigoted lines he had to deliver.
But Widmark, who had been a "nut" for films since he saw his first one at age 3, said he loved making movies.
"When I finally came to Hollywood, I thought I was in seventh heaven," he told The Times in 1987.
While under contract to Fox, Widmark made about 20 movies between 1947 and 1954. And although he had achieved variety in characters such as a businessman father who is too busy for his young son in the comedy-drama "My Pal Gus," he didn't like not having a chance to do films of his choice.
When his contract at Fox expired, he decided to work independently. He also formed his own company, Heath Productions, to do projects he liked and retain greater artistic control.
Among the films he produced and starred in were "Time Limit" (1957), directed by Malden; and "The Secret Ways" (1961), a Cold War thriller with a script written by Widmark's wife, Jean.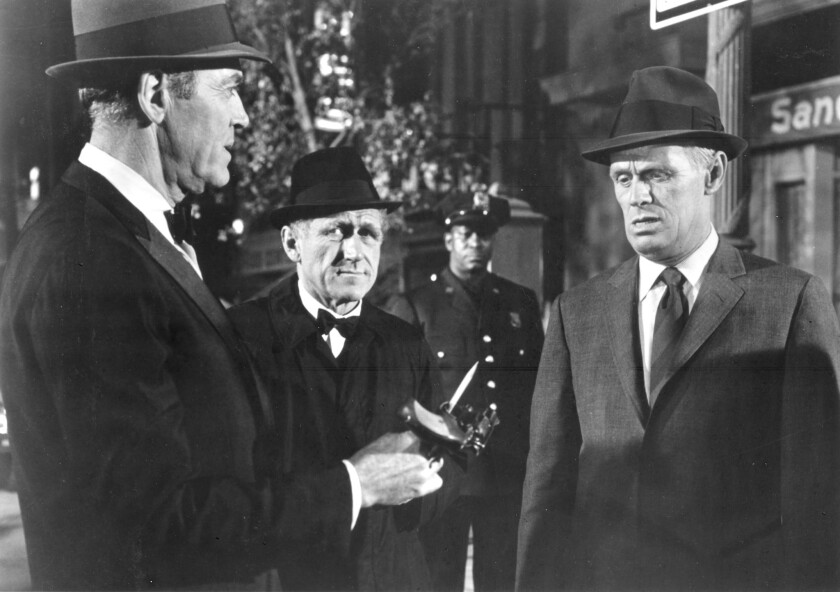 One of his biggest hits came in 1968 when he played the title role in the New York cop story "Madigan." In 1972, Widmark reprised the role in a TV series of the same name that ran on NBC for a year.
He continued to show up in films such as "Murder on the Orient Express," "Rollercoaster," "Coma" and "The Swarm," but his stardom began to wane.
In the 1980s, he worked periodically in films and television, including "Against All Odds" on the big screen in 1984 and "Cold Sassy Tree," a 1989 television movie in which he played opposite Faye Dunaway as a man who married a younger woman.
In 1991, he made his final screen appearance, as a senator in "True Colors."
In his later years, Widmark divided his time between a ranch in Hidden Valley, Calif., and a farm in Connecticut. Widmark enjoyed not working.
"A lot of actors don't know what to do with themselves when they retire; they have no other life. Me, I love just living," he said. "I read a lot, play tennis, work outside, see friends."
As one of Hollywood's elder statesmen, Widmark would periodically be asked for interviews in his later years. And whenever reporters came to call, they inevitably asked about his role in "Kiss of Death."
"It's a bit rough priding oneself that one isn't too bad an actor and then finding one's only remembered for a giggle," he told one interviewer.
Widmark's wife Jean died in 1997. He married Blanchard, a longtime friend who was once married to Henry Fonda, in 1999.
In addition to his wife, he is survived by a daughter, Anne Heath Widmark, who was once married to Los Angeles Dodgers pitching legend Sandy Koufax.
No funeral will be held.
From the Archives: Debonair Actor Joseph Cotten Dies at 88
From the Archives: Marilyn Monroe Dies; Pills Blamed
From the Archives: Bette Davis Dies in Paris at 81
From the Archives: Nat 'King' Cole dies of cancer at 45
From the Archives: Jack Lemmon, Everyman Star, Dies
---
Must-read stories from the L.A. Times
Get all the day's most vital news with our Today's Headlines newsletter, sent every weekday morning.
You may occasionally receive promotional content from the Los Angeles Times.