Robert F. Boyle dies at 100; longtime Hollywood production designer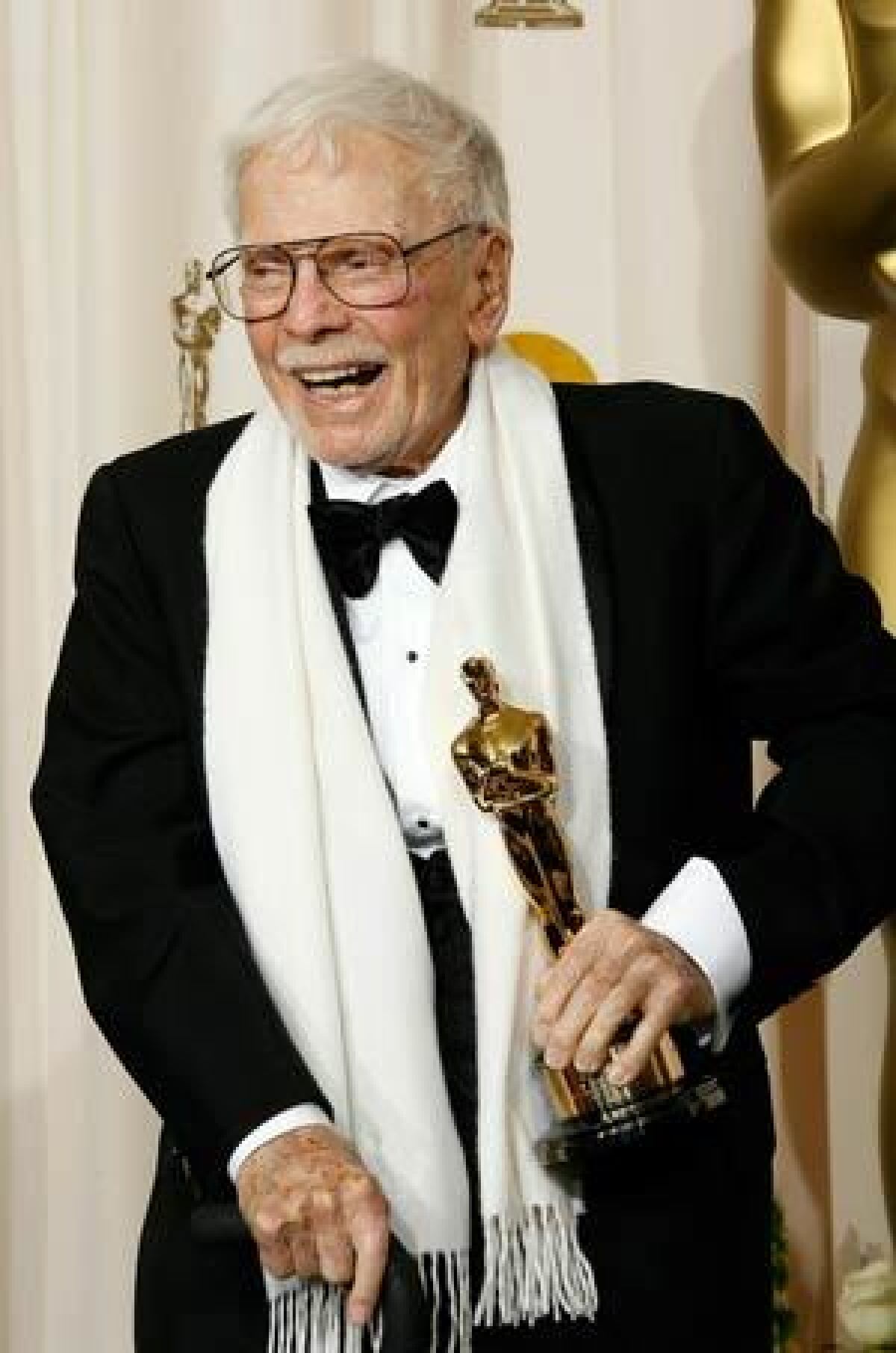 Robert F. Boyle, a four-time Oscar-nominated production designer best known for his work on Alfred Hitchcock's "North by Northwest" and "The Birds" and Norman Jewison's "Fiddler on the Roof," has died. He was 100.
Boyle died of natural causes Sunday at Cedars-Sinai Medical Center in Los Angeles after a two-day stay, said family spokeswoman Nicole Bamber.
"For us as a guild, it's a loss of one of our great masters," said Tom Walsh, president of the Art Directors Guild. "His career spans such a great distance of the American movie culture, starting in the early '30s at Paramount."
Boyle, who as a production designer was responsible for conceiving and realizing the physical look of a motion picture, worked on more than 100 films during a career that spanned six decades.
He shared Oscar nominations for best art direction-set decoration for "North by Northwest," Jewison's "Gaily, Gaily" and "Fiddler on the Roof" and Don Siegel's "The Shootist."
Boyle launched his association with Hitchcock on "Saboteur" in 1940 and, in addition to "North by Northwest" and "The Birds," worked on Hitchcock's "Shadow of a Doubt" and "Marnie."
He was the subject of Daniel Raim's Oscar-nominated 2000 documentary short "The Man on Lincoln's Nose," which was the original title of "North by Northwest." It also refers to Boyle's experiences on Mt. Rushmore while preparing the movie.
"Basically, the documentary shows the construction of Mt. Rushmore on a studio soundstage," Raim said. "The story is that Hitchcock originally wanted to shoot on Mt. Rushmore, but they wouldn't let them shoot on the monument."
The documentary includes "a detailed section where we see through original black-and-white photos Bob Boyle rappelling down the monument on cables and taking photographs of the monument from varying angles," Raim said.
Large blow-ups of Boyle's Mt. Rushmore photos provided the background that the actors played against in the movie.
"This is pre-digital filmmaking," Raim said, "and I think part of Bob's genius was his ability to create believable sets and special effects that still hold up today."
A 2008 recipient of an honorary Oscar, Boyle also worked on the original "Cape Fear," "In Cold Blood," "How to Succeed in Business Without Really Trying," "The Best Little Whorehouse in Texas," "Private Benjamin" and the Jewison-directed "The Thomas Crown Affair" and "The Russians Are Coming, the Russians Are Coming."
"He was a giant," Jewison said. "He just epitomized everything that you would want from a production designer."
For "Fiddler on the Roof," Boyle built an entire early 20th century village in Yugoslavia.
For "Gaily, Gaily," he re-created turn-of-the-century Chicago.
And for "The Russians Are Coming," he transformed Fort Bragg and Mendocino, Calif., into a Cape Cod village.
When Jewison failed in his attempts to procure a real submarine for the 1966 comedy about a Soviet sub that runs aground off New England, he turned to Boyle.
"I said, 'Bob, I don't know what we're going to do,'" Jewison recalled. "He said, 'Well, it doesn't have to submerge. We can build one.' And he literally built a submarine. He got the conning tower, I think, from 20th Century Fox. And he got a deck gun from somebody in San Diego, and he got another gun from somebody else. And then he built, out of Styrofoam and fiberglass, an actual submarine with two 90-horsepower engines underneath.
"When it was finished, it really looked splendid. He was just so ingenious as a production designer. I felt he was really in a class by himself."
Said Walsh: "The thing that's unique to Robert is he was so generous with his knowledge and experiences, especially with young designers."
Until he was hospitalized, Boyle continued to lecture on production design at the American Film Institute Conservatory in Los Angeles.
He was born Oct. 10, 1909, in Hollywood and later moved to Hanford in the San Joaquin Valley, where his family had a dairy ranch and he attended high school.
A self-described "relic of the studio system," Boyle had just graduated from USC with a degree in architecture when he launched his career at Paramount in 1933 as a sketch artist and assistant designer.
Boyle is prominently featured in Raim's new documentary, "Something's Gonna Live," which includes three other prominent production designers of his era who also were good friends — Henry Bumstead, Albert Nozaki and Harold Michelson — and is about the legacy they wanted to leave behind.
The documentary was filmed over 10 years; all four men are now dead.
Boyle's wife, screenwriter Bess Taffel, died in 2000.
He is survived by his daughters, Emily Boyle-Biddle and Susan Licon; and three grandchildren.
Services are pending.
dennis.mclellan@latimes.com
---
Must-read stories from the L.A. Times
Get the day's top news with our Today's Headlines newsletter, sent every weekday morning.
You may occasionally receive promotional content from the Los Angeles Times.