Robert F. Erburu, former Times Mirror chairman, dies at 83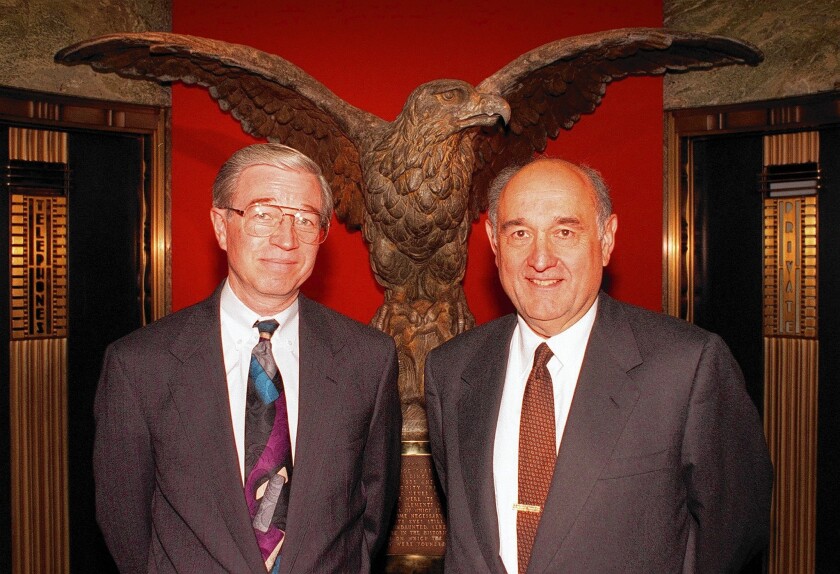 Robert F. Erburu, the last chairman of Times Mirror Co. with close ties to its founding Chandler family, which owned the Los Angeles Times for more than a century, died Sunday at his Santa Barbara home. He was 83.
Erburu, a civic leader and prominent arts patron, had Alzheimer's disease, said Lois Erburu, his wife of 59 years.
A native Californian, Erburu joined Times Mirror, the parent company of The Times, in 1961 as a legal advisor to then-Chairman Norman Chandler and was promoted to general counsel the same year. He rose steadily over the decades, becoming president of Times Mirror in 1974, chief executive in 1980 and chairman in 1986, succeeding Norman's son, Otis.
Over the next decade, Erburu oversaw a media company at its height in prestige and earnings. Times Mirror owned nine newspapers as well as paper mills, cable television stations, a book publishing company and magazines including Outdoor Life and Popular Science. He oversaw expenditures that some critics considered extravagant, such as the construction of a $230-million, state-of-the-art production plant in downtown Los Angeles for the flagship Times.
"He rose during a period of expansion and was a very skilled manager of that," said Tom Rosenstiel, executive director of the Reston, Va.-based American Press Institute, who covered Erburu's rise when he was a Times media reporter in the 1980s.
Erburu also was active on the boards of many of the region's most prominent nonprofit organizations, including the Huntington Library, Art Collections and Botanical Gardens in San Marino, where the 8,000-square-foot Lois and Robert F. Erburu Gallery opened in 2005.
Although not a collector, Erburu "wanted people to be involved in art," his wife said Monday, noting that at one point he was chairman of the board not only at the Huntington but also the National Gallery of Art in Washington and the J. Paul Getty Trust.
The great-grandson of a Basque rancher who owned 13,000 acres in Santa Barbara, Robert Francis Erburu was born in Ventura on Sept. 29, 1930, and grew up in Ojai. He was editor of the Daily Trojan at USC, where he earned a bachelor's degree in journalism in 1952. He went on to Harvard Law School, graduating in 1955.
After earning his law degree, he was hired at the prestigious Los Angeles law firm Gibson, Dunn & Crutcher, which advised the Chandlers. After Norman Chandler hired him away, he helped the Times Mirror chief execute a long-range plan to diversify and become more than a newspaper publishing company.
"He was exactly what Times Mirror needed at that point," said William Niese, who was hired by Erburu in 1966 and was general counsel for many years.
By the time Erburu became chairman, Times Mirror was the country's 11th-largest cable television operator with more than 800,000 subscribers in 15 states, according to Forbes magazine. It also owned hundreds of thousands of acres of timberland in Washington and Oregon. But it remained predominantly a publisher of major metropolitan dailies in several cities, including New York's Newsday, the Denver Post, the Hartford Courant and the Allentown (Pa.) Morning Call; Erburu added the Baltimore Sun to the roster midway through his first year as Times Mirror chief.
The Los Angeles Times, which had a circulation of more than 1 million, accounted for 30% of Times Mirror's revenue and was expanding its coverage domestically and abroad.
"The company in that era was focused on the idea that good journalism was good business — quality as a business strategy," Rosenstiel said. "That was Otis' strategy. He promoted Bob, and Bob embodied that idea."
By the late 1980s, however, contractions in the business climate began to force painful decisions, including the sales of the Denver Post and the Dallas Times Herald. The forest products division was also sold, removing the company's hedge against rising newsprint costs. By the early 1990s, voluntary companywide buyouts were introduced, cutting hundreds of employees from the Times' payroll.
As company revenue continued on a downward course, it became more difficult to manage relations with the fractious Chandler family.
"His relationship with the Chandlers was a very important part of his job," Niese said. "The Chandlers were not the easiest group to handle. They had very different political and social views. Bob was a diplomat. He handled those issues with great skill."
When Erburu retired in 1996, he was replaced by an outsider with no newspaper experience, former General Mills Vice Chairman Mark H. Willes. His appointment marked the end of an era for Times Mirror, which merged with Tribune Co. four years later.
In addition to his wife, Erburu is survived by two children, Susan Reardon and Dr. Lisa Erburu, and four grandchildren.
---
Must-read stories from the L.A. Times
Get all the day's most vital news with our Today's Headlines newsletter, sent every weekday morning.
You may occasionally receive promotional content from the Los Angeles Times.