Robert Winter, who explored and explained L.A.'s architecture, dies at 94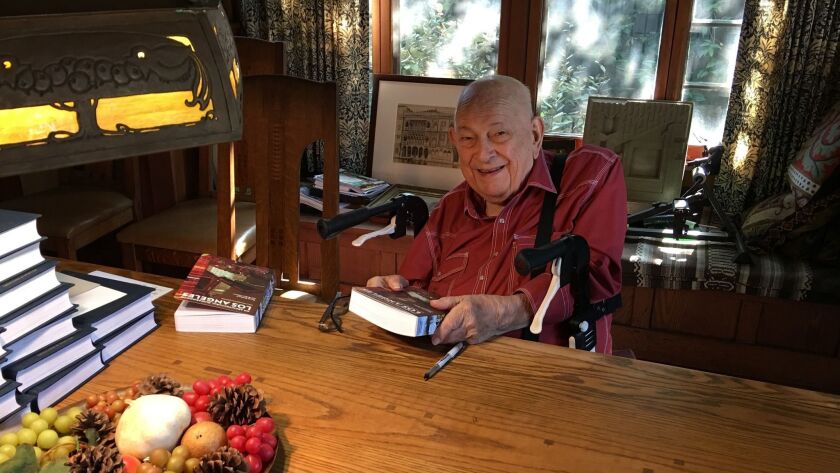 Robert Winter, the architectural historian who spent much of his life examining and explaining Los Angeles' sprawling and complex cityscape to a generation of residents, students and tourists, has died. He was 94.
Winter, a longtime professor at Occidental College who delighted in taking students, guests and friends on bus tours of his adopted city, died Saturday, according to Angel City Press, his publisher.
Winter's gift to the city was "An Architectural Guidebook to Los Angeles," a field guide of sorts that identified, cheered and occasionally mocked L.A.'s diverse architecture. The book, now in its sixth edition, was embraced as a bible by many, stowed in glove compartments for quick access, jammed in backpacks by people who wandered through the different architectural periods and moods that somehow cobbled the city together.
He found the airy atrium of the Bradbury Building on South Broadway to be "one of the most beautiful interior spaces" in L.A., thought Disney Hall was perhaps the city's most interesting structure and appreciated the endless whimsy of L.A., where a tire factory would look like an Assyrian fortress or a gas station like a space ship.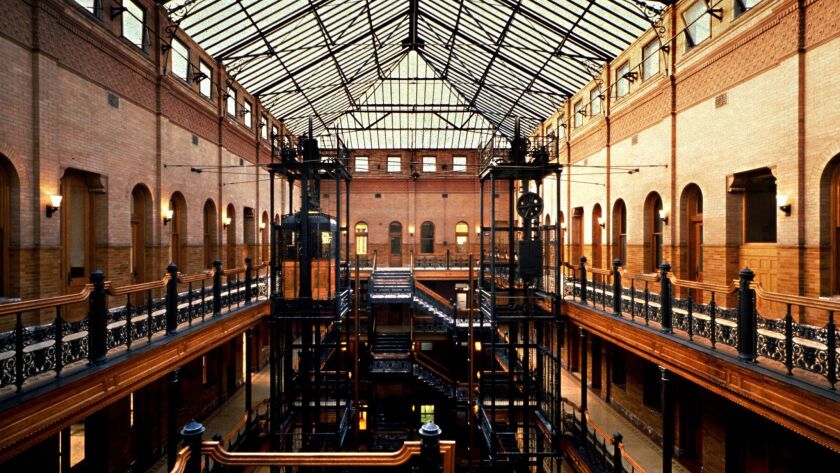 He could be biting, too. In a 2017 interview with Curbed LA, he dismissed the design for the expansion of the Los Angeles County Museum of Art as "Trumpitecture," a billionaire's take on what the average person might enjoy. He didn't particularly think much of the Broad museum's exterior but marveled at what was inside. And he equated Orange County to a set of dentures — orderly, identical and uniformly white.
Former Los Angeles Times architectural critic Christopher Hawthorne found Winter's guidebook to be "indispensable," and Patt Morrison, a longtime writer at The Times who was one of Winter's students, recalled paging through the book, struck by the number of times the word "razed" appeared underneath photos. It was as if, she wrote, one was looking at eager, unique faces and finding the word "murdered" under each one.
Winter was not an immediate fan of the way L.A. looked. It was summertime, 1956, hot and miserable when he arrived to teach social history at UCLA. His first impression was that the city seemed a sprawl of mismatched buildings. But with time, he came to see the far-flung architectural styles — from civic buildings to hamburger stands — as a complex and innovative tapestry. Around every corner, another surprise.
"There's more freedom here than you encounter anywhere in the United States or Europe," he told The Times in a 2006 interview.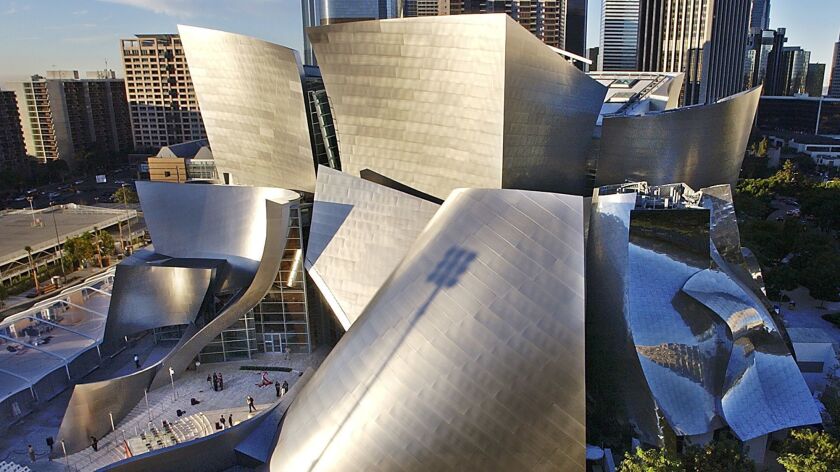 Winter was born in Elkhart, Ind., in 1924. His father was a journalist; his mother a teacher. He attended Dartmouth University, but his studies were interrupted by World War II when he served a stint in the Air Force, stationed in Italy. He later graduated from John Hopkins University and earned a doctorate in cultural history.
His tenure at UCLA ended after six years when he failed to publish a paper, a requirement. In a 2009 interview with the Lotusland Chronicles, Winter explained that he had simply tidied up his doctoral dissertation and submitted it for publication to meet the requirement, but that it was quickly rejected. "I must stop here," one reviewer wrote on the returned manuscript, "before I have a heart attack."
But he didn't go far to find work. Occidental immediately offered him a teaching post, and he remained a fixture on campus for 31 years.
Winter found a kindred spirit in David Gebhard, an architectural historian at UC Santa Barbara, and together they wrote the first edition of "An Architectural Guidebook to Los Angeles," which was published in 1965. Like Winter, Gebhard found the L.A. cityscape to be endlessly surprising. By contrast, he said, New York was architecturally "dull" and San Francisco "stodgy."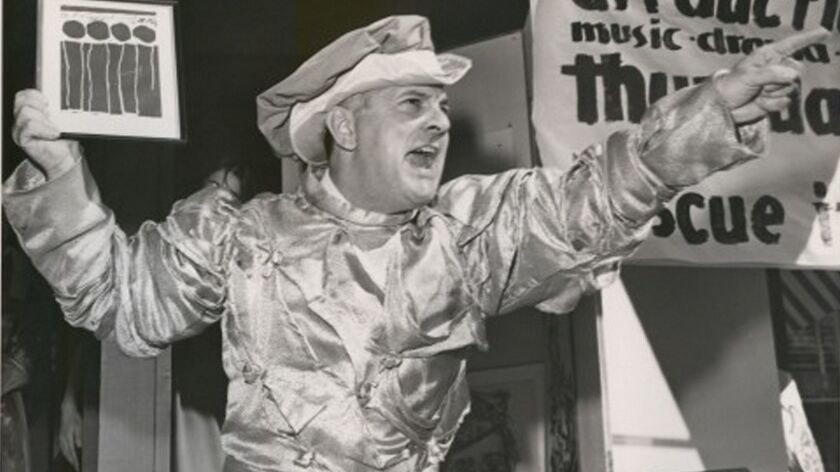 The guidebook was initially pocket-size. But it grew in size and length, eventually weighing in at 700 pages. It was revised nearly every decade, ever denser with new or rediscovered buildings added and those that had been knocked down — or those now obscured from view by other structures — subtracted. Gebhard died in 1996, and Bob Inman, a city explorer who had written such books as "Finding Los Angeles by Foot" and "A Guide to the Public Stairways of Los Angeles," collaborated with Winter on the most recent edition of the guidebook.
Winter served on historic-preservation commissions in Pasadena and L.A. and was appointed to the State Historical Resources Commission in 1998. And it was during his watch that the Cultural Heritage Commission declared the Hollywood sign to be a monument. He was also active in the Coleman Chamber Music Assn., the Union Rescue Mission and the Pasadena Historical Society.
Winter is credited by some with sparking the California Arts and Crafts revival because he wrote about it so frequently and with such passion. He also lived it.
In 1972, he moved into a distinctive 1909 Craftsman-style home on the eastern rim of the Arroyo Seco in Pasadena that had belonged to Ernest Batchelder, a note tile maker. Winter said he always felt as if he were more of a guardian than a homeowner.
"I feel as if I really don't own this place, but that I'm the caretaker."
Winter, who was never married, is survived by a brother, Jim; niece Ellen Winter; and nephews Robert and David Winter.
---
Must-read stories from the L.A. Times
Get all the day's most vital news with our Today's Headlines newsletter, sent every weekday morning.
You may occasionally receive promotional content from the Los Angeles Times.