Russ Ewing, Chicago TV reporter who persuaded at least 115 suspects to surrender, dies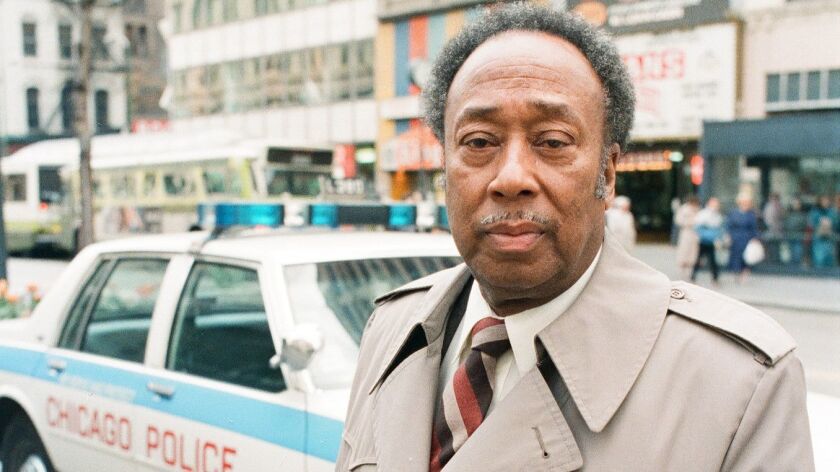 For decades, TV reporter Russ Ewing was the go-to person for gunmen, hostage-takers, lawbreakers and fugitives seeking to surrender to police.
During more 30 years at two Chicago TV stations, more than 115 people turned themselves in with Ewing's assistance.
"On the street and with the underworld there's a better communications system than [the media] has," Ewing told the Chicago Tribune in 1982. "People know who can be trusted, and I think the word has spread that they believe I can be trusted."
Ewing, 95, died of complications from bladder cancer on Tuesday at his home in Paw Paw, Mich., said Patricia L. Arnold, a longtime friend and former television news writer and producer who worked frequently with Ewing.
Born in Chicago, Ewing was orphaned as a child. He attended Englewood High School.
From 1956 until 1964, Ewing worked as a firefighter. Even in that job, Ewing was drawn to journalism, and in 1959, he wrote articles critical of the Fire Department for the Chicago Defender newspaper.
Ewing joined WMAQ-TV as a film courier in the mid-1960s. He became an on-camera reporter in 1969. Early on, he distinguished himself by reporting on inhumane practices, including abuse and mass killings, at Chicago's animal shelters. Along the way, Ewing attended Northwestern University.
In 1975, Ewing persuaded Edmund Sutherland, a former all-city basketball and football player, to surrender on murder charges. The following year, he and South Side newspaper publisher and future U.S. Rep. Gus Savage talked two gunmen into surrendering after they robbed a currency exchange and held two women hostage for nearly five hours.
Ewing phoned the apartment where the gunmen and hostages were holed up, and then yelled up the stairs at them. He eventually led the first gunman into the street and draped an arm around him as he led him to a police car.
"He put his own personal safety on the line dozens of times in his career to negotiate the peaceful surrenders of criminal suspects," said WLS-TV news anchor Alan Krashesky. "He truly had a unique place in Chicago journalism history."
Ewing left WMAQ to join WLS in 1981, and people continued to seek him out to facilitate surrender.
"We lost our minds when he came in with his first surrender after we hired him," Arnold said. "He had comedic timing, which made his behind-the-surrender stories so colorful when he shared them in the newsroom. We would sometimes be in tears, they were so funny."
WLS reporter Paul Meincke said Ewing "had no fear" or "if he did, he never showed it."
"He was straightforward, honest and everyone he came in contact with knew they could trust him," Meincke said. "He was good to his word which, I suspect, is why so many men wanted by police felt safe surrendering to Russ."
Ewing wasn't above the occasional bit of self-promotion, said retired WLS reporter Frank Mathie.
"One of his tricks was [during a surrender], he would walk with [the suspect] very close with his arm around him, so even the other stations had to have Russ in their shot," Mathie said.
"He knew Chicago from City Hall to the neighborhoods, but more important, he knew the sensibilities," former WLS news director Tom Dolan said. "I don't remember in 10 years working with Russ ever being challenged on any of his stories."
Ewing retired from WLS in 1995 but briefly returned to TV in 1998 as a special correspondent for WMAQ.
Ewing was an accomplished jazz pianist who enjoyed sharing his love of music. In 1981, he played a medley of Duke Ellington hits on the piano on Tom Snyder's NBC show "Tomorrow Coast to Coast."
There were no immediate survivors.
Goldsborough writes for the Chicago Tribune
---
Must-read stories from the L.A. Times
Get all the day's most vital news with our Today's Headlines newsletter, sent every weekday morning.
You may occasionally receive promotional content from the Los Angeles Times.