Sandy Gallin, Hollywood agent who guided icons such as Dolly Parton and Michael Jackson, dies at 76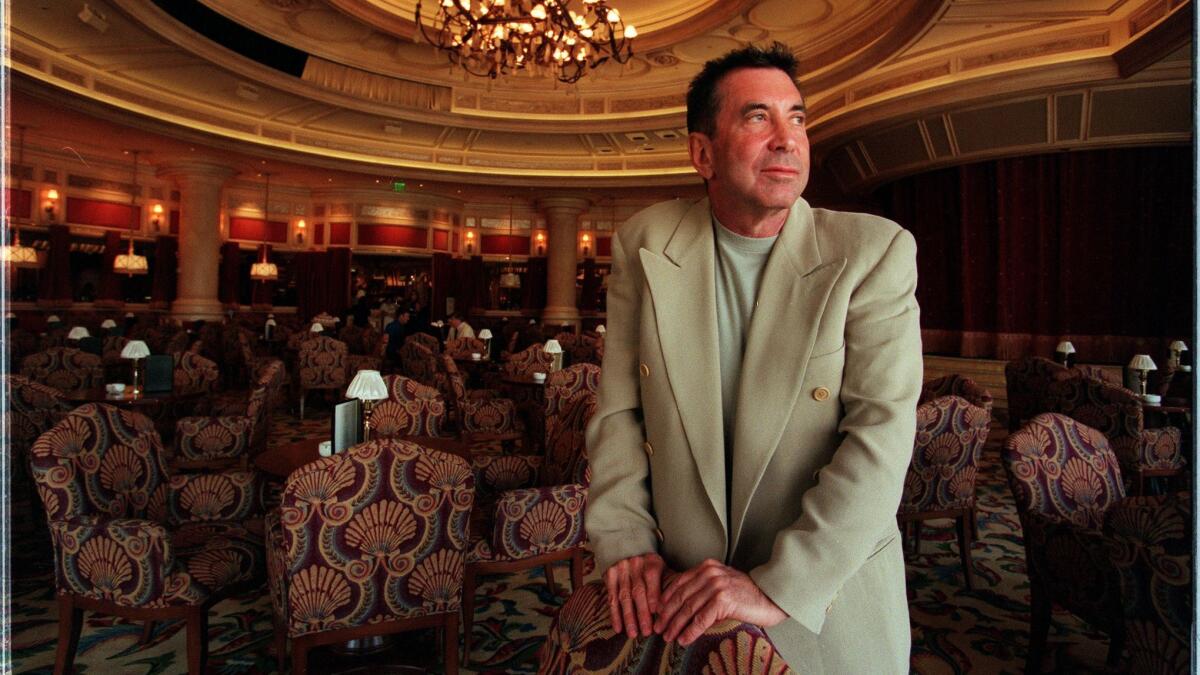 Sandy Gallin, a Hollywood agent and manager who guided the careers of Dolly Parton and other celebrity icons and helped steer Michael Jackson through scandal and career crisis, has died at the age of 76.
During his peak, Gallin helped manage the careers of dozens of mega-stars, including Cher, Neil Diamond and Barbra Streisand. He also partnered in the production of movies such as "Father of the Bride" and "Buffy the Vampire Slayer."

For the record:
7:10 p.m. April 21, 2017
An earlier version of this article misspelled the first name of Whoopi Goldberg as Whoopie.
After walking away from his career as an agent in the late '90s, Gallin discovered that real estate was nearly as seductive and rewarding a commodity as celebrity, and he forged a second career as a designer of luxury homes.
His death Friday was announced on Instagram by longtime friend Bruce Bozzi. A cause of death was not released, but he had battled cancer and had quadruple bypass surgery in 1999.
In Parton, Gallin found a talent, a friend and an eventual business partner. She was a country singer when they met in 1973, and her fame grew as Gallin helped transform her into a mainstream star. They formed the film and production company Sandollar Productions — a mashup of their first names — which produced a string of successful movies, several flops and the Oscar-winning AIDS documentary "Common Threads: Stories from the Quilt."
But Jackson was Gallin's highest-profile client and — at intervals — his biggest headache.
In the early '90s, when Jackson's career was cooling and his public image had shifted from special and spectacular to peculiar and weird, Gallin urged the musician to harness his shyness and step back into the limelight. Gallin got him booked at a pre-inaugural gala for President-elect Clinton, lined up a televised interview with Oprah Winfrey and arranged for him to perform the coveted halftime show at the Super Bowl.
The results, Gallin said, were immediate. He said sales for Jackson's "Dangerous" album — which had been out for months — soared as the album roared back up the charts.
When Jackson was later accused of molesting a 13-year-old boy, Gallin nearly bristled with fury. He said his client had been all but crucified by the media.
"Michael's innocent, open, childlike relationship with children may appear bizarre and strange to adults in our society who cannot conceive of any relationship without connotations," he told the Los Angeles Times in 1994. "This is not a reflection of Michael's character; rather it is a symptom of the sexual phobias of our society."
When Jackson reportedly became addicted to painkillers before launching a tour to support "Dangerous," Gallin said he urged the singer to put his own health before the enormous profits the tour was expected to yield.
Jackson hit the road anyway, but the tour was halted when Elizabeth Taylor and Gallin flew in for an intervention and took the performer to a hospital in England. The episode, and Jackson's increasingly worsening drug problem, was recounted in a 2013 wrongful-death case filed by Jackson's family.
Born Albert Samuel Gallin on May 23, 1940, he grew up in Brooklyn and then on Long Island before graduating from Boston University. He was intrigued by celebrity, but thought his looks didn't necessarily weigh in his favor, especially at a time when studios seemed to be searching for the freshly scrubbed look that Ricky Nelson and Frankie Avalon radiated.
Instead he landed a $50-a-week job in the mail room at a New York City talent agency. He loved it.
"To deliver a letter to Steve Lawrence and Eydie Gorme's apartment or Paul Anka's — I couldn't believe it," he recalled during an interview with The Times. "I was so happy and proud to be in the mail room."
He quickly moved up the ranks and began booking for televised game shows such as "What's My Line?" and "To Tell the Truth" and rounding up guests for "The Ed Sullivan Show." He said he had a hand in booking the Beatles in 1964, effectively introducing the group to America.
Gallin moved to Los Angeles in the '60s and worked briefly with David Geffen — foolishly passing up an opportunity to partner with the future super agent and studio executive, he later conceded. Instead, he formed a management agency with a distant cousin.
To Gallin, coming to L.A. was emancipating. A closeted gay man, he suddenly felt comfortable and at ease. "I was afraid of being gay living in the same city as my brother and mother," he told The Times
His client list also blossomed — Mariah Carey, Paula Abdul, Donny and Marie Osmond, Howie Mandel, Joan Rivers, Olivia Newton-John, Richard Pryor, Whoopi Goldberg.
But in 1998, he closed shop and accepted an offer from casino magnate Steve Wynn to develop Broadway-style entertainment in Las Vegas. He said he enjoyed the work, but disliked the desert. He resigned within 16 months.
Gallin told Architectural Digest in 2014 that he started dabbling in L.A. real estate in the 1970s as a way to relieve stress. When he gave up on Vegas, buying and remodeling high-end homes became a natural Plan B.
As with being an agent, Gallin was catering to the rich and temperamental. But with a difference.
"The houses," he said, "don't talk back."
Twitter: @stephenmarble
Sign up for Essential California for the L.A. Times biggest news, features and recommendations in your inbox six days a week.
You may occasionally receive promotional content from the Los Angeles Times.