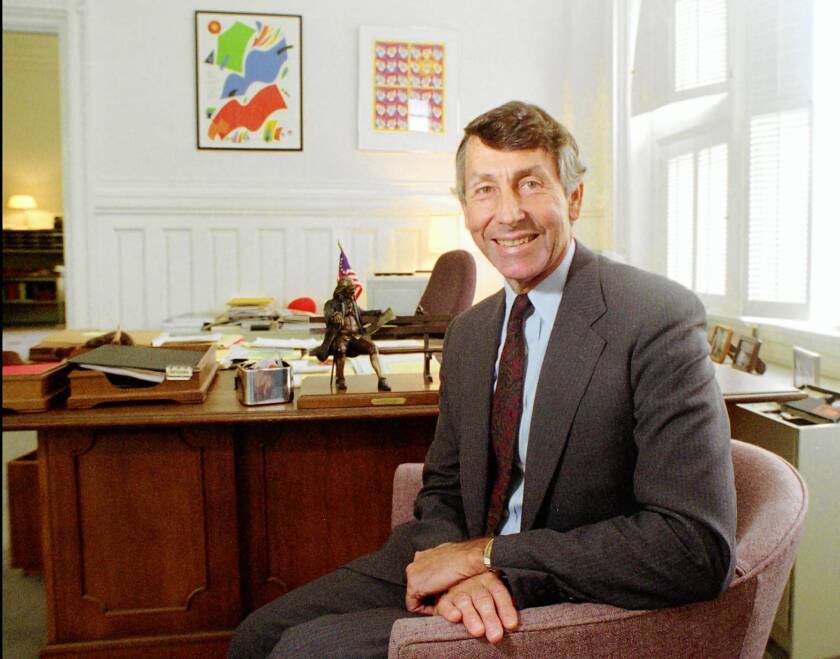 Sheldon Hackney, an educator and historian who served as president of Tulane University and the University of Pennsylvania before becoming chairman of the National Endowment for the Humanities, has died. He was 79.
Hackney died Thursday at his home on Martha's Vineyard of amyotrophic lateral sclerosis, also known as Lou Gehrig's disease, officials from Penn and Tulane confirmed.
He was president of Tulane from 1975 to 1980 and president of Penn from 1981 to 1993, when he was nominated by President Clinton to serve as chairman of the National Endowment for the Humanities.
As president of Penn, Hackney helped lead the school through a financial turnaround that quadrupled its endowment. He also boosted the university's academic standing.
But his presidency was not without controversy. The most contentious nearly derailed his appointment to lead the federal endowment program.
In the days before Hackney's confirmation hearings, he was criticized for his handling of two racially charged incidents at Penn.
In one, a group of African American students confiscated copies of the campus newspaper to protest what they viewed as racist content. In the other incident, a white student disturbed by a noisy group of black sorority sisters called the women "water buffalo," which they interpreted as a racial slur.
The white student was brought up on racial harassment charges. The university's initial action in response to the black students who had taken the newspapers was not as severe.
Critics questioned Hackney's commitment to free speech and said he was adhering to political correctness. He later described the controversy as an effort by conservatives to embarrass Clinton and said the facts surrounding his response to the incidents had been misconstrued.
He served as chairman of the endowment until 1997, then returned to Penn as a history professor until his retirement in 2010.
Born in Birmingham, Ala., on Dec. 5, 1933, Hackney received a bachelor's degree from Vanderbilt University on a Navy ROTC scholarship in 1955. He served in the Navy from 1956 to 1959 and attended the Naval Academy from 1959 to 1961.
Hackney earned a master's degree and a doctorate in American history from Yale, where he was provost from 1972 to 1975.
A scholar of Southern history, Hackney continued to teach during his tenure as university president.
Hackney is survived by his wife of 56 years, Lucy Durr Hackney; a son, a daughter, three brothers and eight grandchildren.
---