Shirley Temple Black, iconic child star, dies at 85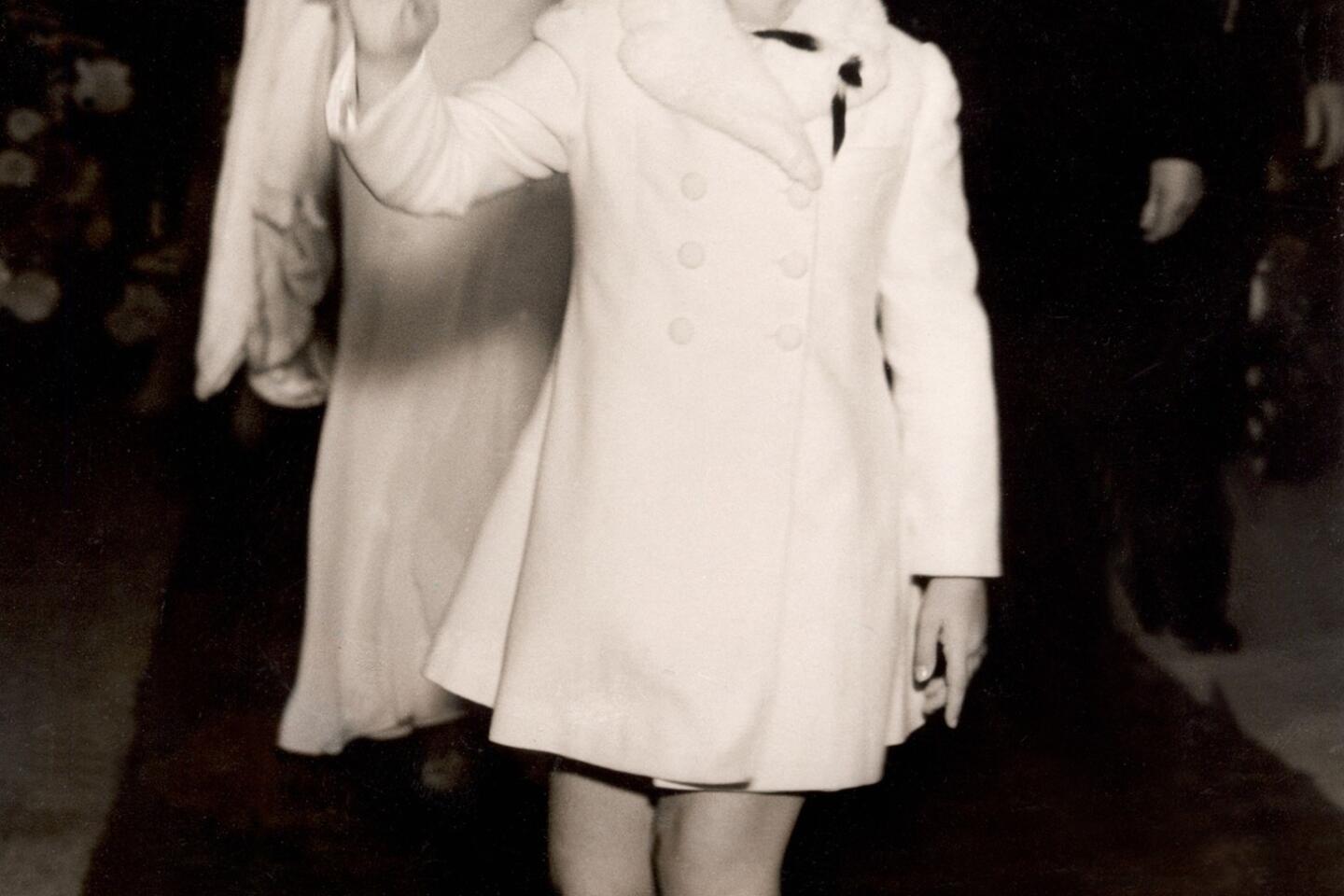 Shirley Temple arrives at her first major premiere for the film "Wee Willie Winkie" in Hollywood.
(AFP / Getty Images)
Shirley Temple at a benefit show June 22, 1940.
(Gordon Wallace / Los Angeles Times)
Shirley Temple in court in Los Angeles Dec. 6, 1949, where she successfully sued her husband John Agar Jr. for divorce.
(Gordon Wallace / Los Angeles Times)
Shirley Temple Black testifies before a U.S. Senate Committee during hearings on her nomination as U.S. ambassador to Czechoslovakia.
(Pancho Bernasconi / AFP/Getty Images)
Shirley Temple Black is greeted by President Clinton during a reception at the White House.
(Chris Kleponis / AFPGetty Images)
Shirley Temple Black accepts the Screen Actors Guild Awards life achievement award in 2006.
(Mark J. Terrill / Associated Press)
Shirley Temple Black, who as the most popular child movie star of all time lifted a filmgoing nation's spirits during the Depression and then grew up to be a diplomat, has died. She was 85.
Black died late Monday at her home in Woodside, Calif., according to publicist Cheryl J. Kagan. No cause was given.
From 1935 through 1938, the curly-haired moppet billed as Shirley Temple was the top box-office draw in the nation. She saved what became 20th Century Fox studios from bankruptcy and made more than 40 movies before she turned 12.
Hollywood recognized the enchanting, dimpled scene-stealer's importance to the industry with a "special award" -- a miniature Oscar -- at the Academy Awards for 1934, the year she sang and danced her way into America's collective heart.
After she sang "On the Good Ship Lollipop" in "Bright Eyes," the song became a hit and the studio set up Shirley Temple Development, a department dedicated to churning out formulaic scripts that usually featured the cheerful, poised Shirley as the accidental Little Miss Fix-It who could charm any problem away.
Her most memorable performances included four films she made with Bill "Bojangles" Robinson, a black dancer 50 years her senior and a favorite costar, she later said.
They were first paired as foils for cantankerous Lionel Barrymore in 1935's "The Little Colonel," in which 7-year-old Shirley tap dances up and down the staircase, remarkably matching the veteran Robinson step for step.
Hollywood Star Walk: Shirley Temple
"I would learn by listening to the taps," Temple told the Washington Post in 1998. "I would primarily listen to what he was doing and I would do it."
Their dance routines in such films as the Civil War saga "The Littlest Rebel" (1935) and "Rebecca of Sunnybrook Farm" (1938) reflected their off-screen rapport. Theirs were the first mixed-race musical numbers to be seen in many parts of the country, according to "Who's Who in Musicals."
Two of her films released in 1937 were among Temple's favorites -- the John Ford-directed "Wee Willie Winkie," in which she wins over a British outpost in India, and "Heidi," a hit film that became a classic.
In her first film aimed squarely at children, Shirley sang "Animal Crackers in My Soup" to fellow orphans in 1935's "Curly Top." She danced with Jack Haley in "Poor Little Rich Girl" (1936), one of her best films and "a top musical on any terms," movie critic Leonard Maltin said.
A country desperate for relief from the excruciating economic hardships of the Depression fell in love with Shirley and her infectious optimism in "Baby Take a Bow," the 1934 film that was her first starring vehicle.
President Franklin D. Roosevelt marveled how splendid it was "that for just 15 cents, an American can go to a movie and look at the smiling face of a baby and forget his troubles," according to an American Film Institute history.
By 1935, lookalike Shirley Temple dolls, complete with her trademark curls, were selling at the rate of 1.5 million a year, part of a merchandising onslaught that included Shirley-endorsed dresses and dishes.
Even bartenders got into the act. Although the 1930s origins of the non-alcoholic Shirley Temple cocktail have been debated, Temple told The Times in 1985 that the Brown Derby restaurant in Hollywood had named the drink after her.
PHOTOS: Notable deaths of 2014
To learn her lines, Shirley essentially memorized the script as her mother, Gertrude Temple, read it aloud. When Barrymore forgot his lines while filming 1934's "Carolina," Shirley sweetly told him what to say, causing the star to "roar like a singed cat," actor Robert Young later recalled.
She attributed her well-adjusted nature on and off the set to her "super mother" who "kept my head on straight" and "just dusted off" the adulation, Temple told The Times in 1989.
As she moved into her teens, she literally outgrew the movie business -- audiences would not accept her in more mature roles -- and Temple made her last film, "Mr. Belvedere Goes to College," in 1949.
A decade later, she briefly returned to Hollywood to narrate and sometimes star in fairytales on what was originally called "Shirley Temple's Storybook," a successful show that aired on television from 1958 to 1961.
It prompted one critic to write that it proved once again that Temple "could, if she wanted to, steal Christmas from Tiny Tim," Anne Edwards wrote in the 1988 biography "Shirley Temple: American Princess."
Politics consumed much of her adult life after she married businessman Charlie Black in 1950 and was known as Shirley Temple Black.
An active Republican, she ran unsuccessfully for Congress in 1967. Two years later, she was appointed the U.S. delegate to the United Nations by President Nixon.
From 1974 to 1976, Temple was the U.S. ambassador to the West African nation of Ghana and later served as White House chief of protocol for President Ford. She also was an ambassador to Czechoslovakia from 1989 to 1992, a "substantive job" that was the best she ever held, Temple told the Washington Post in 1998.
Initially short on diplomatic experience, she got an assist from her childhood. People on the street in Prague would often stop her and pull a memento from their wallets -- their membership card from Czechoslovakia's 1930s-era Shirley Temple fan club.
That recognition "was very helpful when you want to explain your country's position on various foreign affairs," she said in the Post article.
The money she made as a child had long since evaporated.
At 22, she discovered that all but $28,000 of her $3.2-million income from the movies had vanished because of her family's lavish lifestyle and bad investments made by her father, George Temple, a bank manager who left his job to oversee her career.
She "felt neither disappointment nor anger," Temple wrote in her 1988 autobiography. "Perhaps years spent ignoring such matters had insulated me from disillusion. The spilt-milk parable surely played a role in my equanimity, as did the power of bloodline and family ties."
Her brothers were 9 and 13 years old when she was born April 23, 1928, in Santa Monica to a mother who had suppressed a desire for her own career in the arts, Edwards wrote.
When Shirley was barely 3, her mother enrolled her in a Los Angeles dance studio run by former Ziegfeld girl Ethel Meglin, who trained young children to work in film and advertising.
In publicity interviews, her mother always claimed that Shirley was accidentally "discovered" in a dancing class that was for recreation, but from the start, Gertrude made the rounds of casting directors with her young daughter.
At the dance studio, she was soon spotted by a talent scout and cast in a low-budget series called "Baby Burlesks," in which she parodied such adult actresses as Marlene Dietrich and Greta Garbo.
Her career took off when she signed with Fox in 1934 -- she made 10 films that year alone. Her baby-doll image was so valuable to the studio that the 6-year-old's birth certificate was altered to shave a year off her age. She did not discover the deceit until her 13th birthday, Temple recalled in her autobiography.
By then, she was officially unemployed, released from her contract in 1940 after her final two films flopped at the box office. With the advent of World War II, Shirley's endless optimism on screen went out of fashion, and she enrolled in the Westlake School for Girls. She had brought more than $32 million into Fox's coffers, Edwards wrote.
She continued to make mostly forgettable movies until she was 21. The best of her post-child starring roles may have been the spunky Army brat she played in 1947's "Fort Apache," which paired her romantically on screen with John Agar, whom she married at 17 in 1945.
The brother of one of Shirley's classmates, Agar was a 24-year-old Army Air Corps sergeant when his marriage to Temple propelled him into acting. They had a daughter but divorced in 1949.
On vacation in Hawaii in 1950, Temple met the dashing Black, who was working at a shipping company and had never seen any of her films.
"He was an intensely interesting and fascinating man to me," Temple said when Black died at 86 in 2005. "I fell in love with him at first sight. It sounds corny, but that's what happened."
During the Korean War, Black rejoined the military and worked as an intelligence officer in Washington, where his wife became interested in politics, according to a 2001 Times article.
After moving to California, Black started a fishing and hatchery company and consulted on maritime issues. The couple added two more children to their family and moved to the San Francisco Bay Area in 1954.
In 1972, after undergoing a modified radical mastectomy, Temple held a televised news conference from her hospital room to encourage other women to have check-ups.
When Temple received a Kennedy Center honor in 1998, President Clinton said that "she was the first child actor ever to carry a full-length A-list picture" and "had the greatest short-lived career in movie history, then gracefully retired to ... the far less strenuous life of public service."
Temple often underplayed her years as the little screen star whose blinding smile and bountiful talent rescued a studio. "Sometimes one scores a bull's-eye purely by chance," she wrote in her autobiography.
Of the shadow that always followed her, Temple told Time magazine in 1967: "I always think of her as 'the little girl.' She's not me."
Temple is survived by a son, Charlie Jr.; two daughters, Lori and Susan; a granddaughter and two great-granddaughters.
Nelson is a former Times staff writer.
Sign up for Essential California for the L.A. Times biggest news, features and recommendations in your inbox six days a week.
You may occasionally receive promotional content from the Los Angeles Times.