Stacy Rowles dies at 54; jazz trumpet and fluegelhorn player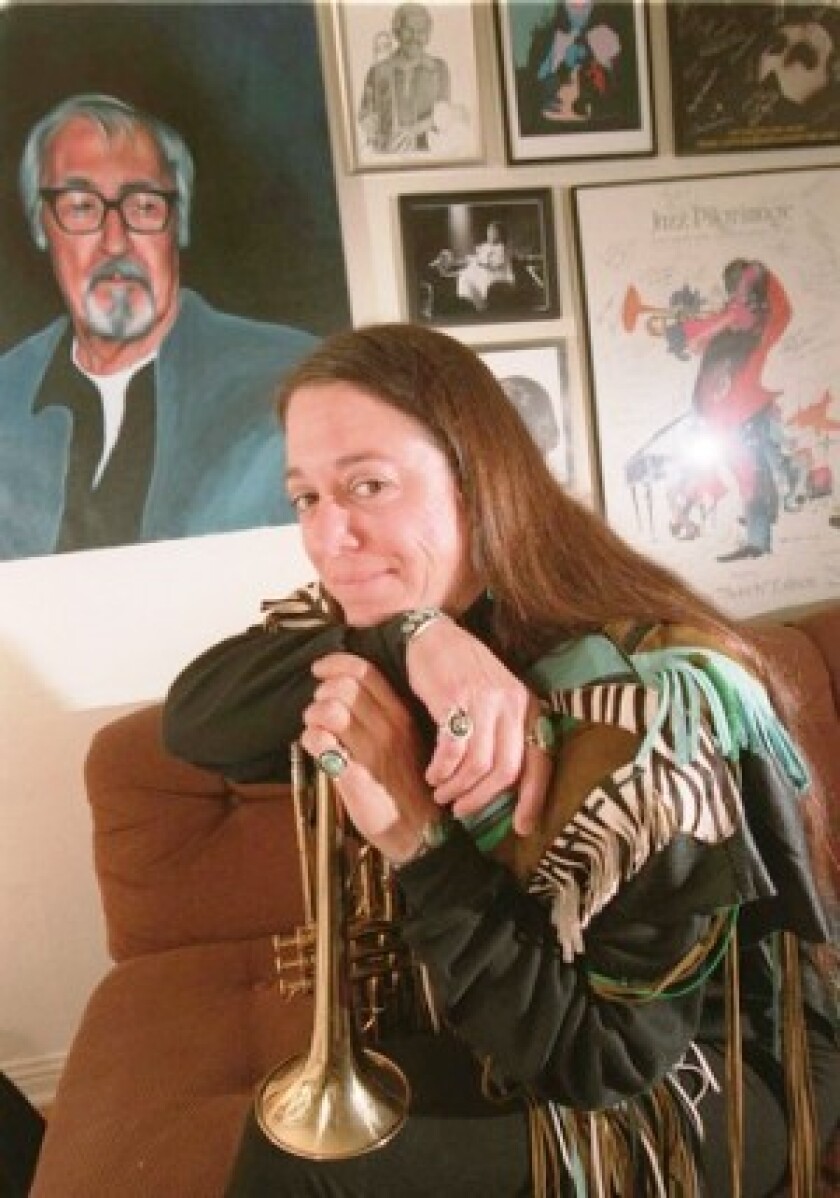 Stacy Rowles, a jazz trumpet and fluegelhorn player and vocalist who was the daughter of pianist and composer Jimmy Rowles, has died. She was 54.
Rowles died Tuesday at her home in Burbank of complications after a car accident, said her sister, Stephanie Rowles.
---
---
FOR THE RECORD:
Stacy Rowles: An obituary of jazz musician Stacy Rowles in the Nov. 8 California section said she died Nov. 3. She died Oct. 27. —

---
Rowles was a fixture on the L.A. jazz scene. She played with such groups as Maiden Voyage, the Jazz Birds and Jazz Tap Ensemble. She also built a following in Europe, where she regularly toured.
Her recordings included "Looking Back" in 1992 and "Me and the Moon" in 1993, both with her father, and "Tell It Like It Is" in 1984.
Leonard Feather and Ira Gitler in The Biographical Encyclopedia of Jazz (1999) called Rowles "a respected and creative artist" who played "with the kind of warmth and precision long associated with her father."
Jimmy Rowles played in the Benny Goodman, Woody Herman and Tommy Dorsey orchestras; accompanied Peggy Lee, Ella Fitzgerald and other singers; and performed as a soloist. He died in 1996.
"Dad and I just have this thing about music that is incredible," she told The Times in 1992, before they played together in Huntington Beach. "And it only happens when we play together. It's like an unexplainable understanding of where we're going and what we're going to do. And it's just there. It's like a language, but it's not spoken -- like a communication."
"There were several times when I was a teenager when he would bring people home to show me off. He'd bring Snooky Young and all these trumpet players home in the middle of the night and wake me up and say: 'Come down and play.' And so I'd have to drag myself out of bed, come down and play some march or something which -- being in junior high school or high school at the time -- was all I knew," she said.
Rowles, born Sept. 11, 1955, started playing the piano at 6 but said her father didn't pressure her.
"I didn't really like the piano much and spent a lot of time messing around trying to find my instrument," she said. "When I finally found the trumpet, he was delighted."
In a 2003 review, Don Heckman wrote in The Times that Rowles' fluegelhorn playing, "even more than her trumpet work, combined a warm often sensuous sound with brisk swinging, melodically based improvisations."
In addition to her sister Stephanie, of Cambria, Rowles is survived by her brother, Gary, of Lebanon, Ore.
The family is planning a celebration of Rowles' life and music.
---
Must-read stories from the L.A. Times
Get all the day's most vital news with our Today's Headlines newsletter, sent every weekday morning.
You may occasionally receive promotional content from the Los Angeles Times.