Robert Steinberg dies at 61; founded chocolatier Scharffen Berger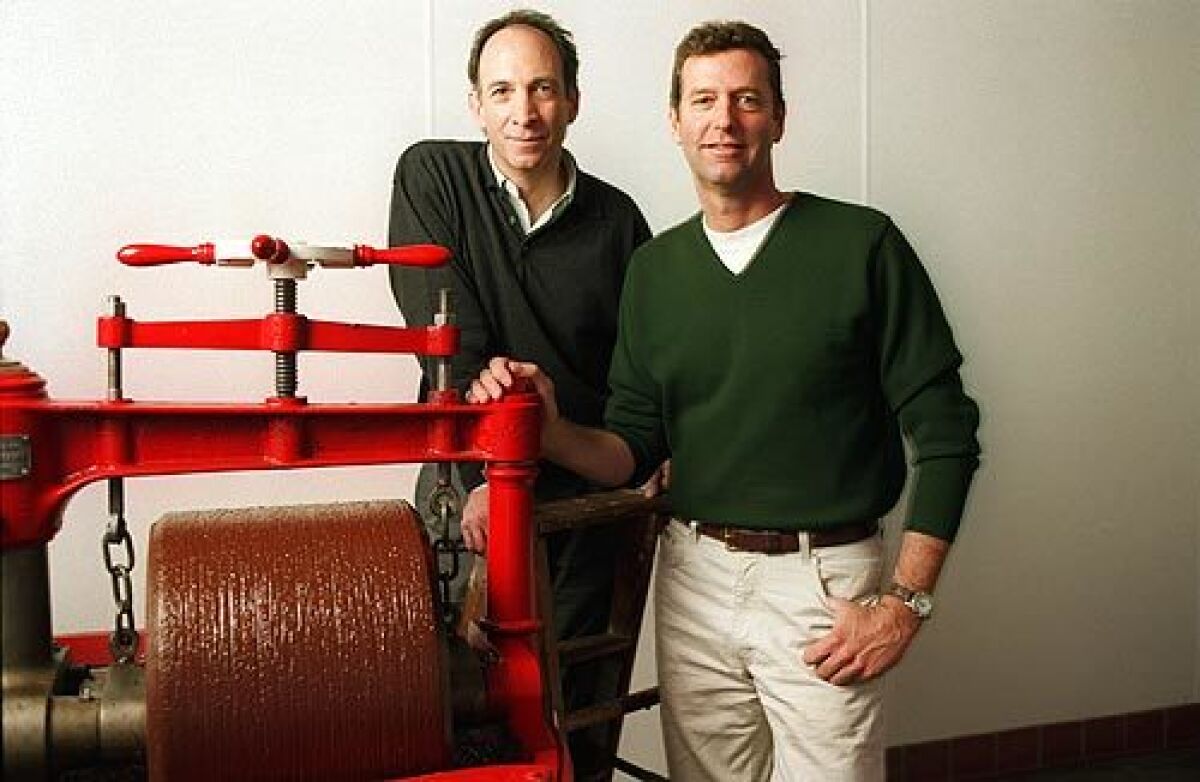 Los Angeles Times Staff Writer
Robert Steinberg, a physician who helped revolutionize America's appreciation of fine chocolate after launching a Bay Area company that produces some of the best chocolate in the country, has died. He was 61.
Steinberg, who had lymphatic cancer, died Sept. 17 at UCSF Medical Center near his home in San Francisco, according to Scharffen Berger Chocolate Maker, the company he co-founded in 1996.
---
FOR THE RECORD:
Robert Steinberg obituary: The photo caption accompanying the obituary of Robert Steinberg in Sunday's California section incorrectly identified him as the man on the left in the photo above. Steinberg is at right; his business partner John Scharffenberger, with whom he founded Scharffen Berger Chocolate Maker, is at left. —

---
---
FOR THE RECORD:
Robert Steinberg photo correction: A correction on Wednesday said the caption accompanying the obituary of chocolate maker Robert Steinberg in Sunday's California section had transposed the names of the two men in the photo. In fact, the original caption was correct: Steinberg is at left; his business partner, John Scharffenberger, is at right. —

---
With a former patient, Steinberg started a small chocolate-manufacturing company that emphasized Old World artisanal standards and "completely transformed American understanding of chocolate," said Alice Medrich, a cookbook author known for her chocolate expertise.
"He changed chocolate from being seen as a mere sweet candy to having the status of a complex and interesting food. A new age of chocolate was started in this country with that company," Medrich told The Times.
By emphasizing premium ingredients and bringing artisan standards to what had been a largely industrialized process in the U.S., Scharffen Berger helped move gourmet chocolate from a special-occasion purchase to an everyday indulgence. Devotees likened it to drinking an espresso instead of truck-stop java.
Before he was a chocolate perfectionist, Steinberg practiced medicine in Ukiah, Calif. After being diagnosed in 1989 with terminal cancer -- and given a 50% chance of dying within 10 years -- he soon sold his practice.
"The apparent nearness of death," he later said, gave him permission to try just about everything. He took piano and drawing lessons. He cooked more and traveled to Italy and France.
At the suggestion of a friend, Steinberg read a 600-page textbook on the science of chocolate making. It opened the door to "an underground world" that fascinated him, Steinberg wrote in "The Essence of Chocolate," a 2006 cookbook-memoir.
"It was like pulling the disguise off of something," Steinberg said in 2005 in the Express of Emeryville, Calif. "Here's chocolate, this thing that we all think we know, but you look under the surface and it's something different."
After a 1993 tour of the noted Bernachon chocolate company in Lyon, France, Steinberg composed a letter in the most polite French he could muster and asked for an internship. They granted him two weeks.
"I just felt like I belonged," Steinberg said in 2001 in the Contra Costa Times, comparing the experience to a fantasy.
Upon returning home, he ran into John Scharffenberger, a former neighbor and patient who was selling his winery -- Scharffenberger Cellars -- and looking for a new business opportunity. Steinberg offered a sample of French chocolate.
"Robert had this chunk of chocolate in his pocket that I think he'd been carrying for months," Scharffenberger told People magazine in 1998. "But it tasted better than anything I'd ever had."
Steinberg had his partner for the business and the test kitchen.
Using a coffee grinder, mortar and pestle -- and a hair dryer to help the chocolate remain viscous -- they worked with nearly 30 varieties of cacao beans in Steinberg's kitchen.
In a statement, Scharffenberger said Steinberg's "powers of analysis and investigation set him apart from any doctor that I had encountered and became the basis of my absolute trust in his judgment and taste."
They named their enterprise Scharffen Berger Chocolate Maker to take advantage of the Scharffenberger name recognition in the marketplace.
By 1997, they were making chocolate with a collection of vintage German machines in a small San Francisco factory. Julia Child reportedly proclaimed Scharffen Berger the best chocolate she had tasted in the U.S.
Within four years, the company had moved across the bay to a larger location in a historic factory complex in Berkeley.
Scharffen Berger was the first U.S. chocolatier to prominently feature the cacao content on its wrappers -- the higher the number, the darker and more bitter the chocolate. The source of beans was also noted, undoubtedly a point of pride for Steinberg, who traveled the world searching for flavorful beans.
He was kind and gentle but had definite opinions, Medrich said. She joked that he had "a low threshold for outrage," which often manifested itself at the end of a meal when he inevitably inquired what chocolate the restaurant used.
In 2005, Hershey's bought the company for about twice its annual revenue, then estimated to be $10 million a year. Steinberg stayed on as a consultant for about a year.
Their collaboration, Scharffenberger said, had been "a creative and joyful success."
Robert Wayne Steinberg was born March 4, 1947, in Boston and raised by his mother, Selma, after his psychologist father, Arthur, died of Hodgkin's disease when Robert was relatively young. His mother was an elementary schoolteacher.
He graduated from Harvard University in 1969 with a bachelor's degree in English literature and earned his medical degree at the University of Connecticut in 1974. He came to San Francisco as an intern.
Steinberg was far from a chocoholic, a trait others said helped him have an open mind about its taste.
"If you put a piece of pickled herring in front of me and a piece of chocolate," he said last year on CNN, "I'd probably choose the pickled herring."
In addition to his mother, he is survived by a sister, Nancy Steinberg; and a stepsister, Judith Margolin.
---
Must-read stories from the L.A. Times
Get the day's top news with our Today's Headlines newsletter, sent every weekday morning.
You may occasionally receive promotional content from the Los Angeles Times.