Stephen Bruton dies at 60; Texas musician played with Kris Kristofferson, T Bone Burnett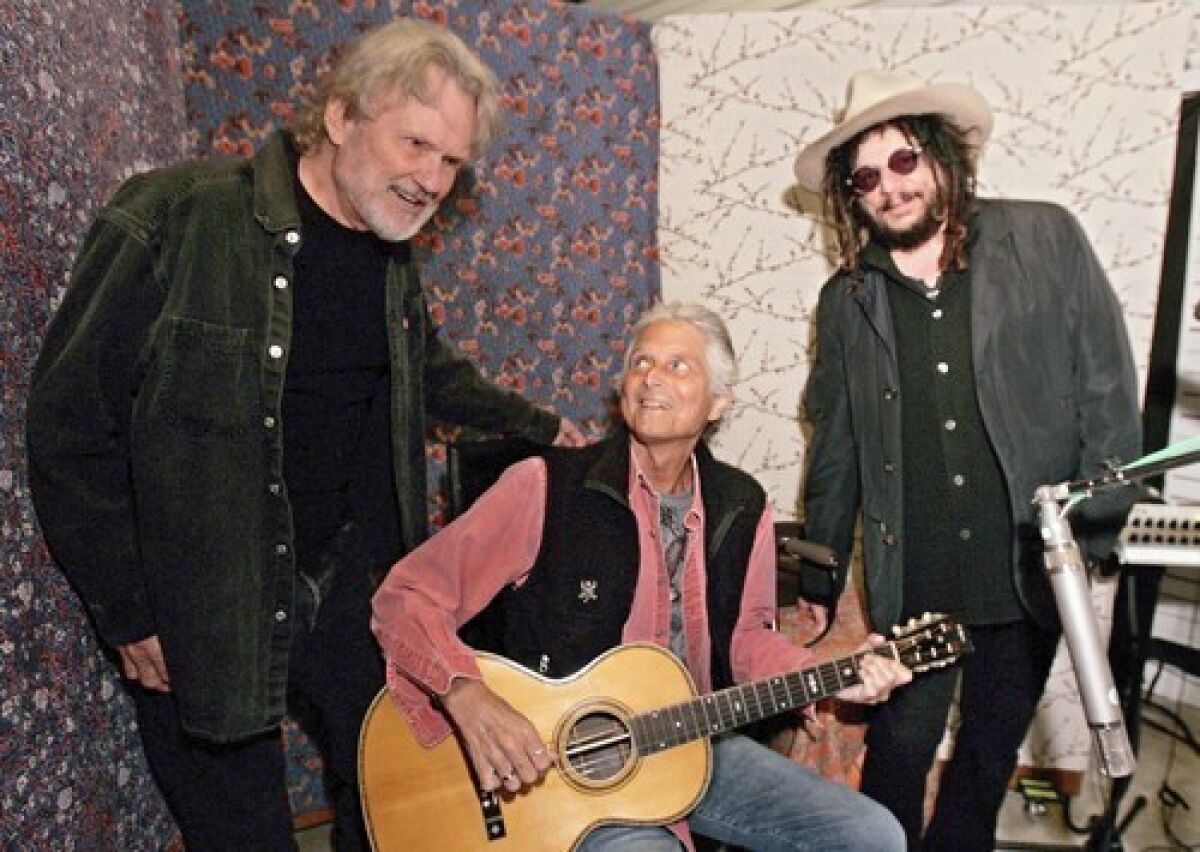 Stephen Bruton, a Texas musician long admired and much in demand as much for his astute guitar work as for his insights as a songwriter, died Saturday in Los Angeles of complications of cancer. He was 60.
Bruton, who had played with Kris Kristofferson for nearly 40 years and whose songs had been recorded by Bonnie Raitt, Willie Nelson, Waylon Jennings, Jimmy Buffett and numerous others, died at the home of a friend since childhood, musician-producer T Bone Burnett, with whom he'd recently completed work on a film, "Crazy Heart," that Burnett is producing and for which he asked Bruton to produce the music.
"We finished it about two weeks ago," Burnett said Saturday. "I'm deeply grateful he got to complete his work on the film. It meant a tremendous amount for him to get it finished. . . . In the last 72 hours things just started shutting down. . . . Up until yesterday I thought he was going to kick it. I think everybody thought he would kick it quickly because he was Stephen Bruton. We all thought he was invincible."
Bruton released five albums as a solo artist and was the guitarist of choice for many longtime associates when they needed an evocative sound, instrumental color, to-the-point solo or melodic idea to complement their songs.
"Stephen is an extraordinarily influential character," Burnett said. "He had broad knowledge of music and music history. He never was a household name, but his influence behind the scenes has been profound, and it will be felt for a long, long time."
Burnett said it was Bruton, at age 14, who introduced him to the song "O Death" that became a key element of the 2000 film "O Brother, Where Art Thou?," which introduced Appalachian traditional music to millions of moviegoers and music fans and scored major Grammy awards for the soundtrack album that Burnett produced.
Earlier this year, Bruton collaborated with Kristofferson on the esteemed songwriter and actor's new album, "Starlight and Stone," due to be released in the fall. Bruton was still recuperating from treatment he'd been receiving for cancer and had been in and out of remission for about three years. He told Kristofferson and producer Don Was that he wasn't "at the top of my game" for one session, but added, "What are you going to do -- just sit around till they throw dirt on you?" Instead, he brought out one of his favorite guitars, listened to raw tracks and offered suggestions on what he thought they needed musically, swapping stories and joking in the control booth.
"He fought a courageous fight right up to the end," said Was, producer of several Kristofferson albums on which Bruton played. "The great thing about Stephen was that he was a wonderful guy who valued making real music more than anything. He never once sacrificed the quality of this experience by bowing to the trends and fashions of the moment.
"As a result, he leaves behind a body of songs and recordings that reflect the integrity, joy, sense of humor and soul that characterized his life," Was said. "He was a pleasure to be around and was a constant reminder of the purest reasons for dedicating your life to music."
Turner Stephen Bruton was born Nov. 7, 1948, in Wilmington, Del., but the family moved to Texas when he was about 2. He became immersed in music from an early age.
Bruton started out as a bluegrass prodigy, winning banjo contests before he was a teenager. In his late teens, he shifted his focus to guitar and country, blues and other musical styles. "He applied a lot of what he learned about banjo to the guitar," said his older brother Sumter Bruton.
Shortly after graduating from Texas Christian University, Bruton joined Kristofferson's band as the singer-songwriter's own career was about to take off. He toured and recorded with him regularly.
"Nobody loved his life more than Stephen," Kristofferson said Sunday. "He loved watching what he called 'babies on parade' at the airports: little kids stumbling forward with their first steps, barely keeping their feet under them, faces shining with joy and amazement at the discovery of this new talent.
"He'd have been a great father and grandfather, but this wasn't in the cards," Kristofferson said. "He was blessed with the ability to express himself with music and he loved every moment he was making it. Our lives have been enriched by his heart and his humor and the beauty of his creations."
Bruton is survived by his mother and brother, and was separated from his wife, Mary. His brother said a funeral service would be held in Fort Worth, but the date has not been set.
---
Must-read stories from the L.A. Times
Get the day's top news with our Today's Headlines newsletter, sent every weekday morning.
You may occasionally receive promotional content from the Los Angeles Times.