Steve Sabol dies at 69; president of NFL Films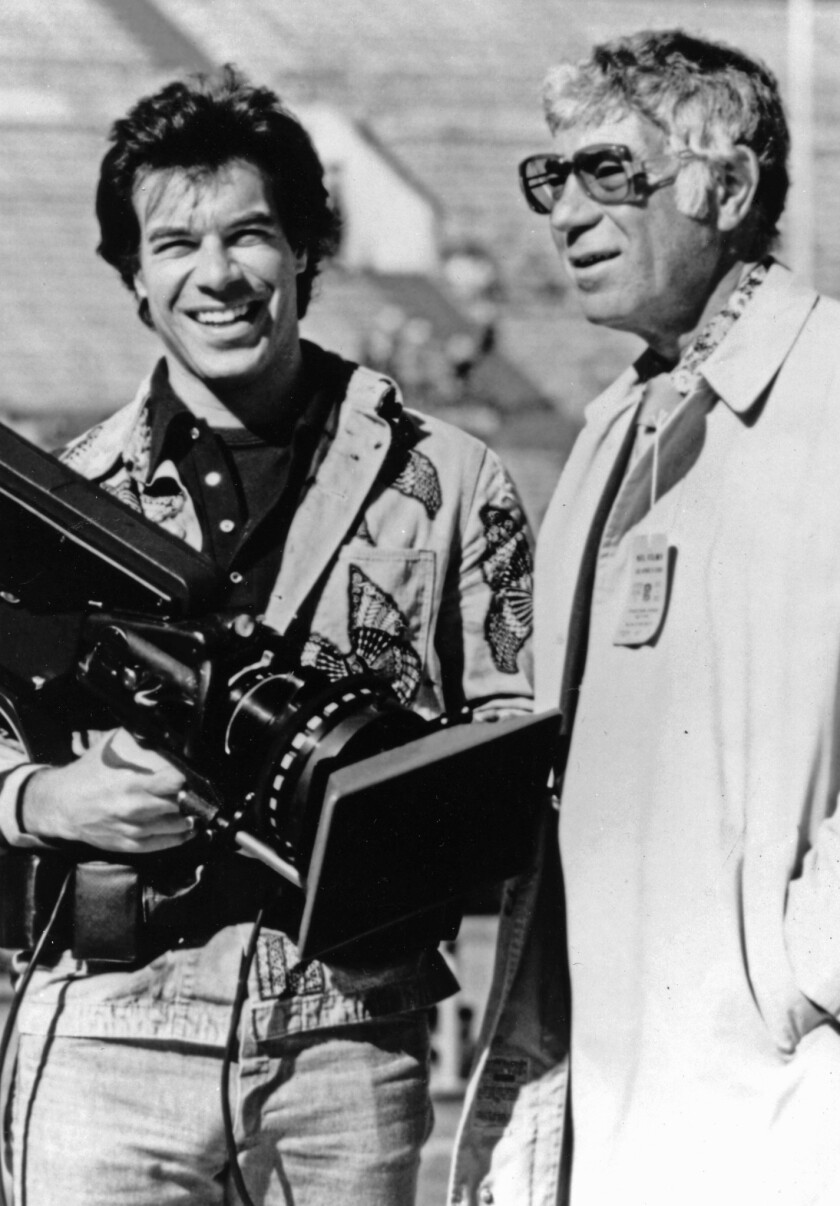 Steve Sabol, who helped his father get an unlikely fledgling movie company off the ground, then later took over and expanded the family business, now known to sports fans as NFL Films, has died. He was 69.
Sabol, who had served as president of NFL Films since 1985, died Tuesday, the company announced. He had been diagnosed with brain cancer in March 2011.
"Steve Sabol was the creative genius behind the remarkable work of NFL Films," NFL Commissioner Roger Goodell said in a statement. "He was a major contributor to the success of the NFL, a man who changed the way we look at football and sports, and a great friend."
Sabol was a football-playing art student with a flair for self-promotion when, in the fall of 1962, his father Ed called him home to Philadelphia from Colorado College in Colorado Springs, advising the young man that they, and a few others yet to be hired, would be filming the National Football League's championship game that December.
At that point, Ed Sabol had never filmed a pro football game. He had not, in fact, filmed anything professionally. He had, mostly, filmed the Sabol family at leisure and at play, in large part Steve playing youth and high school football. Even so, he had convinced NFL Commissioner Pete Rozelle, primarily by doubling the previous year's bid to $3,000, that he was just the man to record what would be the title game between the New York Giants and Green Bay Packers.
For Ed Sabol, who had been peddling menswear for his father-in-law's clothing factory, it was the opportunity of a lifetime and he wanted an idea man he could trust at his side.
Steve Sabol recalled often, "He said he could see by my grades that all I'd been doing for the last four years at Colorado is playing football and going to the movies. So he said, 'I think that makes you uniquely qualified for this.' "
So the young Sabol returned home and shouldered one of the eight cameras the Sabol crew used on what turned out to be a bitingly cold day in Yankee Stadium. Despite camera malfunctions, film breaks and lens freeze-overs, Blair Motion Pictures, as Ed had named his recently formed company, in honor of his daughter Blair, came up with an unusual melding of art and football that set the tone for all that was to follow.
Two years later, Ed Sabol had convinced Rozelle that the NFL needed its own film company and Blair became NFL Films, a wholly owned, yet artistically independent, subsidiary of the league. With that, the Sabols turned sports movie-making into something entirely new, combining gritty, yet artistic, football frames with stirring background music and authoritative narration, much of it written by Steve and delivered in doomsday tones by John Facenda, sometimes called "the voice of God."
As a team, the Sabols meshed beautifully. Ed was seldom short of ideas but what he didn't think of, Steve did. And often, it was Steve who suggested the artistic touches that set NFL Films apart.
"My dad wanted to show the game the way Hollywood portrayed fiction, with a dramatic flair," Steve Sabol told USA Today in 2008. "I wanted to show the game the way I had experienced it as a player, with the eyeballs bulging and the veins sticking out and the snot flying. We blended those two styles."
Thus, the films showed sweat dripping off skinned noses, savage line clashes in slow motion, and a fatigued player on the bench looking like the Indian warrior in sculptor James Earle Fraser's "End of the Trail."
Ed Sabol ran the business, as chairman and president, until turning the presidency over to Steve in 1985. When Ed retired as chairman in 1995, Steve moved into that position as well, NFL Films never missing a beat. Today, it not only films all things NFL — team highlight productions, Super Bowls, blooper shows and various specials for TV — it also lends its expertise to Hollywood football movies and serves as a treasure trove of pro football history with more than 100 million feet of film stored in a fireproof facility in Mount Laurel, N.J. The facility, Steve Sabol liked to brag, is big enough to house a Boeing 727.
George Halas, founder of the Chicago Bears and one of the founders of the NFL, had some initial misgivings about the filmmakers. At first he thought they were spies but later referred to the Sabols as "the keepers of the flame."
Steve Sabol was born Oct. 2, 1942, in Moorestown, N.J., and while growing up nurtured two great passions: art, whose appreciation he got from his mother Audrey, who befriended up-and-coming artists and hung their work in the Sabol home; and football, a craving he developed on his own.
So determined was he to succeed as a football player that when he went to Division III Colorado College as a 170-pound fullback, one with little discernible talent, he decided all he needed was some positive publicity.
He took out newspaper ads, had T-shirts, brochures, buttons and color postcards printed, all touting "Sudden Death Sabol, the Prince of Pigskin Pageantry now at the Pinnacle of his Power." He invented a new hometown, Coaltown Township, Pa., then later changed it to Possum Trot, Miss.
He rarely played for two seasons, yet, in the program for the last game of his sophomore season, a full-page ad appeared: "Coach Jerry Carle congratulates Sudden Death Sabol on a fantastic season." And the next fall, an ad in a Colorado Springs newspaper proclaimed, "The Possum Trot Chamber of Commerce extends its wishes for a successful season to its favorite son – Sudden Death Sabol."
Coach Carle, Sabol often said, "looked at me like I was a side dish he hadn't ordered."
And yet, as a junior, having gained 40 pounds, he not only played but was voted to the all-conference team and, he figured, big things awaited him as a senior. Except his father called, saying, "I need you here." So Steve went home, took the only job he ever had and turned it into bigger things than Sudden Death Sabol had ever imagined.
Sabol is survived by his wife, Penny; their son, Casey; his sister, Blair; his mother, Audrey; and his father, Ed, who was inducted into the Pro Football Hall of Fame in 2011.
Kupper is a former Times staff writer.
---
Must-read stories from the L.A. Times
Get all the day's most vital news with our Today's Headlines newsletter, sent every weekday morning.
You may occasionally receive promotional content from the Los Angeles Times.