Boxer Sugar Ramos, remembered for fatal fight in L.A., dies at 75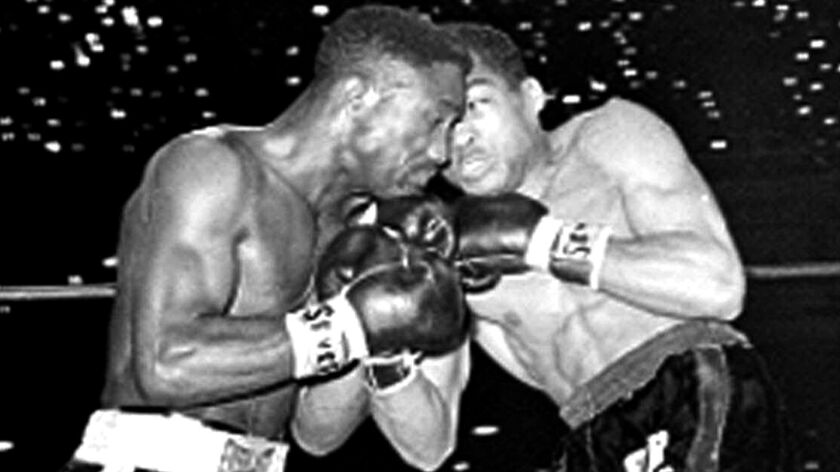 Sugar Ramos, the Cuban featherweight champion whose fists led to two ring deaths — one inspiring a Bob Dylan song and a proposal to ban boxing in California — has died in Mexico City. He was 75.
He died Sunday from cancer complications, the World Boxing Council said.
Ramos was best known for his 1963 fight at Dodger Stadium in Los Angeles with Davey Moore in which he won the featherweight title for the first time. It was the only fight card held at the ballpark, and it was deadly.
Ramos had been battered by the champion in early rounds but came back to stop him in the 10th. Moore left the ring on his own but lost consciousness in his dressing room and slipped into a coma.
He died two days later, sparking an outcry about the safety of boxing and prompting California Gov. Edmund G. "Pat" Brown to call for the sport to be banned. Dylan later memorialized the bout in the song "Who Killed Davey Moore?"
Ramos was no stranger to tragedy in the ring. Five years earlier in Cuba, he stopped a fighter named Jose Blanco, who also died.
Ramos, whose real name was Ultiminio Ramos, lived in Mexico after fleeing Cuba. He was the first champion of the WBC, winning the organization's new belt in his fight with Moore.
"We will always remember Ultiminio as a great champion, but even more so, as a wonderful, friendly, genuine and kind man," WBC President Mauricio Sulaiman said.
Ramos, who started boxing professionally at age 15, retired in 1972 with a record of 55-7-4 with 40 knockouts.
A power puncher despite standing only 5-foot-4, Ramos drew large crowds to his fights, largely because he never backed up. He fought in an era of 15-round battles and six-ounce gloves, and he fought whoever was put in front of him.
Doctors who looked at tapes of the Moore fight didn't blame Ramos' punches for the boxer's death, though. The ring at Dodger Stadium had only three ropes, and they weren't padded. Moore's head snapped on the bottom one as he fell in the 10th round.
Ramos would defend the title that he won from Moore three times before losing it by knockout to Carlos Ortiz in 1966. He was knocked out in a rematch a year later and never fought for a title again.
But it was his fight with Moore for which Ramos would mostly be remembered. Ramos shrugged off suggestions he killed Moore in the ring, saying his injury was caused by the rope and complaining no one gave him credit for putting up a good fight against a top champion.
Soon after the fight, another rope was added to boxing rings, and they were padded.
Dylan, in his 1963 song, asked the question: Who was to blame for Moore's death? He sings at the outset: "Who killed Davey Moore/Why an' what's the reason for?
" 'Not I,' says the referee/'Don't point your finger at me.' "
The lyrics continue:
" 'Not us,' says the angry crowd,/Whose screams filled the arena loud./'It's too bad he died that night/But we just like to see a fight."
---
Must-read stories from the L.A. Times
Get all the day's most vital news with our Today's Headlines newsletter, sent every weekday morning.
You may occasionally receive promotional content from the Los Angeles Times.