Tibor Rubin dies at 86; Holocaust survivor received Medal of Honor for Korean War heroism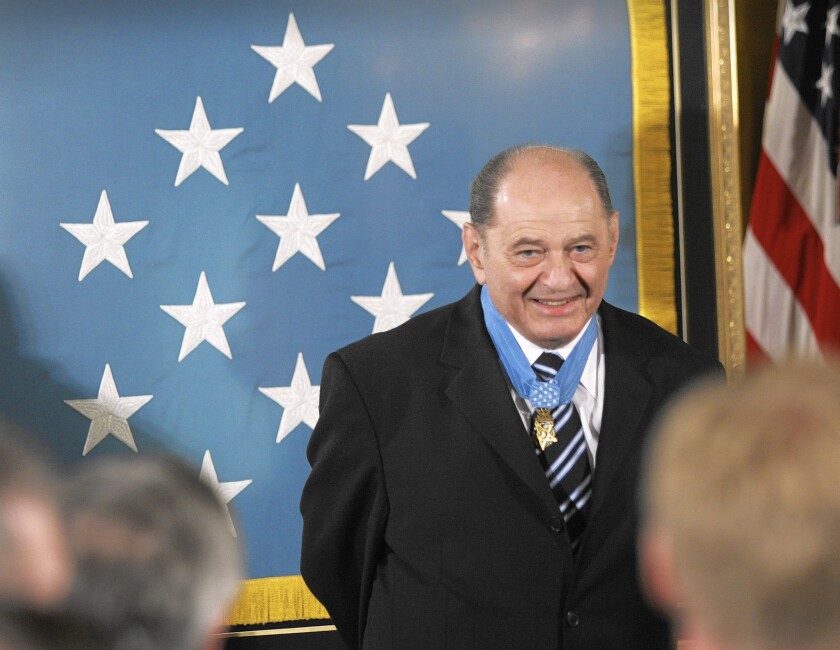 Tibor Rubin, a Hungarian-born Holocaust survivor who joined the U.S. Army out of gratitude for his liberation from the Nazis, then earned the Medal of Honor for heroism in the Korean War, died of natural causes Saturday in Garden Grove. He was 86.
Rubin had a Hungarian accent and a Jackie Mason-like sense of humor, said his nephew, Robert Huntly. Rubin's parents and younger sister were killed by the Nazis, and wounds and starvation had left him disabled. But his comic demeanor betrayed little trace of this history, Huntly said.
After his military service, Rubin worked for years at his brother's Long Beach liquor store and said little of his wartime deeds, which included defending a hill single-handedly for 24 hours and saving the lives of as many as 40 of his fellow POWs in a camp in North Korea, according to his biographer Daniel M. Cohen.
Decades later, supporters successfully argued the Jewish corporal had been denied recognition during the war because of the anti-Semitic leanings of a superior. Rubin was called to the White House in 2005, 55 years after his combat service — to receive the medal from President George W. Bush. An Army spokeswoman said at the time that the government's investigation had found evidence that wartime papers recommending that he receive citations for bravery had been tossed out.
Rubin later showed an L.A. Times writer a photo of Bush giving him the medal. It depicted "the little midget and the nice-looking guy," he joked.
Tibor "Teddy" Rubin was born June 18, 1929, in Paszto, Hungary. His father, Ferenc, and stepmother, Rosa, tried to send him to Switzerland to save him from the Nazis. But the 13-year-old Rubin was caught at the Italian border and sent to the notorious Mauthausen slave labor camp in Austria, Cohen said.
His younger sister Ilonka and stepmother died in Auschwitz; his father died later in Buchenwald, Cohen said.
Rubin endured 14 months in Mauthausen until the concentration camp was liberated by U.S. forces in May 1945. He went to a camp for displaced persons, then to the United States.
By then, Rubin had "promised myself if the Lord helped me go to America, I'd join the Army," he told The Times in 2006. He wanted to repay the country for freeing him. He tried twice to join the Army. He twice flunked entry tests because of his poor English.
He finally succeeded in enlisting in 1948 and was sent to Korea as a rifleman with Company I, 8th Cavalry Regiment, 1st Cavalry Division. In interviews, Rubin described difficulties with a sergeant who used slurs and sent him on dangerous missions.
In July 1950, he was asked to stay behind on a hill to keep open the Taegu-Pusan Road link as his company withdrew, according to his citation. North Korean regulars attacked at dawn. Rubin repelled them alone. "I didn't have too much time to get scared, so I went crazy," he later said.
Wounded that November, Rubin was captured and sent to a Chinese-run prison camp along the Yalu River on the border of North Korea and Manchuria, said Cohen, whose book is "Single-Handed: The Inspiring True Story of Tibor "Teddy" Rubin — Holocaust Survivor, Korean War Hero and Medal of Honor Recipient" (2015).
His citation said he rejected his captors' offers to send him back to Hungary. Remaining prisoner, he slipped out and broke into storehouses to feed his starving fellow POWs. He also acted as their medic. He had learned desperate arts in the Nazi concentration camp, such as how to use maggots to stop the spread of gangrene, Cohen said. Cohen said Rubin told him that the POW camp was "a cakewalk" compared with Mauthausen.
Decades later, when the writer reached one of his camp mates on the phone, "the first words out of his mouth were, 'Rubin saved my life,'" Cohen said.
Rubin was recommended for citations for bravery but left the Army with only two Purple Hearts. He returned to live in Long Beach, marry, raise children and work.
He ran into former war buddies at a POW meeting three decades later. They and others launched the campaign to secure him the medal. He was 76 when he received it.
In the ensuing years, the Garden Grove war hero led parades and supported veterans groups. His nephew, who eventually ran the ROTC program at USC, said Rubin maintained steadfast faith in the military. "He talked me into going into it, even after all he had been through," Huntly said.
Rubin is survived by his wife, Yvonne, and children Frank and Rosalyn Rubin.
---
Must-read stories from the L.A. Times
Get the day's top news with our Today's Headlines newsletter, sent every weekday morning.
You may occasionally receive promotional content from the Los Angeles Times.