Walter Cronkite, longtime CBS anchorman, dies at 92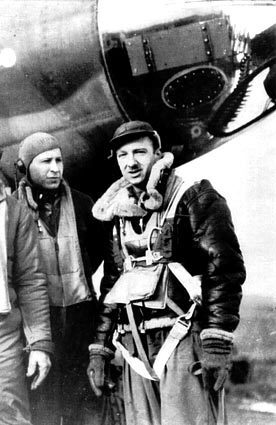 A 1943 photo shows Walter Cronkite with members of the 303 Bomber Group before a raid over Germany in February. He was a United Press correspondent in London when the Allies invaded France on D-day. He was chosen to fly with the bomber group, which was supporting the invasion forces on D-Day, June 6, 1944.
(CBS)
Walter Cronkite is shown at CBS offices in Washington on July 1,1952. Cronkite went to CBS in 1950 because the network promised that he could cover the Korean War. He was so adept at explaining the war without news footage that executives quickly decided to keep him at home.
(CBS)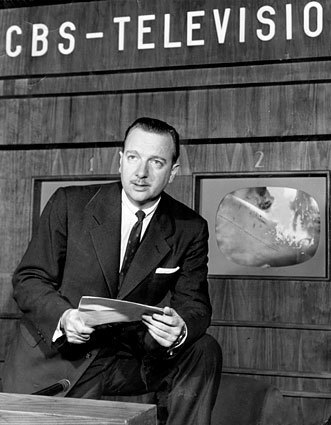 As anchor and managing editor of the "CBS Evening News" from 1962 to 1981, Cronkite demonstrated masterful, disciplinied stewardship that helped television news come of age.
(CBS)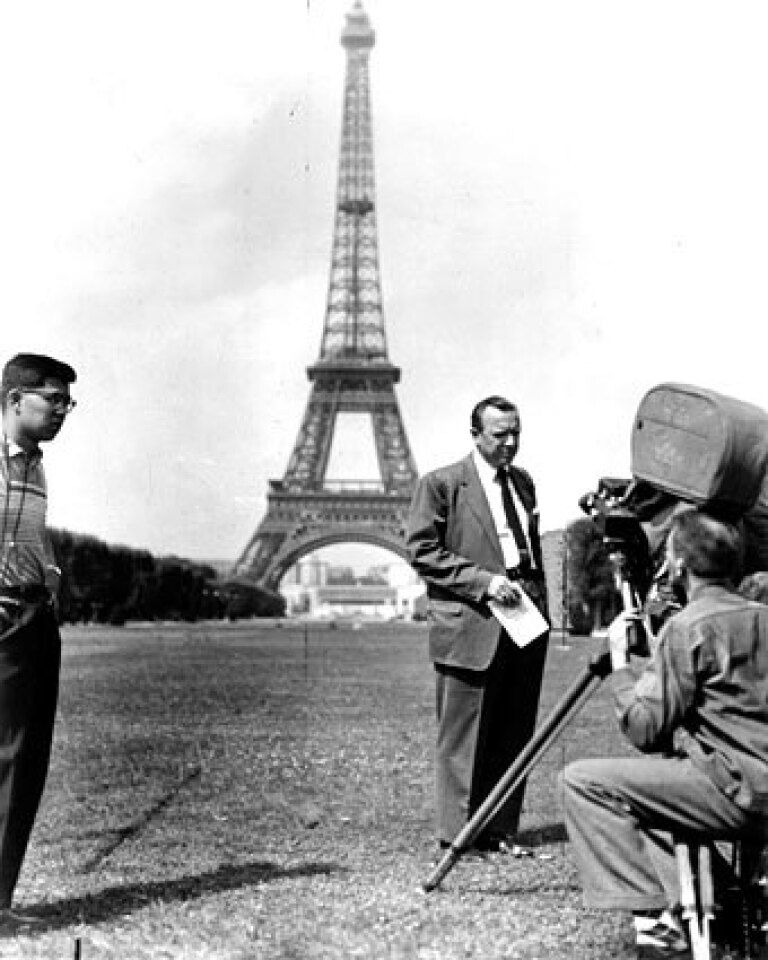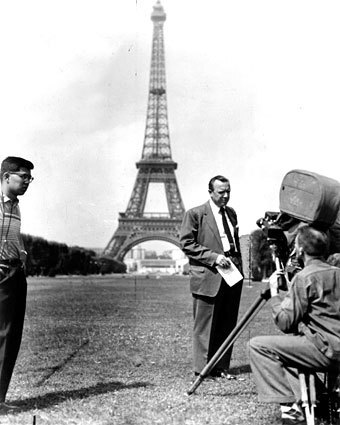 Cronkite reported in 1957 from the spot in Paris where Hitler once stood.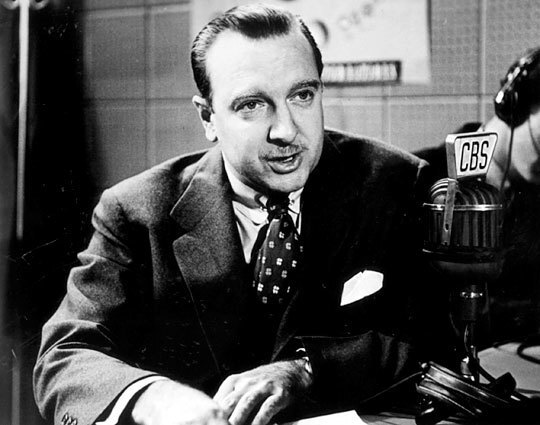 The "CBS Evening News" standard-bearer guided a nation through times of turmoil and great achievement. He was long considered "the most trusted man in America." He died July 17 at age 92. |
Full obituary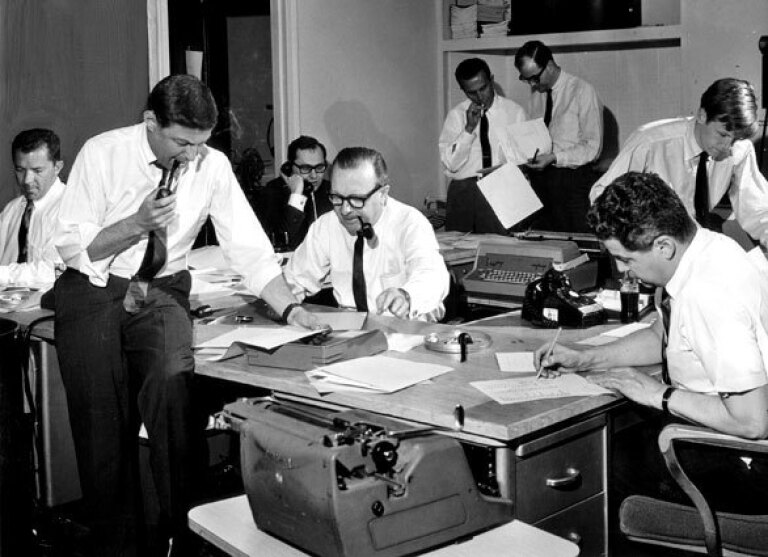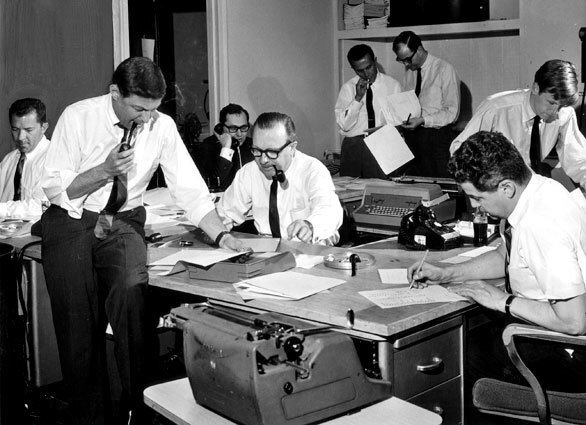 Don Hewitt, left, and Walter Cronkite in 1958 participate in one of many informal meetings held in preparation for evening newscasts. Cronkite was nicknamed Old Ironpants by colleagues for his ability to sit in the anchor chair for hours at a time.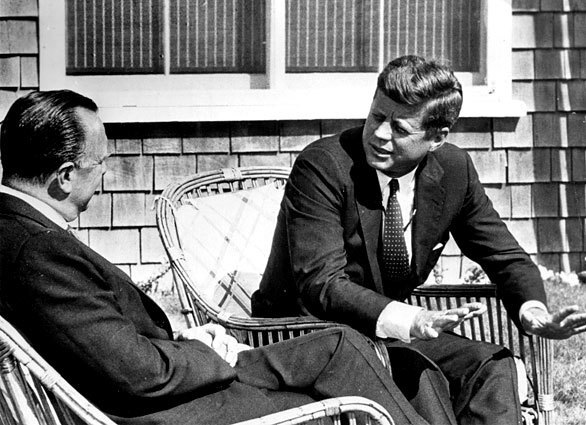 Walter Cronkite interviews President Kennedy in 1963. Cronkite announced the news of Kennedy's assassination on live television.
(CBS)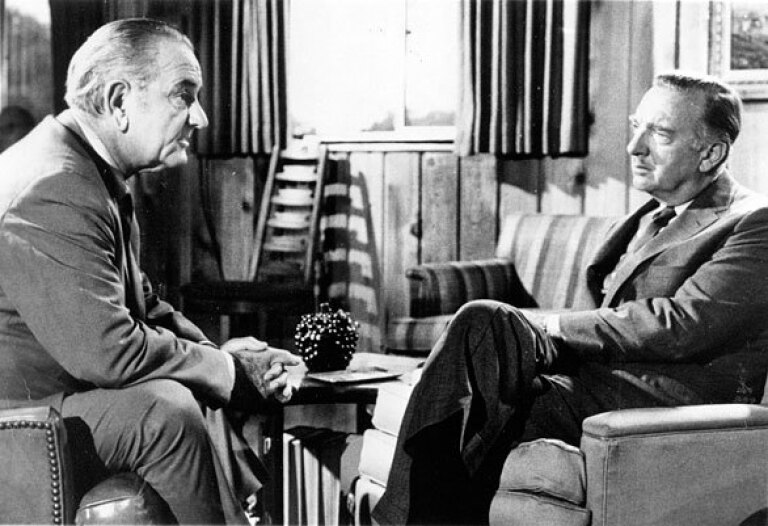 Cronkite interviews President Lyndon B. Johnson. After assuming his duties as anchorman of "CBS Evening News" in April 1962, Cronkite conducted exclusive news-making interviews with every U.S. president from John F. Kennedy through Jimmy Carter.
(CBS)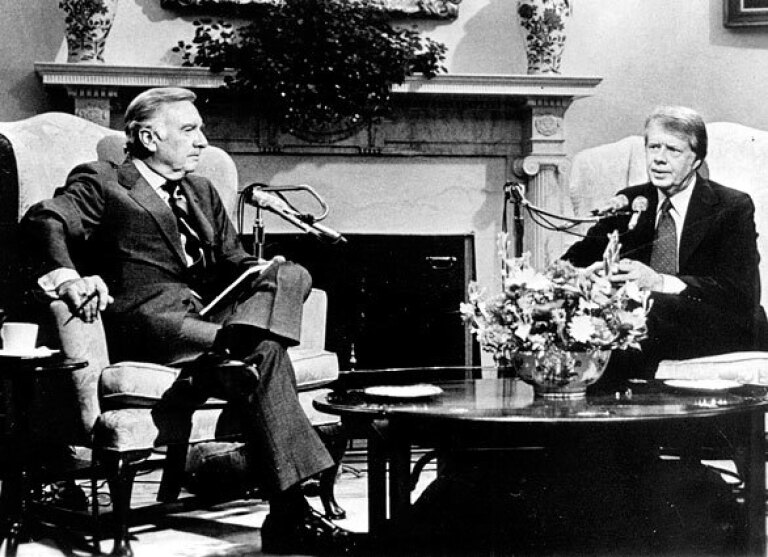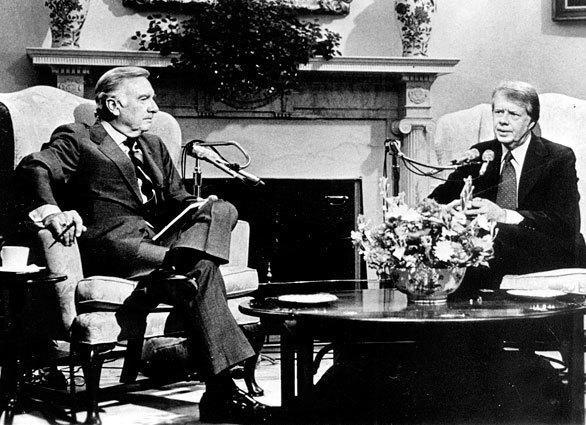 Cronkite interviews President Carter.
(CBS)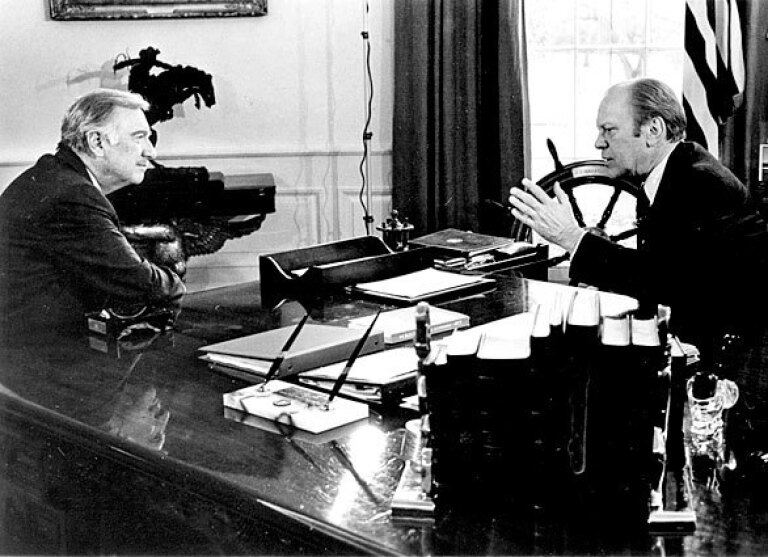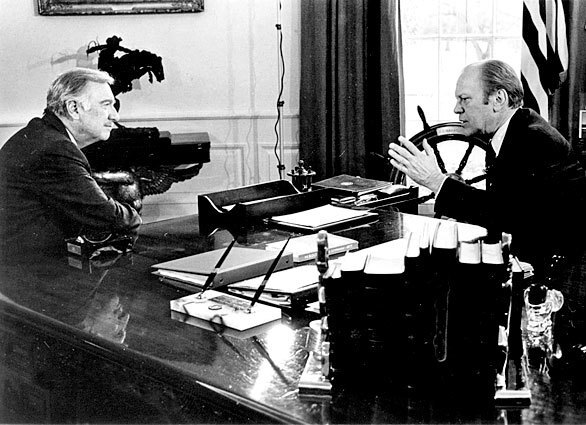 Cronkite interviews President Ford in the Oval Office. In 1966, Time magazine called the anchor "the single most convincing and authoritative figure in TV news."
(CBS)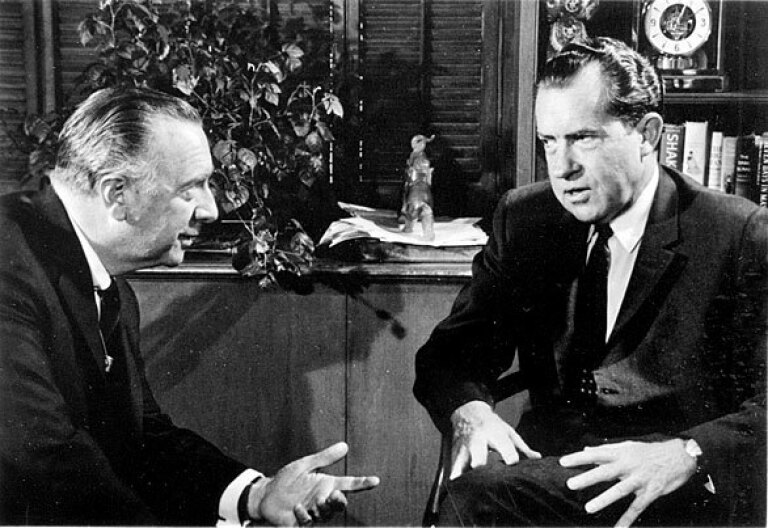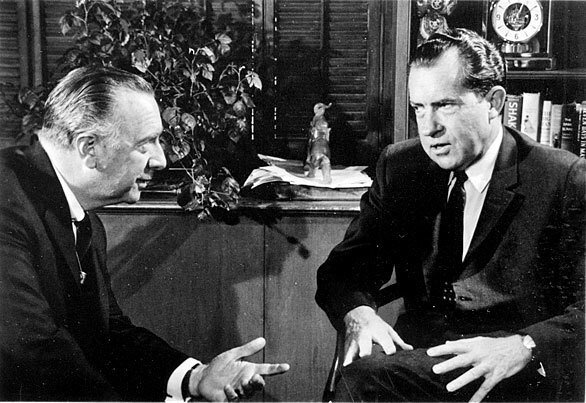 Walter Cronkite interviews President Nixon. On Oct. 27, 1972, Cronkite devoted 14 minutes of his newscast to "the Watergate caper," making it "a real national story," according to historian David Halberstam.
(CBS)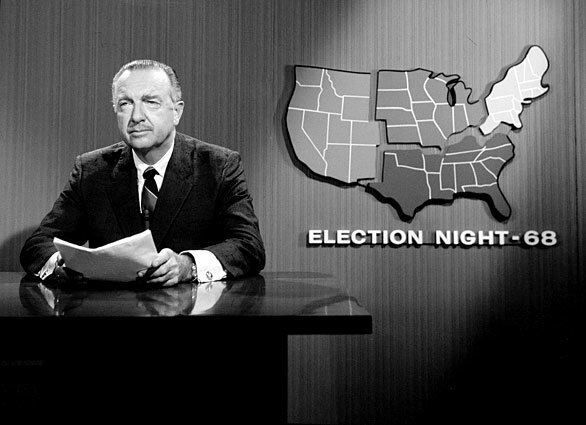 Cronkite covers the election in 1968. He anchored more than a dozen political conventions and the elections that followed. When he saw CBS floor correspondent Dan Rather punched in the stomach at the 1968 Democratic convention, Cronkite's voice shook with rage as he said, "I think we've got a bunch of thugs here, Dan."
(CBS)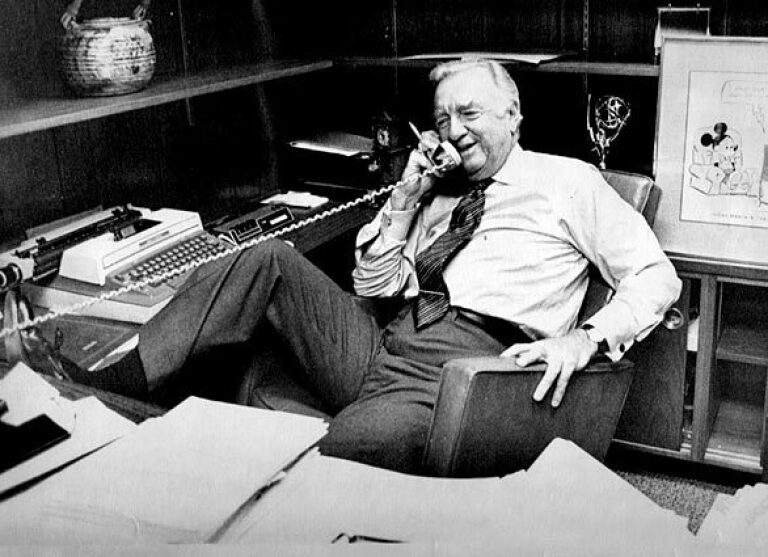 Cronkite, in 1981, works in his office in New York City on his final newscast as CBS anchorman. Behind him is a Mickey Mouse cartoon, sent to him by Walt Disney Productions, showing the cartoon character watching a TV set from which come the words "And that's the way it is," Cronkite's signature sign-off.
(Associated Press)
Cronkite prepares for his farewell interview with President Reagan in1981.
(Associated Press)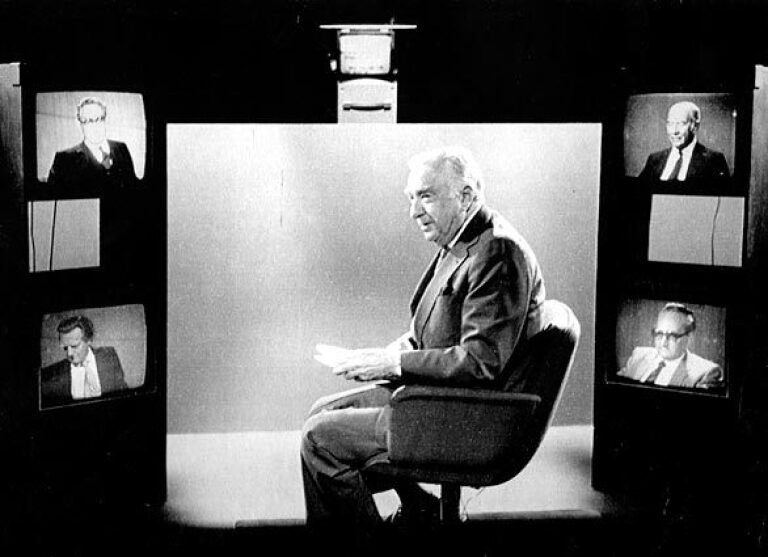 Cronkite, center, moderates the "Great Nuclear Arms Debate" at the CBS studios in New York in1983. The debate featured Henry Kissinger, top left, from New York City; Michael Haseltine, bottom left, British defense minister speaking from London; Paul Warnke, top right, former chief U.S. arms negotiator speaking from Florence; and Egon Bahr, bottom right, German opposition leader from Bonn.
(Associated Press)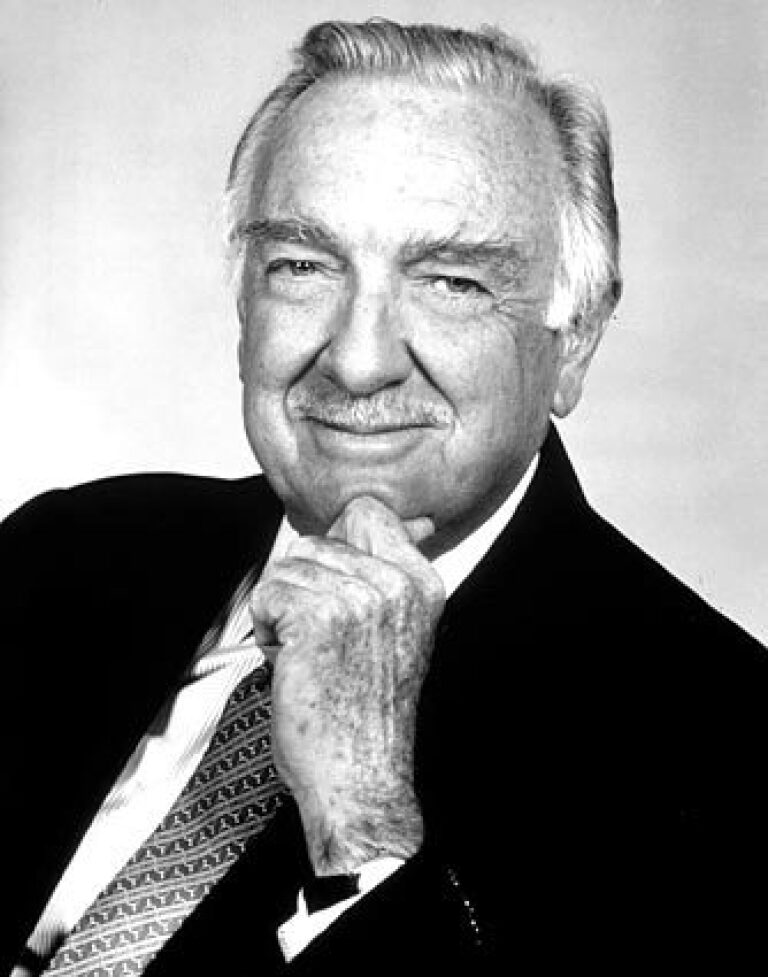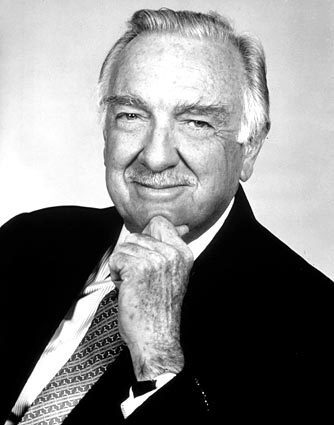 Walter Cronkite, anchor and managing editor of the "CBS Evening News" from 1962 to 1981, was both a witness to history and a newsman who helped shape perceptions of it. More than a decade after Cronkite retired, a survey named him the "most trusted man in television news."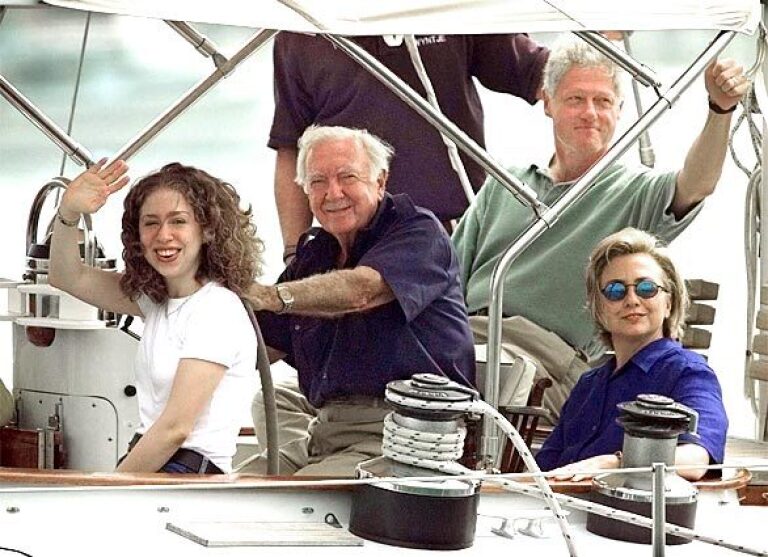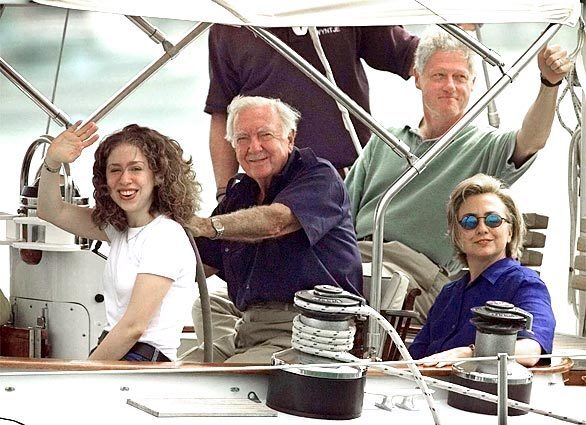 Cronkite skippers a sailboat during a trip with then-President Clinton and his family off Martha's Vineyard in 1998.
(Charlie Krupa / Associated Press)
Walter Cronkite answers questions from reporters in August 1998 before an appearance at Cal State Fullerton.
(Glenn Koenig / Los Angeles Times)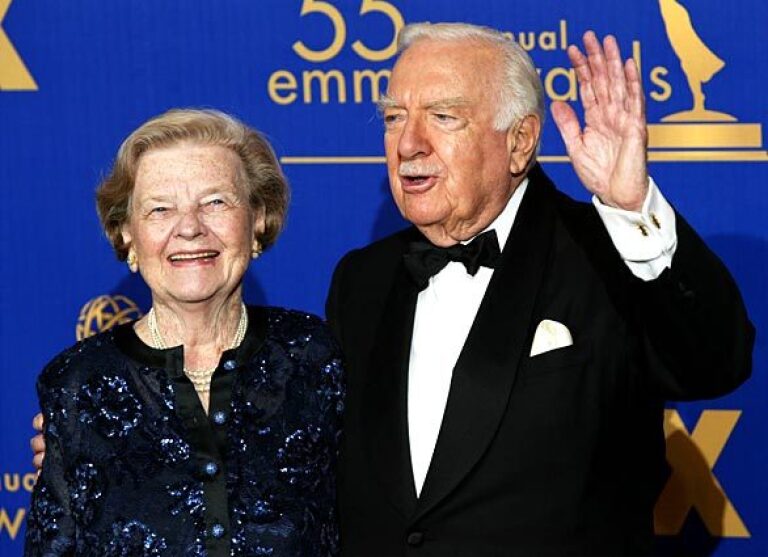 Cronkite and his wife, Mary Elizabeth "Betsy" Cronkite, pose backstage during the 55th annual Emmy Awards in 2003. Betsy Cronkite died in 2005.
(Carlo Allegri / Getty Images)
The spaceflight revolution captivated many in the news media; including Cronkite. During a 1968 visit to
Langley Air Force Base
, he tried out the reduced gravity walking simulator, a series of cable-supported slings hanging from the lunar landing research facility designed to approximate lunar locomotion. Astronauts used it to prepare for walking on the moon.
(NASA)
Cronkite testifies on freedom of the press before a Senate subcommittee in Washington, D.C., on Sept. 30, 1971.
(Associated Press)
Cronkite holds his 8-month-old grandson Buck. He was one of four famous grandfathers interviewed for a special feature in McCalls' magazine.
(McCall's)
In 1958, Cronkite and Sandra Nemser broadcast the show "Answer Please!" for CBS Radio.
(Associated Press)
Cronkite receives an honorary Doctor of Humane Letters degree from the University of Massachusetts in Amherst, Mass., on May 31, 1969. With him at left is the university president, John William Lederle.
(Associated Press)
Cronkite, right, meets with actors Ted Baxter and Mary Tyler Moore. He appeared with them on "The Mary Tyler Moore Show" on Feb. 4, 1974.
(Associated Press)
Cronkite appeared on New York City Mayor John V. Lindsay's weekly TV show on Dec. 20, 1970.
(Associated Press)
Dwight D. Eisenhower, left, recounts memories of D-day for Cronkite in the 1964 CBS special: "D-Day Plus 20 Years: Eisenhower Returns to Normandy." Eisenhower points to a hedgerow on a French farm as he tells Cronkite about the problems hedgerows presented to the invading forces in Normandy.
(CBS)
Walter Cronkite, the former CBS news anchor whose steady baritone informed, reassured and guided the nation during the tumultuous 1960s and 1970s, died today, the network announced. He was 92.
Cronkite, who was often called "the most trusted man in America," died at his home in New York after a long illness, according to CBS Vice President Linda Mason.
As anchor and managing editor of the "CBS Evening News" from 1962 to 1981, Cronkite was arguably the most respected and recognizable media figure of his time.
Although he rarely displayed emotion on camera, those moments are seared into the nation's collective consciousness -- Cronkite tearing up while announcing the assassination of John F. Kennedy, decrying the "thugs" at the 1968 Democratic presidential convention or exclaiming "Go, baby, go!" as Apollo 11 lifted off for the moon.
In 1950, legendary newsman Edward R. Murrow recruited Cronkite for CBS' young television division after Cronkite distinguished himself as a World War II correspondent for the United Press wire service.
Beginning with the Kennedy assassination in 1963, Cronkite shaped coverage of some of the most tumultuous times in U.S. history, including the 1968 assassinations of the Rev. Martin Luther King Jr. and Sen. Robert F. Kennedy.
In the early 1970s, an opinion poll identified Cronkite as the most trusted public figure in America, a label that stayed with him for decades.
Walter Leland Cronkite Jr. was born Nov. 4, 1916, in St. Joseph, Mo. An only child, he grew up in Kansas City, Mo., and Houston.
By his junior year at the University of Texas at Austin, he had dropped out to become a Houston Press reporter. In 1936, he returned to Kansas City and was hired at a radio station, where he met his future wife, Betsy Maxwell.
In 1939, he joined the United Press and enjoyed the deadline-pressure reporting. He stayed for 11 years.
By 1942, Cronkite was a war correspondent in London. After the war, he covered the Nuremberg war-crime trials of Nazi officials and worked in the wire service's Moscow bureau.
He became a Washington correspondent for a string of radio stations in 1948 then joined CBS.
The 1952 Republican National Convention helped propel Cronkite's CBS career. He would anchor more than a dozen political conventions and subsequent elections.
After retiring from CBS News, Cronkite produced dozens of documentary programs for the Discovery Channel, PBS and other networks.
He also pursued his lifelong passion for sailing and wrote books, including the 1996 autobiography "A Reporter's Life."
He and Betsy had been married for 65 years when she died in 2005.
Cronkite's survivors include his son, Walter Cronkite III, who is known as Chip; and daughters Kathy and Nancy.
---
Must-read stories from the L.A. Times
Get all the day's most vital news with our Today's Headlines newsletter, sent every weekday morning.
You may occasionally receive promotional content from the Los Angeles Times.