Walter Skold, quirky founder of the Dead Poets Society of America, dies after ordering his own tombstone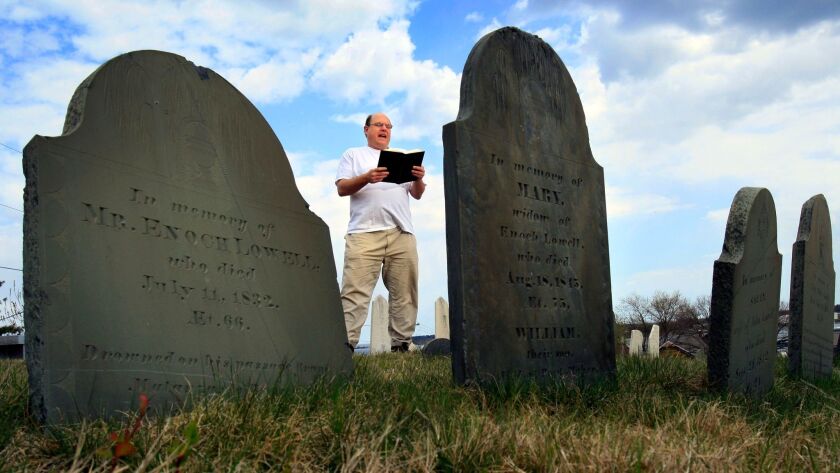 A month after commissioning his own tombstone, the quirky founder of the Dead Poets Society of America has died.
Walter Skold had enlisted the son of novelist John Updike to carve a unique tombstone that will be topped with a dancing skeleton and a quill.
Michael Updike, who received the poet's deposit last month, said he never expected to be carving the monument so soon.
Skold died Jan. 20, in Elkins Park, Pa., after suffering a heart attack, Updike said Friday. He was 57.
"He was a sweet soul," said Updike, of Newbury, Mass. "He was a kind person with this quirky predilection to poets' graves and death and the macabre."
Known as the "Dead Poets Guy," Skold visited the final resting places of more than 600 poets after launching the Dead Poets Society in 2008 in Maine, drawing inspiration for the name from the 1989 Robin Williams movie.
Along the way, Skold drew attention to bards and poetry while producing a massive repository of information on poets' final resting places.
He also had a sense of humor.
He traveled in a cargo van he dubbed the "Dedgar the Poemobile," sometimes embellishing the dashboard with an Edgar Allan Poe bobblehead.
While his graveside poetry readings -- and occasional cemetery sleepovers -- evoke the macabre, Skold insisted in a 2009 interview that his intentions are honorable.
"It's not really a morbid project but, rather, a way to honor our literary forebears and to historically resurrect their works," Skold said.
He was serious about honoring poets, and he launched a movement to create Dead Poets Remembrance Day on the Sunday closest to Oct. 7, the date Poe died.
"It takes a little chutzpah to say we're starting a holiday," he said in 2010. "But we believe it's a really good idea, and we hope it catches on."
He was especially intrigued by poets who've been forgotten altogether, whom he called the "doubly dead" because they suffered a second death when their works were "slowly consigned to literary oblivion."
Skold also discovered that the final resting places of many poets are unknown. In Maine alone, he found 29 poets whose final resting places were a mystery to the public.
The Library of Congress has said it believes Skold's effort was the first such literary undertaking, said Peter Armenti, a digital reference specialist whose focus is poetry, in 2009.
Many of the poets' grave locations are well-documented, but only to scholars and poetry buffs, Armenti said. Skold's effort attempts to make the poets' information accessible to the general public, and in doing so generate some interest in America's poets.
"I just think it's a fascinating project," Armenti said. "I'm glad somebody's doing it."
Skold was living in Freeport, Maine, when he left his job as a public school technology teacher to pursue his passions of poetry and photography and to launch the society.
---
Must-read stories from the L.A. Times
Get the day's top news with our Today's Headlines newsletter, sent every weekday morning.
You may occasionally receive promotional content from the Los Angeles Times.