Mystery author Donald E. Westlake dies at 75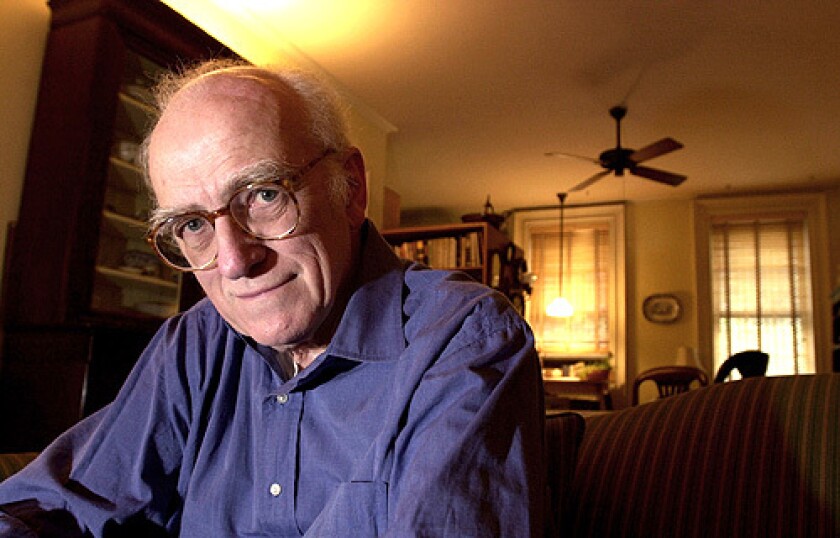 Donald E. Westlake, a prolific mystery writer who won three Edgar Awards and an Academy Award nomination for screenplay adaptation in a career spanning five decades, has died. He was 75.
Westlake collapsed and died of an apparent heart attack on his way to dinner New Year's Eve while on vacation in Mexico, his wife, Abigail, told the New York Times.
The author of more than 90 books -- most of them written on a typewriter -- Westlake wrote under a variety of pseudonyms including Richard Stark, Tucker Coe, Samuel Holt and Edwin West -- in part because people didn't believe he could write so much, so fast.
"In the beginning, people didn't want to publish more than one book a year by the same author," Susan Richman, his publicist at Grand Central Publishing, told the New York Times.
In recent years, Westlake wrote under only his own name and the pseudonym Richard Stark. More than 15 of his books were made into films, and he wrote a number of screenplays -- most prominent among them, "The Grifters," the adaptation of the Jim Thompson pulp novel, which was nominated for an Academy Award in 1991.
As Stark, Westlake wrote a dark, spare series about a one-named criminal called Parker. "The Hunter," the novel that introduced Parker, was described by critic Anthony Boucher as "a harsh and frightening story of criminal vengeance . . . written with economy, understatement and a deadly amoral objectivity." The book was later adapted by director John Boorman into the 1967 film "Point Blank," starring Lee Marvin. And in 1999, the book was the basis for the Mel Gibson film "Payback."
But writing under his own name, Westlake produced a series of books, comic in tone, about the criminal turns of John Dortmunder, whose efforts at organized crime are anything but organized.
In reviewing Westlake's "Don't Ask" in the Los Angeles Times some years ago, critic Kenneth Turan called Dortmunder Westlake's "most durable character."
Turan also noted that in these books, "Whatever can go wrong in the man's elaborate attempts at larceny invariably does, and in the most amusing and unexpected ways possible."
Westlake's latest novel, "Get Real," is scheduled for release in April.
Donald Edwin Westlake was born July 12, 1933, in Brooklyn, N.Y. He was raised in Yonkers and in Albany and attended several colleges in New York state but did not graduate. He served in the Air Force in the 1950s.
His first novel, "The Mercenaries," was published by Random House in 1960. His early works dealt with organized crime as seen from within. Critics said his early work showed a rigor and objectivity worthy of Dashiell Hammett.
Westlake quickly established himself as a master of what Boucher called "sustained narrative and observation within the framework of a self-consistent world, alien to law and convention."
Westlake was given Edgar Awards by the Mystery Writers of America for best novel, "God Save the Mark," in 1968; best short story, "Too Many Crooks," in 1990; and for the screenplay for "The Grifters" in 1991. In 1993, he was awarded the title of Grand Master, the organization's highest honor.
In addition to his wife, he is survived by four sons from previous marriages, three stepchildren and four grandchildren.
---
Must-read stories from the L.A. Times
Get the day's top news with our Today's Headlines newsletter, sent every weekday morning.
You may occasionally receive promotional content from the Los Angeles Times.