Jerry Wexler, 91; influential music producer coined 'rhythm and blues'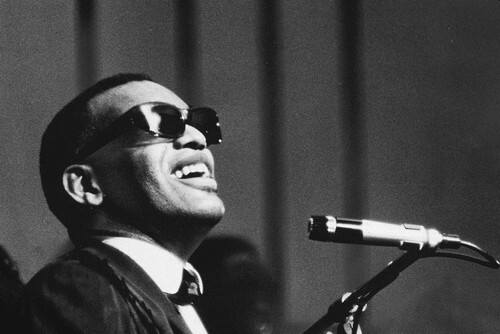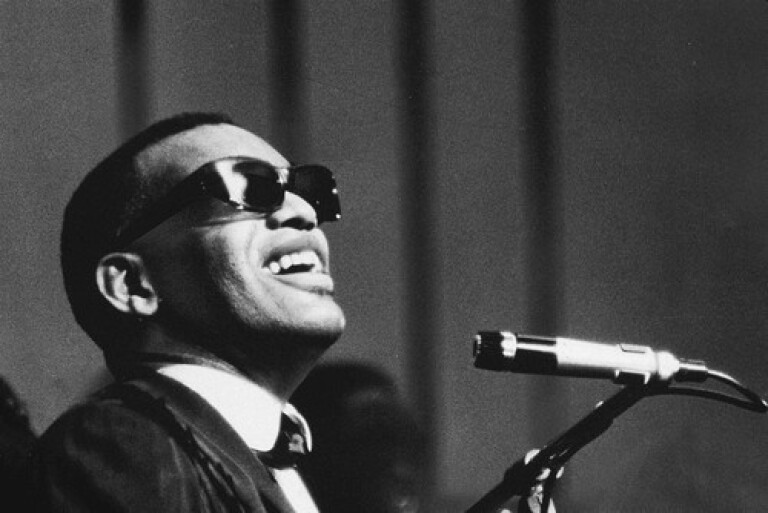 Musician Ray Charles performing at a microphone, c. 1960. (Photo by Express Newspapers/Getty Images)
(Express Newspapers/Getty Images)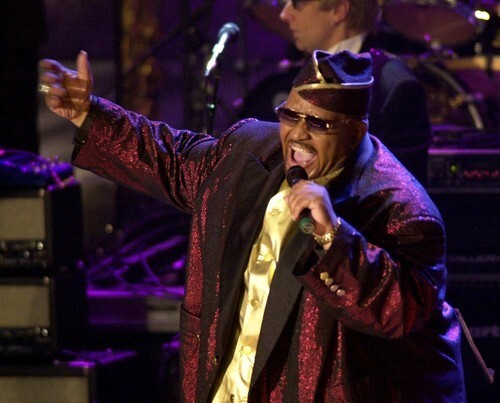 Wexler was executive producer of 1963's
"If You Need Me"
by Rock and Roll Hall of Famer
Solomon Burke
.
(Kathy Willens / Associated Press)
Los Angeles Times Staff Writer
Jerry Wexler, the influential Atlantic Records producer who coined the term "rhythm and blues" before helping shape that sound into one of the most powerful musical forces of the 1950s and '60s, died Friday morning at his home in Sarasota, Fla. He was 91.
Wexler had suffered in recent years from congenital heart disease, said David Ritz, who was the co-author of Wexler's 1993 autobiography "Rhythm and the Blues: A Life in American Music."
As Atlantic co-founder Ahmet Ertegun's partner during that label's vital years from the 1950s to the '70s, Wexler copiloted one of the most successful and influential independent record companies in history.
"Wexler's efforts at Atlantic helped bring black music to the masses, and in so doing built a significant and lasting bridge between the races," according to the Rock and Roll Hall of Fame, which inducted Wexler as a nonperformer in 1987.
In the early 1960s, Wexler signed a gospel singer whose career had been languishing at another record label and unleashed her vocal talent, helping turn Aretha Franklin into the "Queen of Soul."
"He made a huge contribution to my career," Franklin told The Times on Friday, "one I'm most thankful for, one I'll always remember. Jerry was truly one of the great record men of all time."
He produced numerous hits for Ray Charles, Wilson Pickett, the Drifters, the Coasters and Big Joe Turner among dozens of others. He signed Led Zeppelin to the label and worked with other rock performers including Bob Dylan, Dr. John, Dire Straits and the B-52s, in addition to producing recordings that salvaged Willie Nelson's career in the mid-1970s after he turned his back on Nashville.
Although Wexler's signing of Led Zeppelin spearheaded a new era for Atlantic in which it grew further with white rock acts including the Rolling Stones, Crosby, Stills & Nash and others, Wexler's heart remained in the music created by African Americans.
"He was one of the last of these record guys who grew up in the rough-and-tumble music business -- independents who had to bang it out, press them and get them out on the street because other people were stealing songs left and right," Ritz said Friday. "It was really a free-for-all."
For black musicians, Ritz added, "If you weren't Louis Armstrong or the Mills Brothers, the major labels didn't want to deal with you. They didn't want to deal with R&B because they didn't understand it. Jerry had the street toughness to survive in that environment, but he also had such wonderful taste, and a deep, deep appreciation for the artistry of Ray Charles and Solomon Burke and on, and on, and on."
In addition to producing hundreds of recordings for Atlantic, Wexler was known for his endless passion for promoting those records.
He "worked 24 hours a day to promote a record," soul singer Burke said Friday. "If he wanted a record to happen, it would happen. . . . If he made a record at 1 o'clock in the morning, at 2:30 in the morning he was on the phone waking up a DJ to tell him about it, and he'd have that record waiting at the station when the guy got there at 6:30."
Wexler, whose expansive vocabulary could easily veer into profanity, provided the New York streetwise yang to the yin of Ahmet Ertegun's internationally cultivated sophistication.
Unlike Ertegun, widely revered for his gentility, "Jerry didn't have a soft side," said Mike Stoller, who with longtime songwriting partner Jerry Leiber helped create or produce dozens of the biggest hits of the 1950s and early '60s for performers such as Elvis Presley, the Drifters, the Coasters and numerous others.
"We had run-ins with him from time to time over royalties, over publishing or putting our names on records we made," Stoller said Friday. "In spite of the friction, there was always a real warm relationship."
Gerald Wexler was born Jan. 10, 1917, in the Bronx, N.Y. His father, Harry, was a Polish immigrant who cleaned windows for a living, and his mother, Elsa, was a German American who wanted to make Wexler into a writer.
He grew up in a tough Washington Heights neighborhood, where fights between rival ethnic groups were common and Wexler was usually happy to join the brawl.
"I was impervious to pain," he wrote in "Rhythm and the Blues." "You could bust my nose and I'd still fight like mad. It wouldn't take much, a wrong look or cross word, to provoke me into action -- the same terrible temper that, later in my life, damaged my family. But it also served as an engine and a defense."
His fiery tendencies were tempered to an extent while he served in the Army after being drafted in 1941. He remained stateside and was discharged in Midland, Texas, as a corporal. After the war, he earned a journalism degree from what became Kansas State University in Manhattan, Kan.
Scrounging for work as a reporter after returning to New York, he landed a job in 1947 with Broadcast Music Inc. (BMI), then a fledgling publishing-rights rival to the American Society of Composers, Authors and Publishers (ASCAP).
He next went to work for Billboard, the music industry trade magazine. Billboard's chart for black music was labeled "Race Records," but Wexler was offended by the term and suggested a change to "rhythm and blues."
"I liked the sound of 'rhythm and blues,' " he wrote in his autobiography. "It sung and it swung like music itself -- and I was happy when it stuck; it defined a new genre of music. The handle worked its way into our language and has managed to survive four decades."
Ertegun and partner Herb Abramson started Atlantic in 1947, specializing in the kind of jazz and rhythmic blues that fired Wexler's imagination. It was one of hundreds of scrappy independent labels looking to exploit niches that majors such as Columbia and RCA were overlooking.
Wexler's Billboard articles caught Ertegun's attention, and he offered Wexler a job. Wexler declined unless he could be a partner, and in 1953, Ertegun made him a minor partner.
As he would later do with Franklin, Wexler helped coax Ray Charles to new heights of success after he was signed to Atlantic. Wexler and Ertegun coproduced Charles' first No. 1 R&B hit, "I've Got a Woman," in 1955. As record executives, they pioneered independent production, hiring Los Angeles-based Leiber and Stoller to bring them new recordings that they could distribute.
"They came up with the phrase 'produced by' to put on records," Stoller said. "Before that, nobody talked about records being 'produced.' We just made records."
Early on, Stoller recalled, Wexler called him in for a session with blues singer Big Joe Turner. "He asked me to come and play piano, which I did. But I thought it was nutty, because I played on this song 'Teenage Letter' and Ray Charles was in the studio and he played on the other side. Why would they have me play if they have Ray Charles in the studio? But he liked the way I played piano."
Wexler tried to sign a vibrant young singer making waves in the South in 1956, offering $30,000 to bring him to Atlantic, but RCA Records upped the bid and ultimately landed Elvis Presley.
In the 1960s, Wexler also pioneered the idea of immersing singers in appropriate and musically rich environments by having them travel to record in Memphis, Tenn., and Muscle Shoals, Ala.
In his book, Wexler praised Ertegun as "the savviest and suavest executive in the history of American recorded music. . . . Like a good rhythm section, we swung as a unit."
But there were times when they fell out of sync. He became estranged from Ertegun after persuading him in 1968 to sell Atlantic to Warner Bros. for $17.5 million, considered a steal by many in the music business. It was one of the first independent labels to be bought by a corporation.
Wexler soured many other friendships with his tactics outside the studio.
"He was behind the New Orleans music scene," Mac "Dr. John" Rebennack said Friday. "In that kind of setting, he was a good guy. On the business side of it, he was not a good guy. That was true of the whole company."
When it was time to roll the tape, however, the bare-knuckles business shark typically gave way to the awe-struck music fan, and Wexler prized his rapport with musicians. He was known more for getting out of the way of musicians' natural talents than for imposing his own musical vision on them, as Phil Spector did.
"He was a craftsman in the studio," Ritz said. "With Aretha, he knew how to deconstruct her in order to reconstruct her, and he reconstructed her based on her own fundamental elements, which were the church and gospel music. If you listen to Willie Nelson's 'Phases and Stages,' or Dusty Springfield's 'Dusty in Memphis,' what really comes across is the rugged individuality of the artist."
Franklin knew Wexler's reputation as a combative egotist whose temper often raged, but when they were in the recording studio together, she said, "We never, ever had a moment like that. We had a compatibility about the music. We were always on pretty much the same page.
"I was not unhappy at Columbia," Franklin noted. "I was very happy at Columbia. I'd never recorded before, it was the first time I was signed to a record label, my music was being played on lots of stations, I was winning a lot of polls in places like Down Beat and Billboard. But I was a lot happier at Atlantic."
She had reconnected with Wexler in recent months for the completion of a long-abandoned film documentary about her 1972 Atlantic recording sessions that produced her highly praised "Amazing Grace" gospel album. The footage was shot by a young Sydney Pollack, and is planned for release next year, according to the film's coproducer, Alan Elliott.
"The secret of the music business, Jerry Wexler once told me, wasn't to go into the studio with a hit in mind, but with great music on your mind," Robert Hilburn, The Times' former pop music critic, said Friday. "He said, 'I've had my share of hits, thank God, but most hits are here today and gone tomorrow. Great music lasts forever. I wanted to make records that sounded as good 20 years from now as they did the day we went into the studio.' In retrospect, Jerry was being modest. His records still sound great after 50 years."
Wexler is survived by his third wife, playwright-novelist Jean Arnold; a daughter, Lisa; and a son, Paul. Another daughter, Anita, died in 1989 of AIDS complications. No funeral or memorial services have been announced.
---
Must-read stories from the L.A. Times
Get the day's top news with our Today's Headlines newsletter, sent every weekday morning.
You may occasionally receive promotional content from the Los Angeles Times.