William Goldman, Oscar-winning screenwriter of 'Butch Cassidy' and 'All the President's Men,' dies at 87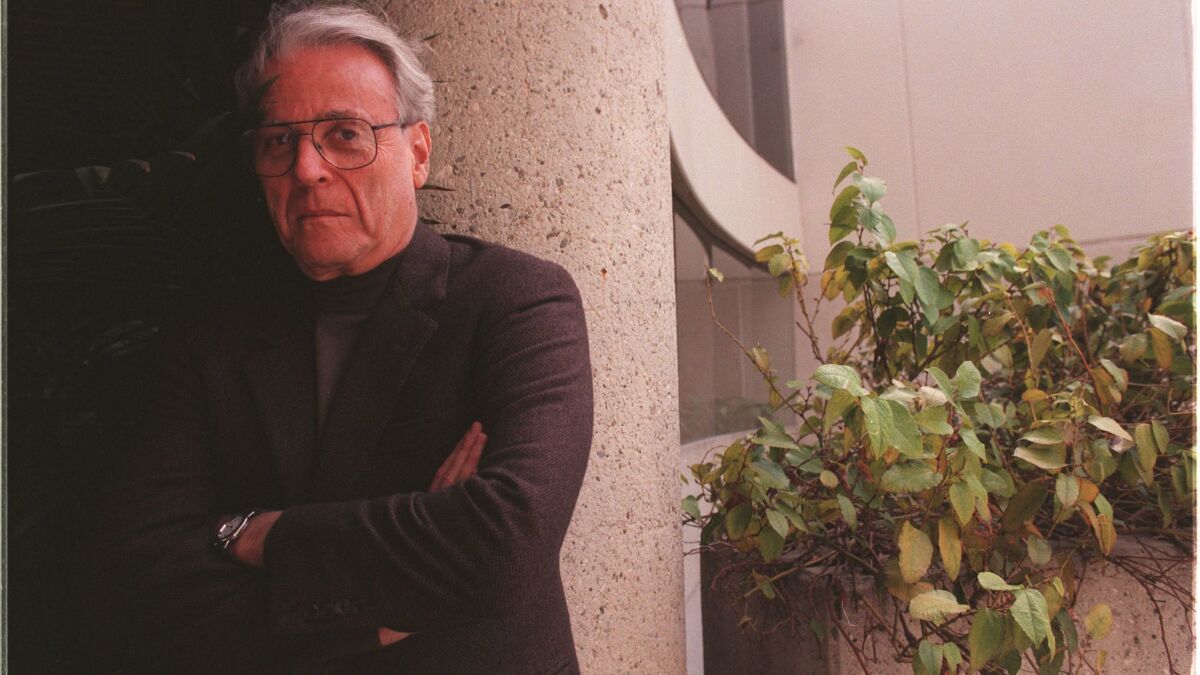 Oscar-winning screenwriter William Goldman, who penned the scripts for the seminal Robert Redford films "Butch Cassidy and the Sundance Kid" and "All the President's Men," as well as the beloved comedy "The Princess Bride," has died. He was 87.
Goldman died in New York on Friday due to complications from colon cancer and pneumonia, his daughter Jenny Goldman told the Associated Press.

For the record:
12:40 p.m. Nov. 19, 2018A previous version of this story said that "Harper" was Goldman's novel. The novel was written by Ross Macdonald.
The prolific Hollywood wiseguy wrote some of the most quotable films of all time and also authored a number of novels and memoirs. He became a sought-after "script doctor," a hired gun who burnishes a struggling screenplay, because he understood cinematic storytelling as well as the importance of a character's perspective.
But it was his 1983 book, "Adventures in the Screen Trade," that had Tinseltown buzzing by explaining that there were no easy answers in show business, readily entering a well-worn catchphrase in the film world's lexicon.
"Nobody knows anything," Goldman wrote. "Not one person in the entire motion picture field knows for a certainty what's going to work. Every time out it's a guess — and, if you're lucky, an educated one."
That book — described in the L.A. Times' review as "part memoir, part case history and part instruction manual on the screenwriter's art" — pulled back the curtain on the industry and included outrageous stories about moviemaking. It became required reading for aspiring screenwriters and later influenced the likes of Ron Howard, Ben Stiller and Ike Barinholtz, all of whom paid tribute to Goldman via Twitter on Friday.
In "Adventures," the authoritative and outspoken writer, who worked with Clint Eastwood, Michael Douglas, Mel Gibson, Rob Reiner and other major Hollywood players, was uncensored about stars and filmmakers.
"If they are hot, their day differs from ours in one simple way: From morning till night, they live in a world in which no one disagrees with them," he wrote of actors.
As for directors: "Some of the best directors in Hollywood are writer killers," he wrote. "What writer killers do is they work with you on a project, and they ask for apples and you try to give them apples, then they say no, pomegranates. … Then they bring in a friend — who conceivably they wanted to bring all along — and the friend does the screenplay."
Goldman also coined another great line in American politics: "Follow the money," which instantly defined the Watergate scandal.
The phrase was uttered by the shadowy "Deep Throat" figure to Redford's Bob Woodward in the film "All the President's Men." Goldman said that he actually thought it came from Woodward and Carl Bernstein's Watergate book but later discovered that it hadn't.
In 2000, he followed up "Adventures" with another chatty book about Hollywood and the movies titled "Which Lie Did I Tell? More Adventures in the Screen Trade."
"Nobody has the least idea, I believe, what will work and what won't work for audiences," Goldman told The Times in 2000. "Even the most successful director of all time, Mr. [Steven] Spielberg — look what happened to 'Amistad'? Do you think he thought it was going to bomb? No! They don't know."
Director Rob Reiner on Thursday tweeted that losing Goldman made him cry and fondly recalled the sharp-tongued wordsmith.
"My favorite book of all time is 'The Princess Bride.' I was honored he allowed me to make it into a movie," Reiner wrote. "I visited with him last Saturday. He was very weak but his mind still had the Goldman edge. I told him I loved him. He smiled & said … you," using an expletive.
Goldman was born Aug. 12, 1931, in Chicago and grew up in the suburb of Highland Park, according to the Associated Press. He graduated from Oberlin College in 1952 and served in the Army for two years.
In 1956, Goldman received a master's degree in English from Columbia University. After declining to pursue a PhD, he wrote the novel "The Temple of Gold" in 10 days and had it published by Knopf.
He went on to write "Soldier in the Rain," which was later adapted into a 1963 romantic comedy starring Steve McQueen.
Nobody knows anything. ... Not one person in the entire motion picture field knows for a certainty what's going to work.
— William Goldman in "Adventures in the Screen Trade"
He and his brother, James Goldman — an eclectic playwright, screenwriter, novelist and lyricist who won an Academy Award in 1968 for his screenplay "The Lion in Winter" and wrote the book for the musical "Follies" — co-wrote the play "Blood, Sweat and Stanley Poole" and the book for "A Family Affair." (James died in 1998.)
His foray into screenwriting began when actor Cliff Robertson read Goldman's crime drama "No Way to Treat a Lady," and thought it was film material. The book was later adapted by another screenwriter, John Gay, in 1968 and became a film starring Rod Steiger, Lee Remick and George Segal.
Goldman later adapted Ross Macdonald's novel "Archer" for the 1966 film "Harper" starring Paul Newman as a private eye.
His breakthrough came in 1969 with the blockbuster "Butch Cassidy and the Sundance Kid," starring Newman and Redford and began Goldman's numerous collaborations with Redford on "The Hot Rock," "The Great Waldo Pepper" and "All the President's Men."
He was sitting on top of the world then and between 1973 and 1978 wrote three novels ("The Princess Bride," "Marathon Man" and "Magic") and six movies ("The Great Waldo Pepper," "The Stepford Wives," "All the President's Men," "Marathon Man," "A Bridge too Far" and "Magic"). Some were box-office gold, but others failed to land with critics and audiences.
After a few duds, failure to get several movie projects off the ground left him out in the cold in Hollywood. He told The Times that from 1980 to 1985, no one called with anything resembling a job offer. In his book, he called that stretch "The Leper Years." He was grateful he remained in New York during those days and not Los Angeles.
"This is a very tough town, this is a very insecure town, and a very insecure business, because we don't know what will work," he told The Times in 2000. "I don't believe people in the insurance business are nervous. I think people in the movie business are nervous because we're just all on a crapshoot."
Still, when he didn't find success on-screen, according to the late Times critic Charles Champlin, Goldman could always return to "the solitary satisfactions of the novel."
And he did.
---
UPDATES:
11:20 a.m.: This story was updated with staff reporting.
This story was originally published at 7:10 a.m.
---
Must-read stories from the L.A. Times
Get the day's top news with our Today's Headlines newsletter, sent every weekday morning.
You may occasionally receive promotional content from the Los Angeles Times.