L. William Seidman dies at 88; former chairman of FDIC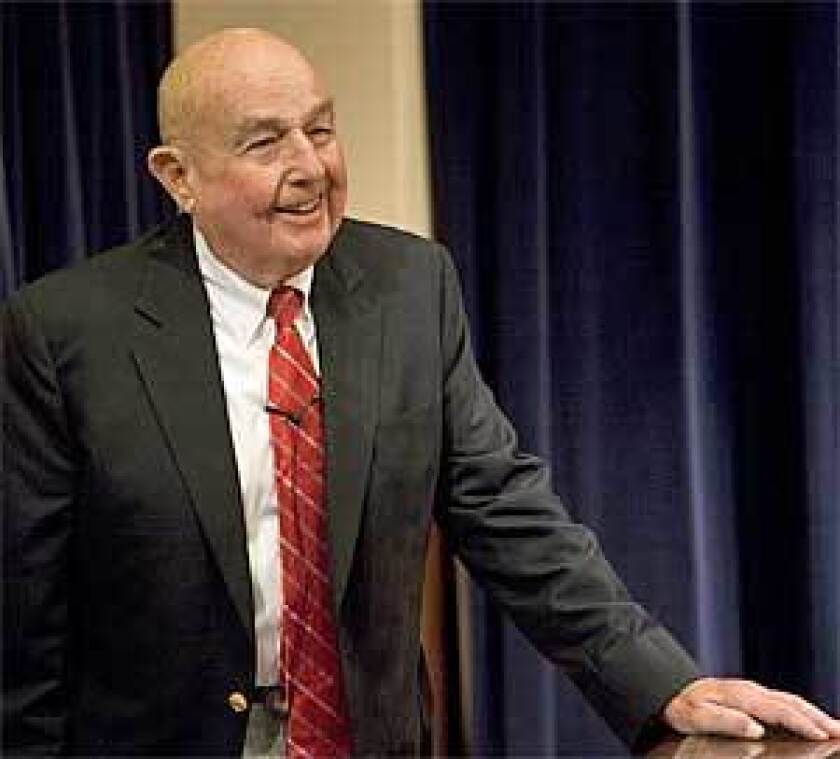 L. William Seidman, who led the federal response to the savings and loan crisis of the late 1980s as chairman of the Federal Deposit Insurance Corp., died Wednesday at a hospice in Albuquerque, N.M., of complications from pneumonia. He was 88.
Seidman shuttled throughout his life between the worlds of private business and public service, building an international accounting firm based in New York, founding what is now a public university in Michigan and serving as a financial expert under four Republican presidents.
His defining role began in 1985, with his appointment by President Reagan to lead the FDIC, the agency that protects bank depositors against loss. The nation's financial system was descending into a crisis caused by ill-considered lending. Hundreds of financial firms would fail, leading Congress to create the Resolution Trust Corp. in 1989 to sell the lenders' assets at the best possible price.
Seidman was placed in charge of the massive operation, a job he jokingly referred to as combining "all the best aspects of an undertaker, an IRS agent and a garbage collector."
The challenge then was the same that now confronts a new generation of regulators: to protect the financial system while limiting the cost to taxpayers.
At its peak, the agency was liquidating about seven savings-and-loans a week, selling off the loans to investors.
"We had to be able to value every kind of loan and real estate holding imaginable," Seidman recalled in his 1993 book, "Full Faith and Credit." "We needed to know exactly what an acre of desert between Phoenix and Tucson was worth."
It also required the rapid construction of a federal bureaucracy to perform an unprecedented task. Seidman hired thousands of people, drawing heavily on employees of the failed financial institutions to staff the agency. The government's bill totaled tens of billions of dollars, but the system was stabilized, and Seidman was widely credited for his efforts.
After leaving the FDIC in 1991, Seidman became a frequent commentator on federal regulation of the financial industry. He was employed by the business network CNBC, which recalled in a tribute on its website Wednesday that Seidman recently submitted his first blog contribution. The post was handwritten on three sheets of notebook paper.
A frequent subject of his recent commentary was the need for a more urgent federal response to the current financial crisis, and he generally cited lessons learned at Resolution Trust Corp. In an opinion piece published last week by the Wall Street Journal, he argued that the FDIC needed more resources to deal with the new crop of troubled banks.
"Take it from someone whose been at least partially there," Seidman wrote. "It isn't going to be easy. And it has to be done fast."
Lewis William Seidman was born April 29, 1921, in Grand Rapids, Mich. After graduating from Dartmouth College in 1943, he served in the Navy in the Pacific theater during World War II and was awarded the Bronze Star.
He then returned to school and received a law degree from Harvard University and a master's in business administration from the University of Michigan.
In 1944, he married Sarah "Sally" Berry, a onetime University of Michigan beauty queen. She survives him, as do six children, 11 grandchildren and two great-grandchildren
Seidman joined his father's accounting firm, Seidman and Seidman (today known as BDO Seidman LLP), rising to managing partner in 1968.
By the time he stepped down in 1974, to serve as an economic advisor to Vice President Gerald Ford, the firm was among the nation's 10 largest.
He knew Ford from Michigan, where Seidman had helped GOP Gov. George Romney reform the state's financial management practices in the 1960s. Seidman ran unsuccessfully for auditor general of Michigan, with the blessing of Ford and Romney, and was a leading backer of Romney's failed 1968 presidential bid.
When Ford became president, Seidman became his key advisor on controlling inflation, the defining economic issue of that time.
He worked in the White House beneath a plaque that read, "Everything cometh to him who waiteth, so long as he who waiteth worketh like hell while he waiteth."
For all his achievements, Seidman told friends and family that he took greatest pride in leading the effort to persuade the Michigan Legislature to create a state college in 1963 to serve the area around Grand Rapids. The school is now known as Grand Valley State University.
In the years before his appointment to the FDIC, he was vice chairman and chief financial officer of the mining concern Phelps Dodge in New York and dean of Arizona State University's business school in Tempe.
Appelbaum writes for the Washington Post.
---
Must-read stories from the L.A. Times
Get all the day's most vital news with our Today's Headlines newsletter, sent every weekday morning.
You may occasionally receive promotional content from the Los Angeles Times.