Yves Saint Laurent, 71; icon of French fashion design
Saint Laurent poses with models after the presentation of his spring collection in Paris in February 1964. His dismissal from Dior had helped him launch his own company.
(Michel Lipchitz / Associated Press)
Pierre Berge, Saint Laurent's business partner and onetime lover, welcomes the designer and the actress Catherine Deneuve at a 1992 event in Paris. Saint Laurent "was born with a nervous breakdown," Berge once said.
(Pierre Guillaud / Agence France-Presse)
Saint Laurent waves to a Paris audience in October 1993 after the presentation of his 1994 spring and summer ready-to-wear collection.
(Remy de la Mauviniere / Associated Press)
Though famously shy, Saint Laurent was also savvy when it came to generating publicity.
(Thomas Iannaccone / For The Times)
The designer, with a model in bridal attire, acknowledges the audience at the end of a fashion show in March 1995.
(Lionel Cironneau / Associated Press)
Saint Laurent arrives in June 1999 at the 18th annual American Fashion Awards in New York, where he was honored for lifetime achievement.
(Stan Honda / Agence France-Presse)
Model Laetitia Casta with the designer at the end of his spring and summer show in Paris in January 1999.
(Frederick Florin / Agence France-Presse)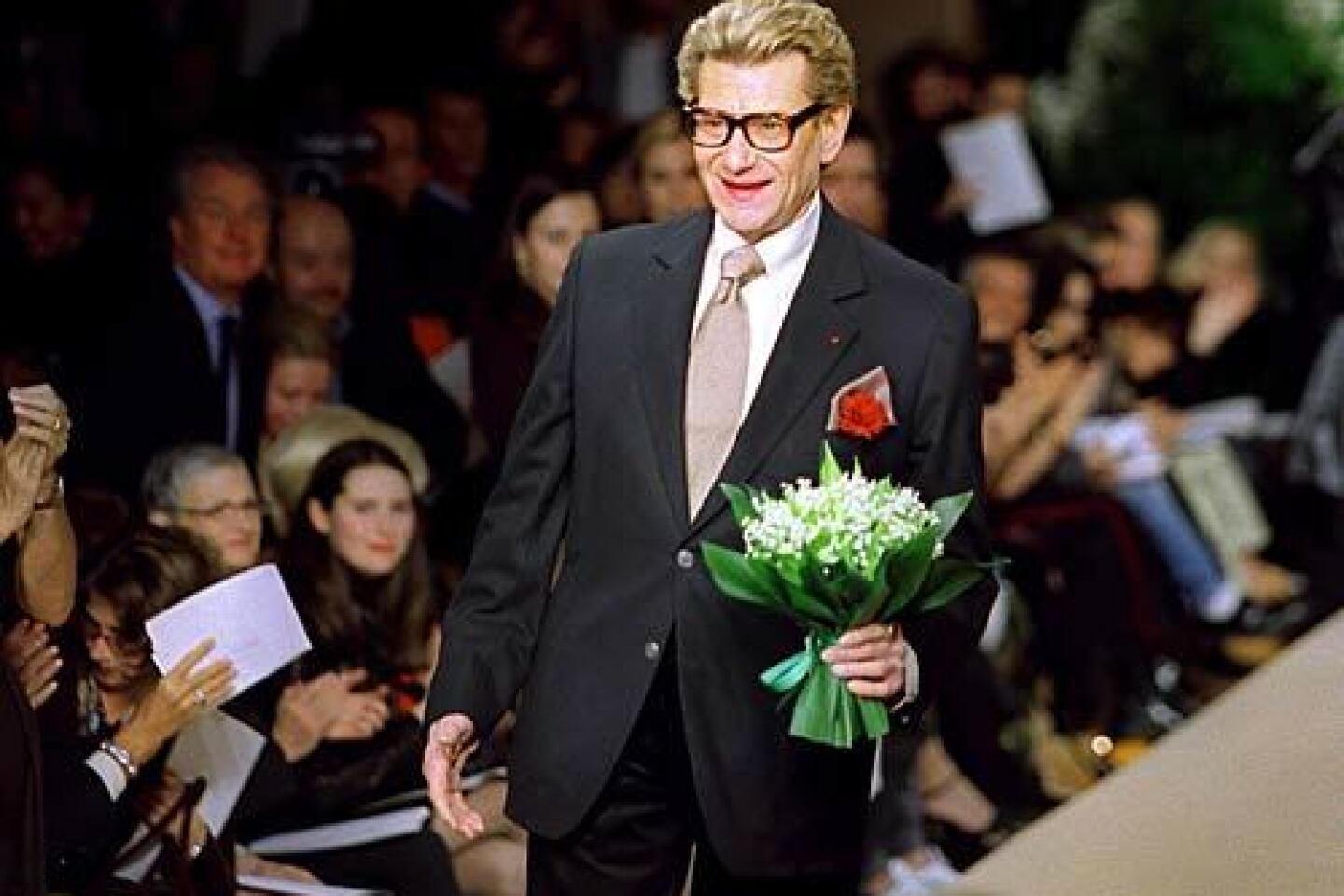 Saint Laurent brings flowers to a model at the end of a 2001 show.
(Jean-Pierre Muller / Agence France-Presse)
Saint Laurent with model Laetitia Casta, left, and actress Catherine Deneuve at the Georges Pompidou Center in Paris, where the designer staged a retrospective of his work soon after announcing his retirement in 2002.
(Jean-Pierre Muller / Agence France-Presse)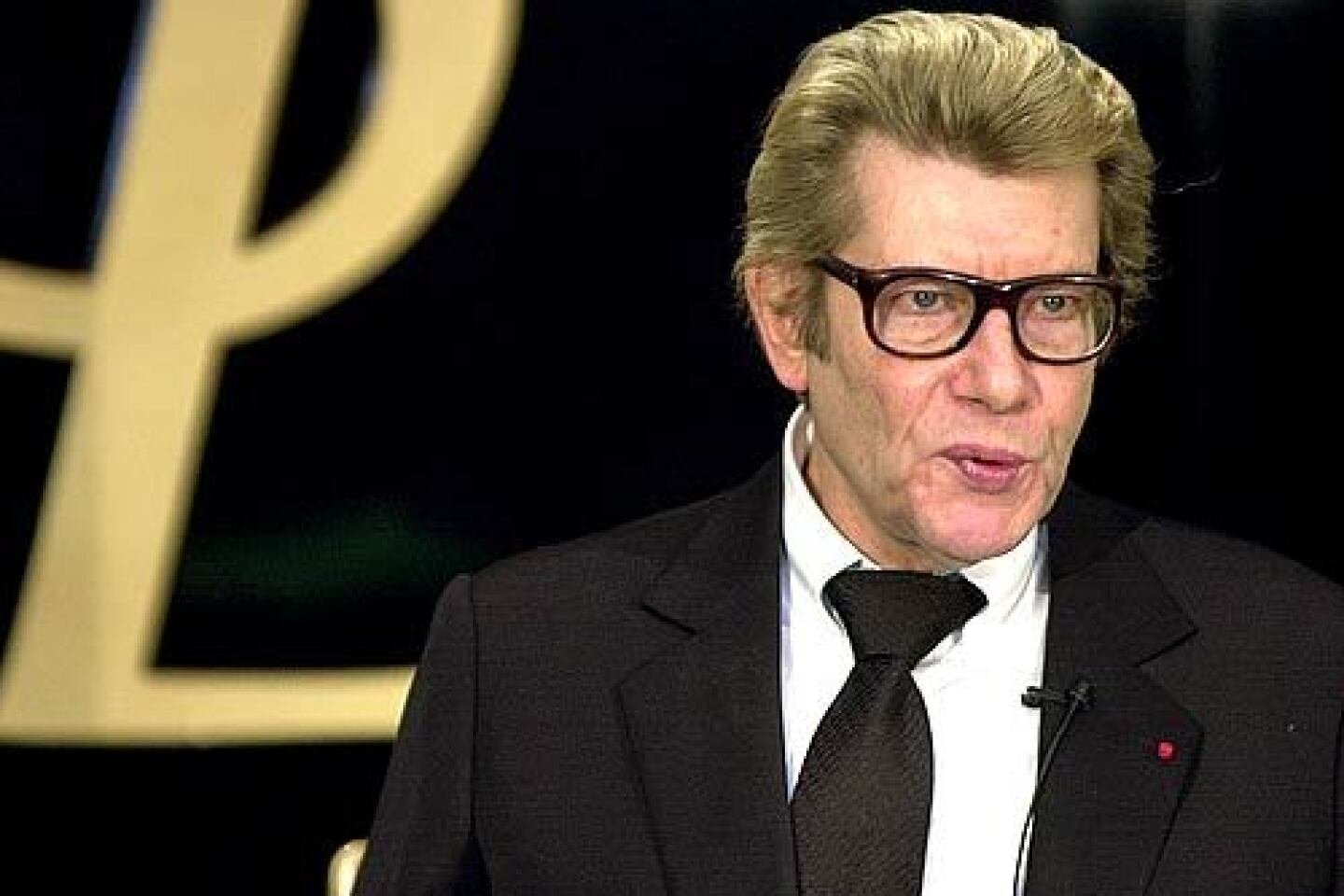 Yves Saint Laurent announcing his retirement in January 2002. "In many ways, I feel that I have created the wardrobe of the contemporary woman," he said in his speech.
(Remy de la Mauviniere / Associated Press)
Los Angeles Times Staff Writer
Yves Saint Laurent, the French fashion designer who created a bold new dress code for women during the feminist revolution of the 1970s and helped launch the era of the celebrity designer with his jet-set lifestyle, died Sunday at 71.
The designer died at his Paris home following a long illness, Pierre Berge, his longtime friend and business partner, told the Associated Press.
Yves Saint Laurent CEO Valerie Hermann on Monday described the fashion house in Paris as "very respectful of the emotions of the day."
"The house is very calm today to pay homage," she added.
She described Saint Laurent as "the most important designer of the 20th century. He invented so many codes of modern elegance. He watched so much change in society. He's more than our national treasure."
She added: "So many of the codes of our brand that he invented, like the tuxedo, are still alive."
Also Monday, a statement by Pierre Bergé from the Yves Saint Luarent foundation in Paris said the funeral will be held Thursday afternoon at the Saint-Roch church in Paris.
President Nicolas Sarkozy is expected to attend the ceremony, the statement said.
Saint Laurent will then "be incinerated and his ashes will be kept in a burial in the Gardens of Majorelle" (in Marrakech). Pierre Bergé and Yves Saint Laurent had bought the Gardens of Majorelle in 1980.
From the start of his career at 21, when he replaced his mentor, Christian Dior, as chief designer of the couture house of Dior in Paris, Saint Laurent crafted a modern look for women that set a new standard.
He was the first to make pants and pantsuits the basic pieces of a woman's wardrobe, doing it in a way that conveyed femininity, self-confidence and style. In contrast for evening, he styled sheer blouses, flounced skirts and a slinky tuxedo worn over bare flesh that he famously named "le smoking."
"The word 'seduction' has replaced the word 'elegance' in fashion," a French television commentator announced in 1967, about Saint Laurent's effect on the industry.
The French designer's gift for redefining French couture was apparent in a single dress he showed in his first collection for Dior in 1957. A "trapeze" style, it fell in loose folds from the yoke to the hem with no padding, no whalebone construction, no corseting. The easy shape and loose fit were younger, freer than anyone thought of as haute couture, a world dominated by designers in their 70s.
For the first decade of his career in fashion, Saint Laurent continued to startle audiences with his innovations -- a Navy peacoat, a "beatnik" motorcycle jacket, a dress that looked like a Piet Mondrian painting.
His designs were "the antithesis of the haute-couture school, with its premise of buttressing and correcting the woman's silhouette," wrote Alicia Drake in "The Beautiful Fall," her book about French fashion during Saint Laurent's rise to fame.
At the top of his form in the 1970s, Saint Laurent had amassed a fashion empire that included a couture and ready-to-wear division, best-selling perfumes starting with Rive Gauche, and licensing agreements that put his name on sunglasses, hosiery and more than 100 other products. His estimated annual take-home pay was about $4 million.
As often as he was declared a genius, however, Saint Laurent was described as a tormented man who struggled with clinical depression, alcoholism and drug addiction. At low points, starting in the 1970s, he was hospitalized, discharged only long enough to oversee his latest fashion show and then whisked back to confinement. His emotional problems worsened later on.
He portrayed himself as a suffering artist while his business associate, Berge, tried to make light of it. Saint Laurent "was born with a nervous breakdown," Berge said.
Shy and illusive, 6 feet 2 and exceedingly thin, Saint Laurent looked like a gangly schoolboy through the first decade of his career. He had moved to Paris in the early 1950s to study fashion at the Ecole de la Chambre Syndicale, the school overseen by French designers. He captured early attention by winning a design competition sponsored by the International Wool Secretariat in 1954, with his sketch of a dress with one bared shoulder.
After a few months in school, he was introduced to Dior, who offered him a job as an assistant at Dior in 1955. Two years later he was Dior's design assistant. When Dior died unexpectedly of a heart attack in 1957, a four-person team replaced him. Saint Laurent did most of the designing.
"I was in a state of complete euphoria preparing that first collection," Saint Laurent recalled in a 1991 interview with Le Figaro. "I knew I was going to become famous."
As abruptly as he was appointed at Dior, he was dismissed in 1960. House executives said he was unfit for the pressures of the job. He had been drafted into the French army that year and was hospitalized after a breakdown during basic training.
Rumors were that it was not so much his fragility as his fashion designs, many of them too radical a departure from the Dior image, that led to his dismissal.
The following year, with the help of Berge, an enterprising businessman who was by then his lover, Saint Laurent sued for breach of contract and was awarded more than $100,000 in a legal separation from Dior. The sudden infusion of cash changed his career and his life. He was on his way to superstar fame and to a public struggle with addiction.
In 1961 he opened his own couture house. Several years later, he added a ready-to-wear division, adapting his style to mass-produced clothing that sold for a fraction of the price of his couture. Suddenly his label was affordable to many more women.
In 1966 he opened his first ready-to-wear boutique, an innovation that was soon imitated by designers in Milan, Paris and New York. His first shop, on the Rue de Tournon near the Luxembourg Gardens in Paris, carried his clothing collections as well as hats and handbags he designed and jewelry by his friend Paloma Picasso.
With Berge in charge of the business side, licensing agreements began rolling in. By 1980 it had grown into a $200-million division in his empire.
His duplex apartment in Paris, with its Art Deco furnishings and an art collection that included works by Picasso and Matisse, was featured in glossy magazines. He and Berge also shared a Normandy chateau, a New York penthouse and a house in Marrakech, Morocco.
He tested the strength of his position as the acclaimed "prince of French fashion" when he launched his first men's fragrance, Kouros, in 1971. The full-page ad featured Saint Laurent in the buff, wearing only his shoulder-length reddish hair, his short fuzz of a beard and his metal-frame glasses.
"He told me he wanted to create a scandal," the photographer Jeanloup Sieff recalled of the portrait.
With visions of hippies and flower children lingering, Saint Laurent's nude scene was not entirely antisocial. Still, a number of fashion magazines refused to run the ad. Any that did helped establish Saint Laurent as the industry's most suave maverick. The ad positioned "Yves the person as Yves the product," Drake wrote.
The fashion press was mesmerized and followed "YSL" to discos in Paris and New York, with his entourage of models and muses in tow. He was seen with Andy Warhol, Russian dancer Rudolph Nureyev and other artists who were as celebrated in their way as he was in his.
He often declared himself to be a lover of women who wanted to make them look beautiful. In the early 1970s, when women were pushing traditional boundaries, he began to design collections with them in mind. His safari jackets and safari mini-dresses now seem to be a tongue-in-cheek signal to women that he was on their wavelength.
The pants and jackets that he made the center of his daytime look quickly became a uniform for professional women breaking into careers still dominated by men. Many offices banned women from wearing pants to work.
"Today it seems normal, but then it was scandalous," wrote Suzy Menkes, Paris-based fashion editor of the International Herald Tribune, in a book of tributes to Saint Laurent on his 40th anniversary in fashion. "Hotels and restaurants wouldn't let you in," Menkes recalled of women who wore pants to dinner.
Saint Laurent's equally bold evening clothes spoke to another development in women's lives. As they began to openly take the lead in romantic pursuits, he outfitted them for the venture. Transparent blouses, provocative short skirts and satin tuxedos played up the physical differences, and similar sexual appetites, of women and men.
He also introduced a menswear division, one that allowed men the same fashion freedom that his women's collections did. He styled paisley shirts and velvet blazers in the '60s, caftans in the '70s and white linen suits after that, all of which he wore.
Other designers copied his best ideas as fast as he produced them. Saint Laurent "is the most influential designer I've ever seen," Women's Wear Daily publisher John Fairchild said in Newsweek in 1975.
For the opening of his first U.S. boutique on Madison Avenue in New York in 1968, he wore a paisley Cossack shirt and a cascade of gold chains on his hip-huggers. He was surrounded by the famous women he dressed -- Lauren Bacall and Maria Callas, Paloma Picasso and Catherine Deneuve.
The opening made fashion news, and the cult of the celebrity designer was planted on U.S. soil. American designers Ralph Lauren, Calvin Klein and others were soon made in the same mold.
More than once as he rose to prominence, Saint Laurent's personal problems threatened to topple his career.
In 1976, he suffered a major emotional breakdown and was hospitalized.
Rumors were that he was taking tranquilizers with quarts of alcohol. In a manic burst, however, he designed one of his most successful couture collections.
Ballet Russe was a Russian-inspired spectacular of gold brocades, fur trims and silk embroideries in the "haute hippie" spirit of the time -- and it made front-page news.
"After many years of pallid fashion, extravagance was back in style," Bernardine Morris, who was then a fashion writer for the New York Times, said in a later interview. The collection influenced designers the world over, she said.
One year after his Russian triumph, Saint Laurent presented another remarkable collection, this one with a Chinese-dynasty theme.
Satin kimonos and Mandarin-collared tunics were a prelude to a perfume he was about to launch, Opium.
His problems with drug addiction put a sinister spin on his choice of perfume name.
At the launch party, a Chinese American group protested, along with anti-drug activists. It became a best-seller.
For all his fragile aura, Drake wrote, "few people saw the incandescent ambition and violent creativity that was also Saint Laurent."
He was born Aug. 1, 1936, in Oran, Algeria. His father, Charles, a wealthy lawyer and insurance broker, and his mother, Lucienne, were French citizens in the North African country, which was then a French colony. He also had a sister, Brigitte.
As a boy, he spent hours at home creating a miniature theater with figures he dressed in costumes cut from his mother's old clothes.
After only one term in fashion school in Paris, his father helped arrange for him to show his sketches to Michel de Brunhoff, editor of French Vogue. That led Saint Laurent to Christian Dior, who hired the precocious designer in 1954 and soon began to refer to him as the dauphine. "Yves is my heart, my brain," Dior said.
From that dreamlike beginning, Saint Laurent gradually was overcome by the pressures and demands of his career. His longtime assistants, Loulou de la Falaise and Ann Marie Munoz, made no secret of their role in designing his ready-to-wear collections, based on the previous season's couture.
"Saint Laurent is on a fashion sabbatical," wrote Hebe Dorsey, fashion editor of the International Herald Tribune in 1979. It became a recurring theme in reviews.
Saint Laurent was in such frail health that he took his bows clutching a hot-water bottle after one show and did not appear at all after another. While his business partnership with Berge continued, they were no longer a romantic couple. Rumors of alcoholic rages persisted, according to Drake's book.
The company's business problems began to make headlines. Boutiques closed, licenses were cut from more than 100 to 15, and Saint Laurent named Alber Elbaz, unknown to most U.S. women, to design the ready-to-wear collection.
In 1993, Berge was charged with insider trading after the company was acquired by pharmaceutical giant Sanofi for $650 million.
The terms and timing of the deal raised suspicions, and a police investigation led to a $3-million fine for Berge; the amount was reduced to $1 million.
In 1999, the Saint Laurent label was purchased again, for $1 billion, this time by Francois Pinault, president of Pinault-Printemps-Redoute.
Pinault sold the commercial arm of the business to Gucci Group IV, whose creative director, Tom Ford, took over as designer of Saint Laurent ready-to-wear. Pinault retained control of YSL couture, and Saint Laurent continued to design it.
In 2002 Saint Laurent announced that he would retire and close his couture house. He reportedly had overcome his addictions and seemed to be in good health.
But he felt alienated from the industry he had ruled for so long.
"I am extremely proud that women of the world over today wear pantsuits, pea jackets and trench coats," he said at his retirement news conference. "In many ways I feel that I have created the wardrobe of the contemporary woman.
"I have grappled with anguish, and I have been through sheer hell," he said. "I have known those fair-weather friends we call tranquilizers and drugs."
He also had saved one of every item he designed, along with sketches, which were housed in an archive in Paris under climate-controlled conditions, as a research center for design students.
Several weeks after he announced his retirement, Saint Laurent staged a fashion retrospective of his work at the Centre Pompidou, the contemporary art museum in Paris. An army of famous models gave new life to 300 iconic creations.
Reviewing the show for the Herald Tribune, Menkes called attention to his unequaled sense of color, "mixes of old rose and hyacinth" in one outfit, "orange, purple and asparagus green" in another and declared him the greatest living fashion designer.
Some of the colors seemed inspired by the paintings by master artists that filled Saint Laurent's Paris duplex.
It was a grand finale to a career that, even in its waning years, included a retrospective exhibit of Saint Laurent designs at New York's Metropolitan Museum of Art in 1983, the first of its kind for a living fashion designer.
Times staff writers Geraldine Baum and Achrene Sicakyuz in Paris contributed to this report.
Must-read stories from the L.A. Times
Get the day's top news with our Today's Headlines newsletter, sent every weekday morning.
You may occasionally receive promotional content from the Los Angeles Times.