Zvonko Busic dies at 67; served U.S. prison time for '76 TWA hijacking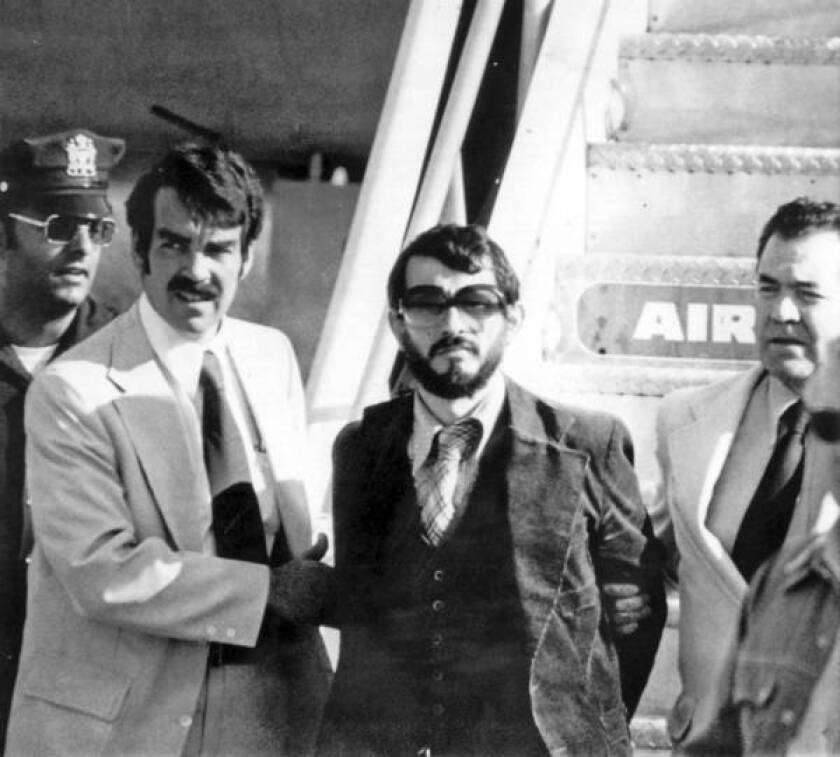 Zvonko Busic, a Croatian nationalist who served more than three decades in U.S. prisons for a 1976 hijacking and a bombing that killed a New York City policeman, has committed suicide. He was 67.
Police said Busic shot himself Sunday at his home in Rovanjska, Croatia. His body and a suicide note were found by his American-born wife, Julienne Busic, who had also been convicted in the crimes.
Busic was the acknowledged ringleader of a group of five hijackers who on Sept. 10, 1976, commandeered a TWA plane bound from New York to Chicago with more than 80 passengers and crew members onboard. They also planted an explosive in a locker at New York's Grand Central railway station that killed a bomb squad officer who was trying to deactivate it.
The issue Busic said drove him to hijack TWA Flight 355 was independence for Croatia, which was then part of Communist Yugoslavia.
He and his co-conspirators — all Yugoslavs except for Busic's wife — said they had five bombs on board the jetliner and one at Grand Central. They forced the pilots to fly to Montreal, then London and Paris, where French authorities prevented the plane from taking off again by shooting out its tires.
The hijackers threatened to detonate the bombs if their demands were not met. Their chief demand was publication of an eight-page manifesto supporting Croatian nationalism.
Early on the morning of Sept. 11, Busic's wife left the plane for the control tower at Paris' De Gaulle airport, where she received confirmation that the group's statement had appeared in the New York Times, the Los Angeles Times, the Washington Post and the Chicago Tribune. About an hour later, the hijackers released the hostages, none of whom had been harmed.
The bombs brandished on the plane turned out to be fake, but the one at Grand Central killed Officer Brian J. Murray at a demolition range in New York and wounded three other officers. Busic contended that he had made the bomb to convince authorities that the ones on the plane were also real. He said he had never intended to detonate it.
Born in a village in Herzegovina in 1946, Busic met Oregon native Julienne Eden Schultz in Vienna in 1969. They soon married and moved to Cleveland before settling in New York, where Busic worked on and off as a waiter.
He and his wife were convicted in 1977 on air piracy and murder charges and given life sentences. The three other hijackers received 30-year sentences.
In 1987, Busic briefly escaped from a federal prison in Orange County, N.Y., but surrendered peacefully to a police officer in Milford, Pa., 30 hours later. He told authorities he had escaped because he had been denied parole eligibility for five years.
To the outrage of many, he was quietly granted parole in 2008 after nearly 32 years in prison. He was deported to Croatia, where he rejoined his wife, who had been paroled earlier. In Croatia, which had gained its independence in the wars of the early 1990s, he was welcomed as a hero of the country's struggle for statehood.
---
Must-read stories from the L.A. Times
Get all the day's most vital news with our Today's Headlines newsletter, sent every weekday morning.
You may occasionally receive promotional content from the Los Angeles Times.