Daredevil Evel Knievel dies at 69
The daredevil starred as himself in the 1977 movie "Viva Knievel!"
(Warner Bros. / AP)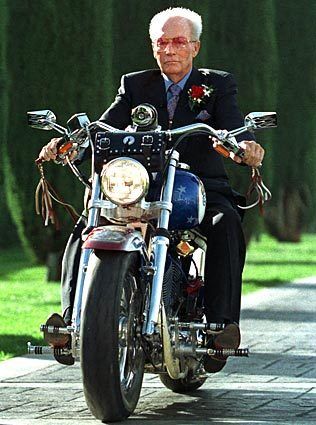 Knievel arrives at Caesars Palace in Las Vegas for his wedding to Krystal Kennedy. The hotel-casino also was the site of one his most famous jump attempts -- a 1968 stunt that ended disastrously and left him unconscious for 31 days.
(Laura Rauch / Associated Press)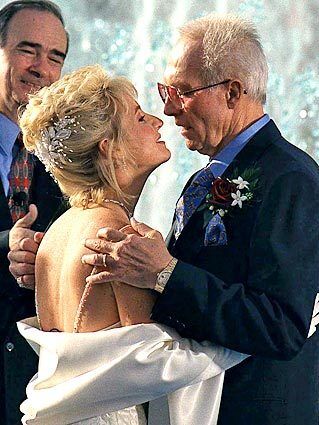 Knievel, then 61, kisses his new bride, 30-year-old Krystal Kennedy, at Caesars Palace.
(John Gurzinski AFP/Getty Images)
Knievel was born in Butte, Mont., and spent some of his later years there. In this September 2001 photo, he's shown at his home with his dog, Rocket.
(Walter Hinick / Montana Standard via AP)
"If God had wanted you to hang on to money, he'd have put handles on it, so you could carry it around like a suitcase," Knievel once said.
(Ken Hively / Los Angeles Times)
In his later years, a lung ailment tethered Knievel to an oxygen tank. Here he is with his son, Robbie, at Evel Knievel Days in Butte, Mont.
(Walter Hinick / Montana Standard via AP)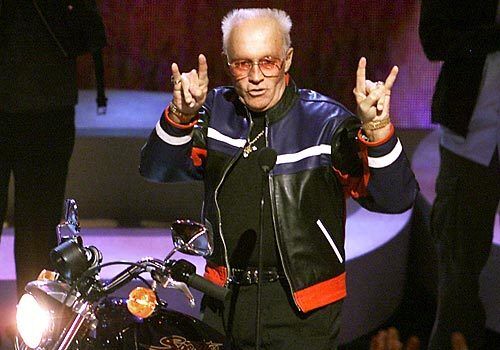 Knievel was given an award at the ESPN Action Sports and Music Awards at the Universal Amphitheatre in Los Angeles.
(Kevin Winter / Getty Images)
CLEARWATER, Fla. —
Evel Knievel, the hard-living motorcycle daredevil whose jumps over Greyhound buses, live sharks and Idaho's Snake River Canyon made him an international icon in the 1970s, died today. He was 69.
Knievel's death was confirmed by his granddaughter, Krysten Knievel. He had been in failing health for years, suffering from diabetes and pulmonary fibrosis, an incurable condition that scarred his lungs.
Knievel had undergone a liver transplant in 1999 after nearly dying of hepatitis C, likely contracted through a blood transfusion after one of his bone-shattering spills.
Immortalized in the Washington's Smithsonian Institution as "America's Legendary Daredevil," Knievel was best known for a failed 1974 attempt to jump Snake River Canyon on a rocket-powered cycle and a spectacular crash at Caesar's Palace in Las Vegas. He suffered nearly 40 broken bones before he retired in 1980.
Although he dropped off the pop culture radar in the '80s, Knievel always had fans and enjoyed a resurgence in popularity in recent years. In later years he still made a good living selling his autographs and endorsing products. Thousands came to Butte, Mont., every year as his legend was celebrated during the "Evel Knievel Days" festival.
"They started out watching me bust my ass, and I became part of their lives," Knievel said. "People wanted to associate with a winner, not a loser. They wanted to associate with someone who kept trying to be a winner."
His death came just two days after it was announced that he and rapper Kanye West had settled a federal lawsuit over the use of Knievel's trademarked image in a popular West music video.
---
Must-read stories from the L.A. Times
Get the day's top news with our Today's Headlines newsletter, sent every weekday morning.
You may occasionally receive promotional content from the Los Angeles Times.