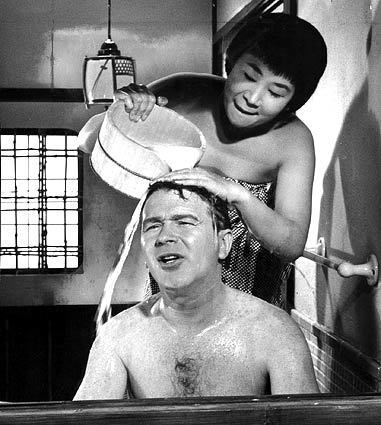 12 Images
Red Buttons 1919 | 2006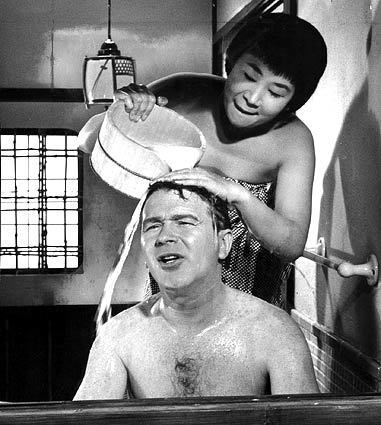 1957
Red Buttons is pictured with Miyoshi Umeki in "Sayonara," which won Buttons an Oscar for best supporting actor.
()
1958
Miyoshi Umeki and Red Buttons hold fast to their Oscars in this March 24, 1958 photo as they embrace after winning awards for best supporting actor and actress for "Sayonara." The film was also nominated for a best picture Oscar.
(LAT)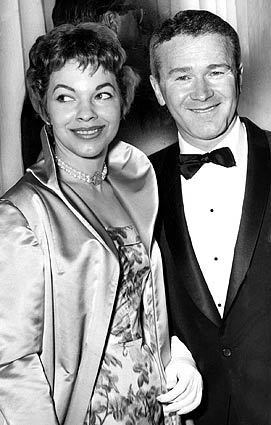 1958
Red Buttons arrives at the Academy Awards with his wife.
(LAT)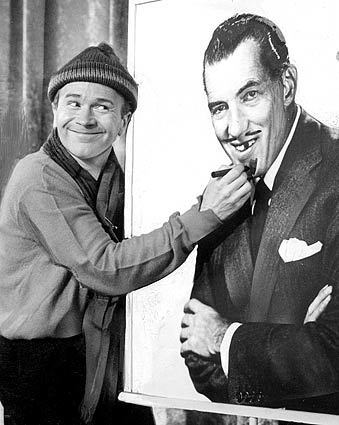 1962
Red Buttons draws on a poster of Ed Sullivan for Sullivan's 14th anniversary show in 1962.
(LAT)
1972
Academy Award winner Gene Hackman cuts cake on the set of his new film, "The Poseidon Adventure," at 20th Century Fox on April 10, 1972. The cast features other previous Oscar winners, including Jack Albertson, left, Red Buttons, director Ronald Neame, Hackman, Shelley Winters and Ernest Borgnine.
(LAT)
1995
Red Buttons keeps them smiling as he entertains residents at the Jewish Home for the Aging in Reseda, Calif.
(Brian Vander Brug / LAT)
1998
Red Buttons stars in "Ghosts of Fear Street," a story based on R.L. Stine's bestselling children's book series.
(ABC)
1999
Red Buttons appears at an American Film Institute gala at the Beverly Hilton Hotel on Feb. 18, 1999.
(Ken Hively / LAT)
2003
Academy Award winner Red Buttons and wife Alicia Pratt arrive at the 75th Annual Academy Awards at the Kodak Theatre on March 23, 2003.
(Robert Gauthier / LAT)
2003
Red Buttons arrives at a memorial tribute for Bob Hope at the Academy of Arts and Sciences in North Hollywood, Calif. The rich, the famous and the comedic all came to pay tribute to the man who sang "Thanks for the Memories."
(Anne Cusack / LAT)
2004
Restauranteur Dan Tana, left, and Red Buttons attend Tana's 40th anniversary party on Oct. 1, 2004, at the his eponymous restaurant in West Hollywood, Calif.
(Getty Images)
2006
Red Buttons, left, and Pamela Sue Martin — cast members of the 1972 film "The Poseidon Adventure" — pose after arriving at the premiere of "Poseidon" on May 10 in Los Angeles.
(Kevork Djansezian / AP)