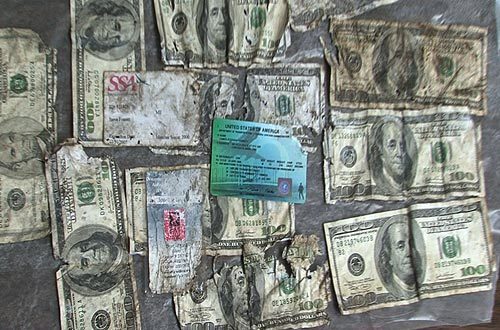 14 Images
Steve Fossett | 1944-2007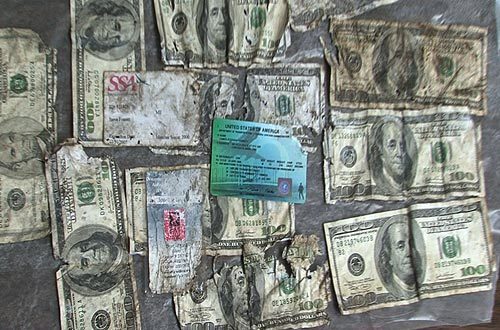 These $100 bills and three tattered pieces of identification, including an FAA pilot's license and a membership card in a soaring society, were found by a hiker, according to an attorney who knows him.
(Discovery Channel / LMNO Productions)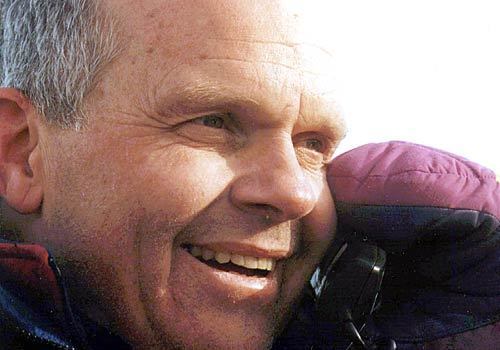 Steve Fossett calls home to South Dakota after landing his balloon on a farmer's field in Canada in 1996, ending his bid to be the first to circle the globe nonstop. Six years later, he became the first person to fly around the world alone in a balloon.
(Peter Walsh / Associated Press)
Fossett thanks his crew on Jan. 8, 1996, before his attempt to fly around the world solo in a balloon. Two days later, he had to abort the quest after running off course and out of power.
(Johnny Sundby / Associated Press)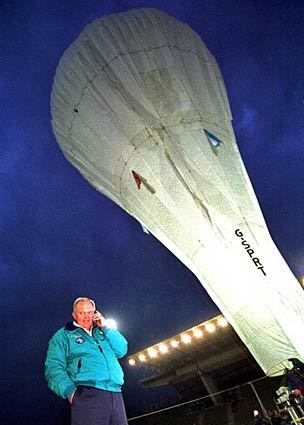 Fossett stands next to his balloon "Solo Spirit," on Aug. 7, 1998, at a soccer stadium in Argentina, before launching his fourth bid to fly around the world in a balloon. He traveled about 15,200 miles before becoming caught in a severe storm and plunging 29,000 feet into the Coral Sea. "The consequences in this around-the-world ballooning are so severe. I'm not sure I should keep doing it every year, taking this risk," he said after his rescue.
(Eduardo Di Baia / Associated Press)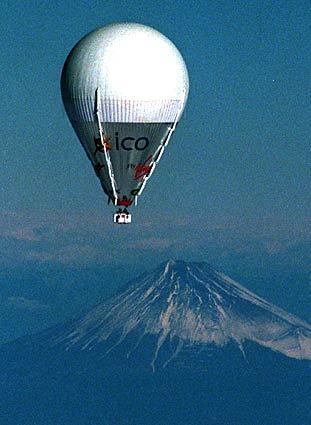 The ICO Global Challenger, copiloted by Fossett, British tycoon Richard Branson and Sweden's Per Linstrand, flies over Mt. Fuji on Dec. 24, 1998 -- a day before their journey ended. Fossett joined forces with the adventurers to be the first to circle the globe in a balloon, but they had to abandon their bid more than halfway into the voyage after getting caught in a low-pressure system.
(Agence France-Presse)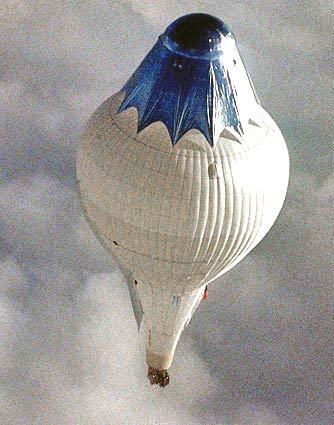 Fossett's craft soars over Australia on Aug. 16, 1998, shortly after traveling 10,480 miles and breaking his own record for distance in a balloon. The balloon later went down in the South Pacific.
(Paul Wager / Brisbane Courier Mail)
Fossett checks one of the battens that snapped off his double-hull vessel PlayStation in 71-mph winds in December 1999. He and a nine-member crew were a mere eight hours into attempting to break the transatlantic sailing record when a burst of wind disabled the sail and nearly sank the boat.
(Peter Ventrone / Associated Press)
Fossett's Playstation, right, heads out of Barcelona's port on Dec. 31, 2000, in the Race of the Millennium, a $2-million around-the-world contest. The $5.5 million vessel, designed in Newport Beach, dropped out of the race 14 days later because of equipment failure.
(Cesar Rangel / Associated Press)
An elated Fossett, third from left, and the crew of the catamaran Playstation celebrate after breaking the transatlantic sailing record on Oct. 10, 2001. The group had set out from New York and crossed the finish line at Cornwall's Lizard peninsula, off the British coast, in 4 days, 17 hours, 28 minutes, 6 seconds.
(Mark Pepper / Marine Pics)
The adventurer basks in his success after touching down in Australia on July 4, 2002 -- two days after making aviation history by being the first to fly solo around the world in his hot-air balloon, the Spirit of Freedom.
(Trevor Collens AFP/Pool)
The Spirit of Freedom lands in the Australian outback on July 4, 2002, two days after Fossett made history with his solo balloon flight around the world. He spent nearly two weeks aloft in the unpressurized gondola that was smaller than a prison cell.
(Rob Griffith / Associated Press)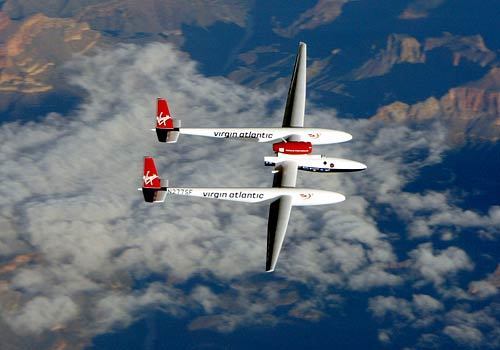 Fossett pilots his GlobalFlyer over the Grand Canyon on his way to a record-setting landing in Kansas on March 3, 2005. Sixty-seven hours after taking off, he became the first pilot to circle the globe nonstop, alone and without refueling.
(Thierry Boccon-Gibod / Associated Press)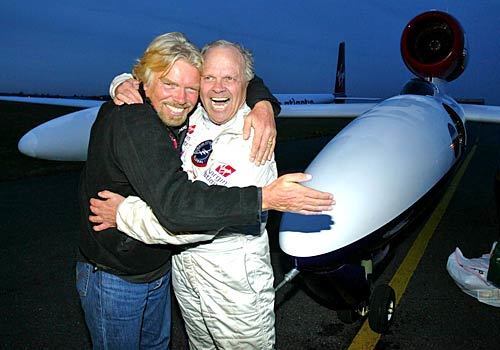 Richard Branson, left, welcomes Fossett after mechanical problems forced him to land at Bournemouth International Airport in southern England on Feb. 11, 2006. Nevertheless, the 61-year-old piloted his lightweight experimental plane, Virgin Atlantic GlobalFlyer, to a record of 26,389 miles in about 76 hours.
(Ben Stansall / Associated Press)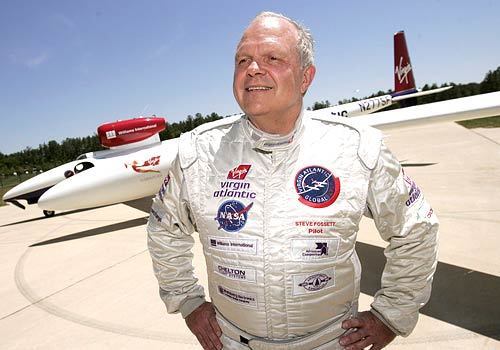 "I've chosen these sports — sailboat racing, gliding, ballooning — and the fact that they're dangerous is just a disadvantage that I have to live with. I don't enjoy the risks. I spend a lot of time trying to reduce the risks," Fossett told Newsweek in 2003. He's shown in 2006 next to the Virgin Atlantic Global Flyer aircraft that he flew solo nonstop around the world in 2005 — yet another record for the adventurer.
(Shawn Thew / EPA)