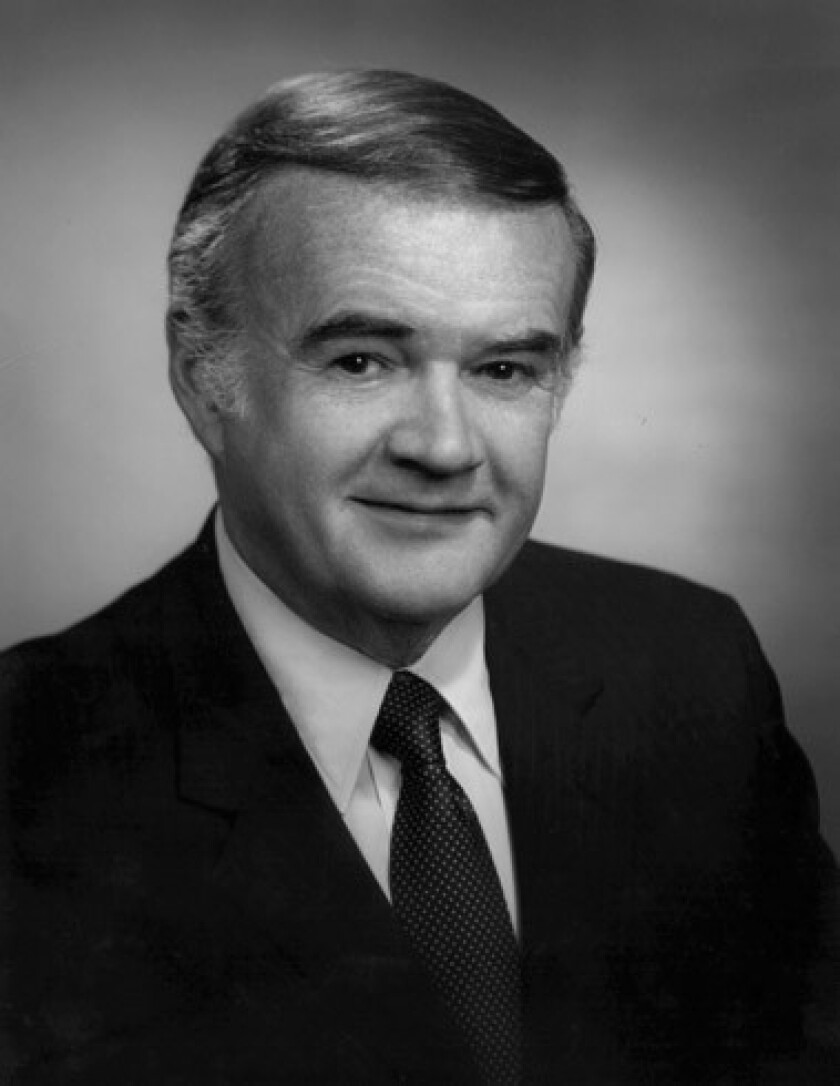 Michael J. Roarty, a retired marketing executive who helped build Anheuser-Busch beer brands into international powerhouses, died at a hospital in a St. Louis suburb Saturday, a day after suffering a heart attack. He was 84.
Roarty had been debilitated by strokes in recent years and had been in poor health.
As vice president and director of marketing from 1977 to 1990, Roarty was credited with helping St. Louis-based Anheuser-Busch more than double its U.S. market share to 43% from 21%.
Roarty oversaw famous advertising campaigns, including "Weekends were made for Michelob," "This Bud's for you," "Head for the mountains of Busch," and Bud Light's canine mascot Spuds McKenzie. He was inducted into the Advertising Hall of Fame in 1994.
"He could spot the ideas, guide the creative process and navigate it through the difficult approval process within a complicated corporate structure," said Bob Lachky, a former chief creative officer at Anheuser-Busch.
Roarty was also considered a pioneer of sports marketing, branching out Anheuser-Busch's advertising complex from stadium signage to include race car sponsorship and the made-for-Super Bowl Sunday Bud Bowl.
He also is the executive who persuaded the brewer in 1980 to give financial support to a then-struggling all-sports TV network, ESPN.
"We gave them $1 million that first year. And if we hadn't, they'd have gone under," Roarty told the St. Louis Post-Dispatch a few months before he retired in 1994. "I believed the beer drinker was a sports lover.
"The next year we gave them $5 million. I think it turned out to be the best investment we've ever made."
In 1993, the Sporting News named him the sixth-most powerful figure in American sports.
Born Aug. 24, 1928, in Detroit, Roarty was the son of Irish immigrants. His father, John, was active in Sinn Fein, the political party closely associated with the Irish Republican Army.
In 1953, when he was a student at the University of Detroit, Roarty had a job selling and promoting beer in Detroit's East Side taverns and stores. He became such a familiar figure to saloonkeepers and other neighborhood characters that many called him "Mr. Budweiser."
He worked as a brand manager for Anheuser-Busch in Detroit, Chicago, Denver and Kansas City on his way up the corporate ladder.
Roarty, who first visited Ireland with his family in 1936, remained active in the Irish American community throughout his life. In 1991, he was named Irish-American of the Year by Irish America magazine. In 1994, Roarty was grand marshal of Dublin's St. Patrick's Day Parade; at the time, he was only the fourth American to have that honor.
He is survived by his wife of more than 58 years, Lillian; a son, a daughter, four grandchildren and a brother.
Kohler writes for the St. Louis Post-Dispatch and McClatchy Newspapers.
---