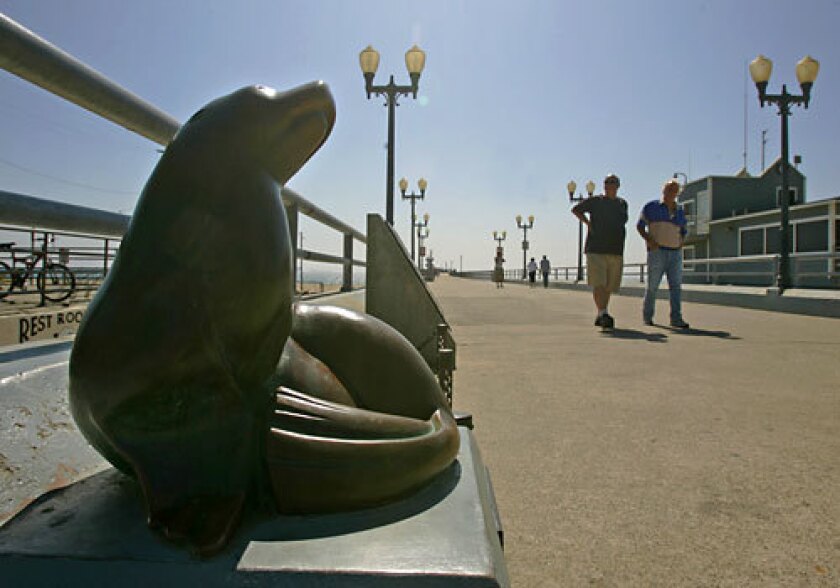 Special to The Times
It's no wonder the locals fondly call Seal Beach "Mayberry by the Sea": This quaint beach community at the northernmost tip of Orange County has retained a retro charm centered on leafy Old Town Main Street, with its eclectic shops, Irish pubs and restaurants. The city was called Bay City, but to prevent confusion with a town in Northern California, it was renamed Seal Beach in honor of its once-prominent inhabitants when it was incorporated in 1915.
Still standing
The Seal Beach Pier, which has been destroyed by storms and reconstructed several times, is the second longest wooden pier in California. There's a tots lot on the beach just south of the pier and a Ruby's Diner ([562] 431-7829, www.rubys.com) at the end to grab a burger for the long walk back. The Red Car Museum (Electric Avenue, near Main Street) is an authentic Red Car trolley that once serviced the rail line that ran through town. It's filled with loads of historical photos and memorabilia. The Bay Theatre (340 Main St., [562] 431-9988, www.baytheatre.com) has been screening movies since 1947. It now shows contemporary and classic films.
Hang 10
Local surfer Rich Harbour has been designing surfboards since 1959, and his Harbour Surfboards (329 Main St., [562] 430-5614, www.harboursurfshop.com) is renowned for its classic longboards. The shop also displays many vintage surfboards. For surfer chicks, there's Endless Summer (124 Main St., [562] 430-9393), specializing in women's beachwear.
Where the locals go
A favorite for more than 30 years, the family-friendly Walt's Wharf (201 Main St., [562] 598-4433, www.waltswharf.com), serves seafood cooked over an oak grill -- the caramelized salmon is a must. There is a lively oyster bar, and owner Walt Babcock (who also runs his own vineyard) keeps a top-notch wine list. Or line up with locals at Nick's Deli (223 Main St., [562] 598-5072) for breakfast burritos.
New dining spots
Shaking up the customary cuisine choices in the area are Beachwood BBQ (131 1/2 Main St., [562] 493-4500, www.beachwoodbbq.com) -- a retro-cool diner serving Memphis-style ribs, fried green tomato sandwiches and an extensive list of microbrews -- and the just-opened Main Street Wine Cellar (302 Main St., [562] 430-3200), a wine bar featuring gourmet grilled cheese sandwiches and hot and cold soup trios for sharing.
---