Little bites of sophistication at Izakaya Zero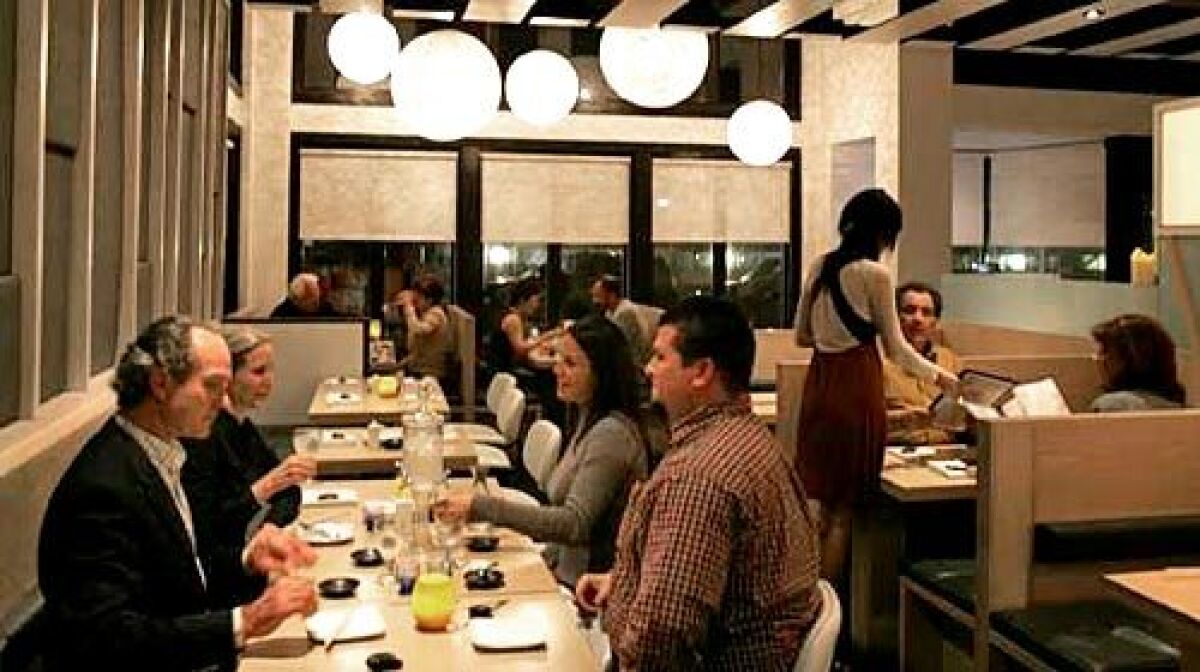 Los Angeles Times Staff Writer
MAN does not live by sushi alone. You'd never know it, though, from the way sushi bars pack them in all over the Southland. There is, however, much more to Japanese cuisine than spicy tuna rolls and yellowtail sashimi washed down with chilled sake or Diet Coke.
In certain neighborhoods in Gardena and Torrance, along Sawtelle Boulevard in West L.A. and in Little Tokyo, you can find small, funky restaurants serving izakaya, or Japanese pub food. The vibe is high-energy, and the crowd isn't shy about eating or drinking. Generally, your bill will barely break two digits, even when you indulge in small plates to the max. The kitchen relies on basic ingredients and simple, rustic cooking. Dishes such as clams steamed in sake or skewers of grilled meats and vegetables are tasty and filling, if not exactly subtle.
Enter Takashi Abe, co-owner of the high-end Bluefin in Newport Coast's Crystal Cove Promenade and one of O.C.'s best chefs. He and his partners Ted and David Lee recently took over the former Red Pearl Kitchen space in Huntington Beach, just a block off Main Street, and turned it into a cozy, contemporary izakaya serving updated Japanese pub fare with some fusion touches -- and, of course, sashimi and sushi rolls.
Start with an order of hot, steaming edamame, perfect with that first sip of cold Sapporo beer or one of the sakes from the well-edited list that offers unfiltered and premium sakes by the glass or bottle. Izakaya Zero's long menu dances through just under a dozen categories, including snacks, greens, deep-fried, rice and noodle, and land, sea and air.
Everything is small plates, and the idea is to mix and match from the various categories and follow the table's whims. In the deep-fried section, for example, you'll find Abe's adorable little puffs of popcorn shrimp with a ponzu sauce dressed up with butter and a light dose of truffle oil. Crisp, fried chicken is crunchy and good. Even better is the fried soft-shell crab cut into quarters -- every bite juicy and delicious and served with a fiery, sweet chile sauce.
Most tables tend to order in spurts, three dishes or so at time. If not, you won't have room for all the plates on the table. Note that share plates are stacked at one end of the table, along with shallow dishes for soy sauce. I like the quail stuffed with a chicken forcemeat, deep-fried and paired with a Chinese-influenced star anise sauce.
Tempura is not the kitchen's strong suit. Or maybe it's just that on the two occasions I tried it, the oil wasn't hot enough, so the batter soaked it up like blotter paper. A special croquette one night, though, is fantastic. It's a large patty of puréed kabocha squash, with its deep wonderful flavor, coated in panko crumbs and fried.
That night, there's kushiyaki of pork belly too -- large cubes threaded onto a skewer with cherry tomatoes and shishito peppers. Though it would have been better grilled over Japanese hardwood charcoal to give it a smoky edge, it's still makes a satisfying bite to share. Another might be the Thai-inspired sausage of minced shrimp, ground pork and peanuts wrapped around sugar canes and then deep fried.
On a blustery winter night, Izakaya Zero is inviting. Chopsticks and napkins are set out along the L-shaped bar for those who want just a couple of bites or are stopping in for a solo dinner. The main dining room behind the bar is outfitted with two rows of generously sized booths in pale, smooth maple with charcoal leatherette seats. Thick felt panels on the walls muffle some of the crowd's exuberance so that even on a weekend night when the place is thronged, you can hear yourself think. Overhead globe lights of crisscrossed string cast intricate shadows on the wall.
Delicious variety
IT'S sociable and fun sitting at a booth here, nibbling on this and that. It takes only one or two dishes to realize that at Izakaya Zero, Abe has elevated izakaya with very clean flavors and top-notch ingredients. He's definitely taking it up a step in terms of style and setting as well as food. His cooking is polished and precise. And it's not just the cooked dishes: The sashimi is on a level with the best sushi restaurants, which in his case would be Bluefin. The combination platter with three pieces each of maguro (tuna), hamachi (yellowtail) and salmon is a deal at $17.80.
Even the house special Zero sushi roll is not stupid. It arrives beautifully presented, each slice standing tall, on a long plate. It's delicious too, shrimp tempura, asparagus and creamy avocado wrapped with seared albacore. The HB roll is pretty good too, shrimp tempura and asparagus again, but with eel and smelt eggs as well for a richer roll and served with a spicy aioli.
But why gorge on sushi rolls when there are all these other dishes to try? The okonomiyaki is pizzette sized, a pancake of flour, mountain potato and eggs mixed with pork, cabbage, octopus and shiso served with a spicy mayonnaise scribbled over the top in a rustic, lidded ceramic dish. The hot pancake disappears, believe me, in seconds.
Sautéed mixed mushrooms arrive in a lidded casserole too, the better to hold in the earthy perfume of shinoki, shiitake and enoki mushrooms cooked in a yuzu-butter sauce. Grilled Japanese eggplant almost seems like a gratin, garnished with rock shrimp and a miso-aioli sauce. And aji (Spanish mackerel) tataki comes with baguette, the better to pile the diced fish seasoned with capers, shiso and onion on top, to make an impromptu sandwich.
Lingering appeal
MEANWHILE, the waiters race out with more Sapporo, more sake, more everything as the night wears on. The large, wide-ranging menu has enough variety that you can come back three or four times and not repeat dishes. The genius is that Izakaya Zero really does have something for everyone -- a comforting miso soup, a bowl of noodles, chicken or beef teriyaki and Kobe carpaccio. Desserts, including a chocolate soufflé and a pallid orange-coconut crème brûlée are just OK. Fried ice cream is the most entertaining of the lot.
Suddenly it's nearly 11, and the kitchen crew is gearing up to go. A young cook dons his jacket and backpack, and he's gone, while the hip Japanese server waits patiently for the eight women on a girls' night to file out . . . and our table too. Outside, the night is black, and the chilly breeze whips around us. No worries, though; we've had a lovely evening at Izakaya Zero. We've eaten well and spent less than at most sushi bars. This izakaya thing may just catch on.
Rating: **
Location: 412 Walnut Ave., Huntington Beach.; (714) 960-1278; www.izakayazero.com.
Ambience: Smart, contemporary izakaya restaurant from Takashi Abe, the sushi chef behind Orange County's Bluefin. Here he's serving updated Japanese pub food to a casual beach crowd.
Service: Endearingly patient and helpful.
Price: Snacks, $3 to $10; greens, $5 to $10; seafood, $7 to $15; meat, poultry, $6 to $15; sashimi, $11 to $24; sushi rolls, $5 to $18; rice and noodles, $2 to $9; desserts, $3 to $7.
Best dishes:Okonomiyaki pancake, ahi tataki, mixed mushrooms, grilled Japanese eggplant with shrimp, stuffed quail, fried soft-shell crab, smoked yellowtail collar, Zero sushi roll, teriyaki-balsamic spare ribs.
Wine list: Not much of a wine list: You're better off with beer or sake. Corkage fee, $15.
Best table: A booth in the front window.
Details: Open for dinner from 5:30 to 11:30 p.m.Sunday through Thursday, until midnight Friday and Saturday. Full bar. Street and two hours validated parking in public lot up the street.
Rating is based on food, service and ambience, with price taken into account in relation to quality. ****: Outstanding on every level. ***: Excellent. **: Very good. *: Good. No star: Poor to satisfactory.
---
Get the Latinx Files newsletter
Stories that capture the multitudes within the American Latinx community.
You may occasionally receive promotional content from the Los Angeles Times.